Welcome to Part Five of Son of my Father. This time, I feature a football family from Glasgow: Joe McBride (Jnr) who played for Everton, and his father Joe McBride (Snr) who will be most remembered for his playing days at Celtic Park in the 1960's. Joe senior actually had a great personal statistic by being top scorer at every club he played for.
We start with Joe (Snr) who was born in 1938, a stone throws away from Rangers' Ibrox Park. His football career began as a very young 15-year-old at Rugby Park, Kilmarnock.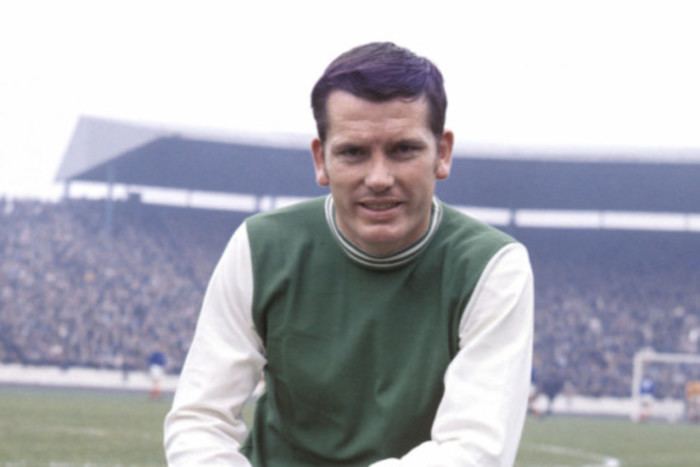 After 57 games and 24 goals, a journey south followed for Joe, to England and Molineux, where manager Stan Cullis managed a very successful Wolverhampton Wanderers side. But Joe was unable to break into the gold and black side and ventured further south to Luton Town where he did make the first eleven playing 25 games, netting 9 times. His love for Scotland made him homesick, but all was rectified when Partick Thistle required his signature and he became a team mate of Sandy Brown, who later joined Everton. There were very strong rumours circulating that Joe was going to join Celtic, but nothing materialised.
Another move did come his way though, 13 miles from Firhill to be precise, to Motherwell where he topped the goal scoring charts for the three seasons of his time there. Joe netted a brace in the semi-final of the 1965 Scottish Cup in an enthralling 2-2 draw before Celtic earned a place in the final, by winning the replay. Joe's performance in the semi-final whetted the appetite of Celtic, and the previous unfounded rumours of a Celtic move this time materialised as he became Jock Stein's first ever signing in the summer of 1965. Joe holds the massive honour of having the second-best goals ratio in the history of Celtic with 54 goals in 55 games.
Hibernian, Dunfermline and Clyde all benefitted from Joe's goals before he ended his career.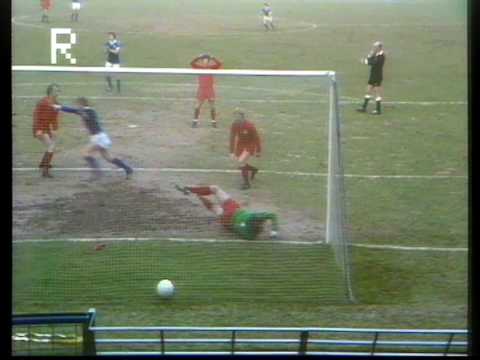 Joe McBride (Jnr) like his father, also played for nine clubs. Joe told me that his father's influence was a massive part of securing a career following in his father's footsteps. Joe's father would be on the touchline watching his son play for his local team with interest, keeping quiet, unlike some of the other fathers, who were very vociferous towards their youngsters. Joe (Snr) could be quite critical after the event though.
Fast forward to his Everton debut on Boxing Day 1979, Joe headed a goal on his debut at Burnden Park Bolton Wanderers. Joe (Jnr) came out of the stadium bursting with pride to be greeted with the words of, "what about the one you missed?"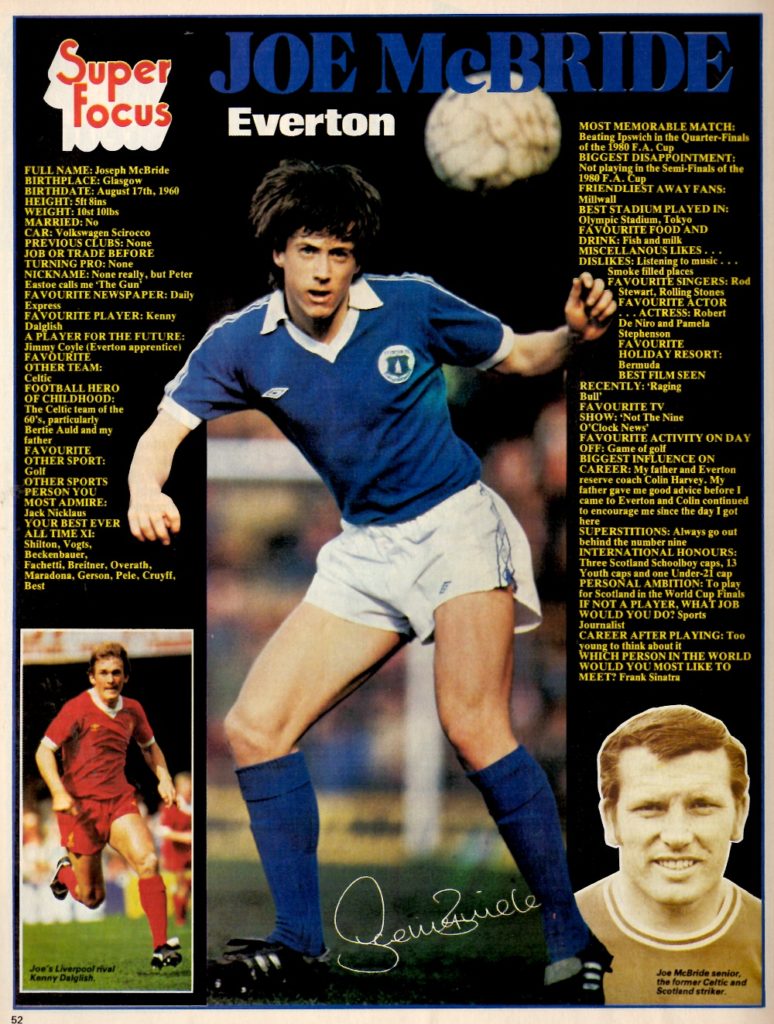 "My father went to all of my games and was a big, big influence", he says with deep affection. But Joe added that Colin Harvey was the biggest influence on his career.
Funnily enough, I was about to join Arsenal and was very keen. Bertie Mee, the manager, had agreed to sign me, but with everything virtually done and dusted, Mee resigned leaving Terry Neill to take over the managers role. Terry flew up to Glasgow to meet my parents and the next thing I knew, the deal was off!!
My dad knew Billy Bingham from his playing days at Luton Town. Their acquaintance led to a phone call where Billy arranged for Ray Minshull, Everton's Development Officer) to travel to Glasgow the following day and take me to Merseyside to sign.
Celtic also wanted to sign me two days before I penned the deal with Everton, but I decided against Celtic because I didn't want to be compared to my father. My father and I were totally different players anyway.
In 1982 Joe left Everton for Rotherham after 57 appearances and 9 goals – a decent return for a winger. Following a spell at Oldham, Joe returned to Scotland with Hibs, before spells at Dundee, East Fife and Albion Rovers. His career ended with cameo roles at Livingston and Hamilton Academicals.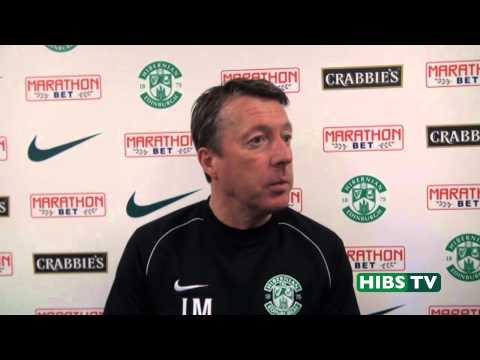 Joe said that he felt he did okay in England, better than his father he added jokingly. He now works for the Scottish FA as a coach going into schools.