The first British Everton player to be inducted into the USA Soccer Hall of Fame in 1965
Charles Edward Glover, known as Teddy, was born in Bootle on 7 April 1902. Teddy would eventually be inducted into the US National Hall of Fame in 1965 — the first of four players to have been on Everton's books to achieve this honour, the others being: Predrag "Preki" Radosavljevic, 2010; Joe Max Moore in 2013 and Brian McBride in 2014.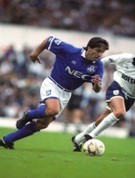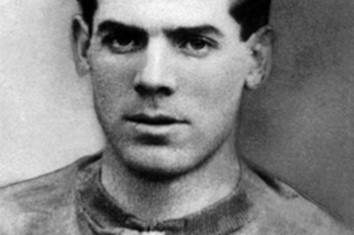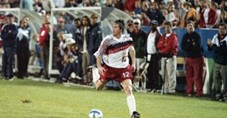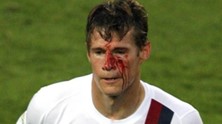 The first time Teddy pulled on an Everton shirt, it wasn't blue, but the white of the traditional squad practice matches of yesteryear. It turned out to be a baptism of fire against the great Sam Chedgzoy, who later played in Canada for Montreal and in the United States for New Bedford Whalers, where Teddy would eventually end his playing days.

Teddy, who could play on the left or right side of the defence, started his career playing for Harrowby, although there are unconfirmed reports that claim Teddy had trials at Accrington Stanley and Leeds United in the 1920s.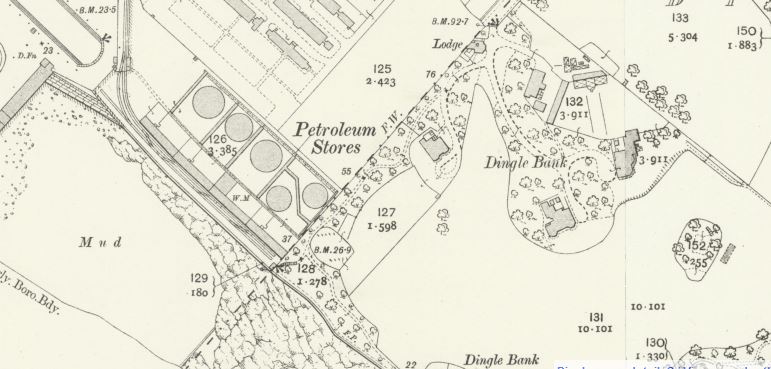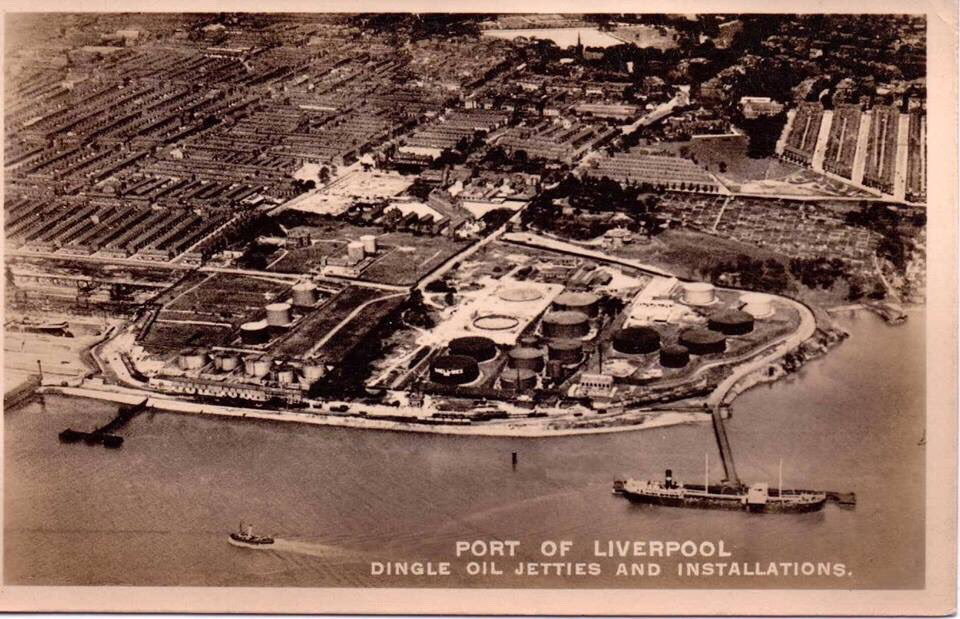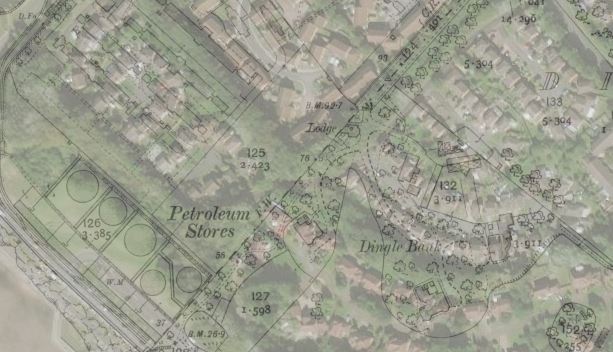 Teddy went to school in Bootle, and that is where he started his football story, playing for Bootle schoolboys. Hyder Jawad's 2013 book on South Liverpool FC indicates that Glover was signed by South Liverpool sometime early in the 1919-20 season, when South played in the Lancashire Combination, finishing 11th of 18 teams that season. The club played at a ground on Dingle Lane adjacent to the Herculaneum Dock in south Liverpool. It would be their last season there as the Mersey Docks and Harbour Co. bought the land that the ground was on at the end of the season. They built oil tanks and a jetty on the ground's proximity to the bustling River Mersey. The industrial site closed as river trade declined, and it has now been a residential area since the late 1980s.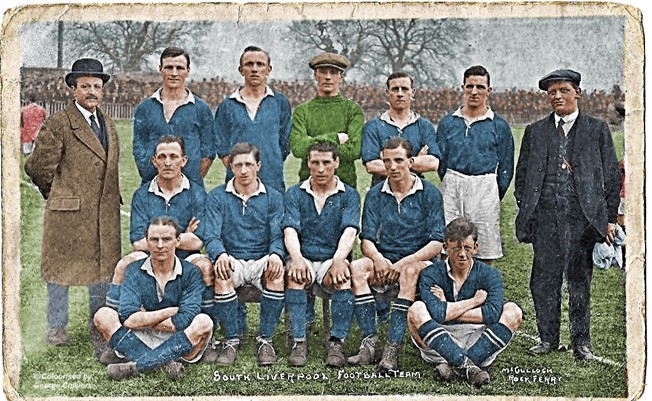 On 4 March 1920, South Liverpool played Tranmere Rovers in the Liverpool Senior Cup semi-final resulting in a 3-3 tie. The replay at Dingle Lane also failed to produce a winner, ending one all. South won the second replay at Goodison Park, 3-1, watched by 8,000 spectators. Eventually South lost the final to Liverpool 2 -0 at Anfield on 12 May 1920.
Season 1920-21 saw South Liverpool move about five miles north to mid-Liverpool (Green Lane) but they lasted only one season, finishing a respectable 10th out of 18 teams in the Lancashire Combination. However, they had lost much support from their original home in the southern area of the city and the Green Lane ground was not much more than an open field. The club stopped playing in April 1921.
The remnants of the South Liverpool team went across the water to join the newly-formed New Brighton FC in 1922 and the Rakers would go on to join the Football League in 1923, remaining there until losing their league status in 1951. New Brighton went first into non-league then, sadly, stopped playing in 1983.
Teddy is also recorded as spending an unspecified period at a club called Stanley. This may have been after South's demise in April 1921 or possibly from where South signed him. As he played in New Brighton's early teams in 1922-23, he may have moved to Stanley after South for season 1921-22. This explanation may be likely, as the area of the city South Liverpool played in 1920-21 (their final season) was known as Stanley, and it may be that the club of that name played on the Green Lane after South. This is only guesswork and a definitive answer is not yet possible.
Garth Dykes' shows in New Brighton – a complete record of the Rakers in the Football League (1990) that when New Brighton started 1922-23 with first and reserve teams for their opening fixtures, Teddy is listed as playing for the reserves in the Liverpool County Combination against Garston Gasworks in August 1922.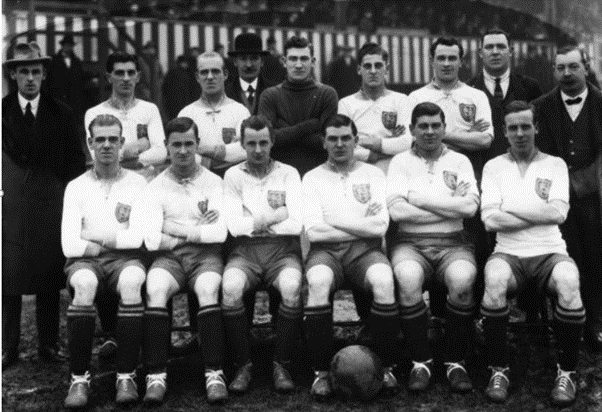 He began the 1923-24 season as New Brighton's third choice right-back. Injury first sidelined Jimmy Niven, and then Dick Critchlow played four games before Ted became full-back. He made his debut at home to Halifax Town on 29 September 1923 making 32 appearances without scoring that season. Teddy now came to the notice of scouts from Everton Football Club. The minutes of the Everton FC board of directors (held in The Everton Collection) record the first mention of Teddy Glover in a meeting held at the Midland Adelphi Hotel, Liverpool, on Tuesday 27 November 1923, attended by Messrs A. R. Wade, H. Makepeace and the Club Secretary, who reported favourably on Edward Glover of New Brighton and Tootle of Southport. It was decided to ask the New Brighton club if they would be prepared to part with Glover.
A week later it was reported that New Brighton had requested a sum of £1,000 for the transfer fee. It was decided that the Chairman and Mr. J. Sharp would go to watch him play on the following Saturday when New Brighton would entertain Walsall. In the event that they were satisfied they would have full powers to negotiate for his transfer.
Everton scout Mr. A. Coffey reported unfavourably on the display of Glover at the New Brighton-Walsall match, but favourably on Webster (right-back) and Bowen (inside-right) of Walsall.
In the next meeting on Tuesday 15 January 1924 at Goodison Park an extremely significant report was made that would eventually change the history of Everton Football Club. In this report, Mr A. R. Wade commented favourably on Teddy Glover's performance for New Brighton against Tranmere Rovers in the local derby at the famous Tower Ground, New Brighton. Even more significantly, eagle-eyed readers might already have guessed that this report included the first official mention of a certain William Ralph Dean. It was suggested that William Ralph Dean should be closely watched! Little did anyone know at the time that they both would become Evertonians and Hall of Fame inductees on either side of the Atlantic.

Stronger was the belief that Teddy had the skills to become a Toffee, so they sent Messrs W J Sawyer, A R Wade and Staff to watch him play against Stoke City.
On Tuesday 6 May 1924 it was decided in the Exchange Station Hotel that the whole board of directors would go to New Brighton to watch Teddy. It was felt that he had the ability to be a part of the club's squad.
Although a fee was to be discussed, the secretary reported that Edward Glover had been signed on at £5 per week summer wages and £6 for the winter, the equivalent of £287.50 and £345.00 in today's money.
Everton signed him at the end of the 1923-24 season. Everton paid a transfer fee of £750 and the selling club benefitted from the proceeds of a friendly match at New Brighton which Everton won 4-0.
On 14 May 1924, the Liverpool Echo reported,
EVERTON TAKE ON A SOUND YOUNG BACK
Everton have today signed up Glover, the New Brighton back, who has long been watched and wanted by First Division clubs and has long been in the "taken and wanted" column. Glover looks older than he is – he is only 21 – and Everton reckon they have strengthened their defence appreciably by this stroke of business.

I doubt not that they have paid a foolish price, for New Brighton have not had a good time financially and have had to look around for some means of balancing up their money-standing. Glover is not a big fellow – he is limby and slight rather than dashing and daring. He depends upon real football all the time, though he is not short of pace. I well remember his hey-day and also New Brighton Club's hey-day. They had drawn at home against Crewe Alexandra in their preliminary rounds of the F.A. or English Cup, as it is generally known. A match away looked black for them but thanks to some fine work by Kenny Campbell, some lovely dribbling by Crooks and a goal to the good, New Brighton came back to make history in the knockout competition. That day Glover was called up suddenly, and there is no doubt that it was a big ordeal for him to have to face. The old South Liverpool boy, however, never put a foot wrong, and the confidence he gained that day in the stress of the game has never been lost to him.

He has grown in grace and in his game, and it is good to think that yet another local has been linked up with Everton, who, days gone by had many seasons' work out of locals like the brothers Balmer and Crelley. I know that Mr. Jack Sharp thinks that Glover is ripe for the first team inclusion if necessary –that is his considered judgement.

Glover, in the Cup tie referred to earlier on, was appearing at left-back, and when Niven met with his leg trouble, Glover was moved to right back, and there showed his versatility and his capacity for the use of either foot – which is a rarity in these days of one-footed players.


The players signed on for the coming season are: – Goalkeepers, Harland, Kendall, backs, Raitt, Livingstone, McDonald, Kerr, Glover (New Brighton), Caddick, half-backs, Brown, McBain, Hart, Peacock, Reid, Virr, McGrea, Rooney, forwards, Chedgzoy, Irvine, Cock, Chadwick, Troup, Parry, Wall, Williams, Forbes, Hargreaves (Oldham Athletic), Houghton (S), Barton, terms had been offered to Grenyer, who had not yet re-signed.

[Thanks to Billy Smith of the Blue Correspondent website and former member EFCHS]
The first time Teddy was to play for the Toffees was in a practice match on 19 August 1924;
PRACTICE MATCH

August 19, 1924 The Liverpool Daily Post and Mercury

FOOTBALL AT GOODISON.

TRIAL MATCH ENDS IN A DRAW.

SUCCESS OF NEW PLAYERS.

Everton's first practice match supplied a goodly crowd at Goodison Park, last night, with some entertaining football, six goals being equally divided between the Blues and Reds. Unfortunately, the game was marred by an accident to Harland, the Blues' goalkeeper. At first it looked as if he been more seriously hurt than eventually turned out – he twisted his ankle, which started to swell – but fortunately for himself and his club it is not a serious matter.

The Blues were undoubtedly the crafty side, while the Reds were triers, all with a shot. The new man fared well, Bain from Manchester United, got two of his side's goals, besides showing clever moves, an abundance of energy, and a true shot. Hargreaves, the Oldham recruit, obtained the third goal with a hefty drive when Raitt was in goal. The Blues' scorers were Troup, who seized upon a centre from Chedgzoy; Cock, who scored the second after Kendall had punched away a shot from Irvine; and then Chadwick equalised when standing unattended.

The newcomers who took the eye included the former New Brighton back, Glover, who was the essence of coolness and confidence. Bain is a bundle of energy, and no defender will have to treat him lightly, for he never shirks the issue. Hargreaves too, did well while Williams ably partnered Forbes, whose centres were always a source of danger. Reid and Peacock lived up to their known standards. Parry showed improvement on what was seen of him last season, and McDonald played his usual ruthless game.

OLD MASTERS

The Blues played football worthy of the old masters. In the first half they sent the spectators into ecstasy with their footwork. Troup and Chadwick were competent, Cock led the line well, and the spectators were amazed at the speed of Chedgzoy. Bain used every ball to advantage, Brown and Hart were "themselves" which tells the whole story of their game, Livingstone was the better of the full backs, and Harland up to the time of retirement, did all that was asked of him in a workmanlike fashion. Result 3-3. Teams: – Blues: – Harland, goal, Raitt, and Livingstone backs, Brown, McBain, and Hart (captain), half-backs, Chedgzoy, Irvine, Cock, Chadwick, and Troups, forwards. Reds: – Kendall, goal, Glover, and McDonald, backs, Peacock, Reid (captain), and Virr half-backs, Parry Hargreaves, Bain Williams, and Forbes forwards. Referee Mr. T. Constantine.

[Thanks to Billy Smith of the Blue Correspondent website and former member EFCHS]
On Monday 30 March 1925 Teddy was chosen for the squad to play against Aston Villa Reserves at home on 4 April 1925, in a team which had now included the £3,000 signing William Ralph Dean,
Teddy was also picked against Liverpool Reserves, St. Francis Xavier's College, and Huddersfield Town Reserves: lining up as, Harland, Macdonald, O'Donnell, Brown, McBain, Reid, Chedgzoy, Irvine, Dean, Kennedy and Troup; Res. Glover.
Teddy came close to playing first team football when he was selected as first reserve (which in those days was an unused substitute if a player took ill or was injured before kick-off) in the league match against West Ham United in London on 18 April. The team lined up as: Harland, Macdonald, O'Donnell, Brown, McBain, Reid, Parry, Chadwick, Dean, Kennedy and Troup; Res. Glover.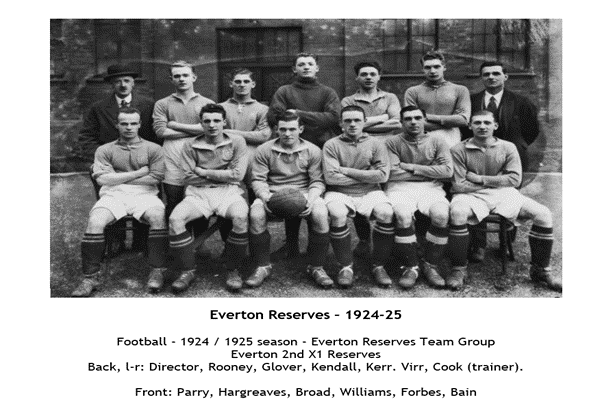 Glover finally got to play alongside the great William Ralph "Dixie" Dean on the very same pitch he played against him when he and Dean were scouted by Everton. He was selected in the meeting on Tuesday 28 April 1925 to play New Brighton (a) the following day: Kendall, Raitt, Glover, Rooney, Bain, Virr, Millington, Rand, Dean, Hargreaves and Whitlow.
.Listed here are some of the games in which Teddy played reserve team football for the Blues.
Everton Reserves 3 Bury Reserves 0, 20 December, 1924.
Bolton Wanderers 4 Everton 1 Lancashire Cup Semi-Final, 11 December, 1924.
Everton Reserves 2 Wolverhampton Wanderers Reserves 2, 8 December, 1924.
Everton 2 South African 3, 4 December, 1924.
Everton Reserves 4 Huddersfield Town Reserves 0, 24 November, 1924.
Sheffield United Reserves 6 Everton Reserves 2, 3 November, 1924.
Everton Reserves 5 Derby County Reserves 0, 27 October, 1924.
Bolton Wanderers' Reserves 5 Everton Reserves 2, 20 September, 1924,
Burnley Reserves 1 Everton Reserves 3, 10 September, 1924.
Everton Reserves 2 Leeds United Reserves 1, 4 September, 1924.
Everton Reserves 2 Birmingham City Reserves 2, 1 September, 1924.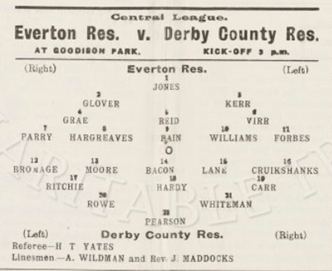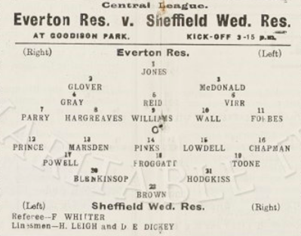 On Tuesday 16 June 1925, Edward "Teddy" Glover's career with Everton finally came to an end in a meeting of the directors where Mr. T Maley of Southport AFC agreed terms to bring him to his club on a free transfer (with an undertaking that if he was transferred again, any fee would go to Everton). In total, Teddy Glover had made 54 reserve and friendly appearances for Everton without scoring.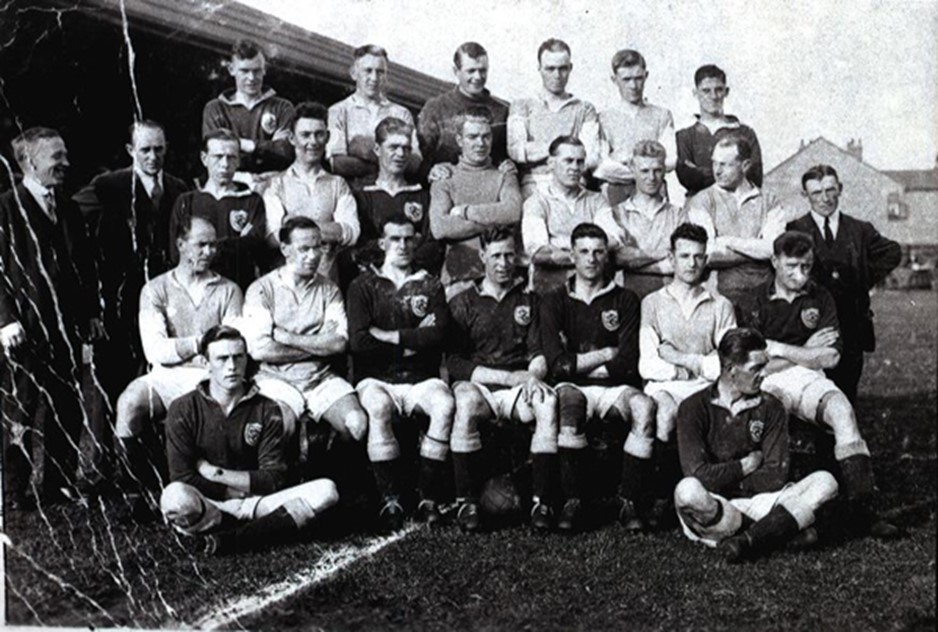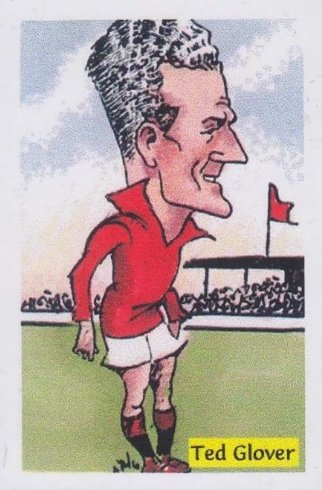 Teddy moved to Southport on 14 July 1925, where he made 58 appearances during seasons 1925-26 (debut September 1925) and 1926-27 (final appearance May 1927) playing in the Third Division North of the Football League. In January 1927 he played in a fourth round FA Cup tie against Liverpool and made a further 34 appearances in 1925/26 and 24 in 1926/27, again without scoring. (www.southportfootballclub.co.uk )
He joined Wigan Borough on 5 August 1927, and they too played in the Football League Third Division North. He made ten league appearances and played in one Manchester Senior Cup game in season 1927-28, making his debut on the opening day of the season against Hartlepool United in a 2 – 0 defeat. Again, no goals were recorded.

Teddy then made what was a life changing move to America. He was headhunted by George Moorhouse, who had played at Tranmere Rovers and who would become the first British player to captain the United States in World Cup football. It seems he departed from Liverpool on 28 July 1928 on the White State liner Celtic for New York, accompanied by former Liverpool FC Irish international half-back D McMullan and J C Harrington, another former player of Liverpool, Luton and Millwall. Teddy almost travelled with Dixie Dean who was offered what was then a king's ransom of £25 a week to go to New York. But Dixie wanted to stay in the United Kingdom.
From August 1928 he played for New York Giants in the Eastern Soccer League, making 75 appearances. The Giants changed their name to New York Soccer in 1930 as they joined the American Soccer League and he made 27 appearances and recorded one goal, his first!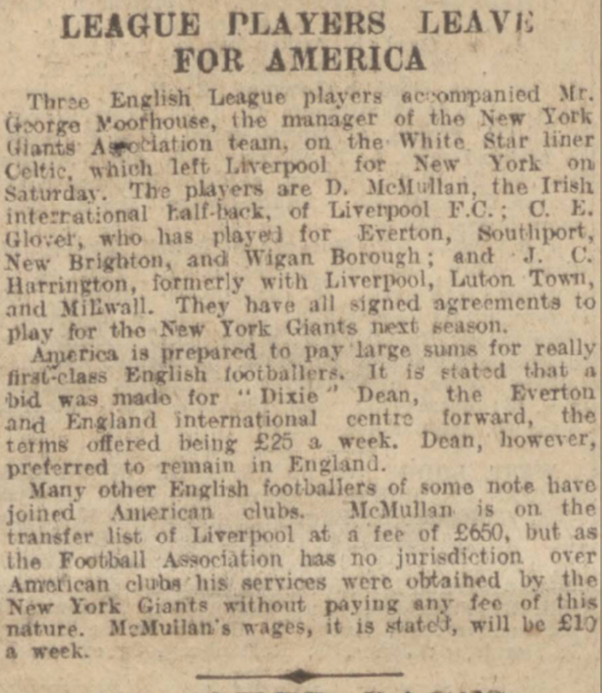 He then returned to a different club called New York Giants in 1931-32, making 34 appearances, and he was a main member of the team who won the 1931 ASL Championship. After winning the Spring Championship, the Giants went on to win the Grand Final in a feast of goals between New Bedford Whalers and themselves. New York were seemingly dead and buried after the away leg in Massachusetts, losing 8-3, but in front of 3,000 spectators they demolished the Whalers 6-0 to win on aggregate 9-8.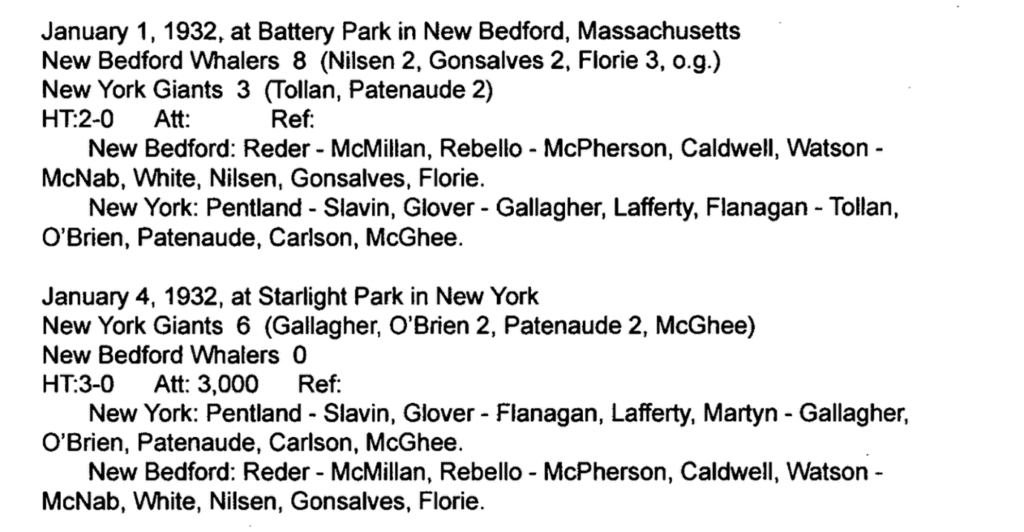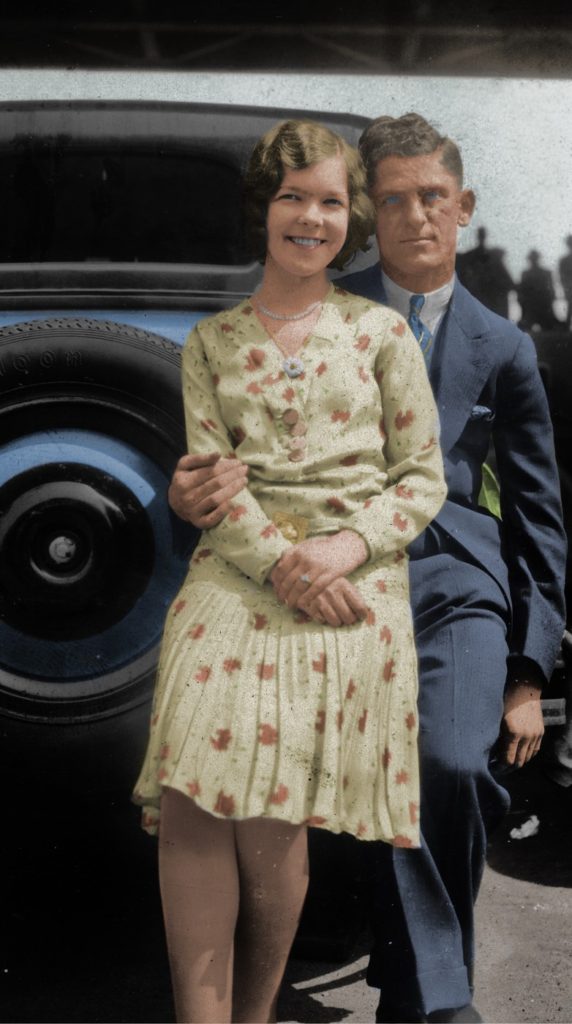 He finished his ASL career with six seasons for Brookhattan, beginning in 1934 until 1940 , by which time he was aged thirty-eight. While at Brookhattan, one of Teddy's greatest career highlights was playing international football for the United States in New York in 1935 in two matches against Scotland. Unfortunately, they lost both 5-1;- in May in front of a crowd of 22,970 and 4-1 in June in front of 8,436 spectators.
He played briefly for Pfaelzer SC in 1940, who were in the German American Soccer League, then he moved on to Brooklyn SC as team manager. Sometime later he became assistant coach at the University of Southern Colorado (now CSU-Pueblo). This was to be his last job in football, and following his retirement he became head of security company in Colorado.
He enjoyed a very successful career in the States and was inducted into the US National Soccer Hall of Fame in 1965, along with Fred Beardsworth, at a dinner hosted by the American Soccer League at the Sheridan Atlantic Hotel, and is listed on their Roll of Honour.
Teddy Glover, former Everton reserve full-back and United States Hall of Fame inductee passed away in Pueblo on 8 February 1993 aged ninety.
Editing and additional picture research – Mike Royden
Sources and references 
Billy Smith – The Blue Correspondent – www.bluecorrespondent.co.uk
The Everton Collection – www.evertoncollection.org.uk
www.wiganborough.bernardramsdale.com/players-a-to-z-g-h.html
twitter.com/bernardtns
www.southportfootballclub.co.uk
Dykes, Garth (1990). New Brighton – a complete record of the Rakers in the Football League. Breedon Books.
Jawad, Hyder (2013). Rest In Pieces: South Liverpool Football Club (1894–1994). Flict Enterprises.
Dykes, Garth (2011). Wigan Borough – a complete record and who's who 1921-1931. Tony Brown Books.
The Liverpool Daily Post and Mercury, 19 August 1924.