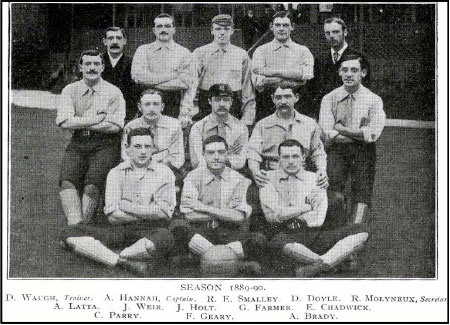 John Weir, a blacksmith who once played football for both Everton and Scotland, was also one of the players famously suspended by the Football Association for playing for Everton as a professional in November 1887.

John Weir was born, 10 January 1865, at Crossmyloof, Renfrewshire, and was the third child of a fairly mature couple who had moved to the west of Scotland from their native Ireland. The 1871 census found him still living at Crossmyloof, by now fully involved in the City of Glasgow, along with his elder brother, born 1862, whose name was Charles. By 1881, the two Weir brothers were living along with their father on Pollockshaws Road, near to where they had been born. John was at the time employed as an apprentice blacksmith, while Charles worked as a hammerdriver. It is around this time that John Weir started playing junior football before joining his elder brother, in 1884, at the Third Lanark club on their home ground at Cathkin Park.
The Glasgow Herald on 8 October 1886, reported that the Weir brothers were to be found playing in the same Third Lanark side when they took part in a football tournament – played on a specially constructed enclosure – which had been arranged as an added attraction to the Edinburgh International Exhibition of Industry, Science & Art. The brothers first appeared in the newspapers of England on 13 October 1886, when they took part in an FA Cup tie against Bolton Wanderers at Cathkin Park. John scored one of goals for Third Lanark but it was the English side who won the tie by three goals to two.
The following season, John Weir made his one and only international appearance when he was selected to play for Scotland against Ireland on 19 February 1887 at Hampden Park. The Scottish selectors were so confident of beating the Irish that they picked ten players who had never before played football at international level. Watched by 3,000 spectators, Scotland won the game by four goals to one. John Weir continued to work as a blacksmith and play football as an amateur for Third Lanark until the winter of 1887. He then married Euphemia Simpson and, following the birth of their son John, the family moved to Liverpool.
Despite the fact that several various publications claim that John Weir joined Everton from Hibernian, the Edinburgh-based football club, there is no evidence, according to the Victorian journalists of Liverpool, that this information is correct. According to their reports he did, however, play his football in Glasgow before moving south of the River Tweed to spend the rest of his life in north west England.
The Weir family took up residence at 2 Pulford Street in Anfield, where John continued to practise his trade. News of his arrival quickly reached the ears of the executive members of Liverpool Stanley Football Club, who offered Weir a place in their side for the game played on 3 September 1887, against Bootle, on their home ground at Walton Stiles. Here, he was reunited with his former Third Lanark team mate, Robert Izatt, who was included in the visiting line-up.
After the game, John Weir transferred his services to Bootle and first played for them, along with Rob Izatt, against Blackburn Olympic at Hawthorne Road. The two players then made several appearances for the North Merseyside club and, following the draw for the first round of the FA Cup, were selected to play in their home tie against Workington on 22 October 1887. They surprised the Bootle committee by failing to appear and replacements had to be found quickly.
The two players had chosen instead to travel with the Everton club for their much publicised FA Cup tie against Bolton Wanderers at Pikes Lane. Rob Izatt, who took up his position on the left wing, played in the game that saw Everton defeated by 1 goal to 0. Following an FA inquiry, the match was ordered to be replayed, and Izatt again took part in the tie, which took place at Anfield and ended in draw. John Weir was then introduced into an Everton side who, at the fourth attempt, won the right to meet Preston North End in the next round of the tournament, where they were eliminated.
The failure of the two Scotsmen to appear in the FA Cup tie for Bootle only served to increase the deep rift which, prior to the incident, had already existed between the two clubs. And this fact was clearly demonstrated when the two sides met 3 December 1887 in a match at Anfield which descended into a pitched battle. John Weir, who dislocated his shoulder, was amongst the casualties as Everton won the game by two goals to nil.
Bolton Wanderers, meanwhile, claimed that Everton had paid several of their players who were supposed to be of  'amateur status' and, therefore, were not eligible to take part in an FA Cup tie. The Anfield club, as we now know, were found guilty as charged and five of their Scottish players, Rob Izatt amongst them, quickly returned home. John Weir, however, remained in Liverpool.
During the summer, Euphemia gave birth to a baby girl who was baptised on 11 August 1888, at St Cuthbert's Church in Robson Street, and given the name Isabella. In September, as the football season commenced, a local newspaper ran the following story:
John Weir, the Everton half back, who was suspended last year on the grounds he was a professional, was reinstated on Monday by the committee of the FA and will be playing in the team today against Derby Midland. (Liverpool Courier, 19 September 1888.)
The visitors had been formed in 1881 from the people employed at the gigantic Midland Railway Works in Derby and they played their home matches on a triangular piece of land that was surrounded on all sides by railway lines. They proved no match for Everton who beat them by six goals to nil. John Weir, who played well in the game, made his Football League debut the following Saturday against Aston Villa on what was their home ground at the time on Wellington Road at Perry Barr. John Weir kept his place in the team, at various positions as an Everton half-back who was changed from game to game during the first half of the season and, by Christmas, they were lying in the lower half of the table.
He was in the Everton side when they faced his old club, Third Lanark, when they visited Anfield on New Year's Day. His elder brother, Charlie, it must be assumed, travelled with the Scottish party and, following the game, remained in Liverpool where he signed for Everton. He was never to play in the first eleven but became a regular feature in the club's reserve side. Charlie made his Everton debut against Northwich Victoria and then played alongside his brother in an away fixture against Burslem Port Vale. They next played together in friendly match against Burnley that brought the season to an end. Charlie, unlike John, was not retained by Everton and left them at the end of the season to join Southport Central FC.
During the summer, Euphemia gave birth to a third child, a boy, who was christened at St Cuthbert's and given the name Richard. John Weir was selected to play for the Everton first eleven in the opening Football League match, against Blackburn Rovers, at Anfield and then again in the second league match, at home, against Burnley. The Everton party then journeyed to play a third league match, against a Wolverhampton Wanderers side on their recently acquired home on the Molineux Grounds. The match had been in progress for fifteen minutes when Booth challenged Weir and the Everton player fell heavily on his left arm and fractured his wrist. He was removed to hospital where his arm was bound in splints. He then made his way back to the Molineux Grounds and returned home with the Everton party.
John Weir could not now, due to his football injury, work at his trade so it is safe to assume that he and his family were cared for by Everton Football Club. His recovery took a long time and the Football League season was over when he returned to first team duty against Bootle. Weir he took over the position of centre-half, because John Holt, who had recently joined Everton, did not want to play against his old club.
Feelings were still running high between the two clubs and a record crowd, over 12,000 in number, descended on the Hawthorne Road ground. A local journalist described the scene:
The ground was filled to inconvenience long before 4 pm, and still hundreds demanded for admission to the enclosure, when play commenced, it fairly overflowed. Those who could not find a place inside availed themselves of any vantage point they could. Some sat patiently on top of the fence while beyond the roofs, sheds and houses had been occupied. It was a great assembly and the spectacle alone was worth the visit. (Liverpool Courier, 10 April 1890.)
The game ended in a 2-2 draw.
John Weir was again in the Everton side when both sides met again two weeks later in the final of the Liverpool Senior Cup, and he was rewarded with a gold medal as Everton lifted the trophy with a 4-0 victory. At the end of the season, he was not retained by Everton and left the club with nineteen Football League appearances to his credit. However, his situation was now being monitored along the coast at Southport.
High Park Football Club, who played their matches in the Lancashire Alliance, had recently moved to new enclosure on Roe Lane and they offered John Weir a position as club captain. He accepted and moved to the seaside town. The 1891 census revealed that the family were now living at 31 Kensington Road, North Meols, where John Weir gave his occupation as being a blacksmith. He remained with High Park for one season before accepting a position as player/manager with the Lancashire League side Rossendale on their home at Dark Lane.
The Weir brothers were soon back on Merseyside, however, the date being 3 September 1892, when they represented their new club in a league match against Liverpool Caledonians at Woodcroft Park in Wavertree. Charlie was now nearing the end of his career but he was willing, it was reported, to step in to the team because one of the Rossendale players who had been selected to play in the game had suffered a sudden bereavement. The home side were made up mostly of exiled Scotsman whose line-up included Dan Kirkwood and George Farmer, former team mates of John Weir during his time with Everton. Rossendale lost the game by four goals to one.
In November 1892, John Weir was back on his old stomping ground at Anfield, when he represented Rossendale in a Lancashire League match against Liverpool, the new tenants of the ground. A visiting journalist, who reported for the Rossendale Free Press, clearly thought the venue was located in Everton. Liverpool won a closely fought game by two goals to one.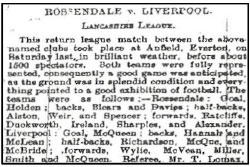 Meanwhile, over in the Rossendale Valley, the Weir family had settled in a new home at 22 Old Street in Newchurch and John had acquired employment, as a press operator, at Messers Lambert Howarth slipper works at Whitewell Bottoms. The family home backed on to the local parish church of St Nicholas whose parish records reveal that on 19 October 1892, two more Weir children, both boys, had been baptised there. Euphemia, during her time in Southport, had given birth on 24 April 1891, to a fourth child, who had been given the name James, while the fifth child, who had been born in Newchurch, was christened Charles.
It was around this time that Rossendale reached the Third Qualifying Round of the FA Cup where they received a home tie with Bury but, for a consideration of £80, were induced to transfer the game to Gigg Lane. John Weir's men, who were expected to lose, astounded the home crowd by beating the favourites by seven goals one. In the next round, Rossendale were eliminated from the contest away at Blackpool, by two goals to one.
John Weir remained at Dark Lane until, in 1895, he transferred his services to neighbours Rawtenstall who, along with the Everton Second XI, were members of the Lancashire Combination. The men from Goodison Park won the title with ease and then played an exhibition match on 17 April 1895, against a side that represented the rest of the Lancashire Combination. The game presented John Weir, who played at centre-half, with his one opportunity to play football at Goodison Park where Everton won by three goals to two. He spent the rest of football career with Rawtenstall and after retiring from the gamehe returned to Dark Lane to occupy the position of club trainer. He maintained close links with club throughout the rest of his life.
The 1911 census revealed that John and Euphemia had thirteen children, two of whom, John and Effie, had sadly passed away and been buried in the local churchyard. The family still lived in Old Street where the elder children, old enough to work, were engaged in the art of making carpet slippers. Tragedy again struck the Weir family when their son James was killed in action, April 1918, while serving with the 2nd Battalion of the East Lancashire Regiment during World War One.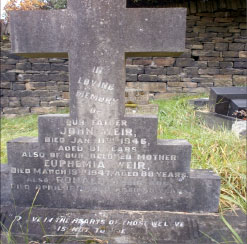 John Weir later moved to 4 Naze Road, Newchurch, where, along with Euphemia, he was to spend the last years of his life. As he declined, he was removed to Moorland Infirmary and died there on the 11 November 1946. The following Saturday, prior to the next home game, the Rossendale players lined up in silent tribute to their former players while the club flag was flown at half-mast. John Weir, who once played football for both Everton and Scotland, was buried in St Nicholas churchyard at Newchurch. His last resting place is pictured here.