An unprepossessing road in the shadow of Goodison Park, is named Salop Street. Salop, or Shropshire as it is more commonly known, might not, at a first glance, be awash with Everton links but that can be misleading. In fact the, largely rural, county has a loyal Blues following (the Shropshire Blues is the local official supporters club branch). Oswestry, 50 miles from Goodison, has several connections links to Everton that go back to the earliest days of the club. George Farmer, a son of the town and a Welsh international footballer, was a key player in the club's early days and lined up in the Blue's first ever Football League match in 1888. More recently, one of the Toffees' greatest players, Alan Ball, spent his formative years in the area when his father, Alan Ball Senior, was managing Oswestry Town FC. But, it was to mark the life of another former player that EFC Heritage Society came to the town's cemetery on 1st March.
Charlie Parry might not be a household name but he was in the select band of 'Blues brothers' we now refer to as the First Kings of Anfield. Born in 1869, Charlie was a member of the first Everton team to win the Football League, in 1891. The versatile player had two spells with the Toffees and went on to win the Welsh Cup in 1900 in an Aberystwyth FC team also featuring future Everton keeper, 'Dick' Roose. Charlie made 13 appearances for Wales over a 7-year period and saw out his playing days as a goalkeeper in Oswestry where he worked as a labourer. His early death from tuberculosis, at the age of 52 in 1922, was followed by that of his wife, Ada, just four years later.
Whilst researching Charlie's life for a ToffeeWeb article, Rob Sawyer learned that there was no headstone to mark his final resting place (although family initiatives had seen a plaque installed in the market hall and a residential road named after him).
EFC Heritage Society (EFCHS), which has been involved in the restoration of nine graves, to date, decided to commission the installation of a headstone in recognition of Charlie's service to Everton. The project progressed with support from, amongst others, the Parry family, Oswestry Town Council, The Football Association of Wales, Everton FC, Neville Evans (President of Aberystwyth Town FC and the man behind the National Football Collection) and Clive Davies. Thomas Reagan, of Toffee Art designed the event programme.
In the region of 70 people gathered at Oswestry Town Cemetery, fittingly on St David's Day, for the ceremony to unveil the headstone which was designed by Allen Mackie of E.F. Mackie Ltd. Charlie's former clubs and the FAW were represented and Everton supporters came from as far afield as Barnsley to attend. After messages of welcome from Oswestry's Mayor, Councillor Sandy Best, and EFCHS Chairman, Brendan Connolly, Rob Sawyer spoke on behalf of the Society about Charlie's life and times. It was highlighted that when Charlie suffered hardship, struggling to keep the wolf from the door, Everton sent teams on two occasions to play benefit matches – an approach reflected in the work of the Everton Former Players Foundation in the present day.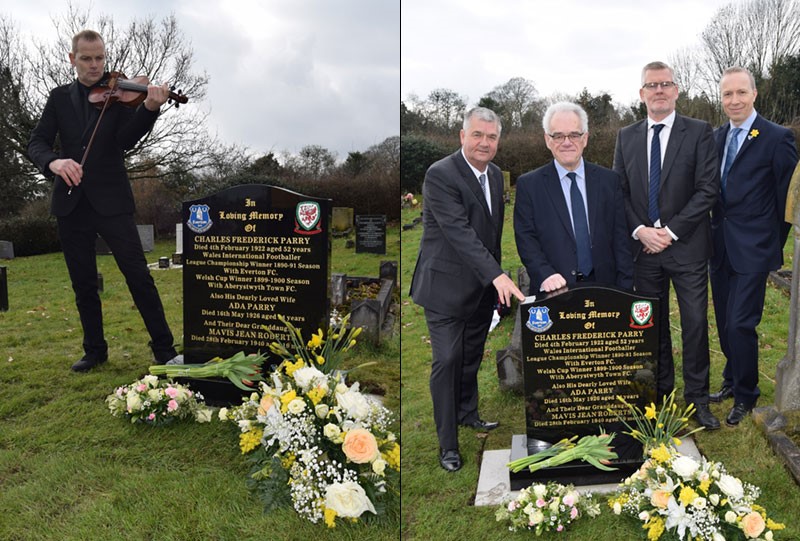 Darren Griffiths, for Everton FC, and David Parry, on behalf of the Parry family, also addressed the attendees. Ian Snodin, Everton Ambassador and a member of the most recent Everton team to win the title, laid flowers at the grave. A floral tribute was also laid by Margaret Atkins in memory of her sister, Mavis Roberts, who passed away in infancy and was laid to rest with her grandparents. Afterwards other attendees laid daffodils and other floral tributes. Violinist, Daniel Axworthy, provided a fitting selection of musical accompaniments at the event, including Z-Cars and Land of My Fathers.
A reception was then hosted by the Town Council at Oswestry's Guildhall. Brendan Connolly, Chair of EFC Heritage Society, said: "Today was the culmination of much hard work by Heritage Society members. It was rewarding to hear such positive comments from the members of Parry family who are, rightly, proud of Charlie's achievements. Our thanks, again, go to everyone for supporting the Society's latest event and to Ian Snodin and Darren Griffiths for attending today."