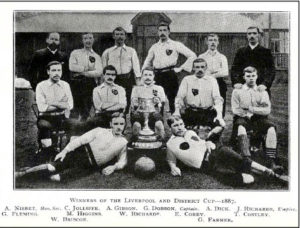 Thomas Halliwell Costley was born in Liverpool but began his football career in Blackburn, before moving back to his birthplace in order to play for Everton. He was the younger brother of Jimmy Costley who scored the winning goal for Blackburn Olympic in the 1883 FA Cup final. Although Jimmy was never to sign for Everton he did represent his home town club in several attractive friendly fixtures where he deputised for his brother on the left wing.
Tommy, the fifth child of the family, was born on 5 March 1865 at Rathbone Street on the south side of Liverpool town centre. His father, who listed his occupation as a boatman, was named James, while his mother, whose maiden name was Halliwell, was called Grace.
The 1871 census found the Costley family living in one of the back to back courts off Duke Street, where Grace, then estranged from her husband, had seven children. The 1881 census however, informed us that the family, with Grace as the Head of the Household, was then living at 1 Pollard Street in the Daisyfield area of Blackburn. Tommy, then aged sixteen, was working as a cotton spinner, and was a member of the Blackburn Olympic Football Club. In the summer of 1886 he left Blackburn and after moving back to Liverpool, signed for Everton.
Tommy made his debut on 25 August 1886 against Liverpool Stanley and soon became the regular partner of George Farmer on the left of the Everton forward line. His arrival went almost unnoticed in the Liverpool press, but the newspapers of Lancashire knew exactly who he was.
Farmer had for a partner, a player with the historical name of Costley, in fact a brother of the one of Olympic fame. (Football Field 4 December 1886)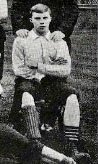 This statement possibly confirms the fact that it was Tommy (pictured), and not Jimmy as previously thought , who went on to play matches for Everton, during their first season in the Football League. The first competitive game played by Tommy Costley took place on 30 October 1886, when over 10,000 people saw Everton defeat Bootle at Hawthorne Road, in the first round of the Liverpool Cup. He then went on to win his first medal, as Everton, having eliminated their main rivals, won the trophy with ease.
The following season, owing to the sudden influx of Scottish players, Tommy found himself playing reserve team football and took no part in the epic FA Cup battle against Bolton Wanderers. Early in the New Year, following the club's suspension, he regained his first team place and represented Lancashire at junior level against Northumberland. At the end of the season, Tommy was retained by Everton, who registered him to play for them as they became founder members of Football League. Everton were six games into their first campaign when Costley made his football league debut on 20 October 1888 in an away match against Derby County, where he was partnered on the left wing by a former Blackburn Olympic team mate whose name was Edgar Chadwick.
The match took place on a football pitch that was marked out in the middle of the local horse racecourse and the players changed in a sports pavilion that also served as the headquarters of Derbyshire County Cricket Club. Tommy, who appeared to revel in the occasion, scored twice as Everton won the game 4-2 in front of crowd which, it was reported, displayed their appreciation of a visiting side who played the game in a most sporting manner. The following Saturday, at Anfield, the two sides faced each other in a match that was destined to go down in the history of Everton Football Club. Tommy Costley failed to score, but assisted Archibald McKinnon to become the first Everton player to register a Football League hat-trick as they won the game by six goals to two.
Tommy then played another three league games, scoring a goal against Burnley, before making his final appearance at Stoke on 15 December 1888. He twisted his knee during the first half and had to be helped from the field and took no further part in the game. No goals had been scored when the referee, in the fast-gathering darkness, brought about a premature cessation of hostilities. The match was not replayed and each side were awarded one point. Tommy Costley made one more appearance for Everton, a Lancashire Cup tie against Higher Walton, but broke down again and had to leave the field. He then retired from the game.
The following year, while working as a caretaker, he married Fanny Margaret Shepherd in Liverpool and took up residence off Wavertree Road, at 91 Chatsworth Street. They later moved to live in Holt Road. The 1911 census records that the couple had four children and were running a fish and chip shop, while probably living above at 22a Prescot Road in the Kensington area of Liverpool.
Tommy and Fanny later retired to Sefton Cottage in the Flintshire village of Dyserth, and became active members of the local Congregational Church. The couple celebrated their golden wedding on 31 January 1939, shortly before Fanny passed away. Tommy was later admitted to Cartrefle Hospital in St Asaph, where he died on 16 July 1941, leaving his possessions to his daughter Mona Thompson of Great Crosby.
Thomas Halliwell Costley, who played for Everton during their first season in the Football League, was cremated at Landican Cemetery in Birkenhead.