The Eventful Life of Billy Kirsopp.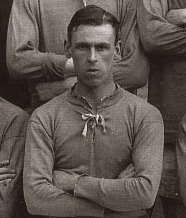 William Henry James Kirsopp was a Liverpool born inside forward who, like many of his generation, was to have his football career interrupted in order to serve his country in World War One. Having first worked on the Mersey Docks he volunteered for the armed forces and, after seeing action in Europe, returned to the family home having been wounded.
Kirsopp was born on 21 April 1892, the second son of Charles, a landscape gardener, and his Scottish born wife Elizabeth. The family first resided at Drysdale Street, in the southend of the city, and by 1911, they were living off Kingsley Road at 4 Solway Street.
Kirsopp was working for Cunard Shipping Company, as a dock labourer, when his scoring ability attracted the attention of the Everton talent scouts while wearing the colours of a team who played under the name of the Borough of Wallasey. Based at Mill Lane in Liscard, they were members of the Liverpool County Combination. During the season of 1913-14, Kirsopp scored over forty goals for this club before he joining Everton on the 28 April. He immediately travelled to Scotland for an end-of season tour and scored on his debut, in a 3-3 draw against Hamilton Academicals. The following season he was placed in the Everton Central League side.
Kirsopp took part in the opening game of the 1914/15 season, away at Burslam Port Vale, and scored the only goal as Everton lost 3-1. He had to wait until the 1 January, following an injury to Frank Jeffries, to make his first team debut at Goodison Park, in a 1-1 draw against Tottenham Hotspur. Kirsopp then made his FA Cup debut.
Everton had been granted a home tie against a Barnsley side, who five years previously had beaten them in the semi- final of the contest at Old Trafford. Everton, who finished the game with nine men on the field, lost 3-0. This time however, they were to be victorious, but ended the game with just seven still standing.
James Galt had given the home side a first half lead, before Jud Harrison, along with visiting player Baron, clashed and were ordered from the field by the referee. The next person to try his patience was Bobby Parker who, after doubling the lead, was sent off for a foul on the Barnsley goalkeeper. The Scot had yet to reach the tunnel, when a second goal from Galt gave Everton a 3-0 lead. The visitors were now a beaten side, and their exit from the tournament was assured when Joe Clennel broke down due to ill health, and was carried from the field leaving the home side with just eight men. Tom Fleetwood, injured in the final minutes, was next to be carried off, leaving just Sam Chadgozy and Billy Kirsopp to make up the Everton forward line. They won the tie 3-0 and continued their FA Cup run with an away tie against Southern League side Queens Park Rangers.
Park Royal, then the home of the west London club, was considered not suitable to stage the game, so it was switched to spacious home of neighbours Chelsea at Stamford Bridge. The match attracted a crowd of around 30,000, who saw Everton win by the odd goal in three. There then followed a home win over Bradford City, which saw Billy Kirsopp and his team mates through to the penultimate round of the contest, where a tie against Chelsea awaited them. The game, played at Villa Park, saw Everton beaten by two goals to nil. Nevertheless, they were top of Division One when they again faced the same London side, in the last game of the season at Goodison Park.
Kirsopp took part in the match as Everton clinched the title, with a 2-2 draw, for the second time in their history. He had made 17 appearances for the club so the football authorities granted permission for Everton to strike  him a Championship Winners medal. William Kirsopp thus became the first Liverpool born man to be honoured in this way. He also won a silver medal when Everton, after beating Tranmere Rovers in a charity game, won the Birkenhead Borough Hospital Cup at Prenton Park.
At the end of the 1914/15 season, and after the FA Cup Final, the Football League was then suspended until 1919 during the First World War.  Billy Kirsopp continued to play for Everton in the Regional League until he enlisted on 4 February 1917.
He joined the Scots Guards Reserve Division, while at that time living at 28 Broadwood Street in Liverpool. After his basic training, he was stationed at Wellington Barracks and was promoted to Lance Corporal. During his time in London, he was reported to be playing football for the 1st Battalion of his Regiment, and also assisting West Ham United who were then members of London Combination. On the 26 January 1918, he scored the only goal for the East London side in a 2-1 defeat by Arsenal at Upton Park, and played for them again against Brentford and Crystal Palace. Early in 1917, his Battalion disembarked in France, although it would be another fifty-five days before he would be moved up to the front line.
Billy Kirsopp took part in the defence of Arras, where he was wounded twice,  and after treatment in hospital, he was shipped back to Blighty. Once home he wrote the following correspondence to the local press,
'… Just a line to say I am back in England and feeling fairly well considering I got hit in the leg and hand. The former is only a flesh wound and mending well but the first finger of my left hand has been amputated.'
Liverpool Echo, 17 April 1918
The war in Europe had ended when Kirsopp returned to Wellington Barracks and re-joined his Battalion. The Everton executive, in a hope to strengthen their depleted side, attempted to resign their championship winning player by finding a position with his former employer. His Commanding Officer however, refused to release him.
The next sighting we have of Billy Kirsopp is when he is selected to represent the London District Command on 8 February 1919, against the RAF (South Eastern Area) at Craven Cottage. He is listed in the newspapers as 'a player with the Scots Guards, Everton and West Ham United. Two weeks later, he mysteriously went missing.'
In fact, Billy Kirsopp was 'Absent Without Leave between 25 February and  4 April and yet, on 15 March he was reported to be playing for Everton at Deepdale, in a 3-2 win over Preston North End. He did in fact return to Wellington Barracks, where was tried by a Military Court and sentenced to 55 days detention, later reduced by nine days for good behaviour. Following his discharge from the Army, Kirsopp returned home to Liverpool and signed again for Everton.
He made his reappearance on 6 September 1919, in a 1-0 win over Chelsea before a massive crowd of 60,000 people at Stamford Bridge. The Everton team went on to have an indifferent season, which saw the line-up change frequently, finishing in bottom half of the league table. Billy Kirsopp, who had played in several difference positions, was the leading scorer with 14 goals to his credit. The club re-engaged him and paid a wage of £9 per week just before he was married.
His bride-to-be was Catherine McColl, a 28 year old widow. The couple were married on 12 August 1920 at St Bede's Toxteth and set up home at 41 Langton Road in Wavertree.
During the 1920-21 season, Kirsopp begin to lose favour with the Everton selectors and by the end of the season he was on the transfer list, from where he dropped to Division Two to join Bury. He had played 63 league and FA Cup games for the Goodison Park club and scored 29 goals.  The fee was undisclosed, but it was stated that the player received a share of £50. Kirsopp spent one season with the Gigg Lane outfit, before leaving to sign for Grimsby Town of the Third Division North. He remained with the Lincolnshire club for one season before returning to Merseyside, signing for New Brighton who had just been elected to the Third Division North.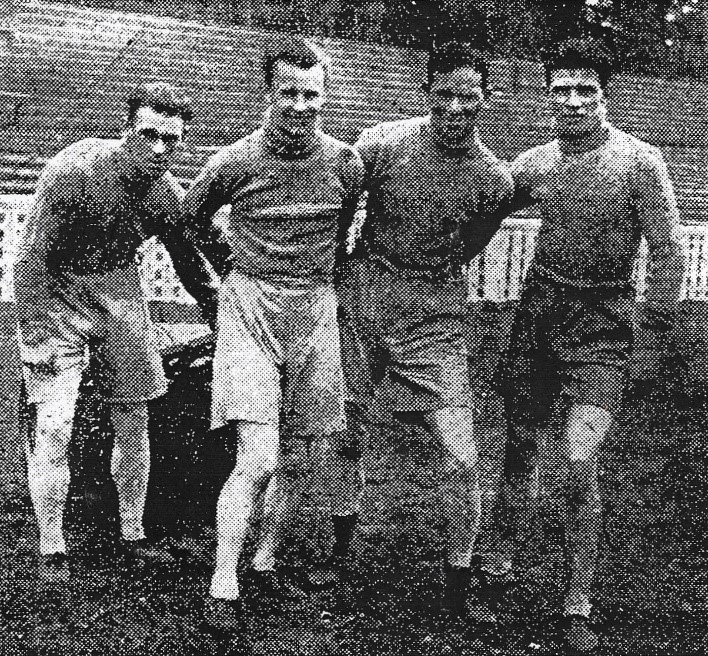 On the 6 October 1923, Billy Kirsopp took part in the first Football League derby game to be played on the Wirral Peninsula, when his new club faced Tranmere Rovers on their home ground at Rake Lane. The occasion produced a sight never previous witnessed in Wallasey as over 11,000 filled the ground to breaking point. The game ended in a 0-0 draw. He played two seasons with New Brighton before retiring from the game.
Billy Kirsopp spent the remainder of days in his native Liverpool and, towards the end of his life, was often to be found, playing the piano, at the Grosvenor public house in Wavertree. He passed away at home at 32 Bartlett Street, on 21 April 1978 – his 86th birthday – and was buried alongside his wife (who had died in 1960) in an unmarked grave in Allerton Cemetery, Liverpool.
Acknowledgements
Keith McColl