Those of us who have attended Goodison Park on a matchday have always been familiar with the figure of a lady dressed in a blue and white dress, an apron, quaint bonnet and carrying a basket of Everton mints. She tosses handfuls of the black and white humbugs into the sections of the stadium, as she walks the perimeter of the pitch, with eagerly awaiting fans clutching whatever they can catch. The fans take for granted this ritual, which goes back to a date we can't be precise on, but the duty was certainly performed in the 1950's and possibly earlier.
I recently made contact with someone who was a Toffee lady and only lived a stone's throw away from Goodison Park. Gillian Francis made her "debut" as a Toffee lady in August 1977 on the opening day of a new season as newly promoted Nottingham Forest, managed by Brian Clough, came to experience life in the top flight.
(Right: Gillian Francis (left) with sister Joanne)
The criteria which Gillian needed to fulfil to be eligible for the role was first and foremost, to be an Evertonian. That of course would make sense to anybody. Once a successful applicant, Gillian was rewarded with a season ticket for the Upper Gwladys Street stand, so she could watch the games after parading around the pitch before the game. On match days Gillian had to report to Jimmy King, Chairman of the City Road Supporters Club branch on City Road, which adjoined Goodison Road.
Once dressed in her outfit, which was handed down to her from the previous owner, Gillian had to carry a basket of Everton mints weighing 4lbs. She would appear from the players tunnel turning left to walk alongside the Goodison Road enclosure in the direction of the Gwladys Street, continuing to the Bullens Road stand, hoping to make someone a lucky recipient of an Everton mint, before making the aching walk towards the Park End which then housed the away supporters. Here the welcome would not be so friendly and Gillian went on to say that she was greeted on occasion, with being spat at, nasty name calling, coin throwing, and once even had a live Cockerill thrown at her by Tottenham Hotspur fans. This would result in being safely escorted back to the tunnel by a friendly member of the Police establishment.
Gillian's role was noticed by the players of that time who would often greet her with a courteous "Hello" as they entered the playing surface for their warm up with less than an hour before kick-off. She obviously became more familiar with players as time went by. One unforgettable moment was when Gillian reached the age of 18, and a total surprise was when the players presented her with a very large cuddly teddy bear.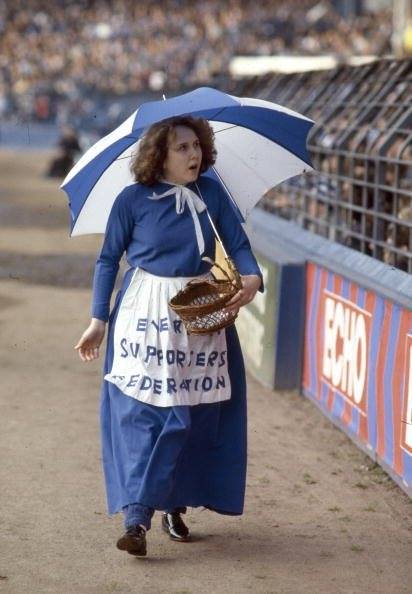 Gillian performed the role until May 1983 keeping it a secret from her friends until one day she was recognised by a work colleague who happened to be in the crowd and her cover was blown.
When Gillian 'retired', the role was kept in the family with her younger sister Joanne becoming the newly appointed Toffee Lady. Joanne had an older sister called Tracey, who along with family members, made a new dress for Joanne to proudly display on the 27 August 1983 for the visit of Stoke City.
(Left: Joanne Francis, 23 April 1984)
Many of the things Joanne experienced in her role were very similar to her sister Gillian. She was once hit with a pie as she walked around the stadium. That would be something she had in common with Imre Varadi, who met a similar fate as he celebrated his goal in an FA cup game against rivals Liverpool, in front of their supporters.
Joanne was very fortunate to be on the pitch as Everton were presented with the Canon League trophy in May 1985, something no doubt that will remain with her forever. She also had the pleasure to meet and speak with her favourite player Adrian Heath during her time enjoying the role.
Joanne carried out this role until May 1991.