Previously there has been a concerted effort by the Everton FC Shareholders Association, and particularly by one fellow Evertonian, Paul Wharton, to endorse our song And if you know your history. Paul has been dubbed the Everton Sherlock Holmes. He has been driven to find out the true story behind our clubs formation and the founder fathers who delivered to us this fantastic club. When I read about our club's past it really does make your heart go whoohhoo!
It is now generally accepted that the following gentleman were the driving force in forming and making Everton; Ben Swift Chambers, John Houlding, James Baxter, George Mahon, John McKenna and Will Cuff, who all read from the same prayer book about football on Merseyside in its infancy.
Paul arranged fantastic evenings for the story of George Mahon and Will Cuff to be told, but our education of Everton would not be complete without an in depth story of a man who stood as tall as the previous gentleman in our past, Dr James Clement Baxter.
The venue was the People's Lounge in the Park End. This location was again our schoolroom for the night. At the teachers desk there were portraits of these great men newly painted, to be exibited on these evenings, and to be shown to Merseyside again in the museum after the originals were lost or never commissioned. A great bonus to us all.
Once again, our adopted Scouser Peter Lupton, the Norwich fan, gave an emotional heartfelt speech about a man who was part of my Holy Trinity of our forefathers. If Peter had been my teacher in school I would be a brain surgeon now or a nuclear physic, he has an almost hypnotic effect on you the way he talks. Come to think of it, I was twenty pounds light from my pocket after his oration with no explanation.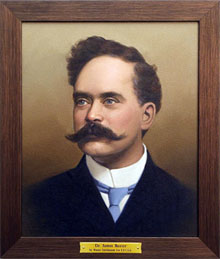 DR JAMES CLEMENT BAXTER
A report of the talk given by Peter Lupson
Everton had the formidable task of turning Mere Green Field into a proper football ground in time for the start of the 1892-3 season. Time was limited and building costs were worryingly high. Most of the money could be raised from shares, savings and compensation for the fittings left behind at Anfield but there was still a crucial shortfall that threatened to jeopardise the entire project. Things would undoubtedly have ground to an immediate halt but for the intervention of one of their directors, Dr James Clement Baxter.
£1000 LOAN TO EVERTON
Concerned at the club's desperate plight, Baxter unhesitatingly offered a loan of £1,000 interest-free and without security. (Worth around £130,000 today). At the time, it would have practically paid the wages of the entire first team for a year. (When Nick Ross was signed from PNE in 1888 his wages were £10 per month. He was the club's highest earner.) It was a magnanimous gesture and it secured Goodison Park as the new home base. For this act of generosity alone Baxter was certain of his place in Everton's history although, as we'll find out, his service to the club extended far beyond this.
James Clement Baxter was the son of chemist William Baxter and was born at Great Homer Street, Liverpool, in 1857. The area was fertile soil for the production of future giants of EFC. George Mahon was born at nearby Birkett Street off St Anne Street in 1853 and in 1861 Alfred Riley Wade (also born 1857) lived even nearer at Great Nelson Street (which has since disappeared under the Wallasey Tunnel).
Coincidentally, 1857 was also the year when the Roman Catholic Church of Our Lady Immaculate in St Domingo Road was opened as a place of worship. This was significant because Baxter was to become one of the most prominent and respected Catholics in Liverpool, and Our Lady's was the place where he worshipped and where his funeral was to take place.
As a point of interest, this church was originally intended to be the Lady Chapel of the new Roman Catholic cathedral, the building of which was started in 1853. When the Lady Chapel was finished in 1857 it was felt that continuing to spend money on a grand cathedral could not be justified at a time when poverty, squalor and disease were major afflictions of thousands of Liverpool residents. Building work stopped when the Lady Chapel was completed. The chapel was consecrated as a parish church.
It's interesting to know why this site in St Domingo Road was chosen for the new cathedral as there is an unexpected link with Everton's history. The name of the road is a clue. It derived its name from an impressive villa that stood in the road called St Domingo House which had been built in 1757 by a wealthy Liverpool merchant, George Campbell, from the spoils of a French ship he had captured off the island of Santo Domingo (now the Dominican Republic). He named his villa and its 53-acre estate after the island to commemorate his great prize. In time, the name was adopted by local streets and eventually a political ward. Two of these streets, St Domingo Vale and St Domingo Grove, gave their name to St Domingo Chapel which was built between them. This chapel was, of course, the cradle of EFC.
St Domingo House and land were eventually bought by the Roman Catholic Church in 1842 as a seminary for the training of priests and renamed St Edward's College. Shortly after this, the land next to the College was chosen as the site of the proposed new cathedral. Incidentally, when the priests relocated to Up Holland, the building was used as a boys' school but kept the name St Edward's College. In time, this school relocated to West Derby.
After his education at St Francis Xavier College, a respected Roman Catholic school in the city, he proceeded to the King and Queen's College of Physicians of Ireland in Dublin to train as a doctor. On graduation he returned to Liverpool to practise with his uncle in Great Homer Street before eventually setting up on his own in Robson Street, Everton.
Baxter's care for his patients, most of whom were from poor Catholic families, became legendary. He had literally hundreds on his books and he worked long hours tending to their needs. One of his great qualities of character was remarkable generosity. As well as tending to the medical needs of the poor, he also gave liberally from his own pocket to make their lives easier.
Such was his dedication that when he became too ill to walk to his surgery at the very end of his life, he insisted on being helped there.
But his work as a doctor extended beyond Robson Street. He was medical officer at Beacon Lane Orphanage for 30 years and he served as doctor to St Edward's College for many years. (At that time it was a seminary for the training of Roman Catholic priests.) Baxter's sound medical knowledge was also much in demand from insurance companies who trusted his judgements implicitly.
And, of course, he was doctor to Everton Football Club.
SERVICE TO EVERTON AND FOOTBALL
Baxter gave loyal and devoted service to Everton from the moment he was elected to the board of directors in 1889 until his death 39 years later in 1928. In the course of those 39 years he served as director, chairman and club doctor. As Everton chairman Baxter was respected for his tact and control at committee meetings. Even in the most heated debates his tranquil spirit had a calming effect on those present and he could easily bring a meeting to order in a quiet, unostentatious manner. He also had the advantage of great charm and a sunny smile.
As a director of Everton he worked hard to ensure that players felt properly valued. When The Football Association introduced the maximum wage of £4 per week in 1901, Everton, like most clubs, chose to pay this amount only to their very best players. Baxter became increasingly unhappy with this state of affairs. He felt strongly that all members of the first team should be treated equally. After all, they had to pull together on the pitch and work as one if they were to achieve a result. He made this an issue at the management committee meeting of 1 December 1903. As the following minutes record, he managed to persuade his fellow directors that equal pay was the right policy for the club:
Dr Baxter proposed and after discussion it was resolved that, as an experiment and in order to further stimulate the enthusiasm of the younger players if possible, a uniform maximum wage of four pounds should be paid to the eleven players who shall actually play in the remaining League matches and English Cup ties.
Although Baxter was fully aware that this would increase the weekly wages bill, he felt that good morale among the players was a much more important consideration.
His love for football was boundless, not merely confined to the professional game. He gave much encouragement and support to junior clubs and was actively involved with several as president or patron.
Baxter rarely took holidays, being content to travel with the Everton team to away matches or to travel to meetings of the Football Association and the Football League. He did, however, have a love for the cinema, even to the extent of some business involvement.
LIBERAL COUNCILLOR 1906-1920
In addition to his medical work and his involvement with Everton, Baxter also took an active part in local politics. In 1906 he was elected Liberal Councillor for the St Anne's ward, serving there until 1920. His main concerns as a member of the City Council were housing, energy and public transport and he sat on committees relating to these. Possibly his interest in public transport stemmed from his dissatisfaction with the inadequate tram services provided on match days for the thousands of Everton and Liverpool supporters travelling to Goodison or Anfield. The club minutes of 11 August 1903 certainly point to this:
Resolved that Messrs Baxter, Davies & the Secretary be appointed to act with the L'pool F.C. as a deputation to the Tramways Manager with a view to obtaining a better service of trams on the occasion of our matches.
This was the first recorded act of co-operation between EFC/LFC following Houlding's funeral in 1902.
DEATH AND ONGOING FAMILY LINK WITH EVERTON
After a lifetime of dedicated service to his community, Dr Baxter died at his home 110 Robson Street on 27 January 1928 at the age of 71. A Requiem Mass was said for him at the Church of Our Lady Immaculate in St Domingo Road, followed by interment at Anfield Cemetery. It was a very sad day for his wife, Eugenie, their two sons, Reginald and Cecil (both doctors) and their daughter, Evelyn. The family endowed a stained glass window at the Church of Our Lady Immaculate in his memory and it was unveiled on 1 July 1928. His younger son, Cecil, succeeded him on the board of directors and as club doctor at Everton, serving the club faithfully until his own death in 1954. This represented an unbroken link of 65 years between the family and the club.
It has often been assumed that Dr Baxter's deep faith as a Roman Catholic and his close ties with Catholic organisations confirm that Everton is a Catholic club. This is a mistake. The chapel where Everton was born has nothing to do with Catholicism despite the Latin-sounding ring to its name 'St Domingo'. Equally, the presence of a Catholic on the Everton committee was merely a coincidence. Everton remained a Methodist club with continuing strong ties with St Domingo's. However, Dr Baxter was totally accepted by his Methodist colleagues at Everton. There were no signs here of the Catholic-Protestant division that was evident in Liverpool at the time. The minutes of 13 October 1903 clearly reveal this. When the club arranged a friendly match with Stonyhurst College, the famous Catholic school near Clitheroe in Lancashire, Dr Baxter was invited to pick the Everton team.
Baxter was an embodiment of the true Christian spirit of unconditional love, accepting people for what they were. Nowhere was this was more evident than at John Houlding's funeral in 1902, where he was one of two Everton directors representing the Blues (the other was J. Coates). This was a remarkable gesture of forgiveness and reconciliation. Baxter and Houlding were on opposite sides during the split, they were of different political persuasions (Baxter was a Liberal, Houlding a Conservative) and Houlding was a prominent member of the Orange Order. Baxter had a big heart and an open mind.
Love your enemies – it takes a hell of a man to do this and James Clement Baxter was. Towards the end of his life Baxter fell ill and could hardly walk. Local people would call for him at his home, and carry this exceptional man to his office, such was the high respect and love for him. He did so much for others in his lifetime, it was a small payback.
So there it is, another in-depth story of one of our main forefathers, an amazing man who sits in the pantheon of Everton greats. I'd like to thank Paul Wharton for compiling the definitive stories of these great men, so we can look back and remind ourselves who were our main figures in creating this club we call Everton, so endeared to our hearts for well over a century.
At the end of Peter's speech, Paul invited Peter into the Everton FC Heritage Society, as thanks for all his hard work and the commitment he has shown over these talks to tell these men's stories with such vigour and passion.
I wonder if it's too late for me to join Peter's school classes over the water?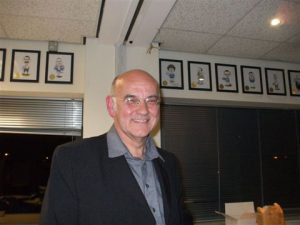 Peter Lupson (now Vice-Chairman of the Everton FC Heritage Society)

………………………………………..
After a short break, Paul invited a Brighton and Hove fan, Spencer Vines, to talk about his book 'Lost in France' about a past forgotten footballer who was the first kind of Georgie Best, a playboy who was an entertainer both on and off the field and a real character. His name was Leigh Roose a former Everton player and this is his colourful lost story.
See here for Leigh Roose article
For reference of these fantastic nights see the original pages on ToffeeWeb. Thanks to Lyndon Lloyd for uploading articles here.
www.toffeeweb.com/season/08-09/comment/fan/article.asp?submissionID=10928
www.toffeeweb.com/season/09-10/comment/fan/article.asp?submissionID=10231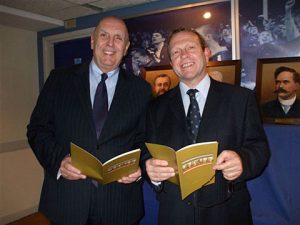 Dr David France and Paul Wharton