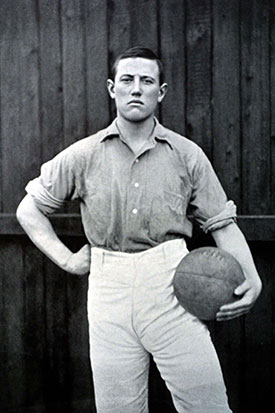 A picture is worth a thousand words, they say. Witness the photo of Charlie Parry posing in his Everton kit in 1894: sleeves rolled up, right fist clenched at his side, ball clasped in his left hand, a hint of a sneer on his lips. Here was a footballer you'd want to play alongside rather than against. Charlie enjoyed 6 years with Everton, over two spells, winning the first Football League title to come to Anfield and becoming only the third Everton player to represent Wales (after Job Wildling and Joe Davies). Perhaps in keeping with his portrait, he was also the first Everton player to be dismissed from a Football League match.
Charles Frederick Parry was born on 25 December 1869 in Llansilin and raised a short "hop" over the English border by parents Frederick (a tin smith) and Ann in Oswestry's Arthur Street. He played for the town's junior team in his teens and was spotted by William Nunnerley, later to become Secretary of the Football Association on Wales and an international referee. Nunnerley saw to it that young Charlie signed for Chester St Oswald's.

His performances on the banks of the Dee led Everton to show interest but Charlie was initially reluctant to move – doubting that he possessed the talent to make the grade with the members of the recently-formed Football League. Eventually he was persuaded that he was 'class enough' and signed on for the Anfielders in the spring of 1889 – debuting in a friendly against Witton on 8 April. Playing at inside-right forward he scored in a 4-1 victory with the Liverpool Courier noting : ''A new man was tried in the person of C. Parry (Chester St Oswald's), who seemed to satisfy the followers of the home club with his consistent and accurate passing to his right partner.' He would make several more appearances in friendly matches at the end of the season – impressing reporters with his drive and passing ability. He took up lodgings – along with his elder brother, John – with the Young family in Flinders Street, Kirkdale.
Charlie's Football League debut, at Anfield on the opening day of the 1889/90 season, was certainly memorable. A goal in a 3-2 victory over Blackburn Rovers was overshadowed by being given his marching orders by referee Glump on 82 minutes for 'persistently fouling Forrest'. Thus Charlie entered the record books as the first Everton player to be sent off in a league fixture.
Although that first Everton season saw Charlie play in an advanced role, he would spend most of his career at half-back or full-back. He was noted by sports chroniclers for his versatility, positional sense, pace, dead-ball accuracy and robust tackling – his reputation for 'bashing goalkeepers' was also remarked upon. An article published about the Everton team in November 1889 described him thus:
'He is nineteen years of age, 5ft 8 inches in height, and weights 12st, 2lb when in good conditions. He is a robustly built young fellow, and has been extremely useful to the team, first as a forward, and more recently – since Weir was hurt at Wolverhampton – at half-back.'
It appears that Charlie was never far from a cash-flow crisis throughout his adult life. As early as October 1889, the Everton board minutes recorded: 'The Secretary reported that Parry was in some financial difficulty & it was resolved that the sum of ten pounds be given to him as a present in order to settle his affairs.' Charlie would be an ever present that debut season as Everton finished second in the league – two points shy of Preston North End. For his second season on Merseyside Charlie found himself out of the team until an injury to Alex Latta freed up a berth at right-half. For the run-in, he switched to centre-half. From being in pole position Everton looked to have thrown the league title away by losing their final three fixtures – but a shock defeat for rivals Preston at Sunderland on the final day saw Everton crowned champions for the first time.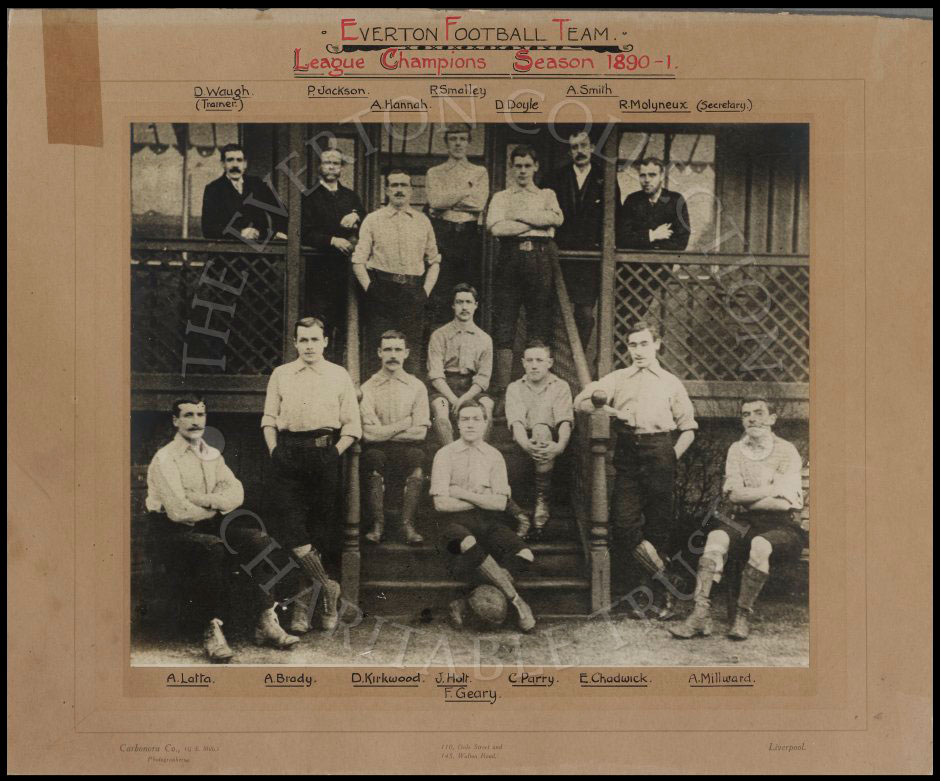 That spring Charlie was notable for two other key events in Charlie's life. In March he made his debut for Wales at Sunderland's Newcastle Road Ground (a 4-1 defeat to England). He also married Ada Mervyn, a Liverpudlian, so the club agreed to advance him £15 in wages. Having lost his Everton place early in the following season Charlie had an audience with the club directorate and requested his release. The club agreed, on condition of repayment of £34 received during the summer months, plus 'the amount due to the club for loans advanced.' Charlie moved on in mid-season, briefly joining Ardwick (Manchester City) but not making any senior appearances. In March 1892 he switched to Wavertree-based Liverpool Caledonian. The club had ambitions to join the Football League but an application was rejected in the summer of 1892 and the club disbanded a year later. A month after joining Caledonian Charlie came up against Everton's reserve team at the Woodcroft Park ground. With a point prove to his former employers, he excelled, according to the Liverpool Mercury: 'Parry played in splendid form…For the Caledonians, who at one time had the game in hand, none played better than Parry, who gave a first class exhibition of back play.'
Over at Anfield the dispute between John Houlding and other senior figures in Everton FC would result in Everton moving to nearby Mere Green (the site of Goodison Park). The Nuggets gossip column of Cricket and Football Field speculated that Charlie might be one of players with Everton connections to throw in his lot with Houlding's start-up team. In fact, perhaps impressed by his performance for Caledonian back in April, Everton re-engaged Charlie in December 1892 – his wages were marginally less than he had been receiving previously. It was not long before he found himself in hot water. In late January 1893 he was fined and warned as to his future conduct for language used against the trainer, Mr Leyland. He would make 10 appearances at left-back and centre-half but was not selected for the side defeated 1-0 by Wolves in the only FA Cup Final to be staged at Fallowfield in Manchester. The match was a chaotic affair with the estimated crowd of 60,000 (far surpassing the official figure of 45,000) constantly spilling onto the pitch.
First team opportunities in the 1893/94 season were restricted – due in no small part to an episode of drunkenness. Charlie was suspended and brought before the board. His explanation for inebriation was deemed 'unsatisfactory' by the directors and he had his suspension, without pay, extended for a further week. The board also instructed the Secretary to 'try & arrange with some club to take Parry.' In spite of this seemingly terminal situation, Charlie earned a reprieve in December when an Injury to Bob Howarth prompted a recall to the first team. This was well-timed as Everton enjoyed successive 8-1 and 7-1 victories in which Jack Southworth scored 4 and 6 goals respectively. Predictably Charlie found himself at loggerheads with the club again in March 1894. On this occasion he was suspended for a fortnight for 'not attending training'. Once again he eventually returned to favour and was selected in defence as the season drew to a close.
With Bob Howarth departed Charlie established himself at full-back in the 1894/95 season. He was in the team which played Liverpool in the first league Merseyside derby in October – a 3-0 victory for the Toffees. For Charlie it was a tough match; one newspaper report highlighting the challenge he had to subdue Kerr on the Liverpool wing: 'Kerr in particular shone against the burly Parry, who was frequently penalised for rough play.' That season goals from John Bell, Edgar Chadwick and Alf Millward put Everton within touching distance of its second title. With three matches to go a jaded Charlie was rested and replaced by fellow Welsh international, Smart Arridge. Everton lost two consecutive matches, including one to eventual champions Sunderland. Charlie returned for the season's final fixture – a draw at Villa Park – but irrevocable damage had already been done to title hopes.
Charlie made two final Everton appearances, at right-back, in the autumn of 1895. The second of these – a 3-4 defeat to Aston Villa – saw him concede a penalty for handball. In all, Charlie made 94 appearances in the Football League and FA Cup for Everton, scoring four goals. On 5 December the board agreed that Charlie should be transferred to Welsh club Newtown on condition that Everton could call on his services again if required. The Wrexham Advertiser reported on the transfer: 'Charlie Parry, the Everton full-back and Welsh International, has decided to throw in his lot with Newtown. He has obtained his release from Everton, and taken with him one, if not two, of the most promising junior football players in the Liverpool district. With such an addition, the holders of the Welsh Cup should stand a good chance of retaining the trophy another season.'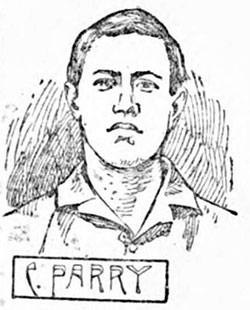 In his new home town Charlie juggled football with being licensee of the Oak Vaults pub in Shortbridge Street. Charlie seemed ill-suited to the role of publican – certainly his tenure did not always run smoothly. The Montgomeryshire Express reported on 'frequent disturbances' and the occasional presence of 'loose women' on the premises. An altercation in October 1896, over alleged short-changing, resulted in Charlie appearing in court, accused of landing a punch on a customer. With Charlie hit in the pocket by the ten shillings fine and costs handed down, Everton came to Newtown a month later to participate in a benefit match for their former player. It was resolved by the Goodison board that Charlie would pay for the travelling party's dinner and tea whilst the Toffees would cover their own rail travel costs. The match ended in a 5–1 victory for the visitors with Wilfred Oldham notching a hat-trick.
Charlie continued to play for and, sometimes captain, Wales during this period. In February 1896 he led his team to a 6-1 victory over Ireland. With Newtown he reached the final of the Welsh Cup in 1897, losing to Wrexham in the tie staged in Oswestry. Upon leaving the Oak Vaults in 1899, Charlie moved to play for Aberystwyth Town for two years. Here he won the Welsh Cup in 1900 (defeating Druids 3-0 in the final staged in the familiar setting of Newtown) and was capped for Wales four more times (bringing his tally to 13).
Subsequently he returned to his roots in Oswestry, where he turned out as a goalkeeper for Oswestry United from 1900 until retirement from playing six years later. He went on to referee in the Birmingham and District League until ill-health forced him to step-down. Away from football he worked as a general labourer, living on Smithfield Road (and later at 12 Coney Green). 
In April 1904, Charlie was the beneficiary of a second fundraising match when Liverpool FC visited Park Hall to play Oswestry (winning 4-0). In 1921 word reached Everton via Oswestry's mayor and vicar that Charlie was ill and struggling to support his family financially. A donation of £10 was made and an Everton XI came to play in a benefit match in April of that year. "Wanderer" in the local newspaper reported that Charlie and fallen on 'evil days' and he hoped that the cash raised might give him the means to regain his strength. In a game blighted by a biting wind and hail and snow showers, the Oswestry and District XI, bolstered by two guest players from Aston Villa, beat the visitors by a goal to nil. Charlie passed away on 4 February 1922, aged just 52. He was laid to rest in an unmarked grave in the town's cemetery. He left behind his widow and 6 children.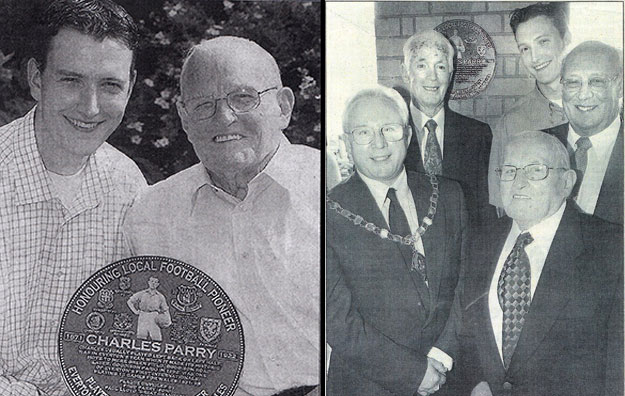 Left: Paul Lloyd with Fred Parry and plaque, 2003; Right: Unveiling of the Charlie Parry plaque, 2003
In 2003 a campaign was led by Paul Lloyd, to have his great-grandfather, Charlie, properly recognised for services to football, in Oswestry and beyond. His efforts, supported by family members and the local community, culminated in the naming Charles Parry Close in Oswestry and the installation of a commemorative plaque in the town's market hall. Four generations of the Parry family were present for the plaque's unveiling, at which Tommy E. Jones and Tony McNamara represented Everton FC. Charlie's sole surviving son, Fred, who was just six when his father passed away proudly, stated: 'It is an absolute honour for me to see my father honoured in this way with a plaque and by having a street named after him.'

Sources and acknowledgements:
Trevor, Sue and Paul Lloyd
Gareth M. Davies 
David Peate 
Billy Smith (bluecorrespondent.co.uk website)
Newspapers including: Cricket and Football Field, Liverpool Mercury, Shropshire Star
Steve Johnson, The Official Complete Record (de Coubertin Books)
Everton Board Meeting Minutes (Everton Collection website)
Gareth M. Davies and Ian Garland, Who's Who of Welsh International Soccer Players (Bridge Books)
Colorsport (for kindly permitting use of the 1894 image of Charlie at Everton FC)