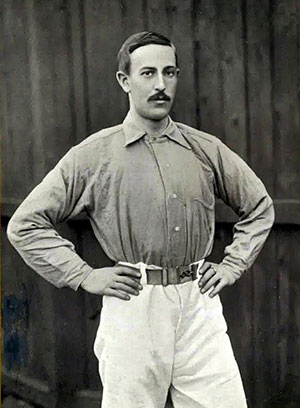 The wonderfully named Smart Atkinson Arridge was one of Everton's first Welsh international players – in spite of not qualifying to represent his adopted nation. He was born on 21 June 1872 in Southwick, a village on the north bank of the River Wear which has since been absorbed into Sunderland (it lies a short distance from the Stadium of Light). Smart was the third of four children born to John, a shoemaker originally from Lincolnshire, and Isabella. With Smart still an infant the family uprooted themselves to North Wales via West Yorkshire, residing "above the shop" on the High Street in Bangor.
Attending Friars Grammar School, Smart represented the school team and also served as a chorister in the cathedral choir. At the age of 15 he joined Bangor City – forming part of an Arridge dynasty at the club. Younger brother John (known as Jack) was a highly-rated half-back whilst eldest sibling William kept goal when the Citizens won the Welsh Cup in 1889. Smart debuted for Bangor in March 1888 as a left-winger, two years later he was converted into a full-back at the instigation of Percy Hughes, the club captain.
Having enlisted with the Merchant Navy in Liverpool in November 1888, he left just a year later. The reasons cited were the lure of football combined with, what were cryptically referred to in his obituary as, "some grim maritime experiences". In 1891 the census had Smart listed as a resident at The Clio Boys Home in Great George Square, Liverpool. The organisation behind this establishment owned The Clio – a ship moored off Bangor harbour since 1877. Grandly titled as an Industrial School and Training Ship, it was a correctional facility for teenage boys who had committed misdemeanours. Under a strict regime, up to 260 youths living on board were taught discipline and given the skills necessary to become naval seamen. Rather than being a miscreant, it is most likely Smart was being given use of the Liverpool accommodation on account of his Bangor connections. Indeed, it was on record that Smart was tee-total throughout his life days and frowned on the uttering of profanities.
In April 1891, having impressed for Bangor in a friendly match against Everton's reserve team, Smart was invited to play as a triallist for Bootle in a friendly match against Wolves. Athletic News reported the favourable debut by the eighteen year-old: "The local club tried a new back in Smart Arridge, of Bangor, and he made a very good first appearance. Kicks well and clean, but deficient in tackling, he is young, and should improve in this respect. Anyway they have signed him for next season." Such was his rapid progress that Smart had earned the club captaincy by the season's end. Around this time he married Jane Mary (Jenny) Atkinson from Birkenhead. For the 1892/93 season Bootle FC became a founder member of the newly-formed Football League Second Division; Smart made his debut in that competition on 3 September against Ardwick (soon to be renamed Manchester City). He'd rack up 21 appearances that season. Remarkably Smart made his international debut seven months before his Football League bow, in a 1-1 draw with Ireland played, fittingly, at Bangor's Penrhyn Park (the Welsh selectors appear to have turned a blind eye to the debutants English birthplace and parentage).
At 5'10" Smart was of only moderate build. Blessed with pace, he was an aggressive competitor and was noted for his adeptness at the (then legal) shoulder charge. Unlike many full-backs of that era he was willing and able to get up and down the flank – drawing on his previous experience as an outside-left. His obituary, in the North Wales Chronicle described him, perhaps through slightly rose tinted spectacles, as a "gentleman footballer" who was "scrupulously fair". His physicality and fleet-footedness piqued the interest of Everton's board who were seeking to reinforce their defensive line. The Toffees had actually tried to sign Smart prior to him making his Football League debut for Bootle and, in October 1892, a sub-committed was appointed to negotiate a transfer with Bootle. No deal was forthcoming and in April 1893 it was reported in Cricket and Football Field that, in spite of interest from Accrington, "Smart Arridge is determined to stick to the blue and white verticals of Bootle." However, when Bootle resigned from the Football League after just one season (to be replaced by Liverpool FC), Everton succeeded in capturing their target in August 1893. Smart's salary was agreed at £3 per week. Interestingly, many decades before the introduction of agents to the sport, the Everton board resolved to give a Mr. W. Roche, a £5 and a free season ticket for helping to get the transfer completed.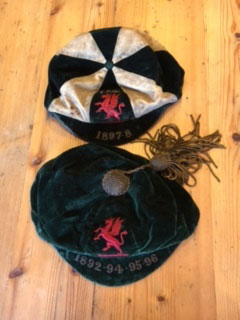 Smart would have to wait to make his Blues' debut as English and Welsh internationals in Bob Howarth and Charlie Parry were also vying for the left-back role. Two appearances over the festive period were the sum-total of his involvement the 1893/94 season. His debut came, with Howarth unavailable due to a foot injury, in a 7-1 slaying of West Bromwich.

The Liverpool Mercury described the debutant's play as "safe" but in the next match – a 3-3 draw with Darwen – the Mercury was less complimentary: "Arridge was not capable of repulsing the rushes of Darwen with certainty – the right winger soon grasping his weakness in the tackling line." With Smart relegated back to the Everton Combination, Fourteen months would elapse before the first of three outings in the following campaign. Although out of the Everton first-team frame, Smart was selected, in tandem with Charles Parry, for the first appearance of the Welsh national team in the Rugby heartlands. The Western Mail previewed the match to be played against Ireland on 24 February 1894 at Swansea:
"There is every reason to suppose that, given the fine weather, the match will attract considerable attention. In this part of the Principality the Association game is practically unknown. There has, in the past, been one or two clubs playing the game in the principal South Wales towns but their efforts, necessarily crude, have attracted no attention until the past couple of seasons."
The report went on to comment that the decision by the FA of Wales was intended to give a "much needed fillip" to the game in the South. It then gave an explanation, for the uninitiated, of the key differences between the Association and Rugby codes of football.
Finally, in the 1895/96 season, with Parry moving to Ardwick, Smart seized his opportunity – becoming a near-ever-resent for the Blues. As Everton eased through the first three rounds of the 1897 FA Cup competition, Smart retained a firm grip on the left-back position. However, over a two-week period in March both he and the team experienced a calamitous dip in league form. Four consecutive defeats were suffered at the hands of Bury, Blackburn Rovers, Nottingham Forest and Blackburn Rovers (again). In the 2-4 defeat to Rovers at Ewood Park, a Liverpool Mercury match report was damning:
"When the ball got among the Everton defenders there was always considerable anxiety as neither Meechan nor Arridge played anything like a confident game."
A week later, in the return fixture against Rovers, Everton slumped to a 0-3 home defeat. The Liverpool Mercury, again, highlighted Smart's woes:
"A movement along the Rovers right resulted in an opening for Proudfoot, who, having the better of a tussle with Arridge, put the ball into the net, play having barely been five minutes in progress… Arridge was not as reliable as usual, and it was upon his side that the Rovers made a most of the running."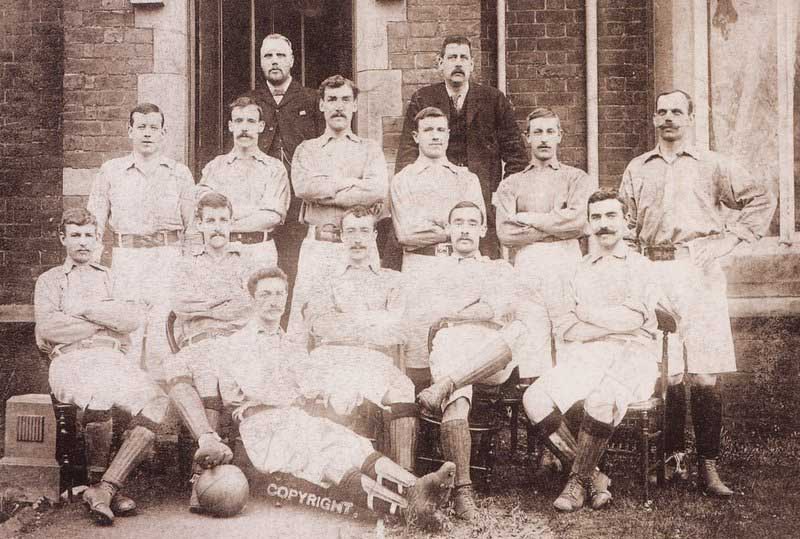 After this ordeal Smart was discarded for the following week's FA Cup semi-final – a narrow victory over Derby County. Meecham came in at right-back with Storrier moving across to left-back from the opposite flank. Smart could not reclaim his place and on FA Cup Final day at Crystal Palace he – like Bob Balmer, Ted Critchley, Fred Pickering, Sandy Brown, Andy King and John Ebbrell after him – had to sit out what would have been the zenith of his club career. For the record, Aston Villa ran out 3-2 victors. Two weeks later Smart's Goodison farewell came about when he replaced the rested Storrier in a 6-3 victory over West Bromwich Albion.
After 56 first team league and cup outings for the Toffees, Smart was made available for transfer that summer for a fee of £100. With no acceptable offers from league clubs forthcoming, he accepted a move to the recently-formed New Brighton Tower (named after the largest building in the country) of the Lancashire League. Everton retained Smart's registration until the fledgling club was elected to the Football League for the 1898/99 season, a year later. New Brighton was an ambitious club with no fewer than six current and former international players in their squad – they became dubbed "The Team of Internationals". When they took on Newtown in a match in October 1897, the reporter commented that "The huge kicks of Donald Gow and Smart Arridge were much admired."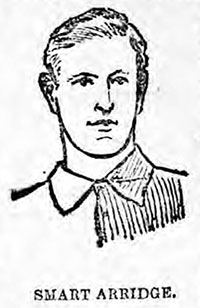 Although playing second-tier football, Smart continued to be selected for his country, winning his eighth and final cap against England at Bristol's Ashton Gate stadium on 20 March 1899 – alongside him at that team was the great Billy Meredith (then of Manchester City). England ran out comfortable 4-0 winners but the Morning Postreported: "It was the easiest of victories. What the score would have been had Arridge and Blew, the Welsh full-backs, and Sam Jones not been particularly good, was difficult to imagine." Back in club football,
In September 1899 it was reported by the Walsall Advertiser that: "Smart Arridge played a fine back game and has lost little or none of the reliability of his old Everton days." The following season, when playing for New Brighton at Walsall the local newspaper described Smart, only 28, as "the old reliable".
In the spring of 1901, according to the Census, Smart was living at 29 Wentworth Avenue in Upper Brighton with wife Jenny and young sons, Smart Owen and Leslie. New Brighton Tower, in the face of poor attendances and financial woes, folded that summer (to be replaced by Doncaster). Smart headed up the Mersey to continue his playing career at Stockport County of the Second Division – captaining the club over two seasons. However the veteran was visibly slowing and suffering from more frequent injuries. He bowed out of English football after his 67th appearance for the Hatters in a one-all draw with Preston North End in April 1903.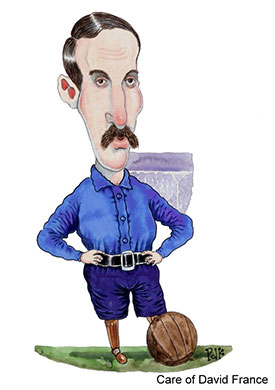 Smart subsequently returned to his home city of Bangor, living in Albert Place. He initially turned out for Bangor City Old Boys before returning to the first team and captaining the side. In one of his first matches in The Combination, against Oswestry, he came up against his former Everton teammate Charles Parry. He became part-time trainer of the club and ran a furniture business. Presumably this venture was not successful as, in November 1906, he was appointed to the position of toll collector on Bangor Pier. A period followed working on the "Clio", the "floating borstal" which remained in use until 1919. In time Smart became a stevedore at Porth Penrhyn – loading ships with slate from nearby quarries. A year after Jenny's death in 1908 Smart married Cecilia (Cissie) Owen, some years his junior. They would have three sons: Cyril, Eric Smart and Leonard Owen (who became a canon at Bangor Cathedral and served as a parish priest in the city) and adopted a daughter, Margaret.
At the outbreak of the Second World War, Smart was listed as still working, aged 67, as a wharf labourer and living with Cissie and Eric at 2 Penlon Gardens. He continued to watch Bangor City regularly at their Farrar Road ground. Although continuing a lifetime of abstinence Smart would visit the local pub each evening to play dominoes. Having done just that one Saturday evening, he was taken ill on the Sunday morning and died that day, 19 October 1947, at the age of 75. He was laid to rest in Glanadda Cemetery.
Acknowledgments/sources:
Thanks to:
Tim and Cyril Arridge
Gareth M. Davies
David France (for use of caricature by Peter King)
Billy Smith
Marcus Heap (Stockport County historian)
Source material:
Local and national newspaper reports on bluecorrespondent.co.nr (curated by Billy Smith)
North Wales Chronicle, Liverpool Mercury, Western Mail, Walsall Advertiser
Gwladys Street's Blue Book by David France with Gordon Watson
Who's Who of Welsh International Soccer Players by Gareth M. Davies and Ian Garland (Bridge Books)
Everton: The Official Complete Record by Steve Johnson (deCoubertin Books)
Everton board minutes (Everton Collection website)
childrenshomes.org.uk
Census returns and the 1939 Register
National Library of Wales
Ancestry.co.uk
Go Go County website
Playupliverpool.com