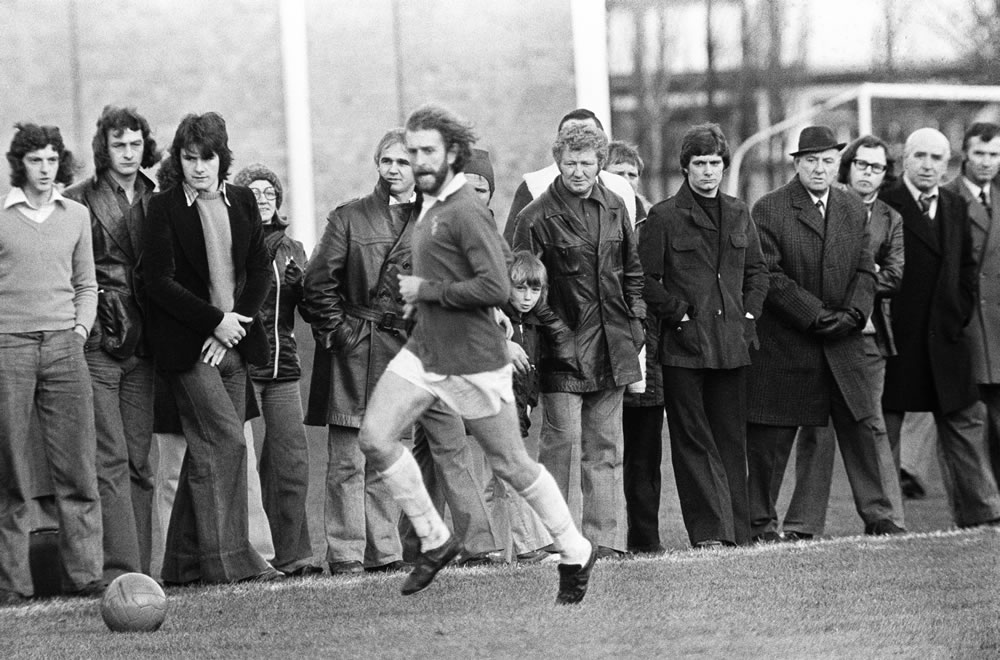 Martin Murray was signed by Everton from Irish club Home Farm in December of 1975 at the age of sixteen. Billy Bingham, the manager who signed him, labelled him as the new George Best. Unfortunately, Martin was unlucky with injuries and failed to make the first team. I have been fascinated with trying to find Martin for a few years, but with much homework, I managed to locate him out in Denmark. We spent time chatting about the days he spent at Goodison, which has left a lasting impression on him, as he is now an Evertonian. 
Martin continues to tell his story;
What happened was, I was playing my football in Ireland, and broke into the senior team of Home Farm at the age of sixteen and a half. It seemed to take off from there. The newspapers went ballistic as they had dubbed me the new George Best. It's hard to imagine for the people nowadays with social media and everything else, but the whole thing just grew legs. It was beyond my control; obviously people in the UK must have been thinking what's going on?
As a kid I was Manchester United fan, but was aware of Everton.  There was interest from Manchester United, Wolverhampton Wanderers and Aston Villa and I actually met Gordon Milne who was then the manager of Coventry City.
I went to Liverpool just to have a look around, then met Billy Bingham, and I then had to make a decision as to who I was going to sign for. It was Billy Bingham that made all of the running, so it was him that made my mind up to join Everton.  I was never promised anything regarding first team football and had to play in the reserves to get a feel of what it was all about.  It was a big step up for me at the time, going from part time football into full time training. I think that step up knocked me back a little bit.
Everton at one stage were struggling as results just weren't going their way. That obviously put pressure on the manager, and I guess when the team are struggling, it's more than a manager dare do to throw a young unknown lad into the mix. I learnt my trade playing in the reserves and youth team.
I stayed in digs at 55 Laurieston Road in Walton, with a Mrs. Bray. Roger Kenyon had stayed there prior to me. I never really mixed with anyone outside of the training, and more or less spent time on my own at the weekends.  I didn't really go out much socialising; I didn't spend time in night clubs apart from the odd night out. I was at Everton with a nice group of lads. I remember Ross Jack, David Esser who owned a Datsun Cherry, Mike Coffey, and Drew Brand. Billy Wright came on the scene then as well as Neil Robinson.
I was unbelievably home sick after a while, and there weren't the cheap and easy travel options that are available now. I didn't cope with the fact I was homesick and suffered pretty bad with it.  I don't think that had any effect on my playing football, but I picked up a few injuries which didn't help.
Not long after that, Billy Bingham was sacked. With all due respect to his replacement, Gordon Lee, he said the strangest thing for a man of his experience – something like, "If I had been the manager here, you wouldn't have got what you got" That's some way to kick off your first meeting with any player. You just know from that moment that you won't be part of his plans as he wasn't the manager that signed me. Maybe, if Billy Bingham hadn't been sacked it might have been different, who knows? Strangely enough, despite things not working out for me at Everton, I've remained a fan ever since.
Eric Harrison was promoted to the reserves from the youth team along with Colin Harvey. Eric was old school, which led to me having a few run ins with him as well. He was a tough guy, and maybe the mentality was that he had to toughen people up.  We played 5-a-side in the gym sometimes and he would kick you, I would retaliate and kick him back and let him know that I would not take that stuff from any man.
I came home to Ireland one summer and didn't go back to Merseyside.  Then I got married at the age of 20 and returned to Everton. Everything was going okay in terms of football. I was playing well, and even captained the reserves a few times. Pre-season was good, but in the first game of the season at Elland Road, I didn't see the player, but he went over the top which resulted in me doing my cruciate ligament. You didn't hear much about cruciate ligaments back then. I tried so hard to get back after the injury but it just wasn't right.
In the summer of 1978 I was diagnosed with what turned out to be a leaking valve in my heart and so between that and the cruciate injury my prospects as a professional footballer didn't look too good, so I decided to return home. I didn't play for about eight months and this helped rehabilitation, but ended my time at Everton.
I started to play again in Ireland later on, and I won two awards. One was from the Irish association of the players union which was known as the PFAI. I was also voted players player of the year with Drogheda. As a consequence of that, I went to Nottingham Forest in the pre-season of 1983. I think Forest backed off because Everton wanted a fee to release my registration, I don't know, but there was no further interest after that. At Everton in what were my formative years, I think I learned a lot, and must have improved in myself. I never stopped playing the game until I was 38 and that was only because the cardiologist told me that I had to get my heart valve replaced. This took place in 1998 and thankfully I have been doing ok since then.
I was at Everton for a total of five years, having signed in December 1975, I left in January 1980. When I look back at my time there, I don't look back in anger or regret, I accept the fact as I've got older. After I left due to my injuries, a number of players that I had played in the reserves with got a chance. I never got chance to play in the first team in front of big crowds, but if you do, you have to count your blessings.  The season after, Paul Lodge and Joe McBride made the first team. If things had worked out for me and I stayed injury free, I may have got a chance. It's one thing getting the opportunity, it's about being good enough to sustain the consistency of playing well and staying there.
I look back at my time there and I think what you remember most of all is the people. If I think about the people that I have mentioned, certainly the senior pro's, they were really good guys. Mick Lyons and Terry Darracott were two in particular that stand out for offering words of advice, and trying to help you. Bryan Hamilton was another that would always do his best to help me on a number of occasions. I think when you are putting it in today's context, if you're playing, you're the luckiest guy in the world.
I asked Martin if there were any highlights from his time at Goodison.
I was part of the team that got to the FA Youth Cup Final and lost over two legs to Crystal Palace.  While I was at Everton, I was selected for Ireland U21's. I was the first player to score for Ireland at U21 level. It was the U23's before the reduced the age category. The whole experience was a memorable one for me.
I must mention Colin Harvey as well. He had been an England International. He could probably see things in me that maybe Eric Harrison couldn't? Colin was a man who knew how the game should be played. Eric did a fine job when he brought the class of  '92 through at Manchester United, but the experience I had with Eric was nothing like that. Maybe he mellowed as he got older, who knows? Maybe we all have!
I asked Martin the question; did the tag of the new George Best put any pressure on him?
Martin said it definitely didn't. Obviously, people's perception of me could have been coloured by what they had read, I don't know. I wasn't George Best. The only comparison I had with George Best was that I came from Ireland and I had long hair, nothing more than that.  That for me was where the comparison ended.
We used to have a visitor in the treatment room at Bellefield every day. It was none other than Bill Shankly whose house backed on to Bellefield.  He would come in for a massage with our physiotherapist Jim McGregor. I used to have a couple of chats with him.
I would finally like to wish all Evertonians a Happy Christmas with the hope that the progress made so far this season by the team under Marco Silva will continue for a long time to come "Nil Satis Optimum"
(Interview with Steve Zocek in 2018)
Visit the Dundalk FC Pages for details about Martin's career and his testimonial in 1990.