The young football fan who today watches the highly paid Premier League stars of the modern era will find it difficult to visualise the generation of footballers who, long ago, earned a good living outside of the game and played football without reward because they loved to do so.
Confined mostly to the south of England, many of them had first become acquainted with the association game at public school and then expanded their knowledge and skills at universities such as Oxford. Here, if noted by the selectors, they could be chosen to represent their university and be awarded an honour that was referred to as a 'blue'. Two of these noble amateurs who earned this distinction, later found themselves wearing the blue jersey of Everton Football Club. The first of them was William Charles Jordan.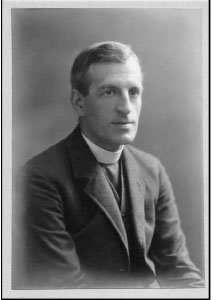 The Reverend William Charles Jordan
The son of a brewery owner, he was born on 9 December 1885 at Oldbury in Warwickshire and attended Kind Edward College in Birmingham, from where he signed as an amateur for Liverpool FC in 1905, but did not make an appearance in the First XI. Jordan then signed for West Bromwich Albion and was part of the side that was beaten 2-1 by Everton in the FA Cup semi-final at Burnden Park, Bolton. In 1906 Jordan won a place at St Johns College, Oxford to study theology and severed links with professional football in order to play as an amateur with his University.
On 13 February 1908, Jordan was awarded a 'blue' when he took part in the thirty-fifth annual Varsity match against Cambridge at the Kennington Oval, where he played alongside Liverpool-born Arthur Berry. The Oxford side, which bristled with talent, won the game quite convincingly by four goals to one. Jordan next won an amateur international cap when he represented England at the Park Royal home of Queens Park Rangers, where they beat France by five goals to nil. In 1908 he graduated from Oxford University with a BA, chose a living within the Church of England, and was posted to All Saints church at Stoneycroft in Liverpool. The 1911 census revealed that William Jordan was living with his brother and sister at St Marks Vicarage in Haydock, and was resident there when he signed as an amateur for Everton Football Club. He made his Football League debut on 6 January 1912 in a 4-0 win over Manchester United at Goodison Park, and was a member of the side when they beat Liverpool at Anfield by three goals to one.
He left the area to take up a ministry in Staffordshire, before returning to Merseyside, where he married Eleanor Madden in 1916 at the church of St Nicholas in Blundellsands. He then took up a ministry at the church of St Mary in Widnes and spent the rest of his life within the Church of England and served it faithfully. William Charles Jordan died on 1 December 1949 at Stourbridge Vicarage in Worcestershire, three years before the death of his more famous Oxford University team mate, Arthur Berry.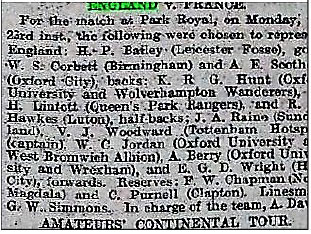 Though claiming to be born in the Everton area, records show that the father of Arthur, Edwin Berry, was in fact born in Witney in Oxfordshire and moved to Liverpool around 1865. He was one of the early football players in the area and formed a team called the Liverpool Association around 1880, but joined Everton when it dissolved in 1883. He began to study law and remained loyal to John Houlding during the famous 'split' amongst the directors and became the solicitor who presided over the legal affairs of Liverpool Football Club. Edwin Berry was living at 27 Newsham Drive in the Tuebrook area of Liverpool when his fifth child Arthur was born on 3 January 1888, and church records show that he was christened at the nearby church of St Margaret.
The 1901 census found Arthur Berry was a boarder at Denstone College in Uttoxeter, while his father had moved the family home to North Wales. During his school holidays, his son began his amateur football career with the local club, Wrexham. In 1905 he won a place at Oxford University to read law at Wadham College. He excelled at sport, representing Wadham at association football, hockey and on the athletics field. He received his first 'blue' for association football when he played in the 1908 varsity match alongside WC Jordan at the Kennington Oval.
In 1907 Arthur Berry signed amateur forms for Liverpool FC where he played three Football League games. On 13 February 1908, Arthur won a full England cap when he turned out at Bradford against an Irish side that contained Harris, Lacey and Scott from Everton. He left Oxford University with a BA in jurisprudence and continued to increase his knowledge of the law while working within the family business at Liverpool. He represented Great Britain in the 1908 Olympic Games at White City in London, where his team was awarded the gold medal after they beat Denmark in the final.
He began playing football for Fulham, but after three games decided it was too far to travel from the family home in North Wales and played instead for West Cheshire League side Harrowby, before signing amateur forms with Everton on 1 February 1910.
Harold Hardman had just left Goodison Park to join Manchester United, and Jack Sharp had announced that he would be retiring from the game at the end of the season, so Berry was considered to be a valuable asset until suitable professional replacements were found.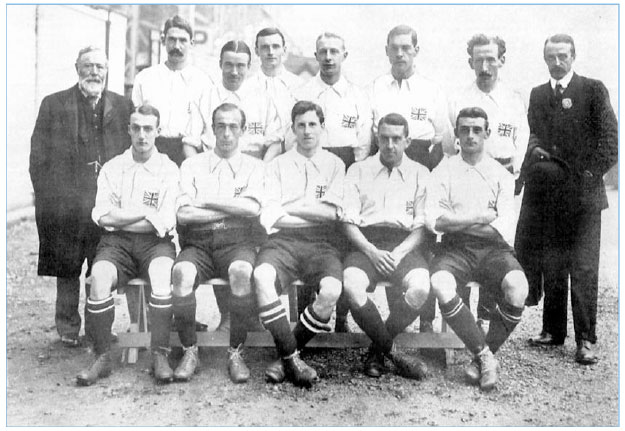 Arthur Berry, seated on the left, with the Olympic Gold Medal winning Great Britain side in 1908. Harold Hardman, who had recently played for Everton, is seated on the right.
All eyes were on the Merseyside derby game at Anfield, when Arthur Berry made his Everton debut in a Lancashire Combination game against Hyde at Goodison Park, where he scored twice in a 9-0 win. It was reported that:
Berry made a splendid debut, being speedy and a good manipulator. He centred with both accuracy and judgement.
Thick fog covered the Bramall Lane ground when on 26 February 1910, Berry made his Football League debut for an Everton side that were beaten 3-0 by Sheffield United. He made another five appearances for the club's first XI and scored twice in the final home game of the season against Manchester United. During the summer, Berry toured South Africa with the England Amateur party and signed again for Everton when he arrived back home. He played twenty-one Football League games during the course of the season and helped to develop the talent of a young Sam Chedgzoy, who in time, would replace him on the Everton right wing.
As the 1911-12 football season approached, Arthur signed amateur forms for Everton and toured Russia with the England Amateur party. He also represented the Great Britain football team in the 1912 summer Olympics in Sweden, and his side collected the gold medal when once again, they defeated Denmark in final. Nonetheless, his studies were now making more demands on his time so he played his football when available, for his home town team, Wrexham. The following season he signed for Oxford City and helped them to reach the final of the FA Amateur Cup, but they were defeated following a drawn game at Reading, by the Middlesbrough-based side South Bank at Bishop Auckland. He then retired from football.
In May 1913, Arthur Berry was called to the bar at Grays Inn in London, and took over the running of the family firm in Liverpool until he enlisted in the armed services and saw action during World War One. The Wadham College records, Michaelmas Term 1917, contains the following entry:
A Berry (1905), when war broke out, enlisted in the Welsh Horse Yeomanry, but finding there was no chance of foreign service, he took a commission in the Liverpool Regiment and has now been in France for nearly a year.
He survived the conflict and returned home to Liverpool where he settled back in to civilian life.
Some time later he married Irene Silver and the couple set up home at 51 Belvidere Road in the Princes Park area of Liverpool, where they resided until Arthur's death on 15 March 1953. Arthur Berry, an Oxford Blue who also played football for Everton, was cremated at Anfield Cemetery in Liverpool.