By Rob Sawyer with Eric Fitzgerald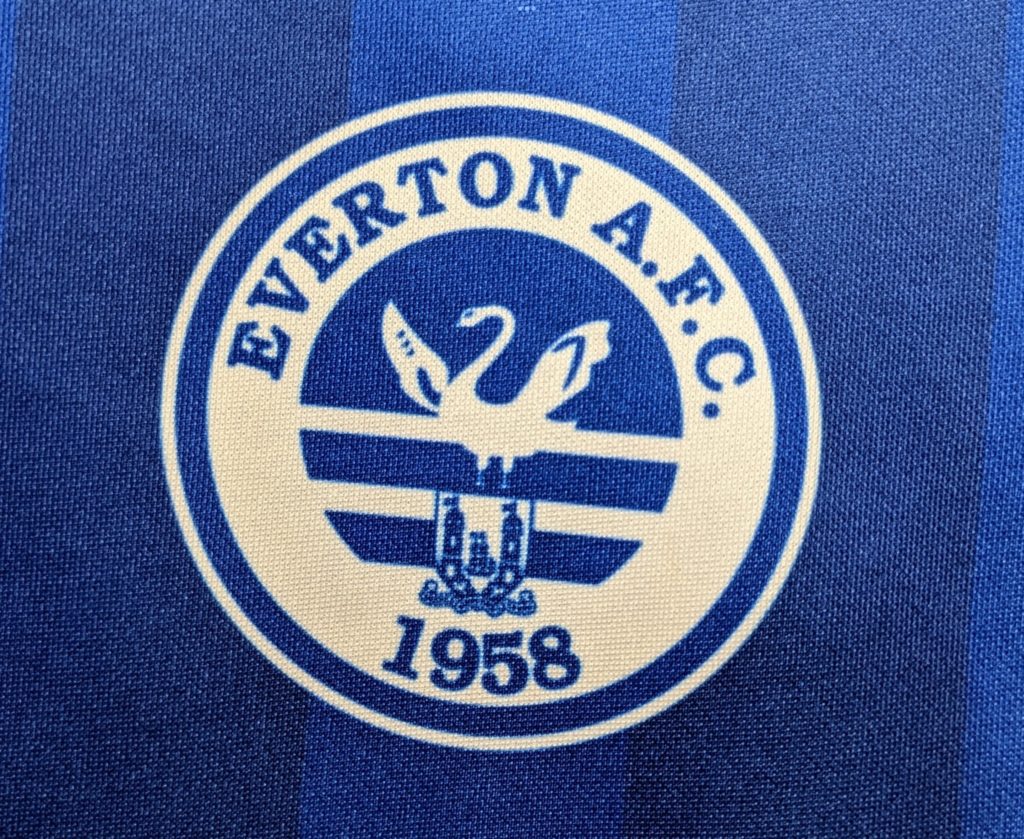 You may be aware of a number of football clubs (past and present) taking their name from Everton. They have been founded in South America, New Zealand and the Caribbean. Closer to home, Armagh City once operated under the Everton name (as Milford Everton); but another club on the island or Ireland is proud to have a connection to the Merseyside Blues, going back over sixty years.
In the summer of 1958, Everton, under the stewardship of Ian Buchan, had a pre-season tour in Ireland. On 13 August, in the second match of the tour, they defeated the League of Ireland side, Cork Hibernian, 3-2. According to the Liverpool Daily Post, the visitors had much the better of the first half and changed over with a three goals lead. Everton were best served in their speedy attack by wingers Jimmy Harris and Eddy O'Hara, their new signing from Falkirk. Both tested the local defence on every possible occasion and their speed and accurate shooting gave the Irish team a busy night. The hosts fought back in the second half and reduced the arrears to a single goal. The teams comprised:
Everton: Dunlop; Jones (captain) and Tansey; Rea, Labone, and Meagan; Harris (J), Thomas, Harburn, Fielding, O'Hara.
Cork Hibernian: O'Brien; Doolan, Scanlan; Leavey, Dorgan and Morley; Jeffery, Redmond, O'Connor, Horgan, Lynch.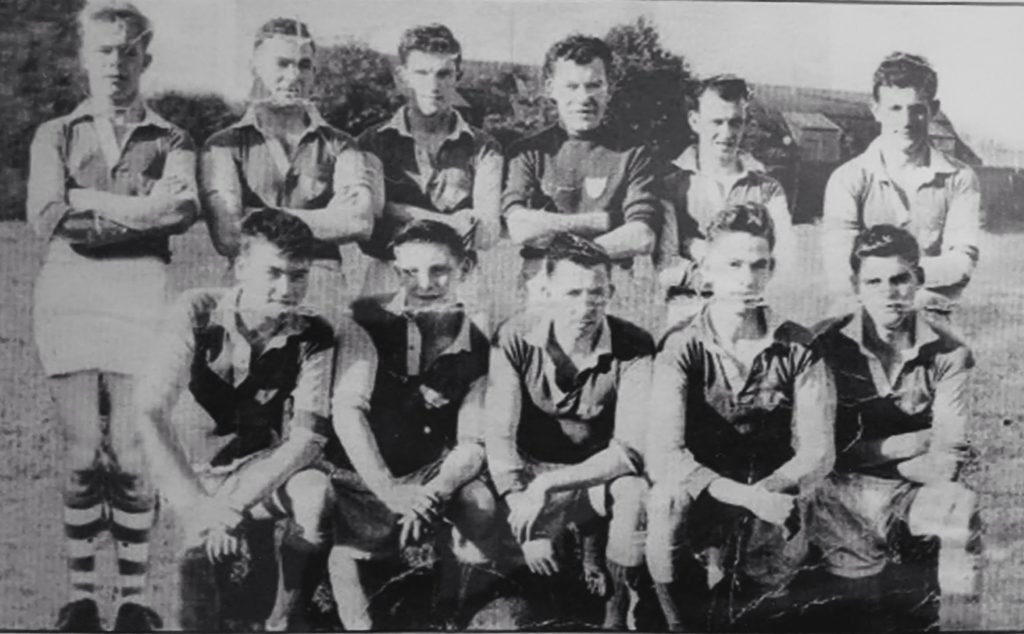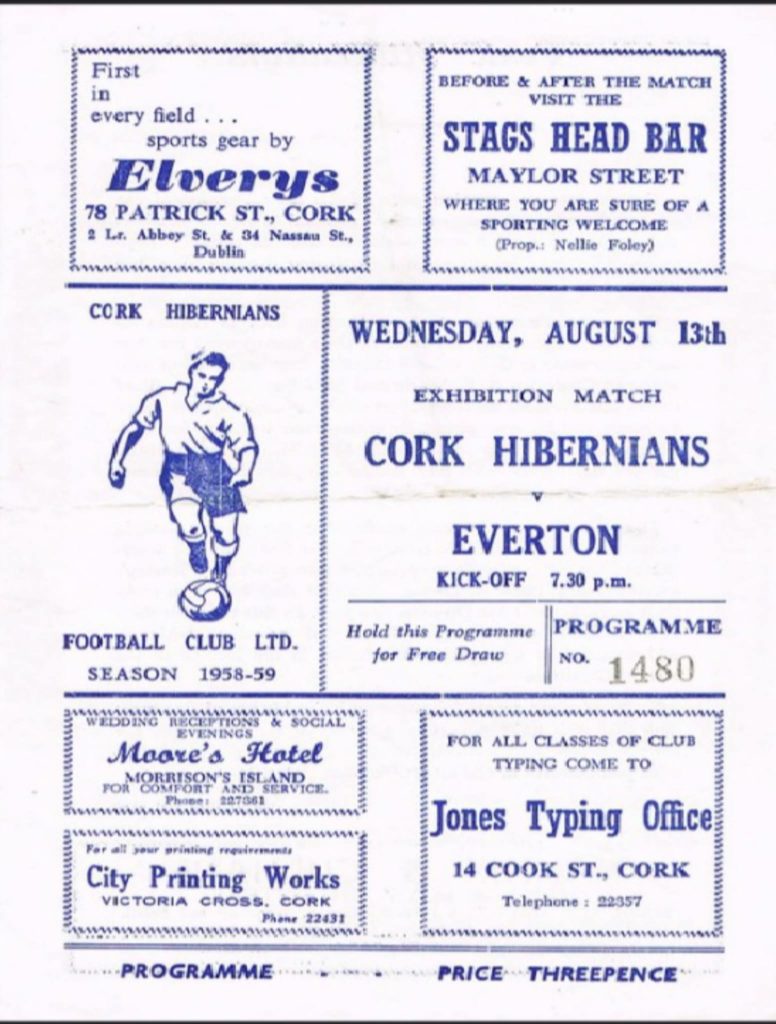 Around this time Connie Long, Mick Dalton and Andy McCallum had been part of another Cork team, Crusaders AFC, who had recently folded and were keen to form a new club. When deciding on a name it, was suggested to call the club Everton AFC, as Everton FC were in the area at this time. Exact accounts of what happened next have been clouded by the mists of time, but it seems that Long and Dalton (who have since, sadly, both passed away) met with Blues' officials while they were overseeing training in Cork and sought permission to use Everton as club name. Apparently, the Toffees gave their blessing, donated a football to use and wished them the best of luck for the future.
And so, Everton AFC of Cork was formed in 1958, with one Junior team participating in the Munster Junior League. Almost all the players came from the Bandon Road area of Cork. In 1962 the schoolboy's section was founded – a decision vindicated over the years but the steady supply of young talent rising through the ranks.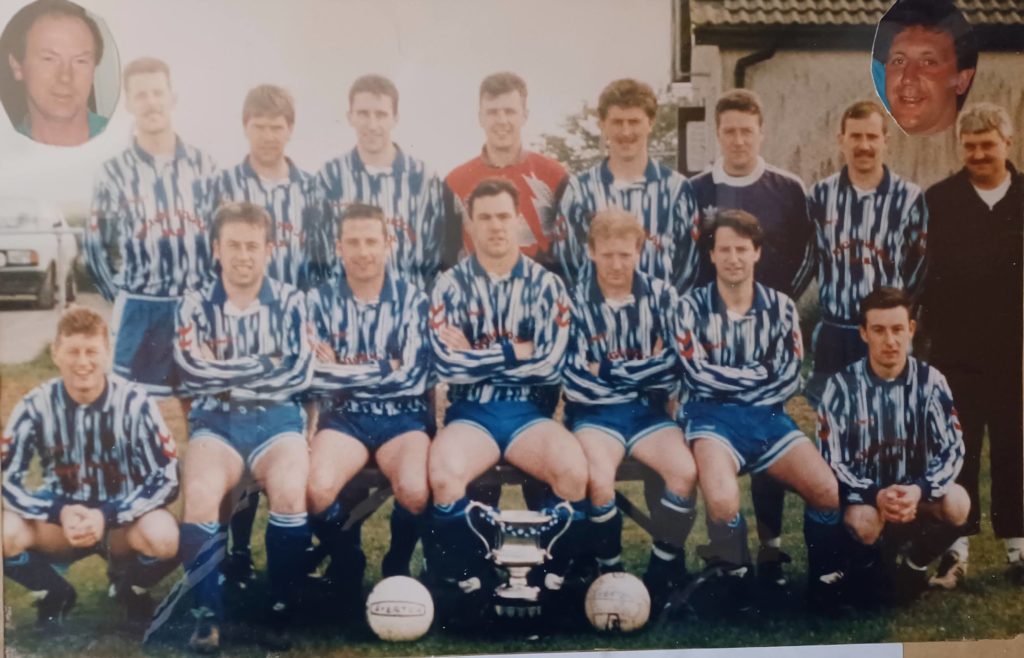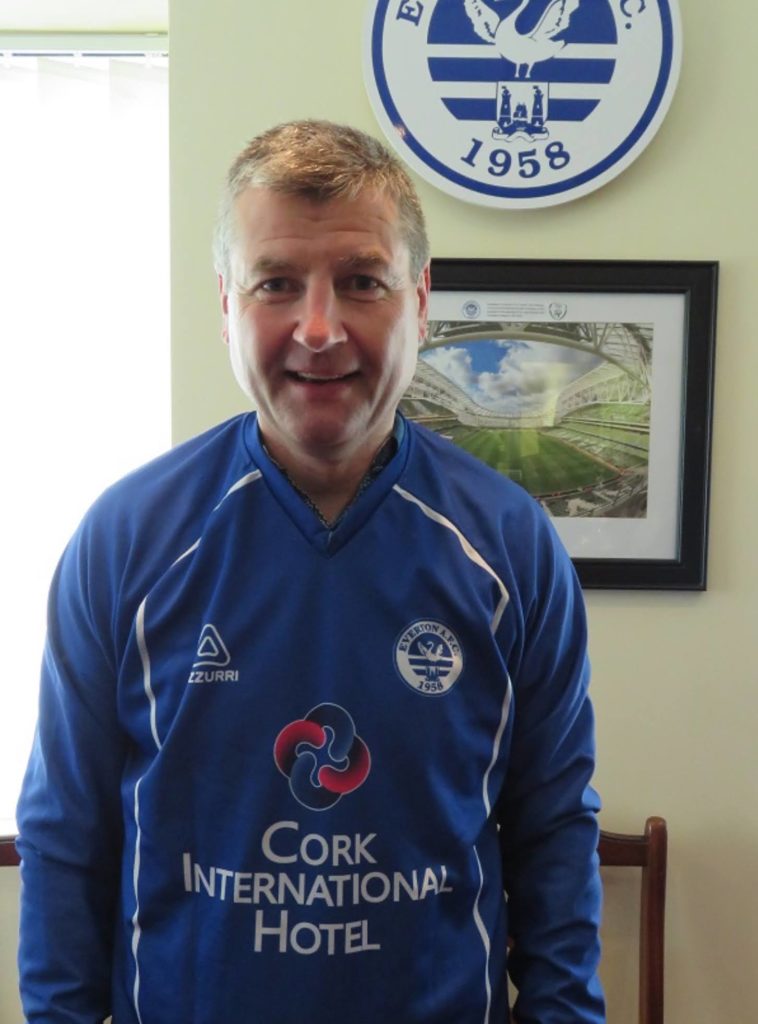 In 1966 Everton were runners-up to East Wall in the F.A.I. Junior Cup, three years later entering the Munster Senior League. In 1981 land was purchased in the Togher area of Cork and two pitches were developed. In that same year Denis Irwin and John Keane were capped by Ireland under 15. Irwin was subsequently signed by Leeds United, before moving on to Manchester United via Oldham Athletic – winning 56 caps for his country.
Everton won the Munster Senior League in 1993/94 and were runners-up in the F.A.I. Intermediate Cup on two occasions (1986 & 1997). At present the club has a Senior team, two junior teams, an over-35s team, three youth teams, plus a schoolboy section with teams from under seven upwards.
Everton have qualified four times to play in the F.A.I. Cup, coming up against the likes of Cobh Ramblers, Shelbourne (at Tolka Park) and Waterford United.
In 2008 Everton AFC celebrated 50 years in football, two years later completing a £50,000 refurbishment of the dressing rooms in Everton Park which includes a gymnasium.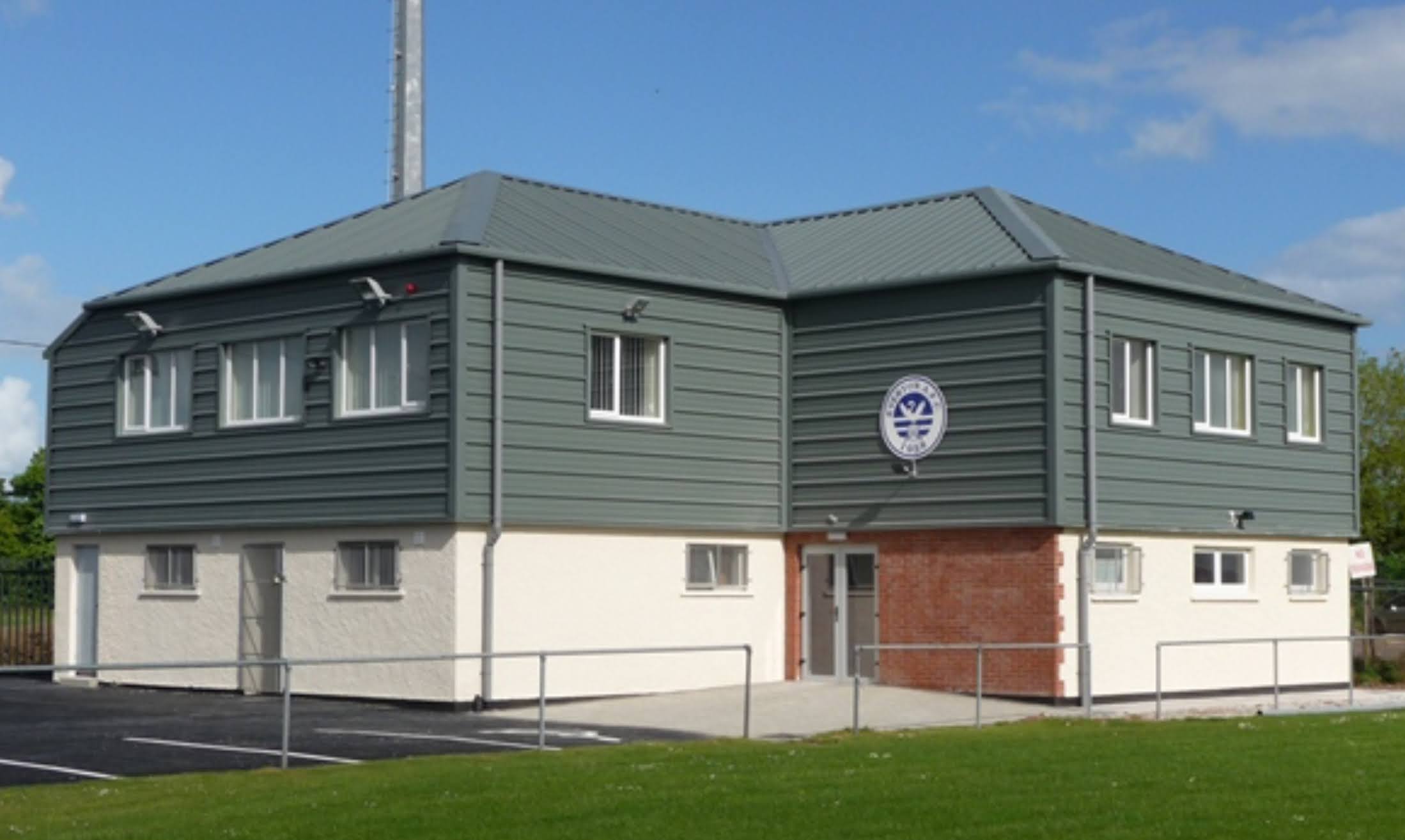 Today the club goes from strength to strength. The academy, which has the patronage of Denis Irwin, caters for players from ages 5 to 10 years old, with the schoolboys and adult teams always growing.
Here are some notable players that have passed through the Everton AFC ranks:
Denis Irwin (Leeds United, Oldham Athletic, Manchester United, Wolves)
Joe Gamble (Reading, Cork City)
Chiedozie Ogbene (Cork City, Brentford, Rotherham United)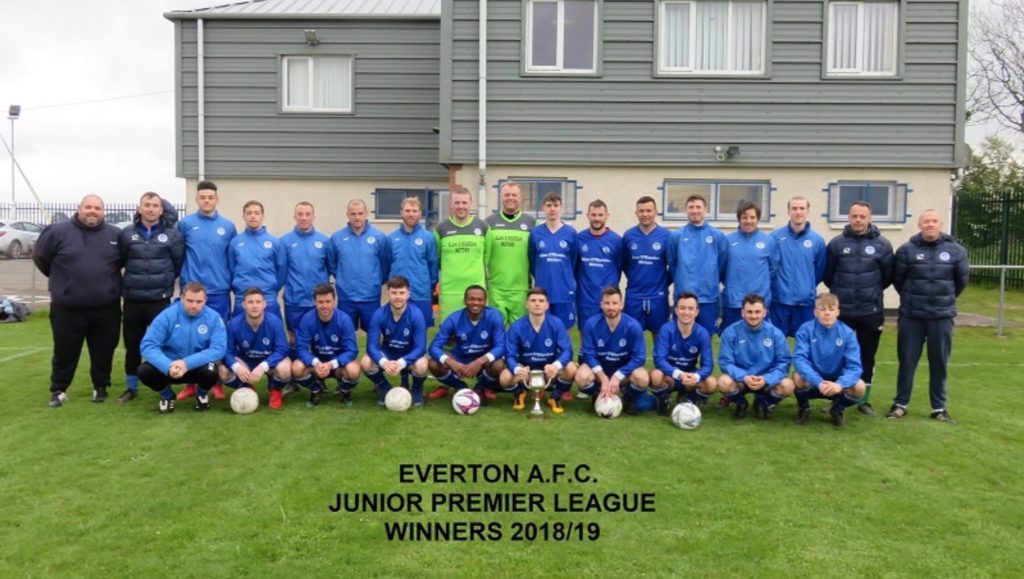 An Everton AFC home shirt (blue, naturally!) now hangs proudly in the Everton Heritage Society shirt display at St Luke's Church Hall (thanks to a visit to Goodison by some Everton AFC supports, and a conversation with EFCHS secretary Richie Gillham). We hope that ties between these two Evertons, separated by the Irish sea, can be strengthened in the years ahead.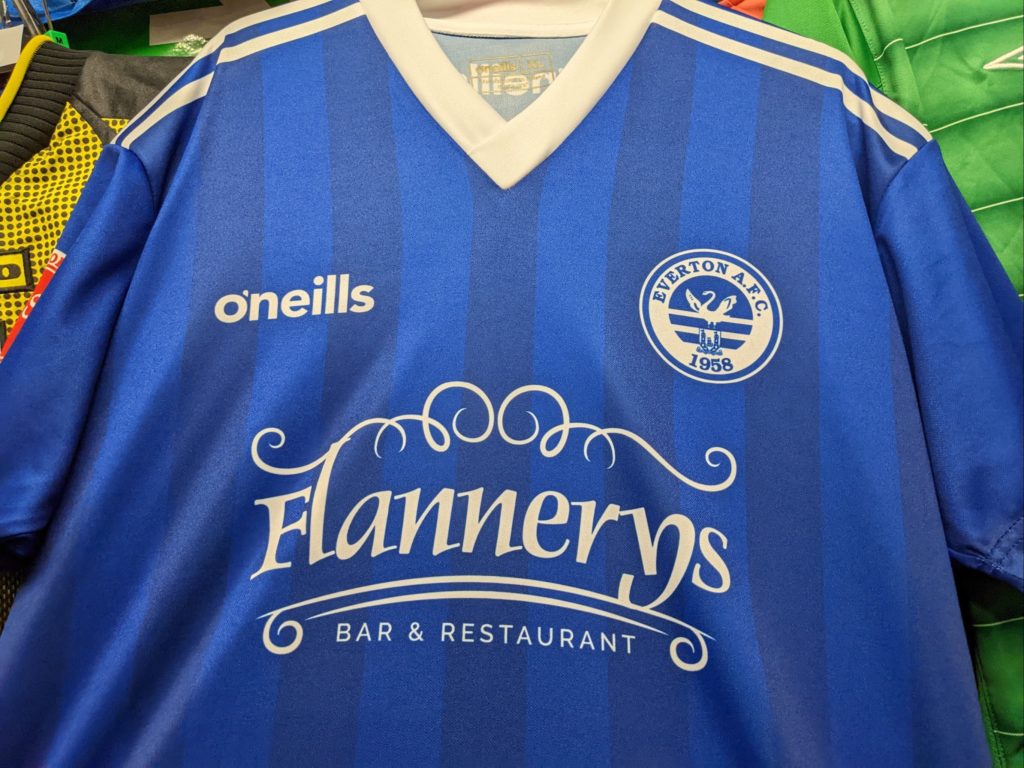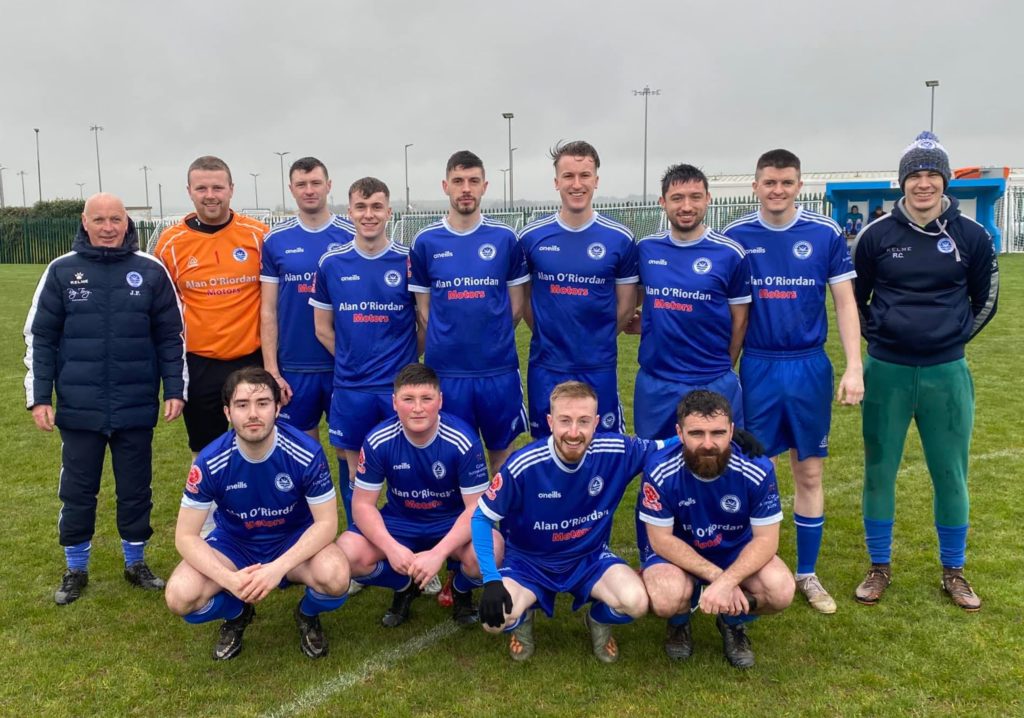 You can follow Everton AFC (Cork) on Facebook and Twitter (@Evertonafc58) – or visit evertonafc.com
Images c/o Everton AFC (Cork) and Rob Sawyer