By Rob Sawyer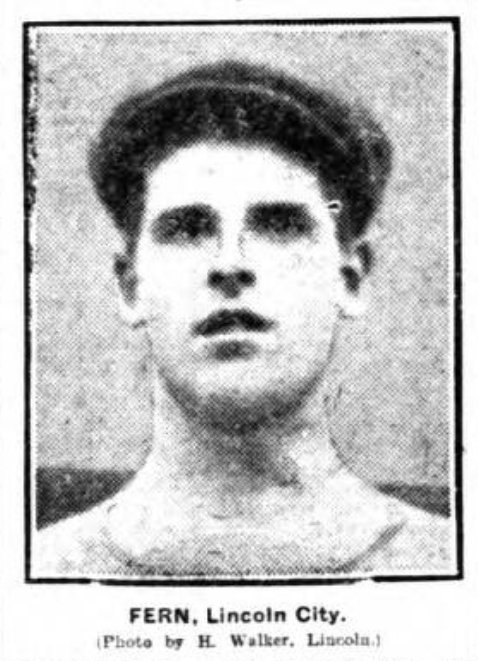 The 1914/15 season was played under the cloud of the First World War, with many criticising the football authorities for letting it run to its conclusion. An ostentatious celebration of the title win by Everton would not have been welcomed by the press or the nation at large. This muted response is something of a disservice to the likes of Bobby Parker, Harry Makepeace, Sam Chedgzoy, Jimmy Galt and Tom Fern. The latter was a custodian who amassed over two hundred outings for the Toffees – it would have been many more, were it not for the five-year interruption caused by the war.
Born on 1 April 1886, Thomas Edward Fern hailed from Measham, a Leicester village located close to Ashby-de-la-Zouch. The family subsequently moved fifty miles to Worksop, in the north of Nottinghamshire, where Tom's father worked at a colliery. Tom's grandfather had been a gardener by trade and passed on his knowledge of flora to Tom. Many years later, he would educate his granddaughter, Val, on the various types of trees and plants they came across when strolling through public parks in Liverpool.
Having played in local youth football, Tom joined Worksop Town of the Midland League before joining Lincoln City in 1909. He remained resident in Worksop (by now, his father had become Chair of the Urban District Council) and commuted to matches as he had a job as a colliery shunter at the pit head. He married Annie Chamberlain in Worksop in 1910; the following year they had twin sons – Thomas (Tommy) and Joseph, but sadly the latter passed away in infancy.

Although he had not been the automatic first choice at Worksop Town, he was thrown into 'The Imps' first team as they battled in the lower reaches of the (then bottom tier) Second Division. After two seasons, the club failed in a bid for re-election and dropped into the Midland League. Tom helped the Sincil Bank side bounce back up a year later (1912) and started to make a big impression (in fact, Everton's directors had made note of him as far back as 1910). A Sheffield Star Green 'Un match report from November 1913 hailed his heroics in a narrow defeat at Leeds City:
As I was leaving the Elland Road ground last Saturday after Leeds City's sensational last minute victory over Lincoln City my feelings were of sympathy towards Tom Fern, who has represented the 'Imps' in over 150 consecutive matches. I have seen many great displays of goalkeeping, but the exhibition of this Worksop product exceeded in brilliance anything I had hitherto witnessed, The Leeds City followers will well remember a memorable match with Clapton Orient, when Hugall was brought in at the last moment as reserve goalkeeper, and also his remarkable clearances, but Fern's display went one better. The sportsmanship of the Leeds crowd was shown by the ovation accorded to Lincoln City's custodian when he made for the dressing room at the interval. A ringing cheer from the popular enclosures, and an erstwhile clapping of hands from occupants of the stands greeted Lincoln City's stalwart when making his way for the 'refresher' -which he evidently needed, judging by his dazed appearance, for he had previously been laid out in saving an apparent certainty – and these were renewed at the close of a memorable game. Another little incident which deserves to be chronicled is Sam Hogg's appreciation of Fern's display, and it was a dramatic moment when the Peacocks' goalkeeper at the close warmly shook the hands of his vis-a-vis. Sheffield Star – 'The Green 'Un, November 1913
An Everton director had been in the stands at Elland Road to run the rule over David McFarlane, the Lincoln forward. McFarlane struggled through the match with an injury, but the goalkeeper caught the eye with a performance reported in the club's minute books as 'a brilliant exhibition of the game'. The Toffees had Tom watched at Sincil Bank the following week and swiftly tied up a £1,500 deal to bring him to Merseyside.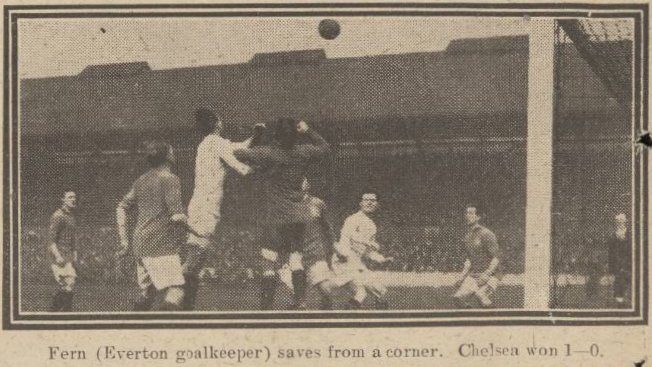 Tom was drafted into the Everton team immediately – against Sheffield Wednesday on 6 December 1913, chosen ahead of William Hodge and Fred Mitchell. His debut coincided with that of a fellow Toffees great of that era, Bobby Parker. Announcing the signing, a Liverpool Courier journalist wrote:
On his only appearance in the city – against Everton Reserves in a Central League game – Fern, in addition to making several grand clearances, had the distinction of stopping a couple of penalty kicks. He has made over 160 consecutive appearances for the Citizens, whose supporters make no secret of the fact that Lincoln's loss is Everton's gain. Fern stands 5ft 10 and half in, and weighs over 13st, but despite his bulk is extremely active. Liverpool Courier, December 1913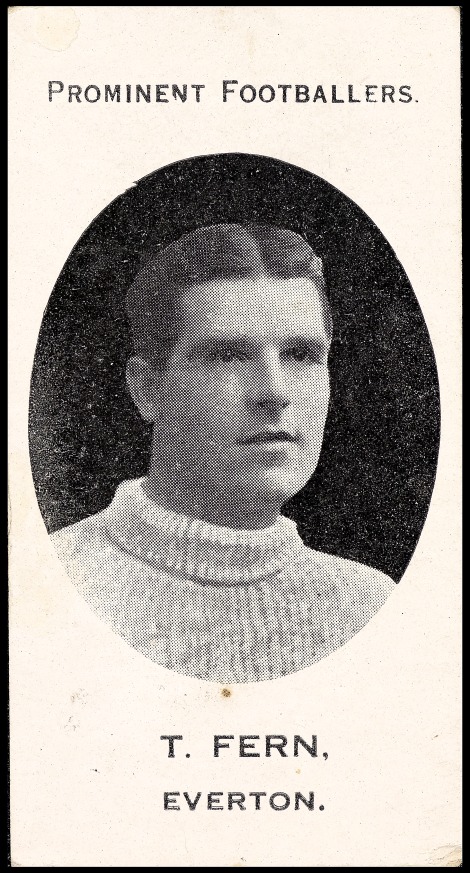 The vital statistics quoted above show that Tommy, noted for his large hands, was on the stocky side, but he was a good short stopper – not intimidated by physical forwards. Athletic News had little doubt as to his abilities:
The ease with which he can grasp a ball under the bar shows his reach, but he is equally at home with low shots. Putting all his weight into a blow, he can fist a ball nearly to the half-way line. With agility and anticipation, he fields beautifully, and is probably the best keeper Everton have had since William Scott was at his zenith. Not since the season 1909/10 has Fern been absent from the Lincoln City goal. Including this season, he has appeared in 165 Lincoln City games since 1909. Men of his calibre are not common objects of the roadside, as Everton thought when they paid £1,500 for this player. Athletic News, December 1913
Tom was quickly established as the Toffees' first choice keeper, and a worthy successor to Billy Scott, missing just two matches on the way to the 1914/15 League Championship. One fixture that season in which the Blues came a cropper was in January at Ayresome Park. Having conceded three goals from consecutive corners, Tom had to be withdrawn with a hip injury. Harry Makepeace, far from big in stature, went between the sticks and, in spite of conceding once, performed miracles as he, to quote The Liverpool Daily Post and Mercury, 'strove manfully to hold the breach.' Tom battled back for the second half but the visitors were humbled 5-1.
A finger injury saw Tom miss that season's FA Cup semi-final. An error-strewn performance by his stand-in, Fred Mitchell, saw the Blues eliminated and any hopes of the double died. Football historian George Orr, who researched Everton's championship-winning team for his book, Over the Top told me: "Will Cuff, the Everton Secretary, said that if he hadn't been injured for the FA Cup semi-final, they'd have done the double. So Tom was vital to the success. It's no coincidence that Everton have only won silverware with an Everton giant in goal – like Fern, West, Southall, Sagar and Scott."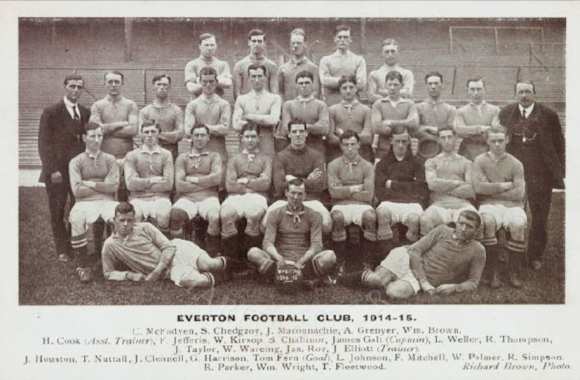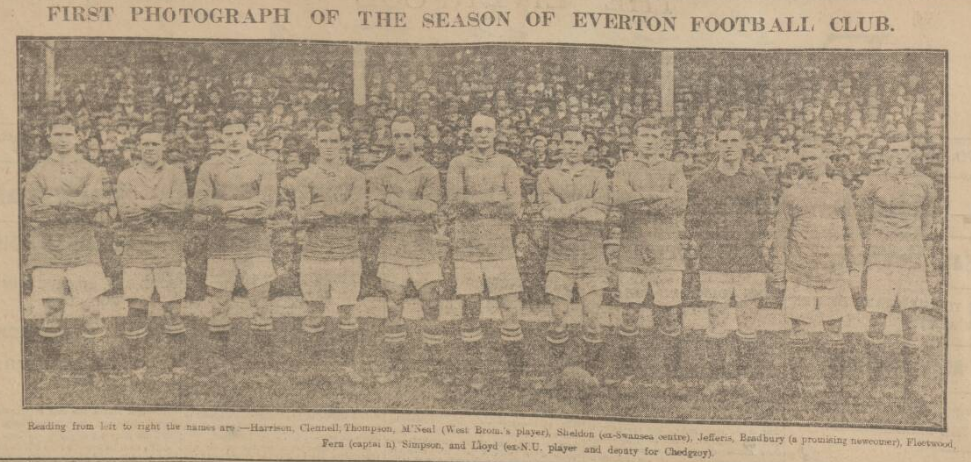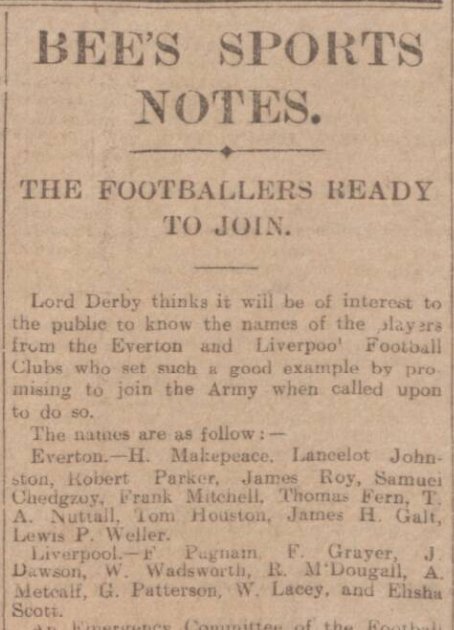 As it became more apparent that the war was going to last longer than originally thought, it was decided to suspend the Football League and FA Cup from the end of the 1914/15 season. Many footballers signed up to fight in the war, and as a result many teams were depleted, often fielding guest players instead. In their place regional league competitions were set up (appearances in these tournaments did not count in players' official records). Most football players were professionals, and as they were tied to clubs through one-year renewable contracts, they were effectively out of work as wages were suspended.

On 23 August 1916, at the commencement of 1916/17 season, the Board of Directors met as usual at the Bradford Hotel, where Thomas Fern was elected as Club Captain. Without haste, a letter was read out by the Secretary from Thomas on behalf of the players. The context of the letter is revealed below in an article printed in The Evening Express earlier that month,
PROPOSED PAYMENT OF PLAYERS
By the Judge
It is announced today on excellent authority that the directors of certain clubs have been approached by the players with a view to an effort being made to induce the Football Association to withdraw the ban on professionalism and allow the players to receive payment. The players are very modest, and quite a moderate sum per week would satisfy them. The president of the League has been approached and he has promised to bring the matter before his colleagues. Every conceivable argument against professionalism, remarks the Athletic News, has now gone. The players last season showed interested loyalty to the clubs, and served the public with unstinted generosity. All the clubs gained by the action of the players. It is true the balance sheets of some clubs reveal a loss, but it is small indeed by comparison with what it would have been had there been no football. The claim of the players is excellently strong. Not only have they played one season without reward, but in many instances they were actually losers. Such as are not in the Army are under no stigma whatever as shirkers. Every man is doing his work in the way he can best serve his country, and it should not be forgotten that whilst a few are earning good wages many are in receipts of a sum far less than their former football salary. The Evening Express, 7 August 1916.
However, just a few days after Tom had delivered the players' letter, they had clearly had enough and went on strike,
The incident in the Dressing Room on Saturday last when the players expressed their refusal to take the field unless they received training expenses in respect of the practice game of August 28th was discussed. The Secretary having pointed out that the usual Tuesday evening training on August 29th was not held owing to the practice game of the 28th, and that he had paid to the players, in respect of such evening practice match, 2/6 for tea money and had substituted that game for the usual Tuesday training for the purpose of training expenses, and that therefore, the players had been paid for 12 training nights, including August 28th, and 5/- match expenses for August 19th and 2/6 for August 28th. The Directors decided that these payments could not be exceeded.
The Secretary reported that the League Management Committee had declined to consider the applications by the players of Everton and Liverpool for a weekly wage, intimating that it was a matter for the Football Association. It was resolved that the applications made to the League be repeated to the Football Association. Minutes taken at the Meeting of Everton FC Directors held at the Bradford Hotel, 13 September 1916
Bee at the Echo soon picked up on the developments;
FOOTBALLERS' PAYMENTS
Thanks For Nothing Mr Wall.
No Change – Everton and Liverpool Appeal
By Bee.
On Saturday I was able to inform readers that Mr. F.J. Wall, secretary of the Football Association, had replied to Everton, and Liverpool's appeal for consideration of their plea for payment. Now another exclusive. I am able to give the letter of the secretary. It is important because it appears that Mr. Wall has on his own account decided not to put the appeal before the council! The players claim that if they are not to be paid for their services –say, £1 a match or £1 a week –that this must be considered a charity season, and that all profits must go to charity. They point out that they alone are making a sacrifice –trainers, secretaries, referees, and linesman receiving payments for their part in the carrying-on of the game. Mr. Wall's quaint letter runs thus –
42, Russell-square, London
Payment to Players.
I am in receipt of your letter of the 19th inst. I may remind you that at the conference held so recently as May last with representatives of the Football League and Southern Football League it was considered that until there was some material change in the position of war the regulations and restrictions then in force be continued. Your letter is the only suggestion I have received that there be a departure, but I have been made acquainted with what appears to me to be a consensus of opinion, that there is not that material change which would warrant reconsideration. In these circumstances, I feel that I should not be justified in bringing your letter before the Council. F.J. Wall. Liverpool Echo, 10 October 1916.

Whether, these incidents were connected is only a matter for conjecture, but Tom Fern must have felt great frustration at the failure to resolve the payment issue, and that he may have felt, unfairly, that he had let the players down.
It is hardly surprising that the motivating factor for many footballers enlisting was the promise of a wage. There were also a number of players applying to the Board for hardship loans, including men who had served in the forces. Shortly after the players' appeal was dismissed, Tom Fern confessed he was jaded, and lacking in form. He was replaced by Frank Mitchell who played a further twenty games during that season. Tom was still available as a reserve, but did not play again until 3 December against Stockport. Into the new year, there became an arrangement where Tom would play alternate games with Frank Mitchell, and had even retained the captaincy in the remaining games he played that season.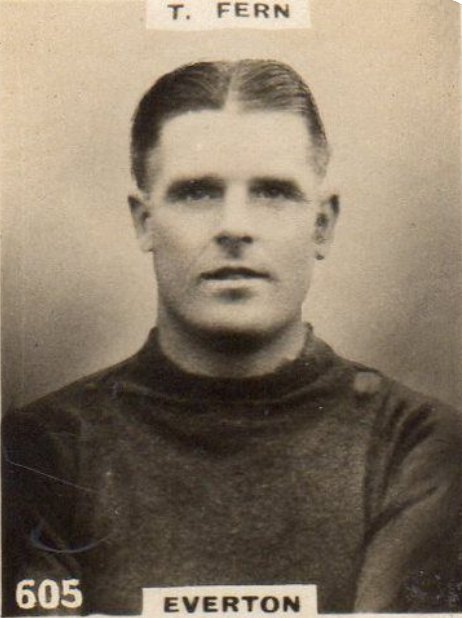 So, Tom Fern had completed another wartime season at Everton, but at the commencement of the 1917/18 season a letter from Tom was received by the Board. The contents were not revealed in the minutes, but it was most likely that Tom was informing the club he would not be available until further notice. He did not play that season. Meanwhile, on 30 May 1917, the Nottingham Evening Post had announced, 'Fern, the Everton and Lincoln City goalkeeper, reported yesterday at Liverpool for army service, and has been placed in the R.F.A.' Thomas had been posted to Catterick in Yorkshire, where he would remain with the Royal Garrison Artillery into 1919. This was a support and supply depot for the RGA and also the home of their artillery training schools.
On 30 August 1917, just as his Everton teammates were limbering up for the start of the 1917/18 season, Bee of the Liverpool Echo reported,
Bee's Notes
Out Of Luck
For some time there has been no luck for Fern, the Everton goalkeeper. Since he donned khaki his 'lack of luck' has clung to him. He had no sooner been transferred to Catterick than he had to go to hospital for eight weeks with leg trouble. He has now been in hospital some days through a severe kick from a horse. Liverpool Echo, 30 August 1917
Into the new year, Tom was fit again and turned out in the final of the Garrison Cup,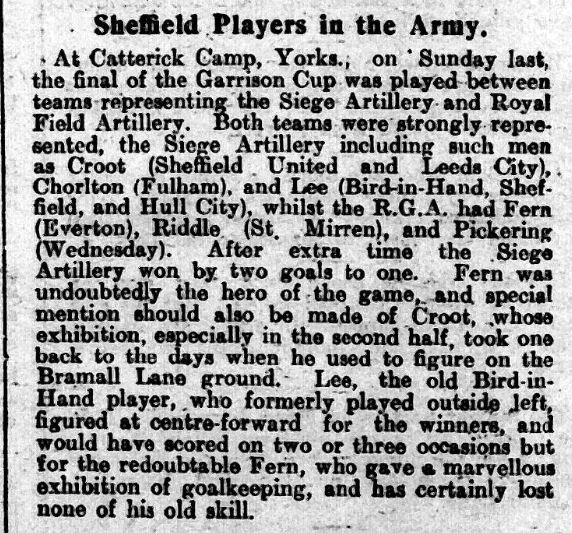 Although, his run of bad luck continued, and he was back in hospital for a third time, with an injury probably sustained in the cup final,

If Tom Fern did serve abroad, it would have been sometime between March 1918 and summer 1919, but there is no precise evidence as records have not survived. A service medal card for Gunner Thomas Fern, Royal Garrison Artillery, does exist, but no record has been found, so far, that can tie it to Thomas Edward Fern, Everton goalkeeper.
Tom did make an appearance at Goodison during this time, his only game during the 1918/19 season, and that being in the derby match on New Years' Day 1919 – probably while he was home on leave. Despite experiencing a 1-2 defeat, it was no doubt a great feeling to be at Goodison again – and in front of 30,000 fans. But overall, injuries and military commitments limited Tom to just forty appearances for the Toffees in the various wartime football competitions.
---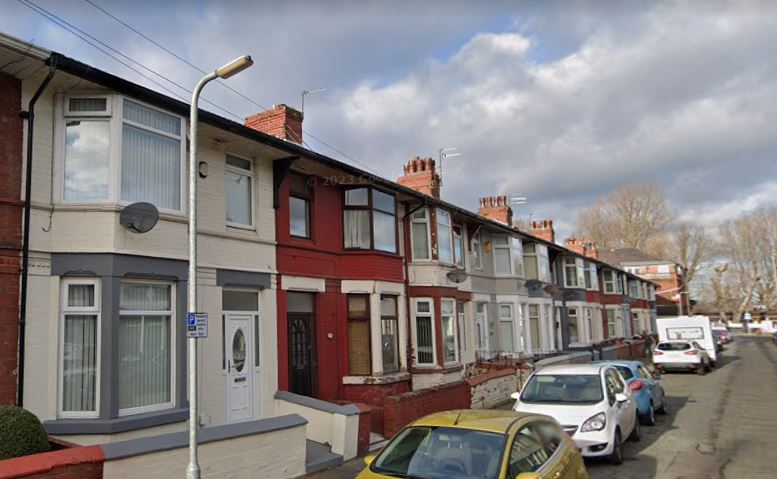 When peacetime football resumed in the autumn of 1919, Tom – now 33 – won back the goalkeeper's jersey from Frank Mitchell and lived up to the 'Evergreen' nickname given to him (originally a pun on his arboreal name). [By 6 January 1921, having had enough of life on the bench, Mitchell requested a transfer and moved across Stanley Park to Liverpool for £1250 on 4 February 1921. His timing couldn't have been worse, given that he was now in competition with the great Elisha Scott and Scottish international Kenneth Campbell].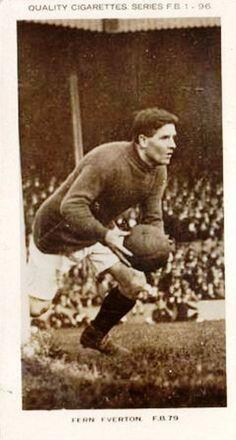 However, by the time of Tom Fern's return, the Blues had sadly lost momentum as a result of the wartime hiatus, and became a mid-table team at best (history repeated itself for Everton after the second global conflict). Tom did have the dubious honour of being in goal for one of the club's heaviest home defeats – a 6-0 FA Cup capitulation to Crystal Palace in January 1922. In truth, he should not have played as he had a wrist injury – but with the untested Ted Pope as the only other option, he was declared 'fit' to play, albeit wearing a splint. By contrast, a personal highlight came a few days earlier on 27 December 1921, when Tom made two saves from first-half penalty kicks – and repelled numerous Sunderland attempts with the Toffees down to ten men through injury in the closing stages. His spot-kick heroics, which helped the Toffees to a 2-1 victory at Roker Park, were commented on in the Liverpool Courier:
Hawkes took the penalty kick and Fern saved finely. Everton were two goals up when the second penalty kick was awarded… As Buchan took the kick, the ball, a fraction of a second before, rolled off the spot through the wind. The whistle sounded, but not quick enough to delay Buchan's kick and the ball entered the net. Of course, the kick had to be taken again and this time Fern stopped it and got the leather away.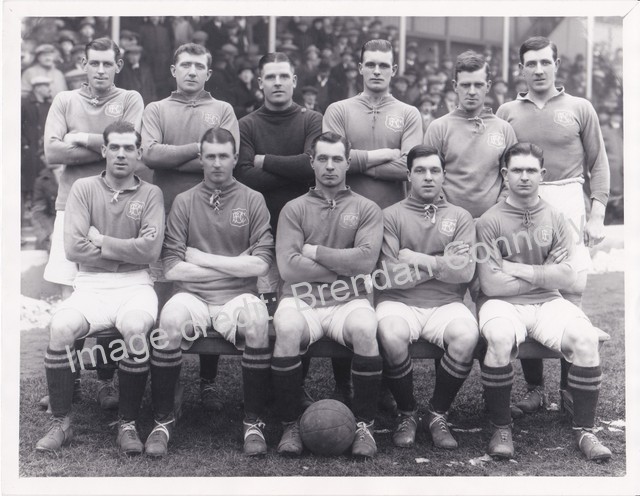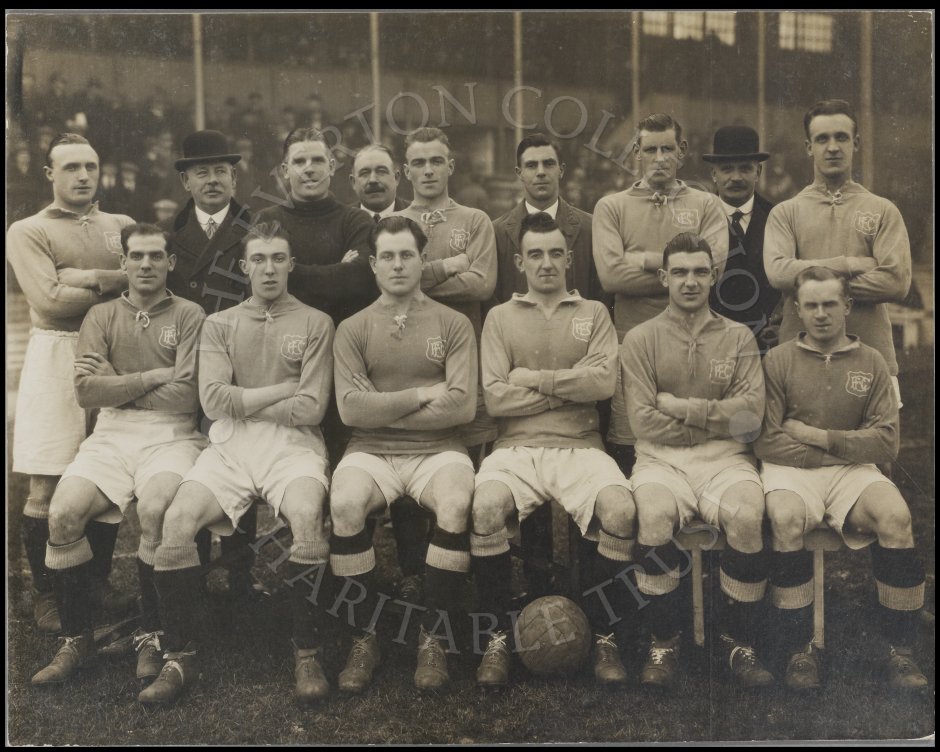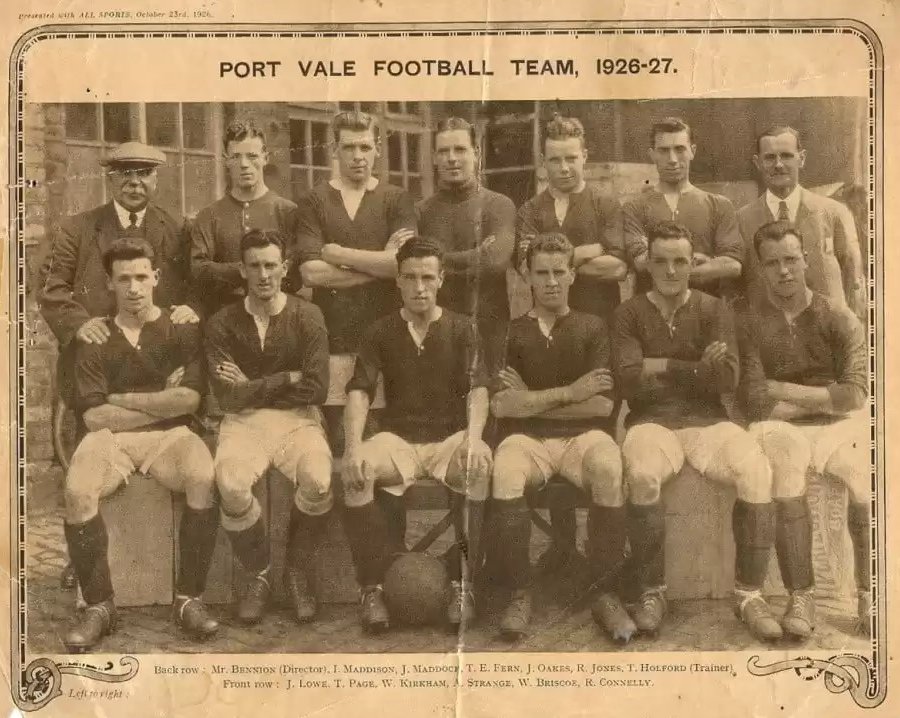 Having been a near-ever present since the war, Tom was restricted to twenty-five appearances in both the 1922/23 and 1923/24 seasons. With Everton on a losing streak, he was dropped after a defeat to Sunderland on New Year's Day 1924. Alfie Harland came in, and Tom did not make another first team appearance prior to leaving at the end of the season. After 231 Toffees appearances with 67 clean sheets (6th in the all-time club standings), he extended his career in the Potteries, turning out for Port Vale for three seasons (making 90 appearances) before winding down his career in North Wales at Colwyn Bay United. In all, he had made 454 Football League and FA Cup appearances.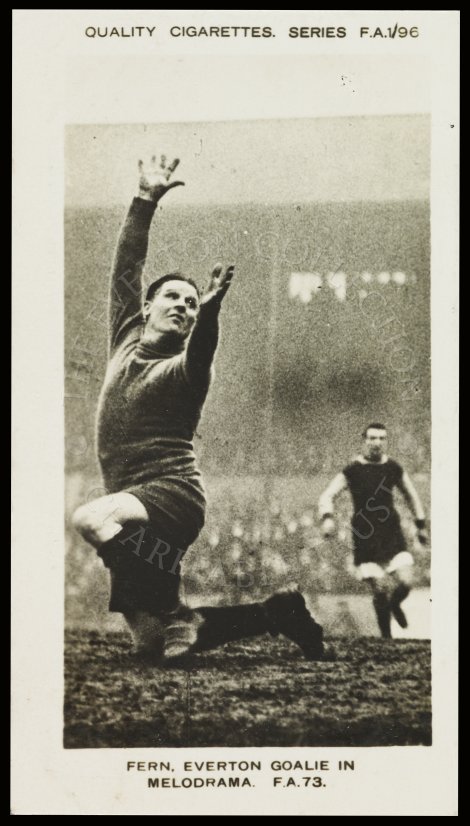 Away from football, Tom was a keen cricketer. He played as an all-rounder for Worksop and, in the summer of 1912, he had a trial at Trent Bridge for North Notts Colts – scoring 30 in his innings. In 1924, it was noted in press reports that he was secretary of the Fazakerley Cricket Club. Later, he became involved with the Liverpool bowls scene – in part due to his pubs having bowling greens.
In the late 1930s, the Fern family had move to 10 Coerton Road, in Aintree, with Tom working as a barman at the Derby Arms on County Road, not far from Goodison Park. He then became (like several other ex-Everton players) the landlord of a Threlfall's pub. In this case it was the Alhambra (The Royal Alhambra Hotel, to give it its full title), at 64 Derby Road, on the corner of Esk Street, close to the docks. Cashing in on Tom's Everton links, the brewery ensured that it had blue and white tiles on the frontage. Tom's granddaughter, Val, who spent her first 11 years living with her grandparents, remembers sheltering in the pub basement (with the family cat and dog) during air raids. American sailors coming in for a drink would give her sweets and the first banana that she'd ever tasted. Tom would demonstrate his green-fingered skills by growing on the flat roof of the pub kitchen. The establishment was more upmarket than some in the vicinity. Val recalled:
'It had two bars and a lounge with a fireplace which Tom kept lit in the winter. There was a curved staircase to the living accommodation with a large glass dome in the centre of the landing, giving light. The pub had a long red carpet on the floor, leading from the entrance. One day two men rolled it up and walked out with it. Tom found out and chased them down Derby Road and got it back!'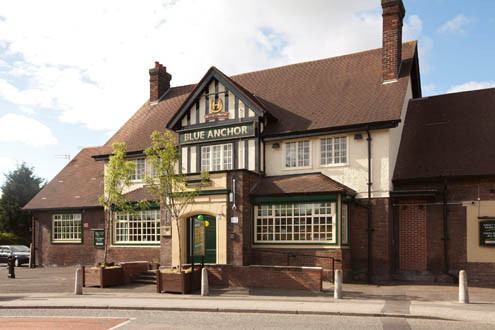 After a couple of years, Tom moved to the more spacious Sefton Arms in West Derby – an imposing brick-built establishment which had a snooker room and its own bowling green to the rear. Val would recall trips with her grandparents on Sundays to Liverpool city centre to enjoy a meal, take in a show or visit the cinema. He was subsequently the landlord of the Blue Anchor in Aintree – succeeded by Ted Sagar in approximately 1958. In retirement he lived in 'The Bungalow' at the Blundellsands Hotel – perhaps Threlfall's had arranged this as a token of gratitude for his long service. One of his last public actions was to write to Harry Cooke, Everton's long-serving trainer, upon his retirement in August 1961. Thanking Cooke for his support to 'old boys' like himself he wrote:
'Thank you for the courtesy shown to me, both as a player in your charge and also since my playing days ended. I am proud to have been a friend of yours, and I am sure that all the old players of my time will echo the sentiments.'
Tom passed away on 21 March 1966 at the age of seventy-nine. He was cremated at Thornton Cemetery.
Rob Sawyer
(WW1 research and text by Mike Royden)
Acknowledgments:
Special thanks to Val Fern for sharing her recollections
Jamie Yates (proofreading)
Brendan Connolly (for use of images)
Billy Smith (bluecorrespondent.co.uk – newspaper reports and images)
George Orr
James Corbett (evertonencyclopedia.com)
Steve Johnson (evertonresults.com)
Further reading: Everton FC: Champions 1914/15 – 'Over the Top' – by George Orr