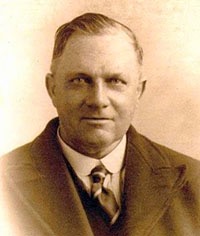 Tom McIntosh is a significant off-pitch figure in Everton's story, yet, despite the club's achievements under his watch, he seems to have fallen through the cracks of the club's historical records and his contribution over 16 years is largely overlooked
He came from humble beginnings. His Scottish father, Peter, left his native Nairn to become the resident baker at the lunatic asylum in Sedgefield, County Durham. Here he met Eleanor Hunter, an attendant at the asylum. Eleanor's sister Elisabeth and brother-in-law, Thomas Nokes, would also work at the institution (John rose to the position of Chief Attendant). Peter and Eleanor married in September 1876 and late the following year their first born son, John George was born. Sadly John died from scarlet fever just two months after the birth of his brother; Thomas Herbert McIntosh, was born on Monday, 24 February 1879. After the birth of a younger sister, Penuel, in 1880, the family moved first to Byker in Newcastle and thence to Eleanor's hometown of Aberdeen in Scotland.
Tragedy would strike the family again with Eleanor's death from heart disease when Tom was six. The siblings were split – Penuel remaining in Aberdeen whilst Tom returned to Sedgefield to live with his Aunt Elisabeth and Uncle Thomas. At 14, Tom left school and, so as not to be a burden on the Nokes family, he moved to Darlington where he found work as an ecclesiastical land agent's clerk.
Tom was a natural sportsman, enjoying playing football and cricket. Tom joined Darlington Football Club around 1895, the year they won the Cleveland Cup. He was only 16 years old when he broke into the team. The following year, Darlington were crowned Champions of the Northern League and were semi-finalists in the FA Amateur Cup. He was selected to play for Durham County as a half-back and signed amateur forms with Sheffield United. He would never play for the Blades as Darlington were not able to release him. So Tom continued with Darlington as it became one of the most successful amateur football clubs in the area. He also played cricket for Darlington Cricket Club and was a fine slow bowler and batsman.
In 1902, a year after marrying Florence Wright, Tom became Secretary-Manager of Darlington FC. On 3 September 1904 Tom and Florrie's daughter, Edna was born. Yet again, there would be bereavement in the family as 27-year-old Florrie died of intestinal tuberculosis just short of her daughter's second birthday.
Under Tom's leadership, Darlington FC decided to turn professional in 1908 –at this time, Tom ceased playing in order to concentrate on his administration duties. He continued to play cricket though, and on 6 May 1909 scored 103 not out for Darlington's second team at Preston.
Twenty miles away, a bribery scandal had engulfed Middlesbrough FC, resulting in the suspension of Secretary-Manager, Andy Walker, and Chairman, Thomas Gibson-Poole. Phil Bach, the new Chairman, was given the task of reforming the club's Board of Directors and, from a list of over 100 candidates, appointed Tom as Secretary-Manager on 7 March 1911. The 1911-12 season saw Boro finish 6th in the First Division. The next season, they finished 3rd, which is still the highest position they have ever finished in top flight football. Clearly, things at Ayresome Park were progressing nicely under Tom's guidance but any League Championship aspirations were dashed by the Great War.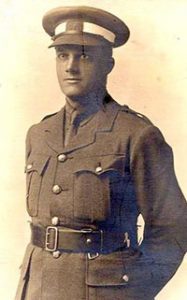 Tom Mcintosh training as an army officer at Kinmel Bay
In 1915 Tom, by now 35, joined the 12th Service Battalion of the Yorkshire Regiment, known as the Teesside Pioneers. Before long, he was promoted to Company Quartermaster Sergeant. Around the same time, he married his second wife, Betsy Thompson, in Middlesbrough; their daughter Jean was born in October 1919. In January 1916, Tom's company landed in France. He later received his commission, becoming a 2nd Lieutenant and was mentioned in despatches twice. After being demobilised Tom oversaw Middlesbrough's win in the Northern Victory League. This would be his last notable contribution at Ayresome Park.
Over in Liverpool, Everton Football Club was on the look-out for its first salaried Secretary. The Club had never appointed a manager, as we know the term in the modern sense, and would be one of the last clubs to do so. This meant that team selection was the responsibility of the club officials and coaches with input from the club captain. Initially the prime responsibility for team selection and player recruitment fell to William Edward Barclay (1888-1889), Richard Molyneux (1889-1901), Will Cuff (1901-1918) and William James "WJ" Sawyer (1918-1919).
Sawyer held the post of Secretary in an honorary (unpaid) capacity in succession to Cuff. He had been offered, and accepted, a switch to a full-time salaried position in 1919 but, at the eleventh hour, had a change of heart and elected to remain with the Leeds-Liverpool Canal Company (although he would join the Everton board the following year and serve on it for a decade).
Everton's search for a Secretary eventually brought them to Tom. At Everton's board meeting of 28 October 1919, the Chairman noted that Tom was to "question" the Everton board the very next day (clearly Tom was the man they had chosen and he held all the aces). The board must have satisfactorily answered Tom's questions as he tendered his resignation at Middlesbrough a day later and commenced a month's notice period.
The Daily Post reported on the fond send-off he received from Boro:
He has been the recipient of gifts from the Middlesbrough directors and players. He was presented by the directors with a case of cutlery, and by the players with a massive rose bowl and silver cigarette case. Mr. Bach, chairman of the club, said Mr. McIntosh was going to another club, and a great club, and it was a compliment to Middlesbrough that he had been appointed to such a position. George Elliott, on behalf of the members of the team, spoke of the admirable work done by Mr. McIntosh for the club and players. Mr. McIntosh in reply, said he had always found the directors and players extremely considerate. Particularly did he appreciate the conduct of the players; he had no trouble with them, and hoped he would find a similar set of men at Everton.
The compliments directed at Tom were not misplaced. When he left the town, all but England international goalkeeper, Tim Williamson, Jack Carr, Willie Carr and club captain George Elliott, had been signed on "Mac's" watch. He brought the likes of Stewart Davidson and Andy Wilson down from Scotland besides capturing several other valuable players from County Durham and Teesside. "In those days", George Elliott said at the club's presentation to their departing manager, "the club was in a very critical condition but now, thanks in no small measure to what Mr McIntosh had done, the club was better off probably than ever".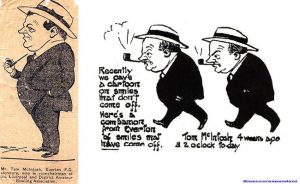 A caricature and cartoon of Tom from the 1920s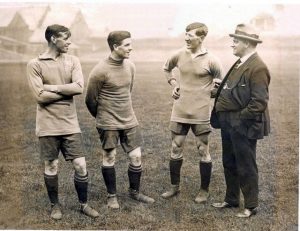 Tom with players on the Goodison Park pitch circa 1923
In his early years at Everton, there was unrest as shareholders bemoaned the failure to emulate the 1914-15 League Championship – a "coup" took place at an EGM in August 1920 which resulted in Frank Coffey being elected chairman. However things were eventually turned around. On 16 March 1925, Everton signed William Ralph ("Dixie") Dean from Tranmere Rovers for £3,000. Tom had played a key role in the deal and had been one of the first to scout him at Prenton Park. Three years later, Dean's record 60-goal tally propelled Everton back to the summit of English football.
Everton's first significant biographer, Thomas Keates, praised Tom in the Club's golden anniversary history:
'The present system of management seems to approach the ideal. Mr Thomas H. McIntosh… spends his days at Goodison Park. He is the consultant and father figure of the players, a redressor (if it is possible) of their grievances, consulting engineer of the captain and trainer, and prudent adviser and information bureau of the directors.'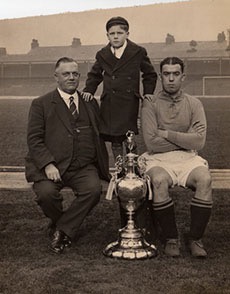 Tom McIntosh with his son Peter and Bill Dean in 1932
Photo update:
In 2021 George Chilvers, colourist expert, added this superb image to his expanding portfolio: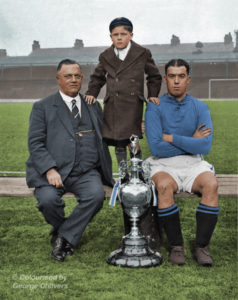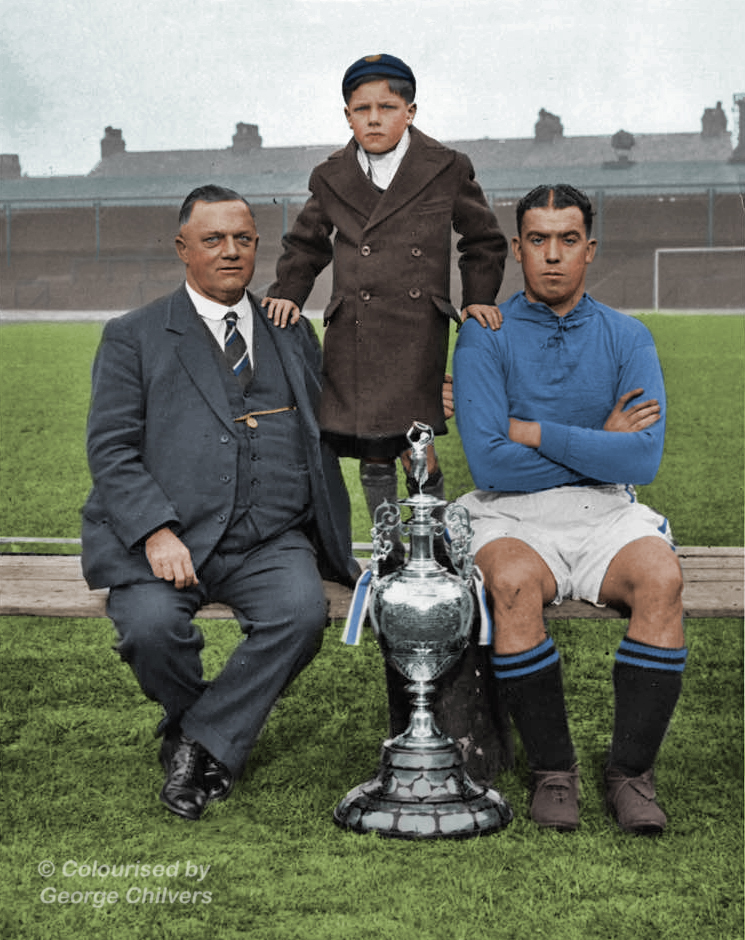 However, it was not all success: the club flirted with relegation on occasion, narrowly escaping the drop in 1922 and 1927 before dropping out of the top flight for the first time in the club's history in 1930. Still, the club bounced back with forward-looking signings such as Cliff Britton and Charlie Gee alongside Dean, Cresswell and Critchley steering them back to the top flight and, just a year later, the 1931-32 League Championship title. Several months later, Tom signed Joe Mercer from Ellesmere Port and, in the spring of 1933, the FA Cup returned to Goodison for the first time since 1906.
Tom's affable personality shone through when, in September 1929, he hosted a visit by "Major Jink" of the Daily Telegraph. Jink reported:
It was a cheery afternoon that I spent with the Everton manager in Liverpool yesterday. At every turn of the Merseyside town (sic) Mr. Tom McIntosh pointed out to me something connected with Everton. Here the church from which the team originated – a Sunday school side. There the Catholic school against whose boys Everton fielded their first team in an annual fixture. The barber's where we were shaved was owned by an old Everton player – the newsagent where we bought a paper to see if Athford had won belonged to another Goodison Park favourite of the past.
Tom gave the journalist an insight to travel arrangements for teams of that era and the challenges posed by the Pennines:
It was a long, long trail a winding as far as Everton were concerned this morning. The team and officials took a roundabout route to Derby –they travelled via Crewe and Stoke instead of taking the direct line. And why? To avoid the peaks and dales of Derbyshire, which, Manager Tom McIntosh told me yesterday afternoon, are hated by every team that has to visit Derby from the north. "These ups and downs, and the train sickness that follows them, are the bane of a manager's existence when his men are playing the County," he said. "We'd rather travel the night before as a matter of fact" said Mr. McIntosh. I wish they had done so the journey from Liverpool this morning took us exactly 3 hours. At Crewe the Everton saloon was attached to a slow train that crawled to Derby, stopping at every tiny station.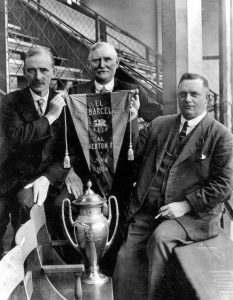 Tom and the Barcelona Cup in 1924
Away from football, Tom was heavily involved in the local crown green bowls and was behind the Everton team's annual post-season golfing trips to Scotland. Tom and Betsy had three more children: Frank (1920), Peter (1924) and Ian (1929). In later years, Frank would fondly reminisce about the day in 1928 when Dean scored his famous 60th goal. Tom had seen a couple of people run onto the pitch and realised that Dean would get mobbed, so he took him off 10 minutes before the end. Just as the final whistle was about to blow, Dean reappeared in the director's box having had a quick bath and changed into a fresh kit. He stood to attention alongside young Frank. His abiding memory was of the smell of fresh linen from the immaculate white shorts and of how red Dean's legs looked after his bath.
Sadly, whilst still in post in early 1935, Tom began to suffer the effects of cancer of the cheek. A contributory factor may have been that he was a heavy pipe smoker – as many newspaper caricatures of him confirm. After battling on until March, the illness became so grave that he had to be absented for work. He finally succumbed on 29 October 1935 at 6 Queen's Drive, Walton, Liverpool. He was just 56 years old. The board minutes noted:
The Chairman referred to the loss sustained by the Company owing to the death of their Secretary Mr. T.H. McIntosh, and… recorded appreciation of the loyal and excellent services rendered by him to the Company and its Directorate during the past 16 years.
Will Cuff subsequently met Betsy and advised her that the club had invested £650 with Lewis's which would pay out a benefit of £3 per week. He told the Evening Express Newspaper:
"We have lost a faithful servant, a man who carried the club's colours most successfully. He was one of the best-liked men in the game and his death comes as a sad blow both to Everton and the English football in general."
At his funeral at nearby Anfield Cemetery, "Dixie" Dean was one of the pall bearers, along with other first-team players in Jock Thompson, Charlie Gee, Warney Cresswell, Tommy White and Ben Williams. Representatives of many senior clubs, including Middlesbrough, Liverpool, Tranmere and Glasgow Celtic, gathered at Goodison Park prior to the service at Walton Parish Church. There were hundreds of wreaths from all parts of the country which included tributes in the colours of famous clubs. For example, one, of red carnations bound with white ribbon, was sent by Arsenal FC.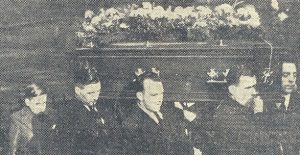 Tom's funeral. His coffin was carried by some of the players
Mr W. Harrop, chairman of the Liverpool FC, interviewed by an Evening Express representative, said:
"Mr McIntosh was a great sportsman and a first-class man at his job. Football has suffered a great loss by his death. Mr McIntosh was a kindly, genial man whose relations with the Liverpool club were always of the best, and it was with great sorrow that we learned of his passing."
Subsequently, Theo Kelly stepped up to become Secretary of the club but the premature loss of Tom had ramifications for Everton's star striker. Nick Walsh touched on this in his 1977 biography Dixie Dean:
Tom McIntosh, the club's beloved secretary, died – a tragic loss not only for Everton but for Dean in particular. Tom had been like a father to Dean, establishing a warm and friendly relationship which had commenced on the day, over ten years earlier when, in the Woodside Hotel, Birkenhead, McIntosh first met the centre-forward and signed him for Everton. Dean says that McIntosh was highly respected by all the players. He adds that sometimes solace is gained, and the mourning relieved in such circumstances, if the successor continues to hold and apply some of the qualities of the lost predecessor. But in Dean's view the appointment of Theo Kelly to the secretary's post was an event which only served to make the death of Tom McIntosh an even greater tragedy. Dean was still club captain and had, as such, to work closely with the secretary. The secretary's post at Everton loosely combined the role of manager, because the club still refused to follow the fashion of most League clubs and designate a "manager" as such.
Kelly's fraying relationship with Dean, whose star was on the wane due to injuries and age, precipitated the great number nine's departure in 1938. A team combining long-serving players signed by Tom with fresh talent recruited by Kelly such as TG Jones, Tommy Lawton, Norman Greenhalgh and Torry Gillick secured the club's fifth Football League Division One Championship in 1939. It was a lasting testament to the skill and dedication of both Everton Secretaries.
The McIntosh family bond with Everton remains undiminished. Tom's daughter, Jean, was a season ticket holder in the Upper Bullens for many years before her passing in 1984. Youngest son Ian went to the FA Cup Final of 1966 with his nephew Graham. When Ian died in 1968, his widow, Joy, began taking their son Stuart to Goodison in 1970 – both have been season ticket holders since 1971. Stuart's son, Tom (named after his great-grandfather), is also now a season ticket holder. A physical link to the club can be found at the memorial wall next to the statue of Bill "Dixie" Dean. Here plaques in memoriam of Tom and his son Ian are placed next to one bearing the names of Joy, Stuart and Tom Junior.
By Stuart McIntosh and Rob Sawyer
Acknowledgements
The McIntosh Family (including use of the photos)
Billy Smith (Blue Correspondent website of newspaper transcriptions)
James Corbett (Everton Encyclopaedia)
Everton Collection (board minutes)
The Daily Telegraph
John Keith (Dixie Dean biography)
Nick Walsh (Dixie Dean biography)
Thomas Keates (History of the Everton Football Club 1878-1928)