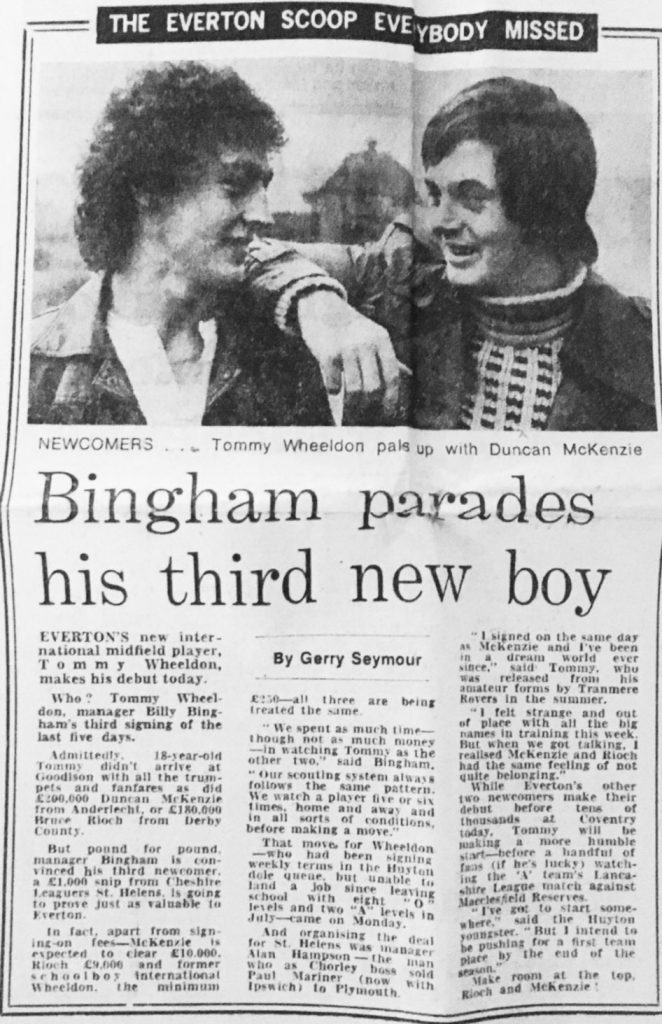 On Tuesday 7th December 1976,Everton manager Billy Bingham made a triple swoop by signing Duncan McKenzie from Anderlecht, Bruce Rioch from Derby County and Tommy Wheeldon.


Tommy who? You know, Tommy Wheeldon from St Helens Town? Never heard of him? You have now.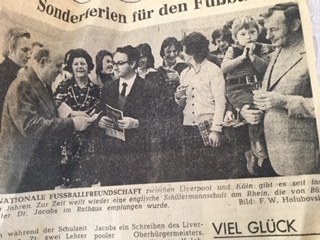 I was intrigued to find the truth about Tommy, an Evertonian from birth, who was expected to reach better things in football. Tommy takes up this wonderful story.

I played for England Under 18's and attracted interest from both Everton and West Ham United and a few more clubs. John Lyall the manager of West Ham made contact with me, and I also received a letter from Ron Greenwood the former manager of West Ham, inviting me to play for the Hammers first team against Morecambe. I thought I'd misheard when he said first team, but confirmation proved that I wasn't imagining things.
West Ham were staying in the north-west for the game and I joined them for the week in Morecambe in April 1976 and played in midfield with Trevor Brooking, Graham Paddon andBilly Bonds. We won 9-1 with me stepping in for Pat Holland.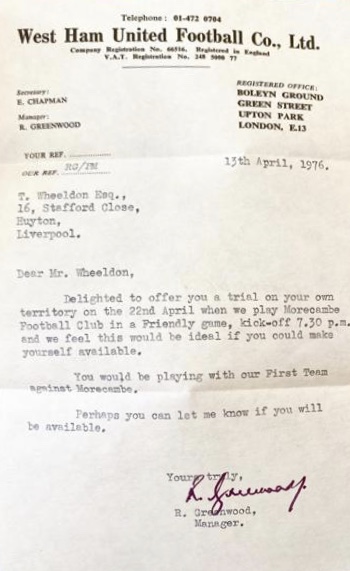 I was invited down there again in the summer months, but failed to settle in the area which made my mind up not to sign. Alvin Martin a Scouser like me, was already down there and encouraged me to stay and grasp the opportunity. I wished I could have done, but I could not settle and wanted away from there.
I'd fallen out of love a bit with football and whether that was due to me returning from London I don't know. I came home, signed on the dole, and played for Newalls in Prescot playingat King George V playing fields Huyton, in the Sunday League, receiving £5 to play. In that team were Ged Keegan and Alan Hampson, who also played for St Helens Town on Saturdays. Alan had previously played at Everton and they persuaded me to join them at St. Helens. No disrespect, I'd never heard of them, but they were in the Cheshire League. I agreed to join and earned a weekly sum of £10 in addition to the £5 from Newalls.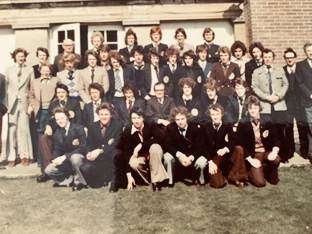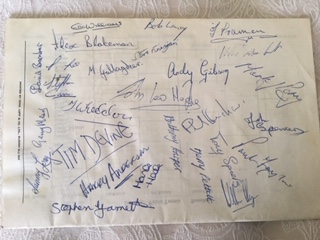 Not long after, I was led to believe there were a few clubs looking at me, including Blackpool, Blackburn Rovers and Tranmere Rovers. I had been at Tranmere as a kid but nothingmaterialised.
So I couldn't believe it when Harry Cooke the Everton scout took an interest and offered me to train with Everton at Bellefield. I had to pinch myself that this was really happening. My dad, who had told me to go to Blackpool when they came in, thought I had a better chance with a smaller club with all respect, but it had to be Everton, it was a no brainer.
I went to Bellefield and started to train with Mick Lyons, George Telfer, Bob Latchford etc… thinking, I'm well out of it, but every time I put the kit on I felt brilliant. Eric Harrison who was a coach there approached me and said that Everton wanted to sign me, with a two-year contract on the table. Eric went on to say that if the manager Billy Bingham likes what he sees, you never know. My dad also a massive Evertonian, home and away, asked me if I was sure I wanted to sign for Everton. I couldn't believe he would ask such a question. "Come on dad, this is Everton. Even if I don't make it, two years of training at Bellefield and being part of this, it's too good to refuse". Dad was happy for me once he realised my mind was made up. Who wouldn't be?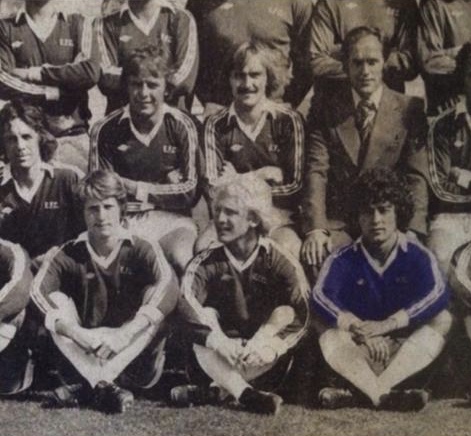 I signed with Duncan McKenzie and Bruce Rioch in the company of the club secretary Jim Greenwood. My dad showed up as he worked locally at Dunlop's around the corner from Goodison Park. It was the best day of his life to see his son join the team we both loved. Bruce was always one to give advice by the way. You have to do this; you have to do that and so on.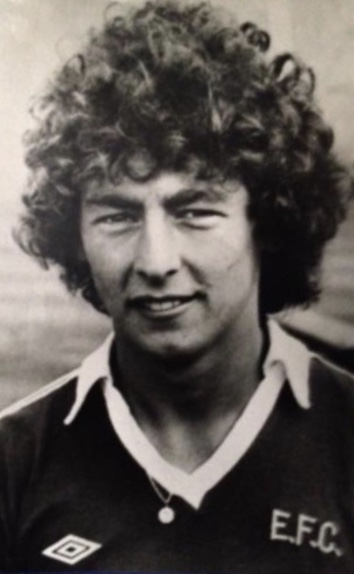 My debut was for the reserves on New Year's Day 1977 at Goodison against Manchester United. In the visitors line up that day was Gerry Daly, Ashley Grimes and former Everton midfielder Tommy Jackson. Billy Bingham was watching from the stands as Everton's first team game had been postponed at Leeds United due to snow. Billy praised me after the game telling me that he loved what I did, with a promise that if I was consistent in my performances, I would join the first team in training inside a month. Weeks later, Billy was sacked, Gordon Lee was appointed, and things started to change.
Like any new manager when he gets a job, he has to get his main men. Gordon was inundated with midfielders with Mick Buckley, Trevor Ross, Mick Bernard, Bryan Hamilton, Martin Dobson, Andy King and Martin Murray. We also had some good young lads. Nigel Groome was a good player and DavidEsser too. It was hard enough to break into the reserves never mind the first team. I once played in a game for Colin Harvey's B team with Mick Bernard, George Telfer and JimPearson. Unbelievable isn't it?
Unfortunately, Gordon Lee didn't fancy me. He did say when I was released, that Kingy had played 100 games, Dave Jones the same, Trevor Ross had played at Arsenal with bags of experience and quality. I was the same age as Andy, Dave and Trevor too. I had to take it on the chin that I was way behind those players in that respect, but you still had to believe in yourself.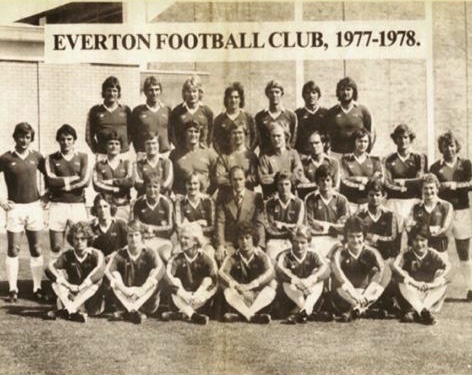 I played a few games at centre back when I played in reserve versus first team games in training and found myself marking Latchy. I thought I did well playing alongside Higgy and Billy Wright as I was smaller than them. I was decent in the air, and I think Eric Harrison was looking to play me in a different position, but maybe I was too small for a centre back and maybe lacked pace as a full back when I would slot into that role. I deputised at left and right back on a few occasions.
I think the club were looking to see if I could go somewhere else because Everton were comfortable with the players, they had in the midfield positions. After I left, the club had very little money, then some of the younger lads like Paul Lodge came through with Steve McMahon, Pat Heard and Kevin Ratcliffe.
Years later, Billy Bingham wanted me to go to Mansfield where he was manager, but I didn't fancy it. I signed for Southport when they were in the league, at a time when Wigan Athletic also wanted me. That summer, Southport went out of the Football League to be replaced by newcomers Wigan Athletic who earned promotion into the then fourth division.
I joined Southport where manager Jimmy Melia had taken over from Harry McNally. The club had to dispose of a few of the high earners and in football things can go sour and three of us: Nigel Halsall, Barry Knowles and I were sold for £10K moving to Runcorn where Jim McCalliog was in charge.
The legend Ray Hall knew me from my time at Southport, as the two go back a long, long way. He always said that the first team players at Southport would ignore the reserves except for me, as I would go into the changing room with the reserves and have a craic with them which helped me.
Torquay United then came calling in 1981 when, by chance, I bumped into Bruce Rioch in a service station when he was at Torquay with Frank O'Farrell, and was invited down to Plainmoor. I told him that I would go on the condition that I played part time as I was in the insurance industry. Torquay always wanted me to go full time, which I would never do as I was earning too much money in my employment. Torquay eventually got rid of their reserve side and I went to play for Saltash and Falmouth Town, before returning to Plainmoor with David Webb in 1986, but David again wanted me to go full time, so that was short lived! As I got older, I got into coaching with my kids.
When I finished playing, I worked for a man called Brian Greenhalgh who was chief scout at Everton and he introduced me to scouting. Terry Darracott took over from Brian at a later date and I was retained in my role. Graham Smith and Ray Hall also wanted me to do some scouting for the Everton youth set up in the South West where I was based.
In 1994 Steve McMahon recruited me at Swindon Town, where I worked with the youth team for four years. From there I joined Exeter City working with Peter Fox and Noel Blake.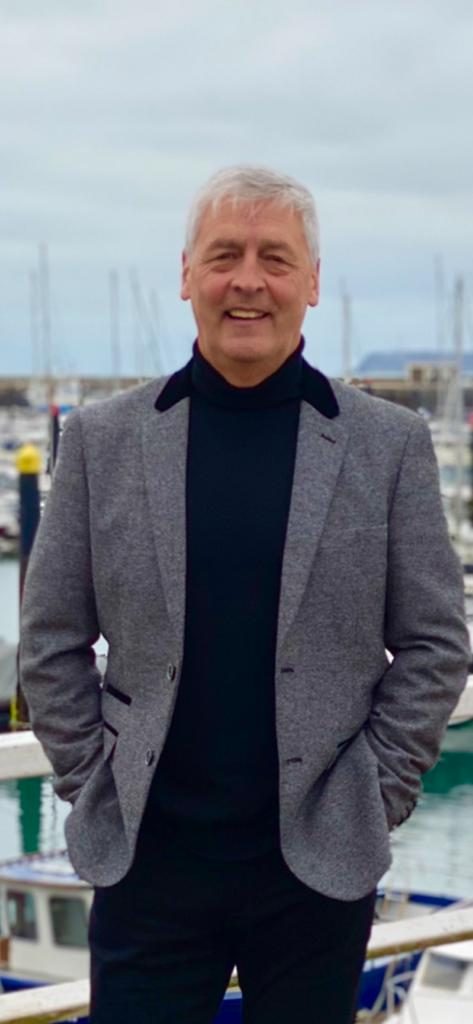 Then a Canadian by the name of Michael Vandale a director at Exeter, who pumped a lot of money into the club, took me out to Calgary in Canada to join Calgary Storm where I stayed for 15 years. I have two lads who are still out in Canada. Thomas is a coach at Cavalry FC, and Jonathan is a player at the same club in the Canadian Premier league.
So, all in all, it's a ride which I've enjoyed.