Arthur Winterhalder
Signed to cover the abrupt exit of the Wilson brothers, Arthur Winterhalder, a promising outside left, joined Everton from West Ham United. He was descended from a family of clockmakers who had emigrated from Germany to settle in the Marylebone area of London. His father Richard did not choose to follow this profession but decided instead to enlist in the 3rd Dragoon Guards and was stationed at Colchester when he married local girl, Martha Gibbons.
Around 1878 Richard left the army to work as a carter at Stratford in London. In 1883 he took up a position as a carriers agent and moved the family to Oxford where Arthur, his sixth child, was born on 13 October 1884. In early 1906, Arthur Winterhalder met and married Lucy Skinner in West Ham. He was reported as being 'a local amateur who hails from Wanstead' when he made his Southern League debut for West Ham United in a 1-1 draw away at Luton Town in October 1906. The following year he was in the Hammers side when they were defeated 2-1 by Everton in an FA Cup tie at Upton Park. After the game, Harry Makepeace described Winterhalder as one of the best young players he had ever seen. His words were heeded by the Everton executive who signed him during the close season for a fee of £355.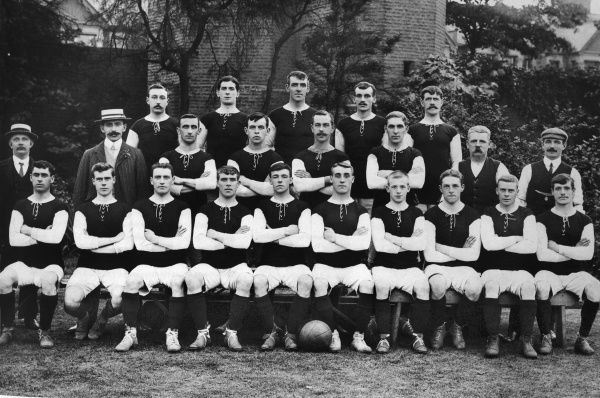 West Ham United 1905/06 – Arthur is front row, far right
There was bumper crowd of 12,000 people waiting to greet the young newcomer on the opening day of the 1907/08 season at Goodison Park for the Lancashire Combination derby game with Liverpool. The occasion was further intensified by the unveiling of a new grandstand that had been added during the close season, at the Stanley Park end of the ground. The new signing quickly found favour with the home supporters by scoring from the spot and adding a second goal before the break. Everton went on to win the game three goals to one.
Winterhalder made his Football League debut three weeks later but failed to score in the 2-2 draw away at Preston North End. He made another three appearances for Everton before joining the Deepdale club at the end of the season. The asking price was £350. On 12 September 1908, Winterhalder was in the North End team that beat Everton 1-0 at Goodison Park. He spent the next season with Accrington before returning to Preston where he appeared on the 1911census living with his wife at 378 St George Road. They later returned to London where Arthur Winterhalder died, at West Ham, in 1937.
Harry Dawson
Harry Dawson was born on 13 February 1886, in the Halliwell area of Bolton, Harold was the son of Thomas, a joiner, and his wife Jane. At the time of the 1901 census Thomas was operating his own joinery business, based in Harper Street, where his son was working alongside him. Harry began his football career, playing at outside left, with Lancashire Combination side Rossendale United, from where he joined Everton, for an undisclosed fee, in May 1907.
Dawson made his debut on 7 September, in a 3-0 home defeat by Woolwich Arsenal and appeared again one week later, at Goodison Park, where Everton were beaten 1-0 by Preston North End. He then lost his place to George Barlow and was placed in the reserve pool of players. Dawson made two further appearances for Everton, against Manchester United and Bristol City, before being transferred to Blackpool for a fee of £75. He made nine appearances for the Bloomfield Road club as they finished bottom of the Football League Division Two. They were re-elected and the following season, he made another thirteen appearances. On 12 September 1910, Harold Dawson married Margaret Gill, who lived at the Stanley Arms Hotel, and the couple set up home in Blackpool at 19 Imperial Street, where their first child, Margaret, was born.
The family however, quickly moved south when the head of house signed for Southern League outfit Croydon Common. They resettled at 77 Lines Road, in the Surrey town, where their second child Ronald was born. Dawson later signed for Southern League side West Ham United and made his debut on 16 March 1912 against Luton Town. He remained at Upton Park for two seasons, playing twenty two matches and scoring three times, before returning to Croydon Common where he ended his football career.
On 10 December 1915 Harold enlisted in the Coldstream Guards at Kingston –upon–Thames and saw action in World War One. In 1920 he emigrated with his family to Canada and set up home on the shores of Lake Ontario, in the town of Hamilton. Harry, who worked as a carpenter, lived there until his death on 8 December 1944.