WWI and WW2 Remembrance Booklet
(Written by Mike Royden & Peter Jones)

A great deal of research has been carried out by a number of members since the founding of the society, into players on Everton FC books who fell in both wars. This research has also been extended to include the Everton clubs of Chile and New Zealand.
A booklet was produced to include a roll of honour for all three clubs, with brief biographies of the players. Copies are no longer available, but a digital PDF can be downloaded here.
In 2011 a plaque in memory of men associated with the Everton clubs of England and Chile who lost their lives in both World Wars was erected near the Park End stand. This was the culmination of two years research by David France, John Rowlands, John Shearon Billy Smith, and Paul Wharton of the EFC Heritage Society who unearthed the names of seven footballers associated with both clubs. In fact, two plaques were erected, one at Everton and an identical copy in Chile, which were sponsored by the Everton Shareholders Association, in association with Dr David France and his wife, Elizabeth.
Since that time, members of EFC Heritage Society have continued the research to see if there are more servicemen who should be honoured in a similar manner. Several more men have been discovered and are included in this booklet. Furthermore, another Everton club has come to light, founded by ex-patriot fans in New Zealand, and a number from there also fought and died in the First World War. Work on this continues and will be made public in the future, but their names are listed within.
Overall, many of the names are unfamiliar. As footballers, some were international stars, others were youngsters with immense potential. As servicemen, they gave their lives fighting for our freedom. While we owe a debt to these fallen heroes that we can never repay, we can honour their sacrifice. These memorials will allow the supporters in both countries to pay their respects to the Fallen Evertonians who lost their lives during military service.
As a consequence of this further research, it is clear that several names need to be added to Memorial Plaque. In fact, another fallen player on the books of Everton FC has been discovered in 2021. Work is in hand to address this issue.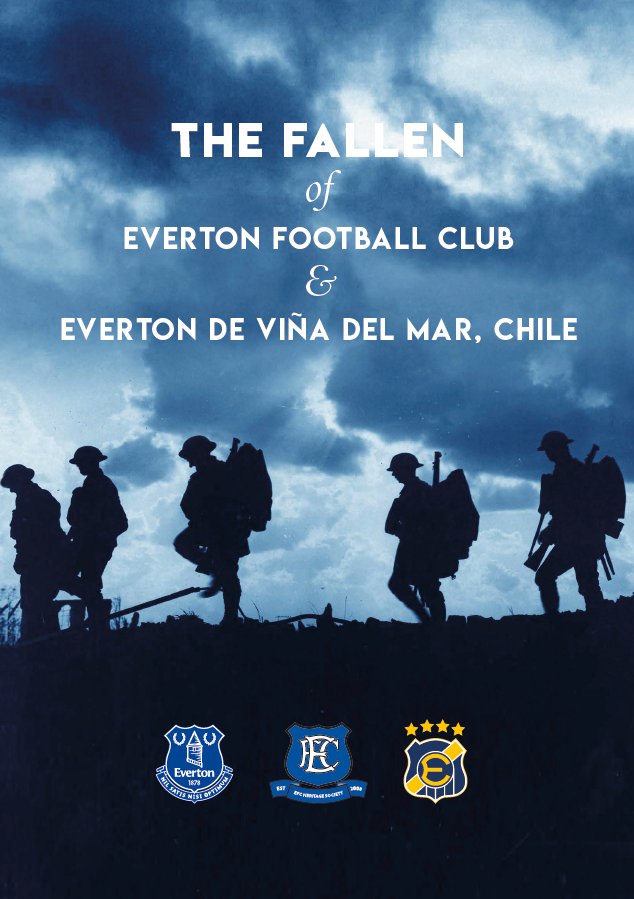 The booklet is only a brief record of what the society holds regarding these players who lost their lives, and much more is also known about a number of men who survived both conflicts. It is hoped that in the future a more substantial publication can be produced about all players of Everton FC who served in both wars.
Everton FC Heritage Society, in conjunction with Everton FC, hold an annual Remembrance Service on 11 November (or the nearest suitable date) in the area facing the Memorial Plaque, where the public are welcome to attend.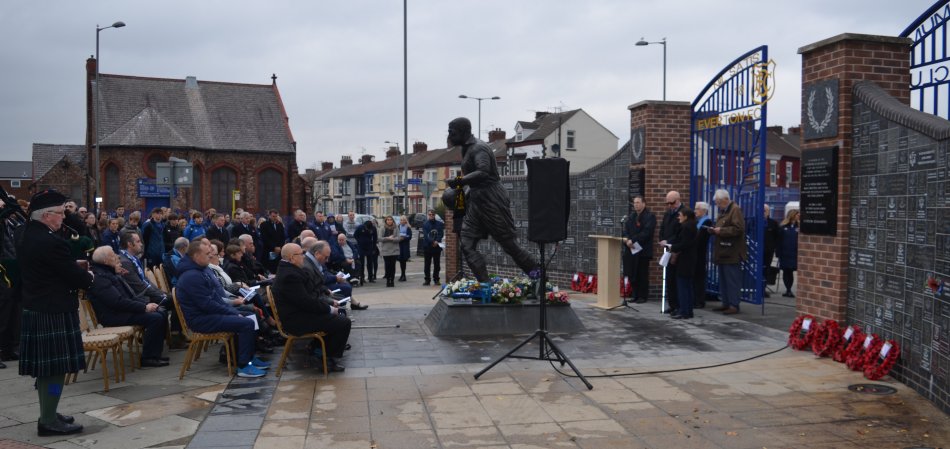 Original memorial plaque research by David France, John Rowlands, John Shearon, Billy Smith and Paul Wharton.
Further research by Peter Jones, David France, Mike Royden, Tony Wainwright, Billy Smith, Kjell Hanssen, JP Levinge and Jamie Yates.
Many thanks to the families of men listed on the Roll of Honour
who have provided photographs and permission to reproduce them.
Booklet compiled and written by Mike Royden and Peter Jones
Design – Thomas Regan, Toffee Art