Joseph Davies, the Welsh International from Shropshire.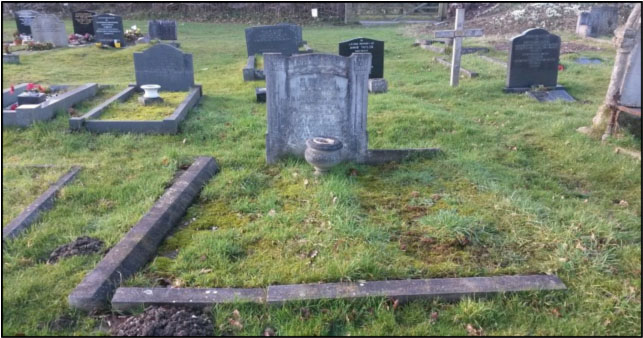 The picture above shows the last resting of Joseph Davies who played for Everton during the season that they became founder members of the Football League. He had been born, 27-6-1869, at St Martins in North West Shropshire and baptised at Preesgwyn Methodist Chapel. Records reveal that he was the son of Stephen Davies, a Blacksmith at the local Coal Mine, and his wife Harriet. Both of them had been born in St Martins. The 1881 census finds the family living Chirk Bank Row in Weston Rhyn where Joseph, along with his two brothers, is listed as a Scholar. On leaving school he began working at the local Colliery and was playing for Chirk AAA from when he joined Everton in November 1888. It is reasonable to assume that he lived, during his time with Everton, at the family home because he could catch a train from the tiny local Railway Station (now closed) to Chester and change on to a train that would take him to Liverpool.
The young Welshman was trust straight in to an Everton forward line, playing at outside left, that was changing virtually from week to week. He made his debut, 1-12-1889, against West Bromwich Albion at Stoney Lane where the home side won by 4 goals to 1. Nevertheless, after being switched to the right wing, he took to the field against Stoke on a dark and gloomy day at the Victoria Ground. The score was standing at 0-0 when the referee, owing to the onset of darkness, stopped the game after eighty minutes and the players left the field (The game was not replayed)
Davies was then re-placed at Preston by John Angus who had recently joined Everton from the 3rd L R V but was back in the side for the visit of Stoke and scored in 2-1 win. He then kept his place for the visit of Preston North End where a capacity crowd looked on as Everton where beaten by 2 goals 0. Davies took part in the next three Football League games, where Everton failed to register a single point, and then scored his second goal for the club in a 3-1 win over Blackburn Rovers in the final game of the season. He then became the first player, on the Everton register, to win an International cap.
Joseph Davies, like his Everton team mate George Farmer before him, had been born in Shropshire but accepted the invitation to play for Wales and made his debut, 15-4-1889, in a 0-0 draw against Scotland at the Racecourse Ground in Wrexham. Two weeks later he won his second cap when he played for Wales against Ireland in Belfast.
Joseph Davies played his final game for Everton at Manchester, in a friendly against Newton Heath, and was not retained by the club when the season came to an end. He returned to play football with Chirk where he gained another two International caps before going on a great Odyssey that would eventually bring him back to Shropshire.
In 1891 Joe Davies signed for the Football Alliance club Ardwick, where he remained until 1894 having, in the meantime, helped them to become members of the Football League. During his time in Manchester he gained another two caps for Wales. He next crossed the Pennines to join Sheffield United and added another three International caps to his collection before re-joining Ardwick, who were now playing as Manchester City, where again he was selected for Wales. Davies then moved to London where he joined Southern League outfit Millwall Athletic and, for the tenth time, he was capped for Wales. Two seasons later he transferred to Reading and was playing there when ,26-4-1898, he made a final appearance for his country against England at the Arms Park in Cardiff. Davies then made a brief re-appearance at Manchester City before ending
his professional playing career with Football League Division Two side, Stockport County.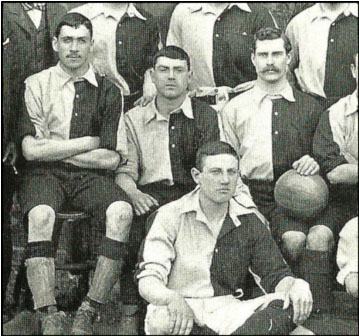 Joseph Davies, centre, with his Welsh team mates. Seated in the foreground is Charlie Parry of Everton.
Joe Davies returned to his home in Shropshire where, in all probability, he worked underground at Ifton Heath Colliery and settled back to life with in community at Weston Rhyn. In 1907 he married Millicent Hardy and the couple settled at 15 Trevor Cottages, Rhoswiel where they raised a family of four children. Davies spent the rest of his working life in the coal mining industry and had obtained the position of Colliery Storekeeper when he retired. On the 29th of June 1939, his wife Millicent died and was buried at Weston Rhyn Cemetery in the same grave as the Mother of her Husband, Harriet. Joseph Davies continued to live at Trevor Cottages until November 1954 when he had a bad fall and was first admitted to Hospital in Oswestry and then transferred to Copthorne in Shrewsbury where he died on the 6th of November. The inquest that followed revealed that the cause of his death had been a fractured femur. The news of his death was recorded in the local newspapers who made no reference to his long and distinguished football career. His four children, and their married partners, attended his funeral, as did the nine grandchildren, to see him buried alongside his wife. Joseph Davies, who played eight times for Everton,
Please follow and like us: