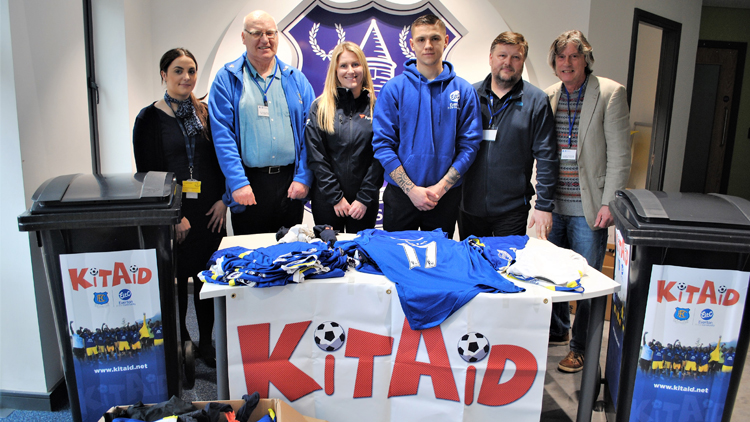 @Everton
25 February 2017 13:36
Share
Everton midfielder Muhamed Besic was on hand at Everton's People's Hub last week to help 'box-up' more than 400 shirts being donated to charity by the Club's retail partner, Fanatics.
Earlier in the season Fanatics were made aware of the long-standing partnership Everton in the Community have with the national charity KitAid and it was then they decided to make the generous contribution. The shirts being donated are those that were given back by fans after a number of players changed their squad numbers ahead of the 2016/17 season, including Besic.
By giving them to KitAid, the retail outlet are ensuring that they will be distributed to some of the most under-privileged children and adults in some of the world's poorest countries.
During the activity, Besic, who joined the Club in 2014, also met with representatives from the Club's official charity, KitAid and Fanatics as well as members of The Everton Heritage Society – who collect for KitAid at St Luke's Church every matchday – to find out more about the partnership and where the shirts would be distributed.
After the visit, Clare Dickinson, an Account Manager at Fanatics International Ltd, said: "We have recently formed our own partnership with Everton in the Community to help support them with the great work they do throughout Merseyside and it's through this that we heard about their relationship with the charity KitAid.
"It seemed like the perfect fit as we wanted to make sure that the large stock of shirts we had went to the right places and it's great that a first team player has been and shown their support today and we can hopefully help put some smiles on hundreds of people's faces across the world."
The Bosnian international spoke with evertontv and championed the initiative, saying: "I've come down straight after training today and I've just been helping Everton in the Community with packing shirts that have been collected from fans that will be sent to people who can't afford to buy their own.
"It may not be a big thing for some people to give away a shirt but for the people that will be receiving them it will be a really big thing; they will play in them every day. It is a great thing for the Club to be involved with and I'm always more than happy to help support great activities such as this."
Everton in the Community has been working with The Heritage Society throughout the season to collect unwanted kit from fans on matchdays all to be donated periodically to KitAid. A recent boxing-up session saw more than 2,000 pieces of kit sorted by Everton in the Community volunteers, members of the Heritage Society and representatives from KitAid, ready for distribution to locations including Malawi, South Africa and South America.
Barry Lenton, KitAid Ambassador, said: "Working with Everton in the Community has been absolutely brilliant and this massive donation from Fanatics will make such a difference to so many people across the world that are less fortunate.
"A big thank you to all involved in making these shirts available to us and here's to continuing a very strong partnership with this great Club."
Fans who would like to donate any unwanted kit can continue to do so upstairs at St. Luke's Church on home matchdays.