Society News
Everton Stakeholder Steering Group
For latest news and reports click here
Our friends at 'Bygone Liverpool' have been busy trying to discover the location of the lost football ground of Liverpool Caledonian AFC from 1891 to 1892. After a search by historians that began in 2014, they have finally solved the mystery. They have produced a fascinating and detailed article, using a great deal of research, with a few links to Everton and the Society. A valuable contribution to our understanding of the early history of football in the city. Well worth a read!
We do love a pinned tweet
Easily the best Everton feed on Twitter (with no hint of bias whatsover), Rob Sawyer keeps us regularly entertained and well informed about fascinating and intriguing aspects of Everton FC history.
Covid
Although our last monthly meeting was in February 2020, we have still tried to keep the Society functioning as best we can.
Website
Well this is the obvious development as you are here, but it does show where Society work has continued at a pace in certain fields.
Meetings
Our monthly meetings in the Everton FC Head Office in the Royal Liver Building are suspended at the moment. We have had a few meetings on Zoom, but we have regular contact with all members through group email, while sub-groups also continue to have regular contact.
St Luke's Church (home matchdays)
After the suspension of our matchday exhibitions due to the Covid restrictions, our service fully resumed at the Norwich game. Hopefully this will continue through the 2021/22 season. Follow us on Twitter and Facebook as well as visiting the website for future updates.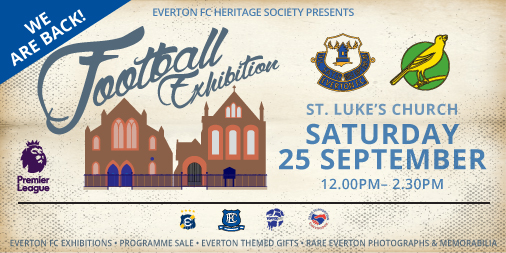 Research
If there has been one benefit of lockdown, it has enabled a number of members to focus on research projects, and the results are starting to bear fruit, with several new articles being published on the site, and more in the pipeline. See 'Latest' on the front page.
Publications
Huge congratulations to EFCHS members Paul McParlan, Gavin Buckland, David France, Rob Sawyer and Everton FC Broadcast and Liaison Manager Darren Griffiths, who we work closely with, on the recent publication of their excellent Everton works. Well done to all on your achievements. Click images to order!
We have continued to produce regular articles for every Everton matchday programme within which we have our own Everton Heritage page. Programmes are available online from the official club website.
We are busy working to complete our listings with free downloads, but progress so far can be found here.
Masters research scholarships
Everton Football Club and Liverpool Hope University have appointed two researchers in a MRes in the History of Everton Football Club and a MRes in the History of Everton in the Community. This is an opportunity to shine a light on previously unexplored chapters in the social history of Everton and its award-winning charity Everton in the Community – and to have their findings published in a new book.  Everton FC Heritage Society played a key role in the inauguration of the award. More details here.