Brendan Connolly (Chirman of EFCHS) presents the medal to Adrian Heath
After much hard work behind the scenes, EFC Heritage Society was able to produce a copy of the 1985 ECWC medal that Adrian Heath missed out on due to injury. He had no idea what was in store for him when he stepped onto the Goodison turf during a visit home from Minnesota in the USA where he now coaches.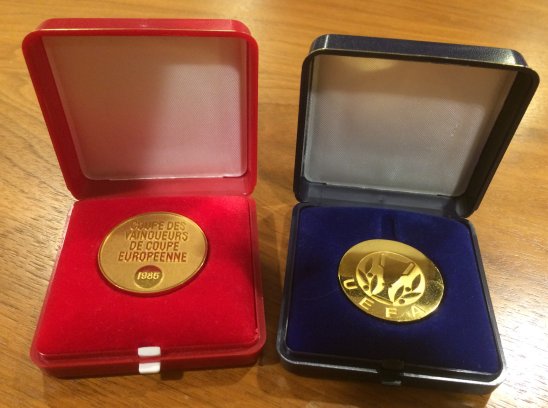 Adrian Heath's medal (right) and an original 1985 medal from the collection of Brendan Connolly (Photo: Mike Royden)
One of the most successful strikers in Everton history, Heath helped the Toffees win an FA Cup and two English First Division championships from 1984-87. That stretch also included victory in the 1985 European Cup Winners' Cup, at the time one of Europe's top club competitions.
Heath took part in the first two rounds of the ECWC run, but suffered a serious injury that kept him out for the rest of the tournament, which meant that he did not qualify to receive a championship medal when Everton defeated Austria's Rapid Vienna in the final. Everton Heritage Society decided to rectify this three-decades-old slight, commissioning a Swiss jeweller to craft an exact replica of the medal and presenting it to Heath at halftime of the Toffees' Premier League match against Cardiff City on 24 November 2018.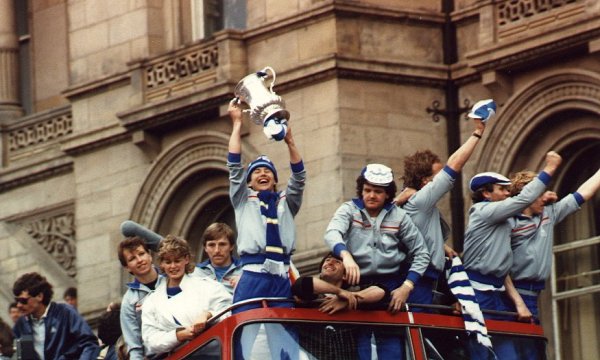 (Photo: Mike Royden)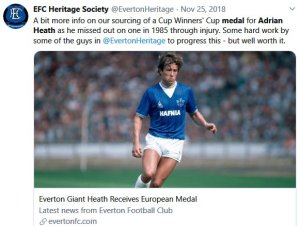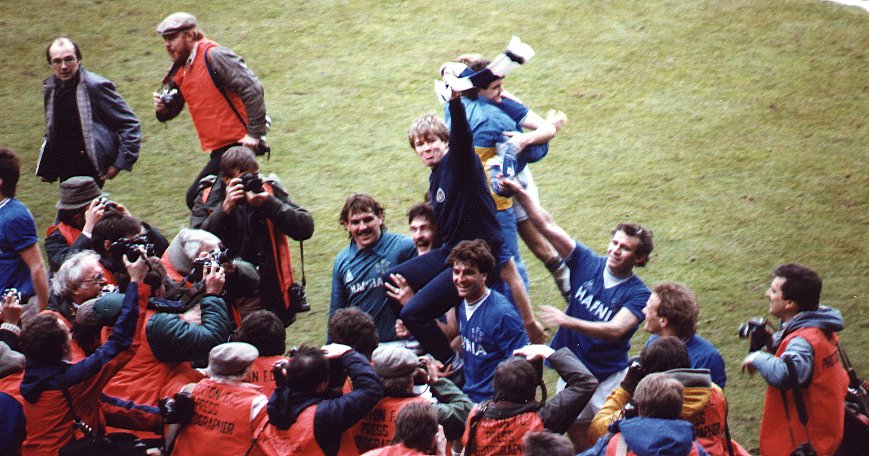 Adrian Heath, still injured, carried aloft during the Goodison lap of honour at the end of the 1985 championship winning season
(Photo: Mike Royden)
Mike Royden
[Article originally written for Mike Royden's Everton FC Heritage page ]