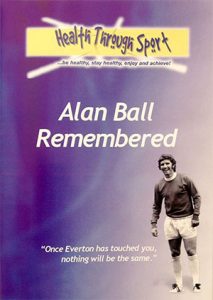 Former Everton star Ronny Goodlass is will have a DVD on sale at St Luke's Church and the Winslow every home game. The DVD pays tribute to one of the Club's most iconic legends, Alan Ball.
Along with the DVD is a special tribute programme for the Ball of Fire play, both on sale for a special price of £9.99 instead of £12.99. Ronny will be at St Luke's to autograph the items.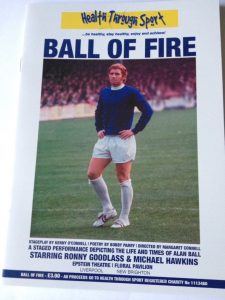 Winger Goodlass was a boot boy for Ball in his youth and came to be in awe of the man who scored 79 goals in 251 games during a dazzling five-year spell at Goodison Park.
The highlight of that stint was helping Harry Catterick's great side ease to the League Championship title in 1970 as part of the 'Holy Trinity' alongside Colin Harvey and Howard Kendall.
The DVD re-lives all the best Ball moments through his own words and those of the men who knew him best.
Goodlass, Kendall, Joe Royle and Graeme Sharp are among the names who give their own personal insight into the wing wizard, bringing with them a raft of anecdotes and memorable tales.
An in-depth interview with Ball himself, recorded shortly before his untimely death in 2007, sheds further light on his career, his life and his thoughts on the game, while clips of some of his after-dinner speeches will leave you captivated and inspired.
"Alan's children, Mandy, Keely and Jimmy, are delighted with the DVD," said Goodlass. "For me, it's the best motivational film I've seen. Bally talks about his career, his family and his values in life but it also gives you an idea of his sense of humour and why he was one of the best players in the world. And Pele said that, so that's some endorsement.
"It's been a labour of love for me because I joined Everton in 1969 and cleaned his white boots. To end up playing for Everton and for him to become a friend was a real honour and I hope Evertonians and fans of all teams will love this DVD."
Ronnie Goodlass