ANOTHER GREAT BOOK FROM DECOUBERTAIN – Q&A WITH ROB SAYWER, AUTHOR OF 'THE PRINCE OF CENTRE-HALVES: THE LIFE OF TOMMY 'TG' JONES'
Posted by Jack Gordon-Brown on May 31, 2017
Rob Sawyer comes from a long line of Everton FC supporters. Listening to his father and grandfather regale the stories of Dixie Dean and the Holy Trinity led to a deep interest in Everton's illustrious history. Whilst researching his first book, a biography of Harry Catterick, Sawyer found just how important TG Jones was to the Toffees. We spoke to him about the Everton great…
Hi Rob. You say that when you really became aware of T.G.'s importance to Everton when researching Harry Catterick's biography. As a keen Evertonian, how aware of T.G. were you before that research?
I was certainly aware from Everton history books and talking with my father that T.G. was one of the classiest players to represent The Toffees. Profiles mentioned that he left Everton to run a hotel in Pwllheli, which seemed odd. I was curious to learn why, but It took me a long time to get round to it!
Kevin Ratcliffe says in his foreword that although T.G. is revered on Merseyside and in North Wales, he has not received wider acclaim. Why do you think this is?
There are numerous reasons. T.G. played in an era before television – so we have to rely on verbal and written accounts of his remarkable ability. Had T.G. been born just a couple of miles further to the east and played for England he would have enjoyed a much higher profile across the land. Everton's post-war decline and T.G.'s inability to link up with Arsenal or Manchester United prevented him from re-igniting his post-war career. Finally, he chose to pass up opportunities to manage in the Football League after he made a name for himself at Bangor City in 1962. By contrast, former teammates such as Joe Mercer, Harry Catterick and Cliff Britton all made names for themselves in the dugout.
With the advent of the W-M formation, T.G. was one of only few centre-halves at the time who would bring the ball out. Is that what set him apart in that era?
He could mix dominance as a defender with creativity. He was a "Rolls Royce" type of player who would stride forward, perhaps a bit like Yaya Touré in his pomp, to shoot on goal or spread the ball to the wide men. What set him apart was his amazing self-confidence – some would say bordering on show-boating at times. He would dribble in his own penalty area or, from opposition corners, flick the ball with his head back to goalkeeper Ted Sagar.
Many consider Everton's greatest side to be Catterick's at the end of the 60s, while there are some who would pick Kendall's side of the mid-80s. Where do you think the Everton side of T.G., Tommy Lawton and Joe Mercer rank?
It is very difficult to have an objective view on this as the game has changed. Contemporary reports were adamant that the 1938/39 title-winning side was the most "scientific" Everton side seen up to that point. All but one regular in the starting line-up had been capped but, like Catterick and Kendall's sides it boasted a wonderful blend of talents – greater than the sum of its parts. I loved T.G.'s comment that sometimes they hardly hard to break sweat to win a game that season – they were that good as a unit.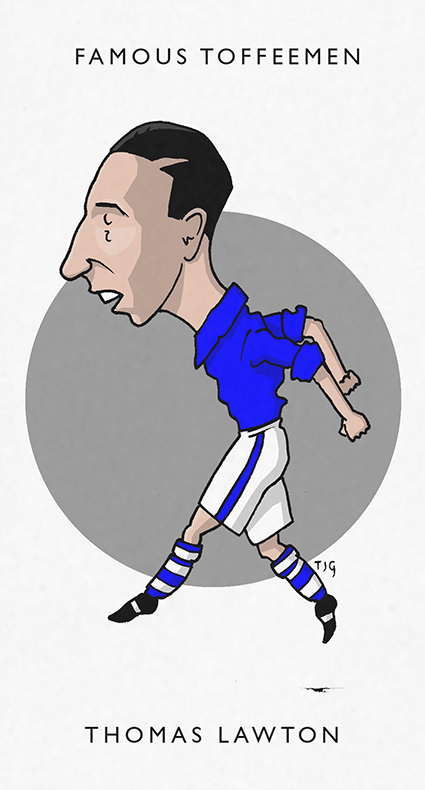 Everton's great 80s side were denied the opportunity to play in the then European Cup, but perhaps an even greater tragedy was the fact that Everton's 1938/39 Championship winning side were robbed of their best years due to the war. Do you think, given your research, they may have dominated?
Not forgetting that Everton were newly-crowned champions when competitive football was halted by Word War One! Would they have dominated into the 1940s? We'll never know, as there were a number of good sides like Wolves, Arsenal and Derby. However, without a doubt, they would have been consistently challenging for honours as most team members were approaching their peak years.
You say that T.G. sometimes expressed bitterness that his generation did not receive remuneration commensurate with their ability and fame. Do you also think that missing out on his best years due to the war will have made him bitter?
The wartime hiatus in his competitive career was a source of frustration and regret for T.G. but the bitterness stemmed from Everton's failure, post-war, to adequately replace top-quality players who had left or retired. Along with Ted Sagar, T.G. was left fighting against the tide of mediocrity washing over Goodison. Then the opportunity to enjoy an Indian Summer at a more competitive club was denied. Seeing his friend, Joe Mercer, get a new lease of life at Highbury (after being considered a spent force at Everton) must have rubbed salt in the wound (although he would have been delighted for Joe).
He nearly had a big money move to AS Roma – big money for that time, anyway – what do you think that would have done for him and his fame? John Charles, another Welshman who turned out for Juventus some years later, is a lot more famous…
The move, had it gone through, would have made T.G. a household name as one of the first significant British "exports" to the continent. It would also have given him financial security. Whereas T.G. was approaching veteran status when the Roma approach was made, John Charles was 25 years old when he moved to Juventus and enjoyed five years at his peak there. In comparison to T.G., Charles also benefitted from more extensive media coverage in his era.
He spent a lot of time after the war in conflict with Everton: how would you sum up this contract, and is it easy to see both T.G. and Everton's points of view?
Everton, having lost Lawton and Mercer, were reluctant to dispense with T.G.'s services – perhaps fearing a fan revolt. Of course, in those days a player could not just let his contract run out and walk away on a "Bosman" – Everton held all the aces. I can understand T.G.'s frustration and the club's refusal to let him move to a club which would offer him a realistic chance to add to his 1938/39 champions medal. It seems that one reason for the board agreeing to Roma's approach, in addition to the transfer fee being significant, was that T.G. would not return to haunt them if he was playing in Italy.
I can see both sides of the fall-out with Cliff Britton which helped seal T.G.'s departure from Goodison Park. Britton needed to stabilise a team threatened with relegation so he took a pragmatic approach to tactics – eschewing any frills at the back. This was an anathema to T.G. so I can understand his reluctance to compromise. It is a shame that they could not reach a workable compromise.
He then moved to Wales, where he was player-manager at non-league Pwllheli. Does this move say something about him as a character, do you think?
With T.G. seeing no future for himself at Everton, the move into hotel management was a no-brainer from a financial aspect as he doubled his wages. Having turned 32 I can understand T.G.s decision to walk away (also, perhaps, taking delight depriving Everton of a transfer fee to another Football League club in the process!).
It also seemed he was maybe a pragmatist as a coach – whereas he had been a very cultured player, he was happy for his own players to play rough? (He also wasn't one for 'coaching.')
T.G. was a clean, classy player, unlike many "stopper" centre-halves. However, by his own admission, football in the 1930s and 1940s was very rough and tough. He played with "they shall not pass" style full-backs like Norman Greenhalgh and Billy Cook who would happily boot wingers in the air. Likewise Jock Thomson and Joe Mercer, in the half-back line alongside him, could impose themselves. So, his tactics as a coach merely reflected what he had experienced around him as a player.
People you spoke to in this period often refer to T.G.'s slightly vain character. Do you think he changed in this regard as he got older?
In fairness, anyone blessed with good looks and sporting ability who is exposed to fame and adulation over a prolonged period could be excused for becoming a tad vain. T.G. certainly took pride in his appearance and developed a self-confident aura as he matured.
After Pwllheli he became manager of Bangor City, who he took to the UEFA Cup Winners' Cup, where they famously ran Napoli close. Despite all his achievements with Everton, this almost seems like the most fascinating part of his career in football?
It was a wonderful episode in the history of the football club and the city – winning the Welsh Cup for the first time in six decades and then going head to head with a rich Italian team. And, as T.G. never tired of pointing out, had the away goals rule been in operation then, Bangor would have progressed to the next round of the competition. I particularly love one headline which appeared after the home win over Napoli – See Bangor and Dai.
As you mention, T.G. could appear quite bitter, and also reticent to discuss Everton in his later days (David France mentions this). How do you think he ultimately looked back on his career, though?
T.G. had to be induced to revisit those Goodison days but – as John Rowland's interview proved – once you could get him on the subject (perhaps by showing him some old photos) he could become a quite nostalgic. However, this was always tinged with frustration as to how things turned sour after the War. He would always look back on the Pwllheli's championship victories and Bangor's cup exploits as his fondest memories in football.
T.G. was the last survivor of Everton's 1939 championship winning team, but passed up the opportunity to go to Goodison one last time when he was named as Everton's Giant of the 1940s in 2000. Why do you think that was, and was it a shame?
David France had struggled to persuade T.G. to attend a Hall of Fame dinner the previous year – when he did finally agree go it was a fleeting visit. I think that he had very little interest in attending football matches by this time as he had largely fallen out of love with the sport in its modern guise. Add to that his mixed feelings about Everton and the fact that he was 82, and you can see why he chose to miss it. It is a great pity – can you imagine the ovation he would have received had he crossed the touchline one last time? I think that he would have been genuinely touched by it and the event would have provided a fitting coda for him and the fans who never forgot him.
To pre-order The Prince of Centre-Halves, please click here.