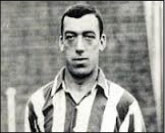 George Molyneux was on the books of Southampton when he was selected for England against Scotland, and thus became the first Liverpool-born man to do so, having previously played football for Everton.
The 1881 census revealed that George, then six years old, was living with his parents at 29 Sessions Road in the Kirkdale area of the city. The 1901 census showed that the family had moved to nearby Croyland Street and that George, now fifteen, had begun serving an apprenticeship as a plumber. It was around three years later that his name started to appear in the local sporting press while playing football for his local amateur side, Kirkdale. On 9 September 1895 Molyneux was selected to represent the Liverpool & District side, against the Everton Combination XI, on the home of the St Elphin's club in Warrington. After the game he was invited for a trial match with his opponents.
George Molyneux joined Everton during the summer of 1896 and was first seen on Goodison Park when selected to represent his new club against an Anglo-Scottish XI. The match had been arranged by the Everton directors for the benefit of their loyal servant, Richard Boyle. Molyneux then took his place back in the Combination side where he remained until December.
On Christmas Day, along with three other Combination players, in a fixture against the Celtic club from Glasgow in a game that kicked off at 10:45 in the morning. He was selected to play at left-back. The attendance was affected by unfavourable weather and just 3,000 people paid for the privilege of watching Everton win by six goals to nil. The next day, Molyneux made his first team debut where he partnered right-back Dave Storrier against Sunderland. The match was watched by a crowd of over 35,000 and he helped his side to win the game by five goals to two. Nevertheless, he was then replaced by Smart Arridge and returned to the Combination XI where he remained until he was selected to travel with the first team party on an extended tour which was to take them from home during the New Year celebrations.
The first port of call was Bramall Lane for a Football League fixture with Sheffield United. Molyneux, who not selected, watched his team mates win by two goals to one. They next travelled to the Victoria Ground for a match with Stoke where George, who again did not play, watched Everton win by five goals to two. The party then travelled to Crewe where they changed onto a train that would take them on for an overnight stop in Edinburgh before travelling over the following day to meet Rangers at Ibrox Park in Glasgow. George was delighted to be selected for the game where he once again partnered Dave Storrier at full-back. Everton were leading 4-2 when the home side, taking advantage of an injury to Storrier hit back to force a draw. Nevertheless, George was happy to have completed his first away fixture for Everton and, no doubt, retained pleasant memories of his first visit to this famous Scottish football stadium and had no idea of the horrors he would witness on his next visit.

Next Saturday George found himself back in the club's Second XI where he remained until the end of season. Everton then signed Peter Meecham from Celtic. The arrival of such a class full-back reduced the chances of first team football for George who, along with goalkeeper Rob Menham, decided to accept an offer made by the directors of the Springfield Athletic Company. This organisation was paying good wages in the hope of attracting a team of experienced football players, to compete in the Lancashire League, in which they were to play under the name of Wigan County. During their first season, the club failed to win the league championship, but they did have an excellent FA Cup that ended in defeat by a single goal against Manchester City at Hyde Road.
The form of Molyneux improved during his time with Wigan and this prompted the Everton board to re-sign him because Meecham and Storrier had now left the club. He quickly formed an understanding with Walter Balmer and, during the course of the season, missed only one league and FA Cup match as Everton finished fourth in the table. The partnership resumed at the beginning of the following season, but was then broken up when Molyneux was injured in a 2-1 win over Liverpool at Anfield. After this injury, he failed to regain a regular place in the club's First XI. George Molyneux played his final game for Everton 27 April 1900, in the Liverpool Senior Cup Final, which took place in Wallasey against New Brighton Tower before leaving Merseyside to try his luck with Southern League outfit, Southampton.
His arrival on the south coast coincided with the departure of one former Everton player and a reunion with another. That summer, Peter Meecham had left Southampton to join Manchester City while Edgar Chadwick had joined them from Burnley. The Southampton club found accommodation for Molyneux with the Podesta family, along with Arthur Blackburn who also joined them from Blackburn Rovers. George was to spend the most successful time of his football career at Southampton helping them to win the Southern League title on no fewer than three occasions. He also took part in 1902 FA cup final – played at Crystal Palace – where he partnered the great polymath CB Fry at full-back. The match against Sheffield United saw Southampton beaten after a replay. The consistent good form shown by the former Everton man had not gone unnoticed by the England selectors who chose him to represent his country 10 April 1902 against Scotland at Ibrox Park in Glasgow. Jimmy Settle, who was currently with Everton, was also selected.
The match had been in progress for fifty-one minutes when a section of the west terrace, consisting of wooden steps supported by a metal framework, collapsed sending the spectators plunging towards the ground. Twenty-six people lost their lives and over five hundred were injured, some of them seriously. The play was held up for twenty minutes while the dead were removed and the injured carried to safety before, after much consultation with the authorities, it was decided to complete the game which ended in 1-1 draw. The cries of the injured, as they were treated beside the pitch, were said to have haunted George Molyneux for the rest of his days.
The result was later declared null and void and a replay was arranged four weeks later, in which Molyneux again took part, at Villa Park, Birmingham. The gate receipts were donated to the Ibrox disaster fund and the match ended in 2-2 draw. This was to be the first of four England caps that George won during his time at Southampton before, in 1905, he left the Saints to join south coast rivals Portsmouth where he remained for one season. He then moved on to play for Southend United where he was appointed club captain.
The Essex club had just joined Division Two of the Southern League and George helped them to gain promotion at their second attempt. In 1910 he became manager of the Roots Hall club but lost his position when they were relegated at the end of the season. The 1911 census indicated that George, by then aged thirty-four, was living with the Orton family at 10 Gossage Avenue, Prittlewell, where he listed his occupation as that of professional footballer. He later played for Colchester United and then for the Army during World War One.
George Molyneux never returned to his native Liverpool, but chose instead to settle in Southend where he worked, as a maintenance engineer at a local sewage works until his retirement in 1940. During the summer months, he had also been the opening batsman for Leigh-on Sea Cricket Club and was often seen, during the winter, watching the football at Roots Hall with his landlady, Mrs Young. In the last years of life, while suffering from cancer, he was cared for by Mrs Young at her home on North Road in Southend until his death in 1942.
George Molyneux, a former Everton full-back, was buried at Southend where his three sisters, who had travelled down from Liverpool, were the only mourners at his funeral.