Frank Howe Sugg, like Jack Sharp and Harry Makepeace, was a notable footballer-cum-cricketer on Everton's books. Born in Ilkeston, in 1862, Frank was raised in Pitsmoor, Sheffield from the age of four, along with his elder brother, Walter. The boys' parents had designs on them following their father, Hubert, into the legal profession but, distracted by playing sport, they never became fully-qualified (although the knowledge acquired would prove useful in their business ventures). At six-foot tall and of stocky build, Frank was a big-hitting batsman who racked up 16 centuries in a seventeen-year career with Yorkshire, Derbyshire and, principally, Lancashire. He was selected for two England test appearances against Australia in 1888.
Although cricket was his first sporting love, Frank also proved to be an imposing footballer, both in attack and defence. He would turn-out for a variety of clubs which were located in proximity to where is cricket career took him. Ports of call included Sheffield Wednesday, Derby County, Burnley and Bolton Wanderers. Upon Frank's release from Burnley in 1886, he made a handful of appearances for Wanderers before he signed with Everton, freshly selected as a founder member of the Football League. Although he had been linked with several other clubs, including Notts County, the move to Everton made perfect sense for Frank as he had recently established a sports equipment business in Whitechapel, Liverpool, with Walter (who himself was a cricketer who also officiated some football matches). The Lancashire Evening Post noted: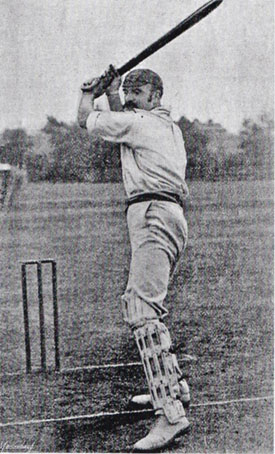 Frank Sugg, swashbuckling batsman
Frank Sugg has at last decided to throw in his lot with Everton. A wise course this, as he has started a cricket and football outfitting shop in Whitechapel, Liverpool. If Sugg plays today for Everton he ought to prove a useful acquisition. Frank Sugg will, in the opinion of Boltonians, appear more regularly as a professional for Everton than he did when playing for the Wanderers. Frank is a good man and just what the Evertonians require – if he can only be induced to play regularly.
Frank was called up for Everton's fifth fixture of the new league competition. Everton had lost at Aston Villa two weeks previously so were determined to make amends for the return encounter at Anfield. The Liverpool Mercury reported on the preparations which paid dividends:
During the week the executive of the club met and decided that the team should train more than they had done. The players, taking the hint, put themselves under their trainer with the result that they came out of the contest on Saturday with flying colours, beating the ex-cup holders pointless and filling the hearts of their supporters with great hopes of the future.
According to the same newspaper, "Sugg did creditably at centre-forward for a first appearance." He would make a further eight appearances in that 1888/89 season at centre-half and centre-forward. A solitary appearance in the following season brought down the curtain down on his league career. Subsequently he'd appear for several North West clubs including Southport Central. Each summer he would continue playing first class cricket until 1899. Other sporting interests included participating in bowls, billiards and long-distance swimming as well as following horse racing
Frank Sugg Ltd., the family business founded by Walter and Frank, prospered in the late 19th and early 20th Century. In September 1899 a journalist for Cricket and Football Field reported on a visit to the Whitechapel store:
Business took me to Liverpool the other evening, and as I was passing through Whitechapel I suddenly pulled right opposite Frank Sugg's athletic establishment. Frank and I are old football acquaintances, so I seized the opportunity of exploring the interior of his well-filled shop. The big hitter was away at Preston, taking part in "Ker" Cowards benefit match, but there were his brother Walter, who is almost equally well-known as a cricketer,-he has done good service for Derbyshire this year-and the manager Mr. Ramsbottom, both of whom were busily engaged with some half-dozen customers. I had to wait my turn before I could exchange the usual salutations, and even as I stayed our conviction was repeatedly interrupted by footballers who wanted this or that to equip them for the coming fray.
Presently, however, we were seated round a makeshift tea table in the little snuggery – the bachelor's cafe, as Mr. R terms it, at the back of the place. There we sipped our Congo and chatted in turn about cricket, football etc. until everything eatable and drinkable had disappeared. Frank, you know, is determined to push his business, and even as we sat together the post brought in a pile of letters, some usually from far-away Scotland, the result, I modestly ventured to remind my two companions, of boldly advertising in the Football Field. Ahem!
Returning to the shop Mr. Ramsbottom apologised for its chaotic condition consequent on the rush for football goods before the cricket materials were out of the way. There was actually no time to set the place in order, and late hours were necessary every day. One of the specialities of the season is the "surprise" jersey, which in the catalogue is described in large type as 'novel, neat, pretty and effective". Every adjective of which is fully deserved. The stripes run diagonally, and a more attractive jersey cannot be desired. The material is cashmerette, and as the colours are fast they will stand any amount of washing. Besides this new invention there are multitudes of shirts and jerseys of every pattern and hue, some which may be had as low as a shilling each, and very presentable they are.
What is designated the "special club" shirt was supplied to no fewer than 700 clubs last year…Knickers are to be had to suit every taste, whilst really durable leather shin-guards are on offer for a shilling a pair. The League football boats should have a big run, as they are not only admirable specimens of workmanship but seem to be well fitted for amount of hard kicking. The toes are well moulded, and warrant to keep the shape. The boots have been supplied to many leading players, Everton and Bootle being among the numerous prominent clubs who come to Sugg's establishment for their complete outfits…
Turning to the ball department the choice is almost perplexing in face of the different makes and qualities. Frank claims that his League ball is without a rival, and as you examine the one in process of inflation by "Eddie" for the Preston North End v. Southport Central match, you are forced to admit that there is big slice of reason in the claim. It is not only a very handsome production but looks capable of being kicked about through a season without losing its shape. This, let me say, is the highest figured ball on the list and the price is 9s. 6d. Neither Everton nor Bootle will have any other and, like the little boy crying for Pears Soap, they are never happy until they get it.
The game of lacrosse is also well provided for, the chief "weapons" for which are all imported from America; and hockey has its corner. Indeed, everything required for outdoor sports can be had of Frank Sugg, who, as a practical cricketer and experienced footballer, must be the right man in the right place as the head of a first-class outfitting firm. He knows a good thing when he sees it.
Frank would hold shares in both Everton and Liverpool FC – perhaps to cement his business ties with them and ensure that they continue to come to him for kit and equipment. The company also produced a range of sports equipment under its own name – with cricket bats a speciality.
The flagship store would soon move round the corner to Lord Street (Jack Sharp would open a rival business on Whitechapel). In 1905 a fire damaged some of the new premises, as described in the joint Everton and Liverpool FC programme of 9 September 1905:
Considerable excitement was caused in Lord Street by an alarm of fire at Mr. Frank Sugg's, the athletic outfitter, 12, Lord Street. Information was promptly conveyed to Hatton Garden by a policeman and Superintendent Thomas and staff and the Salvage Brigade were quickly on the spot.
This unfortunate occurrence disorganised the clothing department at the busiest period of the year, and will cause considerable temporary inconvenience. Clubs will please note that Mr. Frank Sugg is straining every nerve to cope with orders received with as little delay as possible.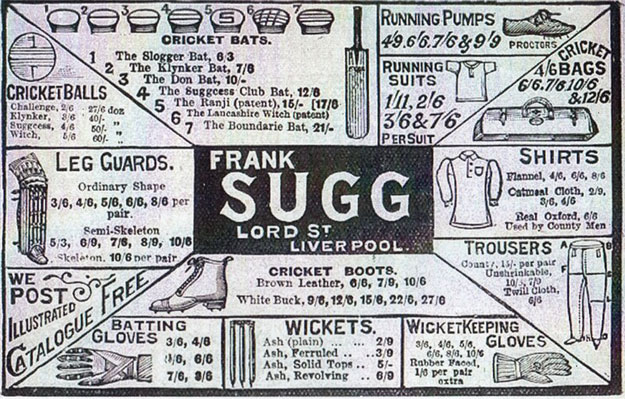 A 1903 advert for Frank's outfitters
During the First World War Frank juggled business interests with helping to run prisoner-of-war camps in the Liverpool area. Post-war, the family business would branch out beyond the north of England – opening branches In Rotterdam and Antwerp. The foreign venture probably over-stretched the company and, after a failed share issue in 1920, it ran into financial difficulties. With losses racking up at Frank Sugg Ltd. the Mead Bat Company took a controlling shareholding but it could not prevent the business folding in 1924. H.H.B. Sugg Ltd., an off-shoot of the business run from Sheffield by Walter's son Bert (Hubert Henry Bell Sugg) did survive – trading under the Sugg Sport banner until 2001.
With time on his hands after the collapse of the sports outfitters, Frank was employed during the 1926 and 1927 county cricket seasons as an umpire and he also tried his hand at sports journalism for the Liverpool Echo. He lived out his later years in relative obscurity, passing away at home in May 1933 at 65 St John's Road, Waterloo – a mere eight days after Walter who had relocated to Dore in Derbyshire. Frank was laid to rest in an unmarked grave at St Luke's churchyard in Crosby. His widow, Amy, would pass away just two months later.
Frank's great-grandson, Neil Maver, is an ardent Evertonian – as are his two sons, Richard and Henry. Fittingly, Richard was born exactly a century, to the day, after Frank's debut for the club.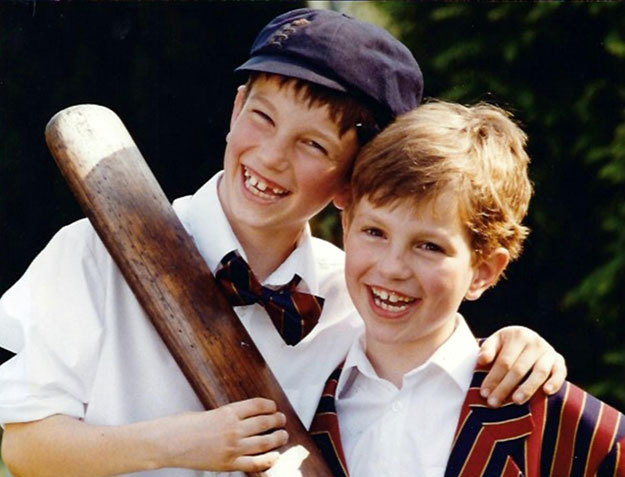 Richard and Henry Maver with Frank's bat and cap
Further reading: Frank Sugg – A Man for all Seasons by Martin Howe (The Association of Cricket Statisticians and Historians)
Acknowledgements/Sources:
Neil Maver and family
David Hale
Frank Sugg – A Man for all Seasons by Martin Howe
Billy Smith (Blue Correspondent website, transcribing various newspapers)
The Everton Collection
Kjell Hanssen (Playupliverpool.com)
Tim Sugg

Follow @RobSawyer70