Billy and Anthony Wright
As well as being the son of Billy Wright, Anthony is also the great-nephew of Everton's World Cup full back Tommy Wright, and the cousin of Everton Ladies league winner Emma Wright-Cates. Quite an Everton family!
Billy Wright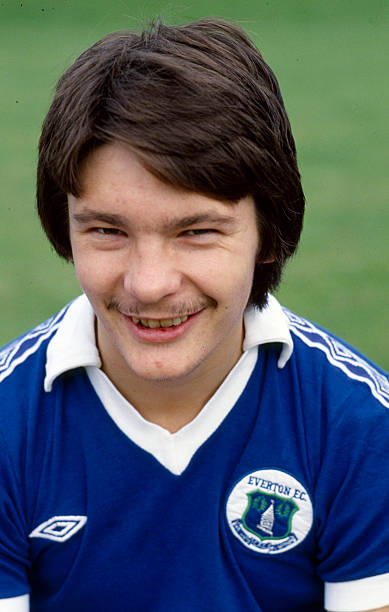 Ray Minshull was in charge of the youth set up when young Billy came to the attention of the club. It was touch and go at one stage, because Liverpool were keen to take the youngster on too. There was a scout that represented Liverpool that actually went around to the family home asking if he would put pen to paper. Billy sought advice from his father and his thoughts, but deep down he was hoping that Everton were going to come in for him. The very next day it worked out fine, as Ray Minshull made him the offer of signing schoolboy forms, and told him that he would be training on Tuesday and Thursday nights whilst he was still at school.
He wasn't offered a hoped-for apprenticeship, but the club did put him on a two-year mechanics course, which was for two or three days a week on top of training. This was better for Billy, having the advantage to learn a trade should he did not fulfil his dream to play for the club he supported as a boy. That opportunity stood him in good stead.
Billy's debut could not have come at a better place, albeit as a substitute, replacing George Telfer on 57 minutes in front of the Goodison faithful on the first Saturday in February 1978 as Everton beat Leicester City 2-0. Bob Latchford's brace that day added to the 30-goal tally reached by the end of that season to scoop the prize of £10,000 offered by the Daily Express for whoever could reach the total.
Billy went on to make his full debut in April 1978, in a goalless encounter at Ayresome Park, Middlesborough.
He then played the remaining three games of the season, with the finale still remembered for Bob Latchford needing just two goals to reach the 30-goal target. Young Billy scored his first senior goal on 14 minutes after Martin Dobson had opened the account seven minutes earlier. The Toffees went on to win 6-0, helping Lachford to his prize money at the same time.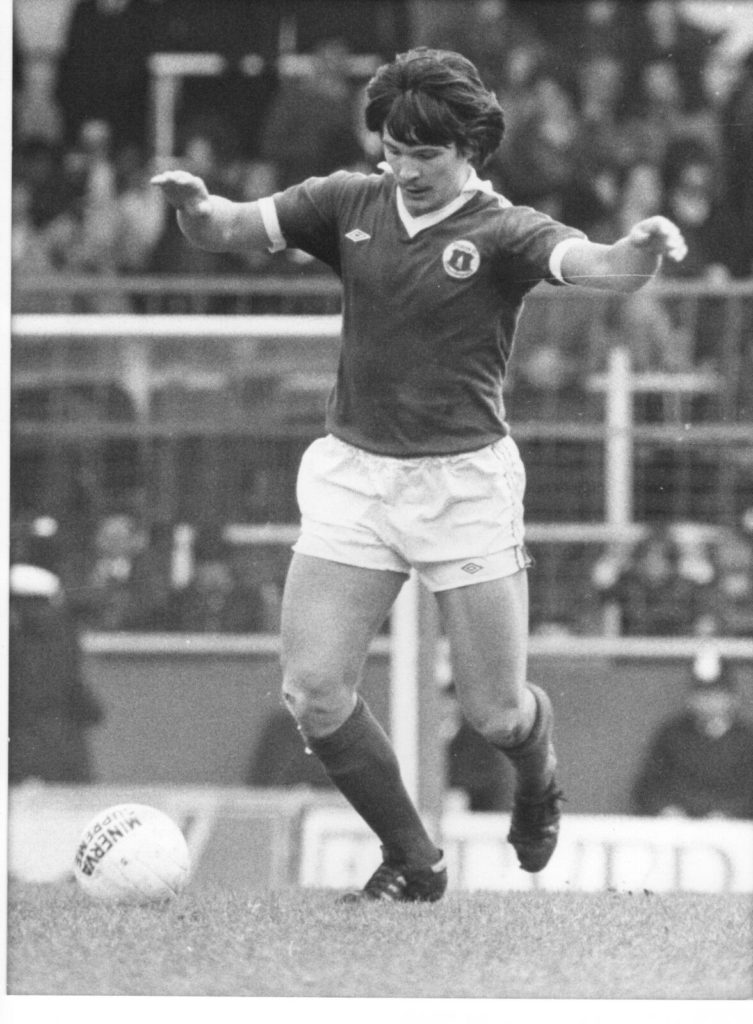 The following season, Billy became a household name featuring 39 times out of a possible 42 league games. He doubled his goal tally from the previous season, netting the winning goal at home against Manchester City on Boxing Day, and his second in a 4-1 thumping of Bristol City. Wright netted two minutes after Andy King had completed his hattrick on 67 minutes. Wearing the number five jersey, Wright struck home a free kick which gave John Shaw in the Robins goal no chance. It was a day when temperatures were just above freezing, and that goal certainly warmed up the 29,000 thousand inside the stadium.
That season, establishing himself as a regular, Wright caught the eye of England manager Ron Greenwood who called him up for an England B appearance against Austria in Klagenfurt on 12 June 1979. The Young Lions won 1-0, Bryan Robson scoring the only goal. His second and final appearance came in November 1980, against Australia at St. Andrews (Birmingham City), when a goal from Ipswich's Russel Osman gave Egland the victory. Billy also gained six international caps at Under 21 level between 1978-1980, although he didn't make it to full honours.
Under the management of Gordon Lee and Steve Burtenshaw, Everton came close to an FA cup final appearance in 1980 as the Blues were defeated in an FA Cup semi-final replay at Elland Road, the home of Leeds United. After 90 minutes the game was locked goalless. The Hammers opened the scoring four minutes into extra time with Alan Devonshire scoring. Billy Wright supplied a pin point cross for Bob Latchford to connect, smashing home a powerful header 10 minutes later into the Gelderd End to level the tie once more. A cruel goal was conceded in the last minute as Frank Lampard senior headed past Everton's keeper Hodge from the edge of the six-yard box to deny the Toffees a trip to Wembley.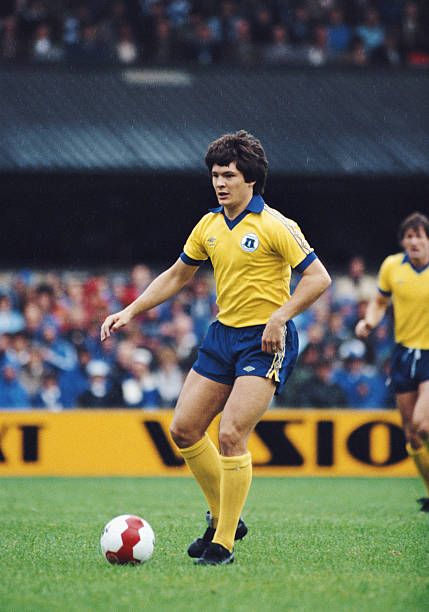 When I met up with Billy in November 2015, he described that moment in his Everton career as a highlight and disappointment;
"I would say the highlight and a bit of a downer too. It was the FA Cup semi-final against West Ham United. One minute we thought we were on our way to Wembley with a victory, only to be disappointed with defeat in the replay at Elland Road in midweek. We didn't start the game too well, going one nil down. But we managed to claw our way back into the game in the dying moments with a fantastic equalizer by Bob Latchford, with an excellent cross from yours truly.  Bob and the lads went ballistic as we ran to the Everton fans, climbing onto the fencing behind the goal. To lose the game in injury time was an absolutely horrible feeling. That was the highlight and the biggest disappointment that night."
The season couldn't end quick enough for the Evertonians watching their team survive a relegation battle finishing nineteenth – one place above the drop, with a four-point margin separating them from Bristol City on 31 points, with Derby County and Bolton Wanders joining them in the drop to the Second Division.
The following season, Everton exited the 1980/81 League Cup as early as round three, losing to West Bromwich Albion.  The FA Cup looked promising, seeing them knock out the holders Arsenal in round three, Liverpool round four, and Southampton in round five after a replay, before a quarter final home tie against John Bond's Manchester City. Again a replay was required after a Paul Power equalised with only six minutes to go to make the score 2-2. Four days later City sailed into the semi-final after a 3-1 victory.
Meanwhile, Everton's league table position improved on the previous season finishing four places higher. However, the tide was about to turn as Gordon Lee was facing the sack with a new chapter about to begin. Former 'Holy Trinity' midfielder Howard Kendall was his replacement by the start of the 1981/82 football league season.
In Kendall's first game in charge on the opening day 29 August, Wright was selected to play at right back in their 3-1 win against Birmingham City. He went on to complete twenty-four games that season and was had the honour of replacing stalwart Mike Lyons as the new club captain.  "I am thrilled at being appointed club captain and will do my best to live up to it," said Billy at the time, "the fans have waited a while now to see us among the silverware again. I think its about time we delivered. It's every captain's ambition to be up there collecting a trophy and it certainly is mine. I would be very proud if after the wait the fans have had, I could be the man skippering Everton to an honour again"
However, it wasn't to be, as the following season saw a change, as Kendall was concerned with the defender's increase in weight. Billy was dropped from the team and lost the captaincy, making only seventeen appearances that season.    
Kendall with his no-nonsense style of management, saw no future for Wright at the club, putting him on the transfer list. His last game was on Saturday 4 December 1982 at home to Birmingham City, the team he joined in June 1983. After leaving St. Andrews in 1986, he had a loan spell at Chester City, with further spells at Carlisle United and Morecambe respectively.
Billy was suddenly appointed caretaker-manger after the resignation of Eric Whalley from Christie Park (Morecambe). He was forced to stop playing after an injury playing for the club. He held the post as caretaker for six games before being appointed manager in late 1988.
Anthony Wright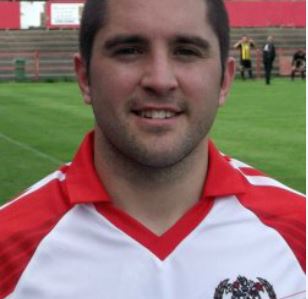 As a youngster, Anthony Wright played football with his two older brothers which certainly helped his development. Mark, the eldest, was at Carlisle United school of excellence, while Steven, although looking promising, never got the opportunity to fulfil his dreams as he had a knee injury, which gave him no hope of following in his father's footsteps. 
Anthony started his football path with the Under 12's at Brunton Park, the home of Carlisle United. He was fortunate to sign YTS forms at the age of fourteen. During the following two years, he thought he was going to get a pro deal, but relegation from the Football League into the Conference in 2003/04 had a massive impact on the club, where he and many others from his age group were released.
Consequently, Anthony decided to look for other opportunities within the game, going a little bit further north to Gretna. He had a two-day trial with the Anvils, but again faced the disappointment of not being offered anything, as his physique lacked the required standard.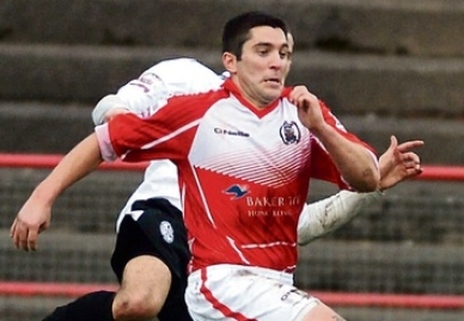 Not giving up, his determination took him to Workington AFC.  But disappointment continued and he decided to sign for Penrith FC, where he played at left back during a six month stay.
Meanwhile, the brother of former Everton man Dave Irving was keeping an eye on the progress of 19-year-old Anthony with the help of the local newspaper.  Soon afterwards he receiving a phone call from Dave himself, who asked Anthony if he would like to go over to North Carolina for a trial with Wilmington Hammerheads, where he was the coach. The trial ended with te offer of a season long contract. He was voted rookie of the year, which was a pleasant surprise for the youngster. He described his time with the Hammerheads as more technical with the climate not helping the situation. The pace of the game was a lot slower and not too physical.  He was training every day and he was playing full time which was new to him. He described the club as a really good set up.
He returned back to the UK with interest from Workington AFC, but Anthony decided to return to Penrith FC. He progressed from the left back berth to left midfield. That stemmed from the days at Carlisle where his father was coaching, moving him into that midfield role.
Another season at Penrith followed, during which a game against Workington AFC his performance again caught the eye of his former club, who informed him that the Reds would like to make him their signing the following year.
Wright completed the signing in 2004, making his first appearance for Workington at home to Kettering in which he scored. The Reds competed well in the Conference North and Wright felt that they should have achieved promotion. They did make play-offs for two seasons, 2006/07 and again in 2009/10, facing disappointment losing to Hinckley United and Alfreton Town respectively. More heartache followed in 2015/16, when they reached the play-off final to lose agonisingly to Salford City (3-2) for a chance to play in the National League North.
Wright was voted player of the year in 2010/11 and 2011/12, and also awarded away supporters' player of the year in the same season. He reached a milestone in his career when he made his 300th club appearance. He was presented with an engraved piece of glassware prior to kick off when they hosted Barwell on 7 March 2015. 
His last two seasons in Cumbria, Wright suffered injuries, one being his metatarsal where he was unable to get his fitness levels back to where he wanted to be. He also underwent a double hernia operation too.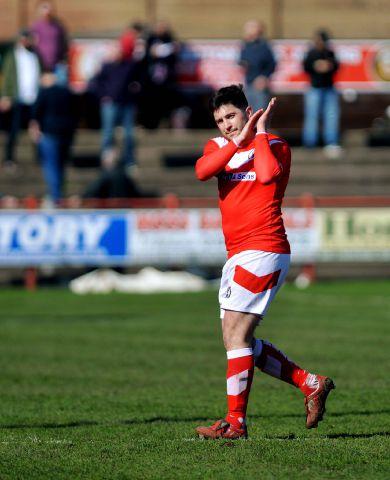 A 13-year career finally reached the point where he could no longer continue. He was working shift work, as well as playing football, which became too much for the long serving crowd favourite. A turnout of 398 showed their appreciation as he played his last game for the club on Saturday 28 April 2018 at home to Ashton United, the away side spoiling the occasion winning 2-1.
Anthony did step out of retirement in pre-season July 2018, being granted a testimonial against near neighbours Carlisle United. His part was one of a cameo appearance, but ex Everton player Hallam Hope scored the only goal in a victory for Carlisle.
Anthony Wright pictured in his final game.