Jack Keys and William Warmby — The Duo from Derby
In preparation for life in the Football League, Everton Football Club made several new signings during the summer of 1888. Two of them, Keys and Warmby, had joined from Derby County. Despite the fact that the local newspapers made no reference to their background, they were in fact related by marriage and had reached the Mersey seaport by two slightly different routes.
William Henry Warmby was born in 1863 in South Yorkshire, where he began his football career with his local team, Rotherham Town. Some time around 1883 he moved to Derby, where he took up a job as an engine fitter and played his football with a team made up of players from the congregation at the church of St Luke. They were one of the lesser known teams in the town and played on a small ground at Peat Street.
On 8 November 1884, they travelled to face Wolverhampton Wanderers in an FA Cup tie at their Dudley Road ground, from where they returned home with a creditable 0-0 draw. A large crowd was expected for the replay so the game was staged at the home of Derby County FC, on the local cricket ground, where around 4,000 paid for admission to watch Warmby and his team mates win the game by four goals to two. St Luke's, however, were beaten in the next round by Walsall Swifts.
William Warmby, when the season ended, transferred his services to Derby County who were at this time captained by the England International player Ben Spilsbury. It was here that Warmby first came into contact with Jack Keys, a Derby-born man who was in the process of moving to live in Liverpool with, amongst other members of his family, his younger sister Lydia. On 9 August 1886, Lydia Keys married William Warmby at the church of St Bartholomew in Liverpool. The marriage certificate records that Lydia was nineteen years old and living at 88a Vauxhall Road, while her husband resided at Chester Green in Derby. The couple then moved to live in Derby where their first child, Ethel Jane Victoria, was born on 20 July 1887.
Jack Keys continued to occasionally appear in Derby County line-ups, but William Warmby was a first choice member of the squad and also played representative football for the Derbyshire FA. During the 1887/88 football season, Warmby helped Derby County to reach the last sixteen of FA Cup but they were beaten 1-0 away at Crewe Alexandra. On 17 March 1888, William Warmby was seen to good effect when Derby County and Everton played out a 1-1 draw at Anfield. The game was watched with great interest by the 4,000 spectators, because in the following season, both sides were set to become founder members of the Football League. In September 1888, William Warmby and Jack Keys signed for Everton, and the Warmby family took up residence at 52 Venice Street, off Walton Breck Road in Liverpool.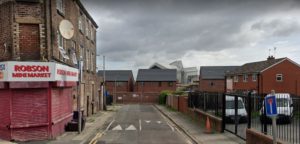 Venice Street has now been replaced by modern housing, but the close proximity to Anfield is clear in this photograph
Warmby took part in the opening game of the season at Anfield against Padiham, while Keys turned out for the second X1 against Saltney at Chester. The Derby duo then took part in a second warm-up game against Blackburn Olympic but Everton were beaten by two goals to one. Neither player was selected to take part in the club's first Football League match against Accrington, but both players took part in a game against Derby Midland at Anfield where Everton won by six goals to nil. On 22 September 1888, Jack Keys and William Warmby made their Football League debut against Aston Villa at Perry Barr.
Facing a strong sun, Everton toiled during the first half and soon found themselves trailing by a goal scored by Denny Hodgetts. As half-time approached, the same player headed a second goal that was bitterly disputed by the visitors who claimed he had been offside. As the second half progressed, the game disintegrated into a bad-tempered affair with both Denny Hodgetts and Sandy Dick being admonished by the referee for their rough play. Rob Watson, with his first goal for Everton, then reduced the arrears but Aston Villa held on to claim both points. On 15 December 1888 a second daughter was added to the Warmby family and she was christened at All Souls church with the name of Clarice Kate.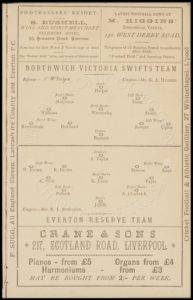 Jack Keys lining up for Everton Reserves against Northwich Victoria Swifts on 26 January 1889 
The two signings from Derby County, sadly, had failed to distinguish themselves in their new environment and were not retained by the club at the end of the season. The Derby duo now became part of a newly formed football club who played under the title of Everton Athletic. The team contained several ex-Everton players, Andrew Gibson and Frank Sugg amongst them, and was captained by the former club stalwart, Michael Higgins.
With the Everton first X1 away playing the Celtic club in Glasgow, the new team were allowed to play their inaugural match on 12 October 1889 against Lancashire Nomads at Anfield, before settling down to play at a long-lost Liverpool leisure complex known as Strawberry Gardens.  Re-opened in 1866 by the famous bare-knuckle fighter Jem Mace, the enclosed area once stood on the corner of West Derby Road and Hygeia Street and contained all the contemporary amenities designed to keep the people of Victorian Liverpool amused. The area given over to association football was rented by the committee of Everton Athletic and it was also hired occasionally by several other local amateur sides. The Gardens contained a large public house known as the Strawberry Hotel and William Warmby, on becoming the proprietor, moved his family on to the premises.

Everton v Blackburn District
Jack Keys and William Warmby took part in the opening game against Blackburn and District at Strawberry Gardens. During the course of the season the two men took part in fixtures against such sides as Buxton, Rotherham and Loughborough before their club eventually joined the Liverpool & District League.
Tragedy then struck. On 1 March 1890, whilst playing in a home game against Wigan Central, Jack Keys was injured by a heavy challenge and had to be carried from the field. He was then taken to the home of his mother on Vauxhall Road where he died the following Wednesday. It was stated that Keys had been unwell for some time and he was buried on 9 March 1890 at Anfield Cemetery. He was just 24 years old and is quite possibly the youngest person to die having previously played a Football League match for Everton.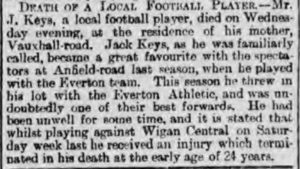 Report of Jack's death on 5 March, Liverpool Mercury, 7 March 1890
On the 1891 census, William Warmby is recorded with his wife Lydia and their two daughters, still running the Strawberry Hotel, while playing the occasional game of football for the local United Victuallers. Misfortune then befell the family when Lydia passed away in 1899, which led to her widowed husband moving back to his native Yorkshire.
William Warmby was missing from the family home on the 1901 census, but his two daughters, then thirteen and twelve-years-old, were living with their godparents back on Pidgeon Lane in Rotherham. The two girls appeared on 1911 census working in service and living in Blackpool, while their father and his second wife Margaret Annie, were living at 778 Grimesthopre Road in Sheffield with their three children. He listed his occupation as that of an engine fitter.
William Warmby, who once played for Everton, spent the last years of his life at 28 Southwell Road in Sheffield and died there on 19 May 1916 aged only fifty-three.