Recollections of Bob's 30 Goal record by his colleagues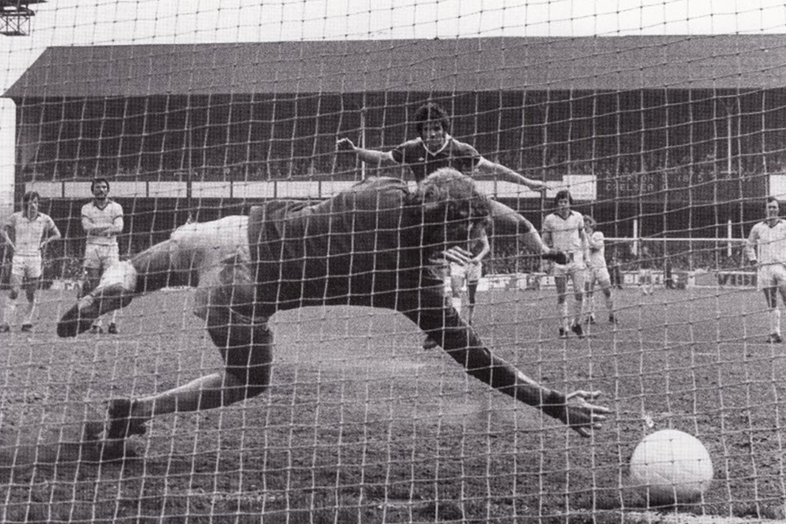 On 29 April 1978, Everton recorded a memorable 6-0 victory over Chelsea in front of 39,500 people. Watching from the Main Stand that afternoon was the great Dixie Dean. Bob Latchford was adored by his fans, who were convinced that he walked on water and anxiously wanted the two goals required to achieve thirty goals for the season. The Daily Express had offered a generous prize of £10,000 for this milestone.
I recently made contact with most of the players that played for Everton that day, to ask for their story of that great afternoon. Sadly, two of the team, Mick Buckley and Andy King have passed away. I also spoke with Gordon Lee and the club physio Jim McGregor.


Martin Dobson

I didn't know this at the time, but Bob was confident that he was going to score the two goals required to reach the tally of 30 for that season. He got to 28 with three games remaining. We drew away at Middlesbrough 0-0 and lost 3-1 at the Hawthorns (West Brom) in midweek, which put a lot of pressure on him to do it in the last game of the season.
I remember talking to Bob over the years and he told me he was confident that he was going to achieve it. Chelsea, our opponents weren't the team they had been for the previous 10 years.
Bob came across Dixie Dean before the game and Dixie wished him 'all the best' which spurred him on a little bit too.It was in all of the players' minds of course and we wanted him to do it. The build up to the game was exactly the same as for every other game. We had a decent season, despite not winning anything. We finished third in the league, two points behind our rivals Liverpool, and qualified for the UEFA cup the following season.
I scored the first goal in that game which came from a corner. I headed home with the ball touching the underside of the bar. It's always better when it comes off the underside of the bar. Billy Wright doubled the advantage 10 minutes later. Neil Robinson the full back got our third with a very rare goal and his only Everton career goal too. Ten minutes after the restart. Bob got our fourth with Mick Lyons getting the fifth. Apparently when Lyonsy scored with a header, he said to Bob, "Sorry, I shouldn't have scored". Mick did make up for it by winning a penalty, and I think it was one of those dodgy penalties. Bob was not the regular penalty taker even though he scored one from the spot against Ipswich Town in our previous home game two weeks before.
When he placed the ball on the spot with about 10-12 minutes left, I said to him "make sure you hit the target and smack the ball as hard as you can". Sometimes you can overcomplicate it and try and do a dummy. Another time it might be a soft one, the keeper goes the right way and it comes out from the keeper, he might have another chance to knock in the rebound. As it was, he just whacked it and that was it.
Bob was a fantastic player for Everton, an instinctive finisher, loved by all of the players as well. He worked hard for the team and was a team player despite scoring lots of goals, and of course, a family man. He scored different types of goals, he was always in the right place at the right time, and he had that instinct inside the 18-yard box. We used to have a laugh by saying to him, "Hey, don't you come outside of the 18- yard box" as it was our job to supply the crosses and make the chances for him.
After that game inside the dressing room, the champagne was flowing, and I think he had a few things to sort out with family and friends too. The players were all delighted for Bob.
The great man Dixie Dean congratulated Bob also after the game and said, "Well done, but you're only half as good as me" referring to Dixie having netted double the amount in a season.
Bob was the best striker that I played with in my career, he was absolutely fantastic. He was a genuine pro. As an Everton player, you were delighted to have someone with his ability to score goals playing in the team every week.

Dave Thomas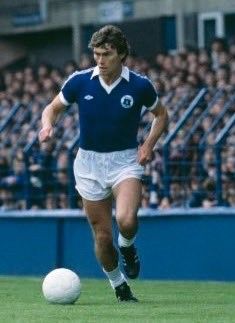 I don't remember much about the game, but didn't Bob take a penalty to get his 30th goal? There was a lot of pressure on Bob that day, but he just blasted that penalty beyond Peter Bonetti, who sadly passed away recently.
The atmosphere that day was fantastic as it was a special moment for a special player idolised by the fans. After Bob had scored that penalty, it was like we had just won the FA Cup with all of the celebrations as the crowd were going berserk.
Every one of his team mates were right behind him wanting him to achieve that target, because let's face it; to score 30 league goals in a season takes some doing.

Neil Robinson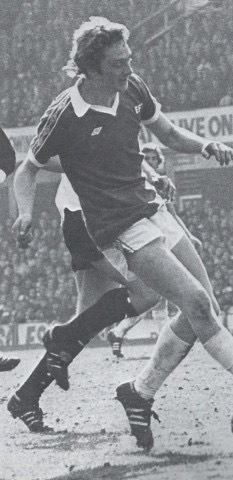 Going into the game we all knew Bob needed the two goals and they were my only thoughts. We were all excited for him, not thinking it was cut and dried, but hoping that he would do it. Coincidentally, Billy Wright and myself were not goal scorers but that day we both manged to hit the target. As new young lads who had just broken into the first team we said to each other after the game, let's see now if we can establish ourselves to be regular first team players.
To score that day was a dream for me personally, especially with having my family in attendance. I think Mickey Lyons threw a dive in the box (laughing) trying to get a penalty for Bob. The ball came out to me and I just hit it to put us two up. All the players had surrounded the referee trying to convince him we should have had a penalty, with me celebrating on my own having scored what was my only Everton goal!!!
When Bob actually achieved his tally, the stadium erupted with elation. We were all delighted for him as much as the fans were. It was like party time after, as if we'd won the FA Cup!!
What Bob achieved hadn't been done for some time before.
Dave Thomas would have to take some credit too for the supply of assists that term. Dave would cross, and Bob would finish with ease. They had a great understanding.

Mike Pejic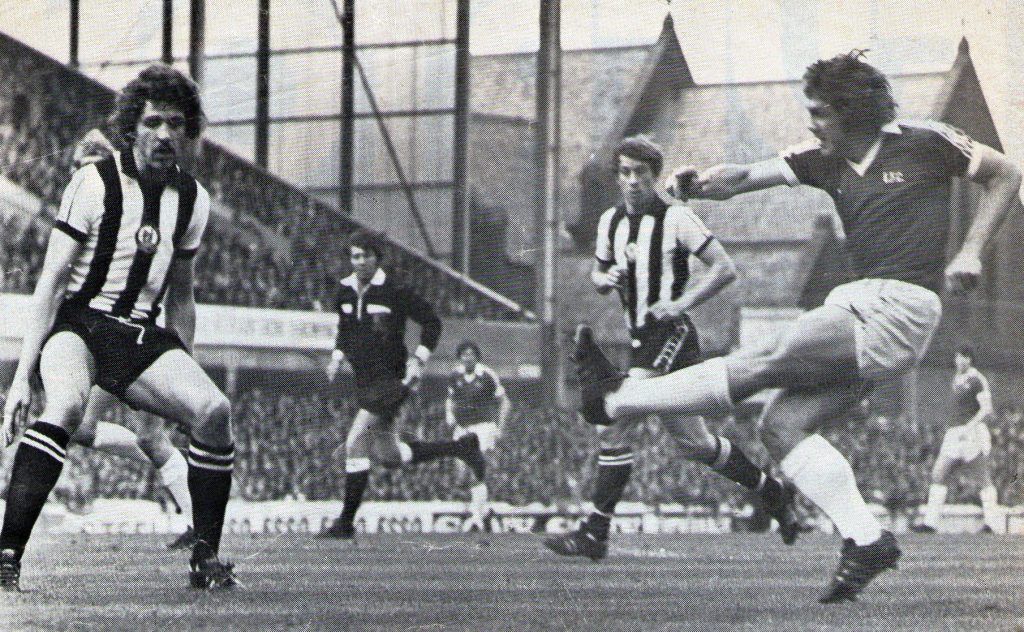 I think certain things are meant to happen and that was one of those days. The spirit of the fans who expected it to happen created an atmosphere that marked the occasion. The way the game ran, everything went for Bob; the service he was getting, it was one of those occasions in life where it was meant to happen.
We, as a club were performing particularly well that season, and all the lads collectively wanted Bob to get the goals required. I remember running up the steps leading out onto the pitch, you had that feeling inside you that the occasion was going to be special. The way the game went, things just went our way and it was like a steamroller, it just kept on going and going and going. Chelsea had no answer to us to be honest.
The fans that day were magnificent. I remember at the end of the game, little children, granddads and great granddads running on the pitch. That memory will always stay in my mind and touched me more than anything.
Bob as a person was a quiet lad, he wouldn't say a lot. He knew the ability he had, and he played to his strengths. He wouldn't get involved in any other issues apart from getting around the two centre backs in the attacking third areas. He saved his energies for the strengths he had in those particular areas.

Billy Wright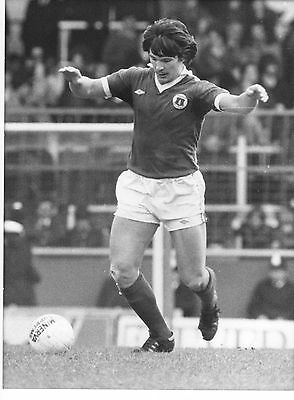 That day was my third appearance in an Everton shirt. In the dressing room before the game, everybody was fired up for it,urging Bob that he was going to do what everybody wanted him to do.
I always remember the electric atmosphere, also at the same time; everyone was willing for Bob to score. Every time somebody got the ball, there were cried of "Give it to Bob" It was the same whenever somebody got into a decent position, where's Bob?
It was a bit surreal, when we got onto the pitch; I think we expected it to happen in the first 5 minutes. The longer the game went on, it was a case of 'will he, won't he'? When he got the opportunity to take the penalty, one or two of us were hoping that he wasn't going to miss after all the hopes and prayers that had gone into the day. The penalty itself wasn't the best, and I thought maybe the keeper (Peter Bonetti) just dived out of the way of the ball. When the ball hit the net, it turned into euphoria.
Bob was an absolute gentleman. He was one of those guys in training, who you just couldn't mark. You'd think you'd have him tight in the box and then the next minute he would disappear and the ball would end up in the back of the net. For such a big man, in the box he was second to none. He was unbelievable. It was that near post ball from Dave Thomas or a low ball from the opposite side where he would always be on the end of it. He always knew where to be at a certain time.
Dave and Bob seemed to be telepathic. As soon as Dave got the ball, you knew exactly what he was going to do. It was very rare it was a far post ball, always the near post with Bob on the end of it.

George Wood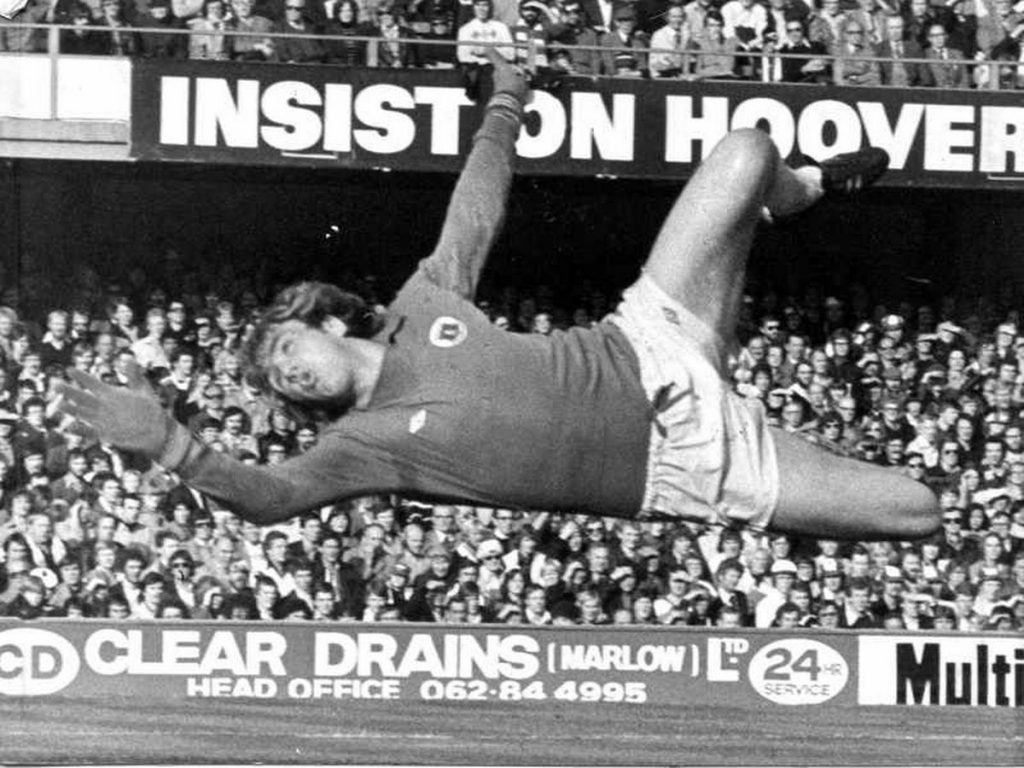 I remember the day well. Six goals against Chelsea and a clean sheet, you couldn't ask for more and it was a great season all round. We qualified for Europe for the following season, Latch got his 30 goals and I was called up for the Scotland side for the first time.
I knew on that last day the Latch would get the goals that he needed, but I didn't think the final one would come from the penalty spot. When we were awarded the penalty, it was a no brainer. He was the only one that was going to take it.
For one season Bob was my room-mate. He was a very quiet lad, but once he got a couple of beers inside him, he could be quite a handful.

Gordon Lee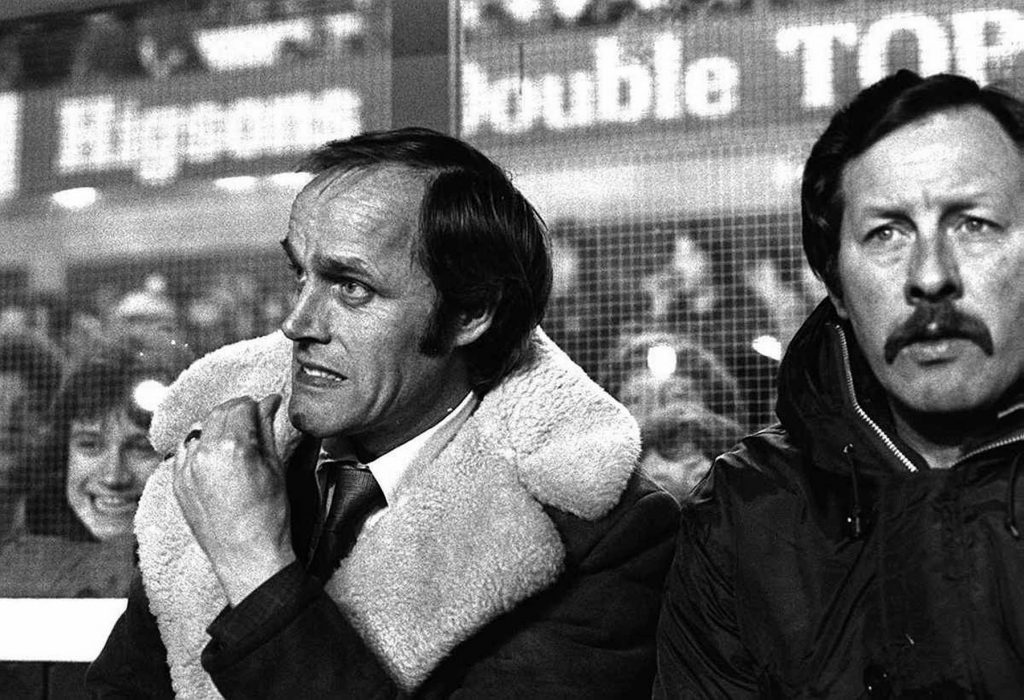 All of the players leading up to the game were willing Bob to get his two goals that afternoon against Chelsea. After all, scoring 30 goals in a season is marvellous achievement isn't it? It was probably more of an achievement in those days than the modern day.
I will always remember whilst I was sat on the bench in the dugout, an elderly man climbing over the railings to get onto the pitch with excitement that Bob had scored his 30th league goal. To me, the elderly gentleman getting on the pitch indicated the feeling of the fans. To record a victory that afternoon and the manner in which we did it, also Bob getting his record, you could understand that the fan made his feelings so clear. It certainly was something to remember.
Bob's control and skill was good, as was his power and pace, but his goal scoring ability was exceptional. When he was scoring goals, I expected him to do that every week.
When he scored one, I thought he might add a further one or two. It didn't matter where the chances came whether it was in the air or at his feet, he always seemed to get to the ball before the defender who was marking him. Although he was a big powerful man, most of his headed goals were at the near post. They were flick headers.
Dave Thomas the winger was a good match for Bob. They complimented each other perfectly. We used to play down that left-hand side with Mickey Pejic, Martin Dobson, left sided midfield, with Dave Thomas outside left. We were very effective down that side. Teams tried to stop us in many ways but they couldn't.
Martin Dobson was what I call a right footed left-hand sided midfield player. He would get the ball into David Thomas, who would run down the left flank and whip it in with his left or right foot, where Bob would feed off Dave very, very well.Dave helped Bob a hell of a lot.
Bob of course went on to play for England. Ron Greenwood was the national manager back then. I had Ron Greenwood on the phone to me a few times wanting updates on Bob's performances. I told Ron that on his day, Bob was one of the best centre forwards in the country which I believed he was.

Jim McGregor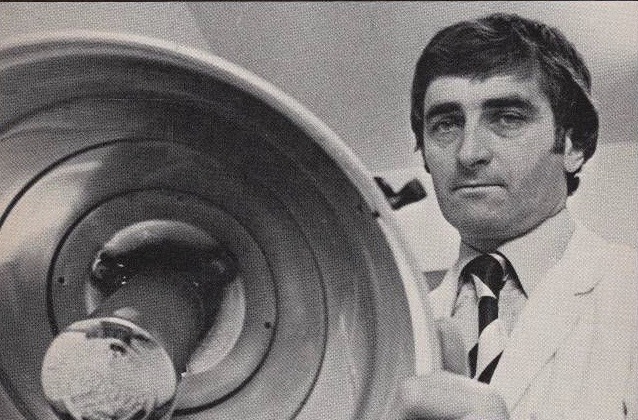 What I remember about the day was that it was very, very hot. Naturally, you don't think he's going to do it do you? It was a hell of a lot to ask. I can remember it was one of the most exciting finishes to a league game that I'd been involved in during my thirty years in football. There was nothing else except that he had to score the goals which he managed to do; it was quite amazing.
I asked Jim if he thought Bob's two remaining goals were more important than the win for Everton that day as Everton were guaranteed 3rd place and had qualified for Europe.
Absolutely says Jim. In fact, If Everton would have lost that day 4-3 and he got the goals it wouldn't have been a disaster. From the start of the day, it was all about Bob getting the goals.
Bob Latchford would probably be the closest thing to a Gentleman footballer that I have ever met in my whole life. What we called 'the left side' of Everton at that time, which was Pejic, Dobson and Thomas also adding Bob, they as a group of four were pretty pally. Each one of them was an absolute gentleman; rarely a bad word and they are still the same. I meet up with Pej and Dobbo once a year, and to this day, they are still gentlemen.
One thing Bob lacked was sometimes he was as nice on the park as he was off it. Some lads go on the park and become animals. I can give you an example. When I went to Manchester United from Everton, Mark Hughes was like Bob. Off the park never opened his mouth, very quiet. On the parkhe was very different with an aggressive attitude. Mark would kick his Grandmother, not Bob though.
I can remember my fist pre-season tour with Everton. In 1976 we went to Germany where we played a tournament in Gelsenkirchen where we were playing FC Schalke. I've no idea now what the score or result was, but I know at half time Billy Bingham absolutely destroyed Latch. "You're a big soft ABCDEF and so on. Bob goes out for the second half 5 minutes later and elbows someone and gets sent off.

Bob Latchford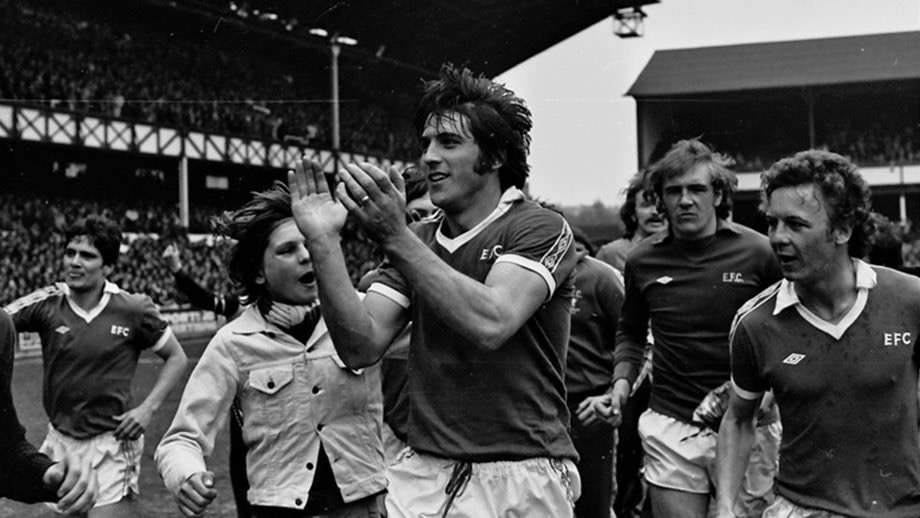 Whenever I talk about this, I always say I woke up that morning knowing that I was going to score the two goals. It's the only time that I have ever felt that way. Usually you have butterflies and every game is different, but you always have a feeling of apprehension. So, the bigger the game, the bigger the butterflies.
I think it was fated that day for me to score the two goals to be honest. Funnily enough I scored the second goal in the 78th minute. The year was 1978, and it was also the centenary year following the club's formation in 1878, so what a coincidence that I scored in the 78th minute. It was only over the last few years that I came to realise that it was meant to happen with those coincidences, it was like the stars were lined up.
What topped the day off was the great man himself William Ralph Dean was sitting in the stand watching me do that, and that was almost 50 years to the day since he scored his 60th goal. I think everything came together that day.
Thirty goals hadn't been done since Francis Lee achieved it and it was a long time coming for another player, so I was happy to achieve it, not just for me, but also the players who were at the club at the time. It was a very memorable occasion for everybody including the people who witnessed it from the terraces. There was no TV there that day because there was a ban on the media. Unless you were there, it was not possible to have seen it anywhere else, and for those who were there it will be a memory that they will hold on to.

Mick Lyons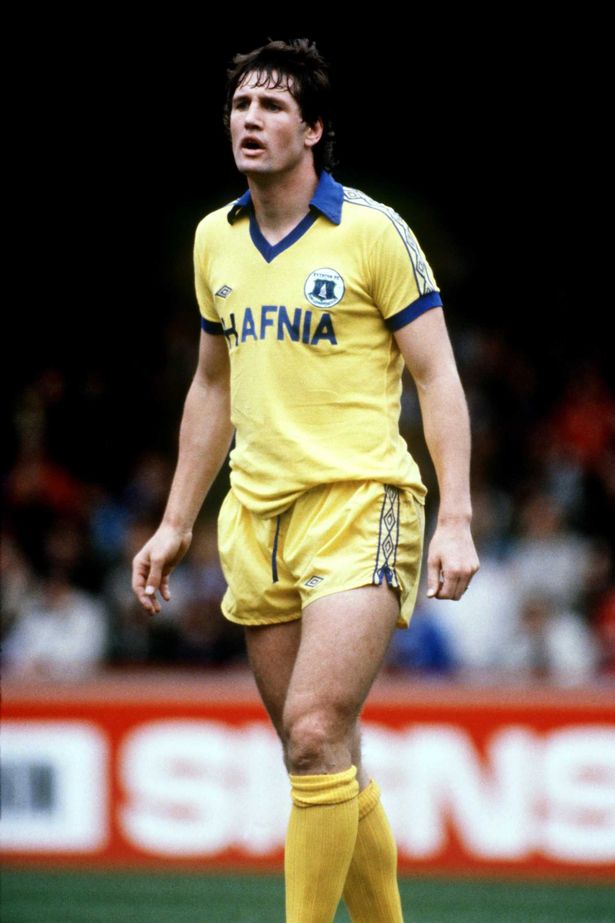 When I asked Mick his memories of that day. He released a huge sigh then said; I don't remember that much at all, I really don't. Seriously, when you're involved in football, you're so focussed, just wanting to get on with the game, and wanting nothing more than to win the match.
I can honestly say that nobody ever thought about Bob scoring the 30 goals. If I had to name my favourite player of my time involved with Everton as a fan and player, it would have to be Jimmy Gabriel and then it would be Bob Latchford. The Latch was like a hero and the biggest thing about him more than anything else, he was a perfect gentleman. He never swore and was nothing other than a really top, top lad.
The Latch to me was a great player, I loved playing with him. You know yourself; different players have different names, don't they? But what a great nickname, the Latch. That's how he will be remembered forever.

Steve Wicks, Chelsea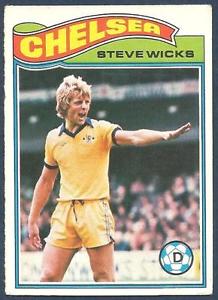 I was in the line-up for Chelsea that afternoon, as a defender alongside Mickey Droy. My role that afternoon was to mark Bob Latchford.
We had a difficult season and leading up to the Everton game we had only won one match in our last ten games which was away at Leicester City. That afternoon at Goodison we were aware of the circumstances surrounding the day and Latchford requiring two goals as there was a lot of commotion beforehand. I also remember before the game there was a banner displayed in the corner by the church which read, "Jesus saves, Bob Latchford scores the rebound"

Everton that day battered us, they really did. I think we were trailing by five goals with 15 minutes remaining. When Bob got his final goal, the crowd went berserk. Bob was a great player and a very under-rated player at that, and maybe should have made more appearances for England than he did. He was a natural goal scorer.
I have always had a soft spot for Everton, and always look out for their results.