Everton honour 1906 cup hero Sandy Young
by Lyndon Lloyd | 03/09/2014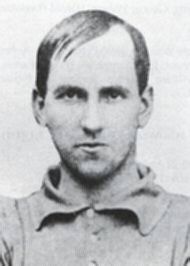 Alex 'Sandy' Young was honoured today in Edinburgh
Everton FC and Everton Heritage Society unveiled a new headstone in Edinburgh's Seafield cemetery today to mark the grave of Alex 'Sandy' Young, one of the club's first legends.
Still the fourth-highest goalscorer in Everton's history, Young was the scorer of the winning goal in the 1906 FA Cup Final win over Newcastle United that clinched the trophy for the Blues for the first time.
In all, he found the net 127 times in 314 appearances in the decade between 1901 and 1911 but he was troubled in later life by mental illness and a prison sentence for the manslaughter of his brother in Australia before he passed away in 1959.
Thanks to the efforts of the Heritage Society, a fundraising effort has finally enabled the erection of a headstone at his grave site which was revealed at a special ceremony attended by club officials, his namesake Alex Young, and members of Sandy's family.
Heritage Society chairman, Paul Wharton, said at the ceremony: "This is an Everton legend from 100 years ago that Evertonians will talk about in another 100 years. We had to honour the man and we're made up with how well it's gone. The Club are proud and so are we."
The Evening Read: A century on, Sandy Young promise is honoured by Everton FC
Poignant Everton grave rededication ceremony remembers 'greatest forward that has ever played under Everton's colours'
In the autumn of 1911 Everton FC Chairman James Baxter got to his feet at a club AGM and declared: "Everton have never treated their players like oranges. At the proper time, his service will not be forgotten."
Today, in a private cemetery in Edinburgh, The Toffees delivered on that promise.
Alex 'Sandy' Young' was the 'his' whose service Everton vowed to remember. And they did so at Seafield Cemetery in Edinburgh, in the presence of Young's family, the Everton Heritage Society who rediscovered their former player's pauper's grave and a sizeable media presence.
More than a century after he last kicked a ball, and half-a-century after he died as a poverty-stricken recluse, Alex Young drew a crowd again – just as he had in the pre First World War era as one of the most celebrated centre-forwards of his day.
At that 1911 AGM Evertonians were angry at Young's sale to Tottenham.
At the time he was the club's all-time top scorer – by some distance – and at yesterday's service renowned local historian Peter Lupson read out letters published in the Liverpool Echo at the time from angry fans.
"A vast number of supporters will refrain from visiting Goodison Park next season if their favourite is missing from the home ranks," read one.
"I myself (22 years a supporter) and many friends, Everton followers, have expressed the determination to withdraw our support if Sandy is not re-signed."
Another wrote: "I have been a regular attender at the Everton matches since the days of (Alec) Dick and (George) Dobson in the 1880s and I unhesitatingly affirm that Sandy Young is the greatest forward that has ever played under the club's colours. Young has been and still is the club's greatest asset."
Supporters made the journey to Seafield Cemetery yesterday to show that, even more than a century on, he was still regarded as a significant asset to the club's cherished history.
A lone piper played a poignant rendition of "Grand Old Team", former Everton heroes Graeme Sharp, Graham Stuart and Sandy's namesake, Alex 'The Golden Vision' Young stood graveside – and scores of members of Young's surviving family – including Sandy's 87-year-old nephew, Cyril Cleeton – stood graveside.
Cyril's memories of his uncle were vivid – and poignant.
"I'm delighted with the ceremony and the amount of people here," he said. "He was a recluse, he was living in abject poverty and he was in need of care. But he shunned care. He didn't want care.
"He used to come across from his cottage where he lived and you wouldn't imagine the conditions in which he lived.
"But back in those days we didn't talk about that."
There was one particular aspect of Sandy Young's life which was not talked about for years.
And it meant that yesterday's service was a difficult one.
Sandy served a prison sentence in Australia after shooting dead his brother when his playing days had ended, then later spent time in an asylum in Scotland.
Blues club chaplain Henry Corbett handled the issue sensitively.
"We know that after his football career had ended he went to Australia where as many of you know a tragedy occurred for the Young family where brother John died at Alex's hand," he said.
"Alex served a prison sentence for manslaughter, later returned to Scotland and for a number of years suffered from mental illness.
"It's a very tough story and it's very moving to have so many members of his family here today.
"The Christian scriptures speak honestly about tough times. Moses, David and Paul were caught up in tragic deaths and Joseph and the apostles Peter and Paul all served prison sentences.
"The christian faith says that forgiveness is possible and that we believe in a God who understands and in a God who offers hope.
"Alex Sandy Young's family and friends and the football family of Everton Football Club rededicate his grave."
One hundred and three years after Everton vowed to acknowledge Alex Young's service to the club, the promise was kept in dignified and sombre fashion.

Paul Wharton & Peter Lupson, Chairman & Vice Chairman of the EFC Heritage Sociey (right), speaking at the rededication Alex 'Sandy' Young's grave

A Piper plays at the grave of Alex 'Sandy' Young.
Former Everton FC players at the service; Graeme Sharp, Alex Young & Graham Stuart.

Family and guests at the service.

Zac & Macy Cleeton lay flowers at the grave of Alex 'Sandy' Young, who was their Great-Grea-Great Uncle

Paul Wharton & Peter Lupson, Chairman & Vice Chairman of the EFC Heritage Society (right), speaking at the re-dedication Alex "Sandy" Young's grave.

Former Everton FC players Graeme Sharp & Graham Stuart at the grave of Alex Young
Paul Wharton & Peter Lupson (right), Chairman & Vice Chairman of the EFC Heritage Sociey  speaking at the re-dedication Alex Young's grave.
Alex 'Sandy' Young Grave Ceremony
By Tony I'Anson 06/09/2014
The history and heritage of the Club exerts a strong pull on most Evertonians.  As I live less than an hour's drive from Seafield Cemetery in the Leith area of Edinburgh the opportunity to attend the ceremony to mark the unveiling of Alex 'Sandy' Young's new gravestone proved impossible to ignore.
I arrived at the cemetery about half an hour before the ceremony was due to start and parked up easily enough.  A piper and a few people with long lens cameras were visible through the gravestones, suggesting that I was in the right place.  As I walked over, I got chatting to a man a few years my senior who had heard about Sandy's story in an article in the Daily Record last week, written by an old university pal Gary Ralston.  He shared an anecdote about Sandy during his later years reflecting the hard times that had come to him.  He had felt he just had to turn up and pay his respects, and seemed genuinely touched by the gesture and the turnout of people.  I introduced him to Paul Wharton when he arrived in case he wanted to share more of his memories of Sandy.
As people started to arrive, the piper started to play which I managed to record on my iPhone.
Soon members of Sandy's extended family – covering a fair few generations – arrived along with representatives from the Club. These included former players Graham Sharp, Graham Stuart and Alex 'The Golden Vision' Young.
After the piper had played 'Grand Old Team' there was a short ceremony.  Paul Wharton described how the Heritage Society became aware of the unmarked grave and how the funds for the new headstone were raised.  Then Peter Lupson gave a tribute to Sandy, also highlighting the long tradition between Everton and Scotland with 124 Everton Scottish players serving the club, and noting that a Scot had been involved in every one of Everton's FA Cup wins.  No pressure on Steven Naismith then!  As the Echo reported , club chaplain Henry Corbett sensitively covered the circumstances of the tragedy that occurred in Australia.
One of the family members then described how this gesture had brought many of the distant family together, and he thanked all concerned including the Everton fans who made this happen.  This was followed by the laying of a wreath and flowers by various family members.
Media interviews and photographs followed, with the extended Young family gathering for a group photo to remember the day.  Evertonians will no doubt appreciate the iconic photos of former Everton players honouring one of the past greats.  The photos can be seen on the Everton official website.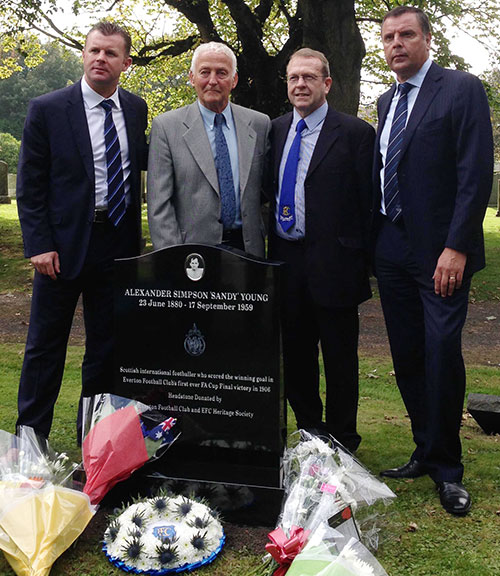 Graham Stuart, Alex Young, Paul Wharton and Graeme Sharp at the grave side.
After the ceremony, Paul indicated that everyone was invited back to Hibs' Easter Road stadium for refreshments.  As we all made our way out Graham Stuart and I got chatting to Cathy and Jerry Kelly, now in their 90s who had come through from Glasgow by train and taxi. They are the children of former player, Jeremiah Kelly (1927-29), and it turned out that Jerry had been born in Goodison Avenue.  I gave them a lift to Easter road, which proved quite easy to find with a bit of help from Dave Prentice's (of the Echo) sat nav in the car in front.
Having dropped off the Kelly's at Easter Road and parked I wandered in via the main entrance where I caught up with my sat nav guide.  Dave produced a copy of a sketch of Sandy in his later years that one of the family had given to him.  The Echo photographer took a shot of it and I managed to get one too.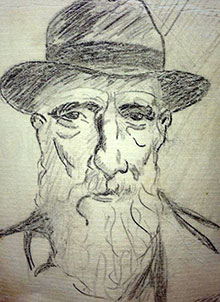 On our arrival in one of the lounges, which provided a magnificent view of the pitch, we were greeted with a display from the Heritage Society of memorabilia particularly relevant to Sandy.
The members of the Heritage Society were in their element explaining the provenance of all the memorabilia on display to the Young family.  Paul explained to the media about the exhibitions at St. Luke's Church before each home game, including away fans' features that many thousands of supporters popped in to see throughout the season.
On a personal note, I have now held a 1906 FA Cup Winners medal in my hand, I've touched the Pink and Yellow jersey that Sandy wore when playing for Scotland v England and spent a few hours with some great Everton supporters and former players.
Just before I left to beat the Edinburgh rush hour traffic I wandered over to bid farewell to the Club representatives.  Soon we were discussing life in Scotland and the forthcoming referendum.  Given there are three Scottish centre forwards still involved with the Club, you can just tell that the daily Scottish/English banter will be immense, especially over the next two weeks!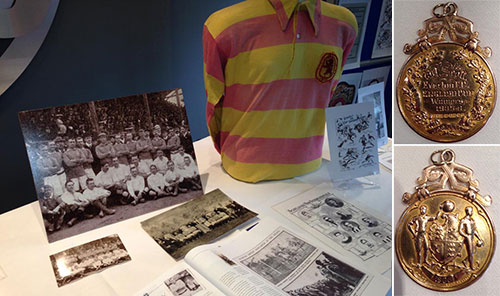 Everton Heritage Society's display of memorabilia
Overall, I got the genuine feeling that this event meant an awful lot to all of the Young family, who seemed thrilled that Sandy was still held in such regard by Evertonians after all this time.
Personally, I'll remember the day as a relatively low key, dignified event, but one that I think will strike a chord with many Evertonians across the world.