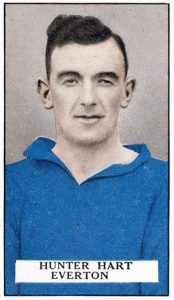 Hunter Hart was always recognisable by a distinctive quiff which pre-dated that of Wolves' Billy Wright. He served Everton with distinction on the field in the 1920s and behind a desk in the 1930s but, unfortunately, his association with the club he loved was to end prematurely, as was his life.
Born on Glasgow on 11 March 1897 to Alexander (a carter) and Jessie, Hart grew up less than half a mile from Celtic's stadium. By the age of 14, living in Shettleston, Lanarkshire, he had lost the sight in one eye,  in what was described as 'a childhood accident'. He was never on record talking about this disability and it certainly did not hold back his football career.
He made his name with Parkhead Juniors FC in Scottish non league (Junior) football. Spotted by Airdrieonians' manager John Chapman, Hart signed for the league outfit at the start of the 1918/19 season. His Airdrie debut, as a 21-year-old inside-forward, was on 18 August 1918 against Queen's Park. The following Saturday, against Clyde, he was switched to half-back and there he remained. Twice he was selected as reserve left-half for the Scottish league team and also appeared in the annual trial match between home-based Scots and 'Anglo-Scots' for the 1920/21 season. By this time Hart's performances were drawing the attention of English clubs, with one, un-named, top-flight club agreeing a £5,000 transfer fee before the transfer collapsed for unspecified reasons. When Chapman moved south to take the reigns at Manchester United in October 1921, there was an expectation that Hart would follow. However, it would be to another part of Lancashire that the half-back was destined.
Everton's director, Ernest Green, was sent on a scouting trip to watch the Airdrie take on Heart of Midlothian in December 1921. The board minutes document that Green felt Hart to be 'good' and he had broached the prospect of bringing him to Goodison Park. A price in the region of £5,000 had been quoted by Airdrie's directors but Everton's board decided to offer up to £3,000. There followed a period of haggling and brinkmanship, which spilled over into the New Year. With a fee finally agreed in principal, Everton asked, in view of a forthcoming FA Cup tie, for more time to tie up loose ends. By return a strongly worded telegram was received from Scotland advising that the deal would be off if Everton did not sign Hart immediately. Galvanised by the ultimatum, Everton saw to it that the transaction was completed for a £3,00 transfer fee by 9 January 1922.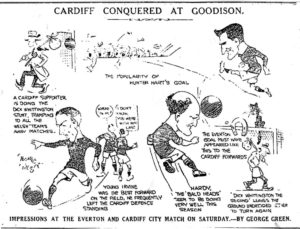 Everton v Cardiff City, 2 October 1922 (BlueCorrespondent)
A week later, Hart was thrown into the fray, in an away defeat to Bolton Wanderers. The Liverpool Courier felt that: 'Everton were the unluckiest team in the League to lose, as they had much more of the play than the Wanderers at Burnden Park.'  Of the first impressions made by Hart, the newspaper was complimentary:
Everton played their new left half, Hunter Hart, and even under such trying conditions he proved that, he is a great footballer, both by his tackling and calculating way in which he pushed the leather up to his forwards. With further understanding of the men in front he should make the base of a scoring triangle.
The following weekend saw Hart make his Goodison Park bow, with Aston Villa the visitors. In the build up to the match, the Courier commented: Great interest will be centred in Hart's debut at Goodison. He played well last week, but when the Scot settles down great things are expected of him.'   The selected line-up was: Salt, Downs, Livingstone, Peacock, Fleetwood, Hart, Chedgzoy, Fazackerley, Irvine, Crossley, Harrison.
The Courier went on to paint a pen picture of the new arrival:
Scottish football followers who saw Hart play were sure that his place in the International team was secure if he had remained in Scotland. Hart is a cool and clean player, stands 5ft 9in, and tips the scale at 10st 12lb. He is a strong, go-ahead half-back. He places the ball well, besides being a capital shot and having fine control of the ball. He was the best half-back in Lanarkshire.  English football should agree with Hart, and if he displays the same form at Everton as he did in Scotland, the Scottish selectors will not overlook him when the Internationals come round.
In fact, Hart was never selected to represent his country — being an 'Anglo-Scot' doubtless counted against him. The home debut ended in a 3-2 victory with Irvine netting a five-minute hat-trick. Of Hart, the Courier commented: 'Hunter Hart made his home debut, and though inclined to wander, he displayed splendid ball control, his passing to his forwards being very neat.'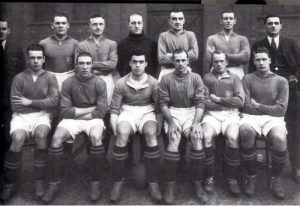 Everton squad in the mid-1920s. Hunter Hart back row, third from right
Such was his impact and character, that Hart was named at team captain for the 1922/23 season, and retained that honour until succeeded by Warney Cresswell in 1927. Hart took a young striker by the name of William Ralph Dean under his wing — reading newspaper articles to Dean the night before away matches in an attempt to get the prodigy to sleep. Barring injury, Hart was almost always assured of a first-team place throughout his Goodison playing career. In 1926, however, he was switched from left-half to centre-half and it would be in this position that he would make the majority of his appearances in the four seasons which followed.
Intelligent and articulate, Hart would pen a column for the Liverpool Evening Express at the end of the 1920s, covering a range of football-related topics. For example, he proposed a form of play-off system in lieu of goal average, in order to separate teams in when deciding relegation or promotion positions. He wrote:
To allow league championships, and the equally important verdicts of promotion and relegation, to depend on goal average is, to my mind, utterly unsatisfactory. The only just method of deciding exceptionally close finishes is a deciding match between the aspirants for honours or the candidates for relegation, as the case may be…League football, to my mind, is a test of skill, and therefore, the question of relegation and success should be decided by competition between the eligible parties. If two clubs whether at the top or bottom of the League, have the same number of points them they should participate in a deciding match.

Everton squad in the late-1920s. Hunter Hart back row, eighth from left
With the Everton team fighting relegation in February 1930, he even used his column to berate the more vociferous followers for their negative impact:
There are thousands of people who follow football today when claim to be supporters, but who are really a menace to the side they loudly proclaim they are backing. This type of supporter attends matches and points out in a loud voice how much better are the visitors compared with the home players. These "supporters" walk up to the directors, tell them to do; they write letters to the officials and to the press. They are forever pulling to pieces the team that say they support. Every club in the county would be better off without such people. But the real supporters are invaluable.
The response from supporters was not reported!
Hart found himself restored to the captaincy for the ill-fated 1929/30 season, however his berth was soon threatened, as the team line-up was tinkered with in order to find the elusive winning formula. His last genuine first team appearance was at Ewood Park on 25 January 1930, when the off-colour blues were demolished 4-1 in a FA Cup tie. The following week Welsh international, Tom Griffiths, reclaimed the centre-half spot and retained it for the remainder of the season – one which ended in the ignominy of Everton propping up the table. Hart was able to bid farewell to Goodison's turf in happier circumstances when he appeared for an Everton XI in the Liverpool Senior Cup defeat of Southport on 26 February.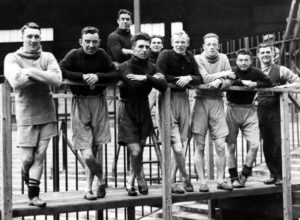 Despite calls from supporters for his first-team return to bolster the ailing league campaign, Hart saw out his playing days with the reserves in the Central League. By April it was reported that Hart would be taking up a coaching and scouting role with the club. Although his playing registration was retained for the following season he had, effectively, retired with 301 first-team appearances and five goals to his name. It was his favourable reports in the spring of 1930 which helped pave the way for the arrival of Stockport County's promising centre-half, Charlie Gee. Gee would vindicate Hart's judgement by promptly dislodging Tom Griffiths from the first team and going on to win England and League Championship honours.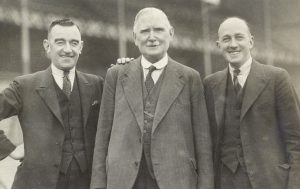 Hunter Hart and Theo Kelly with a director, mid-1930s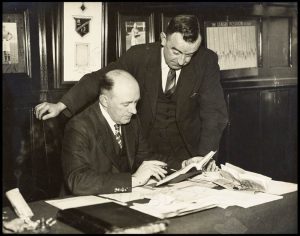 Hunter Hart and Theo Kelly, circa-1937
With Tom McIntosh's untimely death from cancer in October 1935, Theo Kelly and Hart were installed as and Club Secretary and Assistant Secretary receptively. In January 1936 Hart also accepted the board's offer of the position of  'players' coach' — working alongside Harry Cooke.  However, his association with Everton came to a sudden and sad end. In November 1939, Kelly reported to the Board that £34 had gone was missing from club's accounts. The breakdown of missing monies was listed in the board minutes:
Petty Cash £10.6.7
Mascot Fund £1.0.0
Season Tickets £10.5.9
Programme Petty Cash £12.8.6
Total £34.0.10
An investigation was launched in order to identify which employee had, effectively, had his fingers in the till.  The Chairman, Ernest Green, and W. Williams interviewed Hart, and youth coach Harold Pickering, in connection with the missing monies. Pickering was found to have no case to answer but the board minutes recorded:
Hart had declared himself responsible for two shortages, namely, the Petty Cash & Programme Petty Cash… Mr. Hart agreed that he was responsible for those two accounts, but while he could not explain the full shortage, he stated that he had taken £7 from the Programme Petty Cash account, which he had not replaced.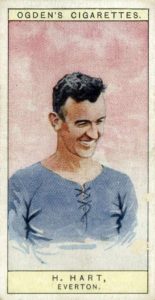 Hart's fate gets no mention in the board minutes; presumably he resigned or his employment was terminated. It was an unbefitting end to seventeen years of dedicated service to the Blues' cause. Just weeks previously, Hart had completed the 1939 Register (a census conducted at the outbreak of war) at his home at 37 Dinmore Road, Wallasey. He was living with his wife, Marjorie, whom he had married in 1924, and eight year-old son Alexander and described his employment as a marine engine fitter (presumably a skill gained as an apprentice in his youth) and assistant secretary.
A return to football came about in September 1941 when Hart took up the part-time post of secretary-manager at his old Scottish club. Airdrie competed in the Scottish Wartime League Southern – it was a test for many teams to scrape together eleven men in order to fulfil their fixtures. In spite of the intention to turn full-time once peace-time football resumed, Hart stood down after little more than two years in post. He then returned to the Wirral to work for Messrs Grayson, Rollo and Clover as a marine engine fitter.
In October 1951 he wrote to Everton's board, offering his services as a coach. The directors, perhaps with the events of 1939 still in mind, recorded the following in the board minutes:
It was agreed to inform him that we had no position to offer him at this moment.
There was to be no reconciliation between club and former captain as just three months later tragedy struck. On 19 February 1952, Hart collapsed and died suddenly in the engine room of a ship which he was helping to repair at Ellesmere Port. He was only 54 and living at Knutsford Green, Moreton.
When the death was announced, journalist Leslie Edwards paid tribute in the Daily Post:
Though only one of his eyes was sound, his play either at wing-half or a centre-half, was consistently good. His tackling was especially sharp and his production of the ball for the forwards was on typically thought-out Scottish lines. Hunter was as wily as he was strong on the ball, too.  I recall that two Liverpool players at Anfield (one of them the mammoth Clarke) once tried to sandwich Hart and found him 'missing' at the moment he was to be victim. Clarke suffered injury in collision with a member of his own side and his career was virtually finished.
His unseemly, and perhaps, harsh, exit from Everton should not undermine Hart's standing as a fine captain and diligent contributor to the Toffees' cause for the best part of two decades.
Sources:
David France
Everton Collection (board minutes and photos)
Newspaper reports on Blue Correspondent website (Billy Smith)
John Henderson (Airdrie Historian)
Gwladys Street's Blue Book (David France)
The Everton Encyclopedia (James Corbett)
Everton — The Official Complete Record (Steve Johnson)