When asked recently who was the first Liverpool-born man to play Association Football for England or score a goal in an FA Cup final, I was not able to answer the question. I then commenced to trawl through the FA records, and after much deliberation, appeared to have found the two most likely candidates to fill these roles. I was surprised to discover that they both belong to the same family.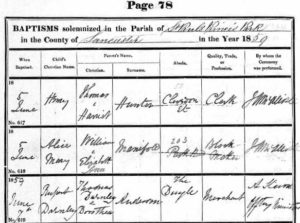 Rupert Darnley Anderson was born on 29 April 1859 and baptised the following June at St Paul's church in the Princes Park area of Liverpool. He was the fifth child and second son of Thomas Darnley Anderson, a wealthy Scottish cotton merchant of the Liverpool shipping firm Glen and Anderson, who had settled initially in Everton. After his marriage to Dorothy Horsfall of Netherfield Lane, Everton, the daughter of a rich cotton merchant, the couple moved into 'West Dingle', a large detached mansion in the grounds of Knott's Hole, in the Dingle, Liverpool.  It was around this time that Thomas Anderson's public role as a local politician reached significant standing when he became Mayor of Liverpool during 1859-60.
(Right: Baptism record. Rupert is on the bottom row)
West Dingle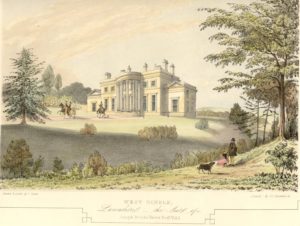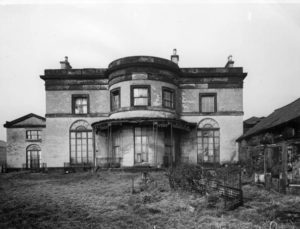 West Dingle in 1955 shortly before demolition
West Dingle in 1905 and today, covered by modern housing. Knott's Hole is now under the Garden Festival site and Otterspool Promenade (pics. Darren White)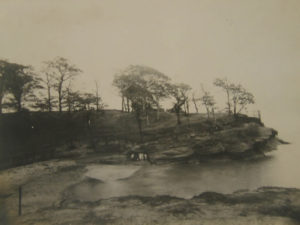 Knott's Hole cove at the end of the West Dingle estate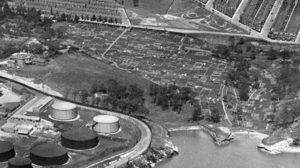 Housing, allotments,  and Dingle Oil Terminal gradually encroaching upon West Dingle house (left) in this aerial shot of 1927
The 1861 census records the family at 10 Marine Terrace in Great Crosby, although this may have been a short break, as they were living in West Dingle from the late 1850s until c.1870.  They then left the Liverpool area never to return. The Anderson family had moved to a large estate purchased from the Nicholson family in 1870, known as Waverley Abbey Hall near Farnham in Surrey, where Rupert, along with his younger brother William, was taught by a resident governess in preparation for his public school education. Twelve other servants were also employed by his father.
10 Marine Terrace, Crosby, facing the Mersey shore. From 1898, Captain Edward Smith of the Titanic lived a few doors down at No.17.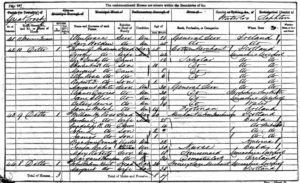 1861 Census: 10 Marine Terrace Crosby – William was not born until 1863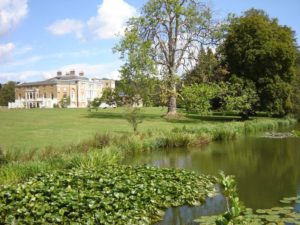 Waverley Abbey
In 1873, Rupert became a pupil at Eton College, Windsor, and was placed in the house of one of the dames, a Miss C. Evans. In June 1876 his father passed away, and the Waverley estate passed into the hands of his elder brother, Charles. Rupert meanwhile, represented the Oppidans in the Eton Wall Game on the football field and became the Honourable Secretary of the Old Etonians Association Football Club when he left the college in 1878. He represented the club in the forward line, played in the same side as his close friend Lindsay Bury, and presumably, went along to support him when he was selected to represent England at the Kennington Oval on 29 January 1879.
Their opponents were Wales, and it was the first time the two countries had opposed each other under the rules of the FA. The occasion however, was affected by the weather.  The national railway network was thrown into chaos by a heavy overnight fall of snow, and the man who was selected to keep goal for England, the Reverend W. Blackmore, was not at the ground when the time appointed for the kick-off arrived.  Rupert Anderson, as a last-minute replacement, took to the field and thus became the first Liverpool-born man to play association football for England. He guarded the home citadel with confidence and helped his side to win the game by two goals to one, before re-joining the Old Etonians.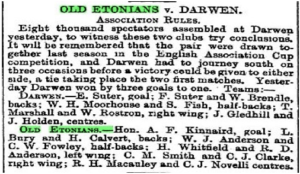 Rupert Anderson and his fellow collegians now embarked on an FA Cup run, which eventually brought them in to conflict with a Darwen side who had reached the quarter final stage of the tournament by strengthening their ranks with players they had imported from Scotland. Nevertheless, they were beaten at the third attempt, but the new aspirants had won the public admiration, because due to the rules of the contest, they had been forced to play all three games in London. Anderson next took part in the semi-final victory over Nottingham Forest but then picked up an injury and missed out on a winner's medal when the Old Etonians, who beat Clapham Rovers, won the FA Cup for the first time.
Rupert then left his home in Farnham when he matriculated to Trinity Hall College at Cambridge University in October but was back with the Old Etonian players when he honoured a pledge he had made to the secretary of Darwen Football Club, to play a benefit match to help replenish the money they had spent in honouring their FA Cup ties in London. The match was played on 31 December 1879.
The Etonians, led by Lord Kinnaird, travelled by overnight train from London and arrived in good time for the game that was played on Barley Bank Meadow. Rupert Anderson took part in the match where he was joined on the field by his younger brother William, who was now attending Eton College. The game attracted a crowd of over 8,000 people who packed the enclosure to see their side beat the FA Cup holders by three goals to one. William Anderson then returned to Eton College while his elder brother Rupert continued his studies at Trinity Hall, Cambridge. He was not, however, to remain there for much longer.
University records reveal that Rupert Anderson did not graduate, but suddenly left Cambridge along with Lindsay Bury, and emigrated to North America, where he became a fruit farmer and broker, owning a number of orange groves in  Baker County, Florida. His brother William, in the meantime, had gone up to Trinity Hall, Cambridge, and become a regular member of the Old Etonian football team forward line. In 1882, the club again reached the FA Cup final where their opponents this time would be Blackburn Rovers. The game in England however, was now changing and the professional football player was beginning to make his presence felt.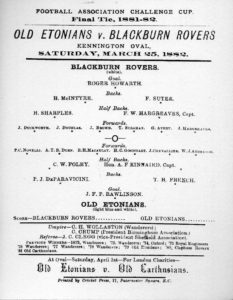 W.J. Anderson lining up on the forward line in the 1882 FA Cup Final v Blackburn Rovers
The Lancashire side, who had not been beaten for thirty-five matches, were confident of taking the trophy, but the public school men took a first-half lead, when a pass from Arthur Dunn found William Anderson who, with a calm finish, became the first Liverpool-born player to score a goal in an FA Cup final. It turned out to be the only goal of the game, and he thus became the first Liverpool-born man to receive an FA Cup winner's medal. The following season, the Old Etonians reached the FA Cup final for a third and final time but fortune on this occasion favoured their opponents, Blackburn Olympic. William Anderson took his place in the forward line and the game ended in a 1-1 draw. The Old Etonians, reduced to ten men, tired during extra time and were beaten by two goals to one. The days of the noble amateur football player had come an end and henceforth the game would be dominated by the professional.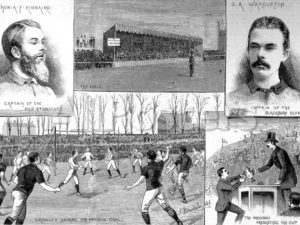 Blackburn Olympic defeating Old Etonians 2-1 in the 1883 FA Cup Final.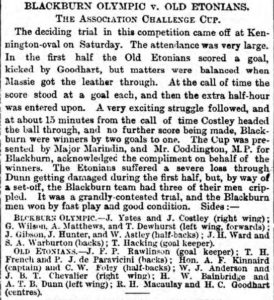 Match report 1883 FA Cup Final
William Anderson, like his brother before him, soon left Cambridge University and emigrated to North America where he became a rancher/cattle dealer near the town of Livingstone in the state of Montana.  However, Rupert returned home in 1889 to get married.  On 3 January 1889, he married Amy Douglas Knyveton Harland at the parish church of Colwich in Staffordshire.  The couple settled near Rugeley in Staffordshire, while Rupert continued his fruit trade. Tragedy befell the family just four years later, when his elder brother Charles passed away on 23 November 1893. Rupert, as main beneficiary, inherited the estate and moved his young family into Waverley Abbey House soon afterwards.
Rupert made trips to Florida with his wife and their new daughter to oversee the running of his fruit farms, while William was also becoming well established in Montana. By 1901, the census reveals that Rupert had retired. He was only forty-two years old, but had clearly been successful enough to set his family up for life.
Mike Bell, a historian posting online under 'Wyoming Outlaws' with an interest in Butch Cassidy and outlaws of Owl Creek, had also been looking into the life of William Joseph Anderson;
By 1884 William and his brother Charles were in San Francisco, California. They arrived on March 29 and appear to have toured some of the sights. Charles may already have been living or working in the United States as he is recorded as arriving in New York on the ss.Gallia on February 23, 1881.  Exactly when William J. Anderson entered the cattle industry in Montana is unclear, but in 1886 he and a partner bought 18 head of thoroughbred bulls from Conrad Kohrs and J. Bielenberg and by 1889 sales of his cattle were being noted in the Montana press.  In 1887 Anderson had a brush with death. He was riding the range and stopped to view some cattle when he was charged and gored by a bull

Anderson pursued his sporting interests with vigour, umpiring a cricket match between the Gallatin and Butte cricket clubs in the summer of 1887, and establishing a tennis club in 1892.

In the summer of 1888 Anderson had a run-in with Nelson Storey. The veteran Montana rancher charged Anderson with illegally branding Storey's cattle but all charges were dismissed and the relationship between the two men does not appear to have been permanently damaged.  Anderson established ranches on the Rosebud and Shields rivers in Montana, and ran both cattle and sheep. By 1891 he was being described in the Livingston press as an 'English capitalist with extensive interests in the city and county'.  Anderson's 'extensive interests' included being one of the founders of the Livingston, Independence and Cooke City Telephone Company in April 1893, and president of the Livingston Waterworks Company. In the spring of 1891 Anderson was elected as one of two Park County representatives to the Executive of the Montana Stock Growers Association.

In the early eighteen-nineties Anderson got into another legal difficulty. He grazed his stock on the Crow reservation and Custer County officials made an assessment of their worth, but without actually physically making a count. Anderson refused to pay taxes on the animals and fifteen carloads were seized at the stockyards in Red Lodge in September 1891. Anderson, in turn, had the officials arrested for grand larceny. The final outcome of this case is unclear, but on appeal the Supreme Court ruled that a proper assessment of Anderson's assets had not been made, but also upheld the right of the County Commissioners to sue for unpaid taxes.
Anderson was one the men from Montana who joined forces with Wyoming ranchers and lawmen, to pursue horse thieves into Star Valley and Jackson Hole in the spring of 1892.  Astonishingly, this Liverpool-born FA Cup winner was actually present at the arrest of Butch Cassidy, plus another outlaw Albert Hainer on 11 April, before heading north leading part of the posse into Jackson Hole, where they shot dead outlaws Mike Burnett and George Spencer.
According to Bell,
Anderson was active in pursuing both cattle and horse thieves. The Murray family was a particular thorn in his side. Father Michael and his sons William and Robert lived on the Crow reservation and had a reputation for being hard men. They employed a man named George Grider, who had previously worked for Anderson.

In late May 1892, Anderson brought charges that the Murrays and Grider had altered the brands of some of his cattle, some of Richard Ashworth's cattle, which he was running at the time, and some animals from the Dilworth Cattle Company. Sheriff George Ramsey of Billings, acting in his capacity as a Deputy United States Marshal, went out to arrest the men and he and Anderson brought them in to Red Lodge to be prosecuted.

Murray and his sons secured bail and nearly a year later were acquitted. Although Anderson's cowboys had branded the calf that was alleged to have been stolen with hidden brands, and sewn a dime into its hide, Murray argued that although the animal had been found with some of his cattle he had not stolen it nor rebranded it. Anderson cannot have been impressed at this turn of events.

Anderson continued to work his interests in Montana for several more years, while still making trips back to England to visit friends and relatives. His father had died in 1875 and his brother Charles died on November 23, 1893. William made a lengthy trip back to England in December 1893 to execute his brother's will, returning in October 1894.

While he retained interests in the state until his death, it seems that he spent less time in the United States after the death of his brother. This may have been because he inherited part of his brother's estate, worth more than $10 million today. On August 9, 1896 Anderson left Montana on a trip to Europe and may not have returned, although he continues to appear as a member of the Montana Stock Growers Association until 1899.
W. J. Anderson's brand from the 1895 Montana Stock Growers Association Brand Book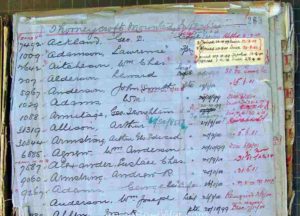 Anderson's enlistment record with Thoneycroft's Light Horse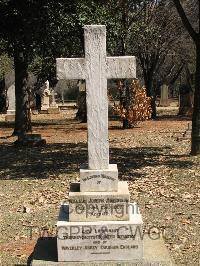 In 1899, William enlisted to fight in the Boer War.   He appears in the rolls for the City of London Imperial Volunteers, but it is likely that, given his background, he was swiftly granted the Queens Commission on 26 February 1900, becoming a Lieutenant in Thornberry's Mounted Infantry. The troop consisted of men from all walks of life, and were described as being: one of the finest irregular mounted units to be raised during the conflict. However, after his posting, he was never to see his native land again. Anderson, along with his fellow troopers, saw action around the Spion Kop, but after seven months service, he resigned his commission on 21 September 1900. The reasons are unclear, but he may have been wounded in the fierce fighting, as on 23 June 1902 William died and was buried in the military cemetery at Braamfontein in Johannesburg. His gravestone reads: "In Loving Memory of William Joseph Anderson. Died June 23, 1903, aged 42. Late Lieutenant Thorneycroft's Mounted Infantry and of Waverley Abbey, Farnham, England."
An obituary in the American Montana press however, suggests he had travelled back out to South Africa to deal with business interests when he died.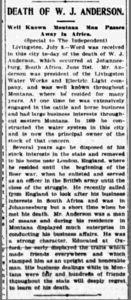 Anaconda Standard, 24 September 1904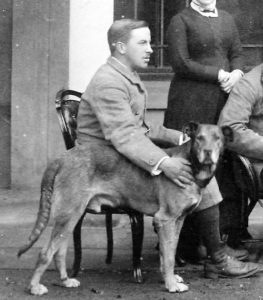 This photograph is of William Joseph Anderson, and was recently received by Mike Bell from Jo Nadian, who works at Waverley Abbey, formerly the home of the Anderson family. They estimate it to have been taken between 1876, the death of William's father, and 1883, when one of his sisters married.
(Right: Rupert and his wife Amy in their retirement years)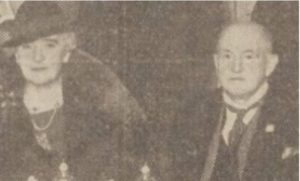 Following the death of his brother William, and the winding up of his business interests in the USA, the 1911 census shows Rupert Anderson still enjoying his retirement at Waverley Abbey with his wife and three daughters. At the outbreak of World War One he became a Major in the 5th Queens Royal West Surrey Regiment, while his son, Rupert Darnley Switheen Anderson, also served in the army. Waverley Abbey Hall was given up to become a Military Hospital with Amy Anderson in charge of the operation. She was assisted in her nursing duties by her daughters. After the conflict, both Amy and her husband, in recognition of their service, were awarded the OBE. After the war, Waverley was returned to the Andersons.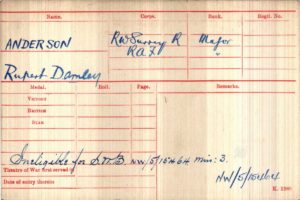 WW1 Medal Card for Rupert
After a long retirement, Rupert Darnley Anderson, this Dingle-born former England goalkeeper, passed away on 23 December 1944,  his ashes buried far from his native Liverpool, in All Saints Churchyard, Tilford, near his Waverley Abbey in Surrey.
---
[Following the Second World War, Waverley Abbey Hall became a nursing home. In 1983 it was purchased (and subsequently restored) by the Christian not-for-profit organisation, Crusade for World Revival. The house is currently used by CWR as a training and conference centre.  West Dingle was demolished in the 1950s and the site now lies under modern housing.]
---
By Tony Onslow, with addition research, (plus all picture research) by Mike Royden
Acknowledgements 
Darren White @Liverpool Fragments

Michael Bell, Wyoming Outlaws: Butch Cassidy in Wyoming, 1889 – 1896, the Great Western Horse Thief War and the Making of an Outlaw (2020)
See also this entry by Chris Goodwin of Everton FC Heritage Society;
http://www.englandfootballonline.com/TeamPlyrsBios/PlayersA/BioAndersonRD.html