Scorer of the first goal for Everton FC in the newly formed Football League of 1888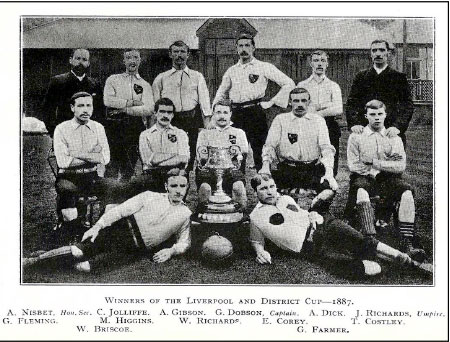 It is the summer of 1887 and the Everton team poses at the Sandon Hotel with the trophy they had just won after beating Oakfield Rovers by five goals to nothing. Two of these goals had been scored by the man sitting left of the centre row who had recently moved to Merseyside from Scotland. His name was George Spink Fleming and he was destined to etch his name into the record books of Everton Football Club.
Along with his twin sister Jemima, Fleming was born on 4 November 1859 in the Forfarshire town of Arbroath. His father was the owner of a grocery store that was situated at 72 Marketgate. The 1881 census revealed that the family had moved to number 80 Marketgate and that George, then aged twenty-two, listed his occupation as that of bank clerk. He was also playing football for the leading club in the area.
The above photograph, taken in 1882, shows the Arbroath football team in their recently-acquired maroon shirts. George Fleming is clearly depicted sitting in the middle row. The local newspaper reported that he had begun playing football on High Common for Arbroath High School, before taking part in the first match played by the present Arbroath club against Our Boys (Dundee) at Woodville. The club later moved to their present home at Gayfield in 1882.
At this location on 15 November 1884, Arbroath took on Rangers in the fourth round of the Scottish FA Cup. From the start, the Glasgow side tore into their opponents and quickly built up a 3-0 lead. Marshall then pulled back a goal and Fleming, shortly before the break, made the score 3-2. The Glasgow giants, who were reduced to ten men, then began to struggle. Courtesy of Crawford, Arbroath then drew level, and amid scenes of tremendous joy, took a 4-3 lead which they held until the final whistle. At the close of the game, Rangers took exception to the width of the Gayfield pitch, objecting to the fact that it was not the required width and, after much measuring, decided to lodge an official protest. The Scottish FA found in their favour and ordered the game to be re-played at Arbroath. Rangers won by eight goals to one.
During the summer of 1885, Fleming left Arbroath to take a job at the Bank of Liverpool, where he would spend the rest of his working life. He has also joined Everton Football Club.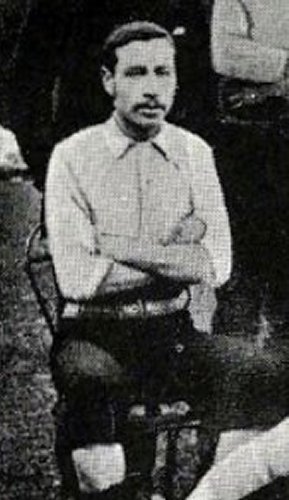 Fleming made his Everton debut on 22 August 1885 against Darwen at Anfield, and first scored for the club five weeks later against Rossendale. He took part in the famous Liverpool Cup tie away at Bootle when the number of spectators was recorded for the first time on Merseyside as being a five figure attendance. Fleming also took part in the game against Glasgow Rangers, drawn as an FA Cup tie, where Everton scratched to allow him, and other ineligible players, to take part in the game. He ended his first season on Merseyside by helping Everton to win the local knockout.
He re-joined Everton the next season and took part in the marathon FA Cup tie which led to their suspension (for fielding professional players), against Bolton Wanderers. Fleming remained with Everton throughout the rest of a rather uneventful season and was on the club register when they became founder members of the new Football League in 1888. He represented them in the opening fixture against Accrington.
Everton's first match in the first season of the Football League, 8 September 1888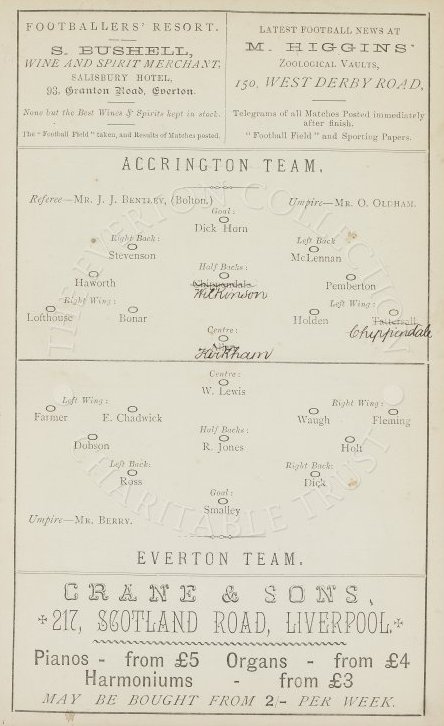 This programme is for Everton's first match in the first season of the Football League. Everton defeated Accrington 2-1, with Fleming scoring both the goals for Everton.
(The Everton Collection)
The match took place at Anfield and it attracted the largest crowd of the day at over 12,000 people.* Fleming took up position in the home forward line. The game had been in progress for about an hour when George Farmer crossed the ball to Fleming who headed himself in to the record books by becoming the man to score the first goal for Everton Football Club in a Football League match. He then added a second as they won the game 2-1. [* Although various match reports estimate the total at anywhere between 8,000 and 12,000].
EVERTON V ACCRINGTON
Cricket and Football Field – Saturday 8 September 1888
The first League match at Anfield was favoured by beautiful weather, the contest bringing fully 8,000 spectators to the Everton enclosure. The visitors' team was the some as that which played Bootle. The teams faced each other as follows;- Accrington; Horne, goal; Stevenson, and McLenman, backs; Haworth, Wilkinson, and Pemberton, half-backs; Lofthouse, Bonar, Kirkham, Holden, and Chippendale, forwards. Everton; Smalley; Ross and Dick, backs; Dobson, R. Jones, and Holt, half-backs; Farmer, Chadwick, Lewis, Waugh, and Fleming, forwards. Everton put in an appearance first, Smalley and Jones receiving a hearty welcome. Accrington arrived 20 minutes late, and at 25 minutes past four Lewis kicked off. Everton having lost the toss Waugh and Fleming raced off. The latter screwed well in, Farmer, testing Horne with air accurate shot. A fine centre from Chadwick was sent over the bar by Fleming. A long return by Holt was kicked into his own goal by McLennam. Horne hit the ball out, Farmer heading over the bar. Some smart tackling was shown by Waugh, who robbed Holden, passed to Chippendale, and centred accurately. Chadwick showed some equally good play, finishing up with a good attempt at shooting. Bonar now broke away, but his good intentions were spoiled by Ross. A free kick gave Chippendale an opening, but Ross cleared. The pace which from the start had been exceptionally fast now slackened considerably. Holden and Chippendale came away with a rush, and Lofthouse receiving the ball tested Smalley with a long shot. Ross cleared his lines. Lewis then raced off passing to Farmer whose shot went wide. After a fine display by Ross Fleming got off, his centre, however, being missed by Chadwick. Neither side could succeed in scoring, half-time arriving with a clean sheet. Half-time; Everton 0, Accrington 0.

On crossing over Kirkham restarted, and Accrington began to press. Ross relieved by a long return, and Lewis, getting well on the leather, shot into Horne's hands. McLellan and Horne now cleared from Waugh and Holt. At length Lofthouse broke away but Dobson pulled him up. Ross returned the ball. Waugh met it and centred. Fleming then heading the first goal for his side. Accrington replied making desperate attempts to score until Lewis dribbled the ball clear. Final; Everton 2, Accrington 1.
EVERTON 2 ACCRINGTON 1 (game 1)
September 10 1888. The Liverpool Mercury
A crowd of close on 12,000 turned up at Anfield-road ground on Saturday, to witness the above encounter, which was the first of the series of fixtures arranged by the League. The Accrington team was the strongest they could put on the field, while the home club substituted R Jones at half-back instead of Warmby, and W.Lewis (Bangor) in Costley's place at centre forward, Smalley again taking his position between the posts. The weather was fine, with a strong sun and very little wind, and the f ground in good order. The visitors who turned up 20 minutes later, won the toss, and Lewis sent the ball rolling against the sun. waugh was the first to be conspicuous by passing nicely to Fleming who sent it to Farmer and the latter put in a scorching shot. Horne clearing at the expense of a corner, which was badly taken. A goalkick to the visitors enabled Joe Lofthouse to get within shooting distance, but Dobson cleared nicely and gave Lewis's a chance. Stevenson robbing him, however, while in the act of testing Horne, from a throw in Chadwick had a corner conceded him, which Farmer put to the side. Aided by Dobson and Holt, the home right got away and Waugh sent in a low swift shot which Pemberton negotiated following by Chippendale being eased by Holt, who returned the leather well down, but Lewis found the defence impenetrable. An exciting bit of play now ensued. Howarth, In clearing a shot headed into Horne, who threw out in nice style, and Waugh rushing down, kicking on to the crossbar, the ball falling over. Dobson having had a trail for goal the visiting forwards rushed up in a body, only to find Dick ready to meet them by planting to his right wing pair, and Waugh was loudly cheered for making a passage through the visitors and troubling Horne. Stevenson off disaster, but Lewis eventually got cleverly away, and gave a long pass to Fleming, who could not get down, in time, and the ball rolled out. By means of a goal kick. Holden and Chippendale dribbled up, but the latter had his shot spoiled by Ross. Holt now got his hands in the way, and from the penalty Howarth sent the ball spinning over Smalley's charge for the first time. R.Jones, who appeared to be lame, managed to beat Kirkham and then the home left worked down, Farmer's attempt going wide, arousing themselves to the call of their captain to ''play up Reds" Chippendale and Bonar each had shies, but Ross and Holt relieved and play was taken to the ''Reds" end, where Lewis, Dobson and Chadwick had shots in rapid succession. Horne however, defended well, and managed to avert a downfall. Dobson, who had to keep watching Lofthouse enabled Joe to get freedom, that player giving Smalley his first handful with a stunner. Everton than had a couple of free kicks, from one of which Lewis had hard luck in heading over the crossbar. Coming again, the home forward's swarmed around Horne, and Stevenson managed to Spoil Waugh in a tricky run. Hands to the visitors in the home quarters gave the homester a chance, and Fleming, form a pass by Chadwick, was pushed off the ball by Horne while in the act of shooting it through half-time arriving with a clean sheet.

On changing ends, Accrington became busy, but Dobson managed to clear, Ross having intercepted Chippendale who was playing a grand game in his new position, the home club took up the running, and literally swarmed Horne, who was in spendid form. Pressure was at length eased by Holden running to the other end, where Dick relieved and Dobson had the misfortune to foul Bonar. From the free kick Ross returned the ball, and Horne's charge was again in danger the visitors conceding a corner to Hot. The kick was nicely taken Dobson heading in, and McLallan and Stevenson preventing disaster. Another corner having been got rid of by the visitors. Lofthouse was stopped in a run by Dobson, who gave the pass to Waugh, who in turn gave to Farmer, and that player enabled Fleming to head the first gaol striving hard to equalised, Bonar and Lofthouse was held, in check by Holt, but the visitors still kept in the home quarters, and Dick was the hero of the finest bit of back play seen on Everton ground for some considerable time, keeping his lines clear in grand style. Taking the play up the hill, Chadwick and Lewis lokked dangerous, and the former sent in a low shot, when Horne , in clearing, fractured a rib, necessitating a stoppage of play. McLennan went in goal, and Howarth back. Resuming, Everton again bacame aggressive, and Fleming soon registered a second goal from a pass by Farmer. . Accrington next had the best of the play, and after Holden had headed on the bar and Kirkham had hard lines, a free kick was conceded them, from which Holden beat Smalley. Everton than had another try to score after which Holden severely tested the home custodian, but without effect, a strongly contested game thus ending with the result Everton two goals; Accrington one.

Teams; Everton:- Smalley, goal, Dick and Ross (captain), backs, Holt. Jones (r), and Dobson, half-backs, Fleming, Waugh, Lewis (w), Chadwick, and Farmer forwards. Umpire Berry (e), Accrington:- Horne, goal, Stewart, and McLennan backs Haworth, Wilkinson, and Pemberton, half-backs, Lofthouse, Bonar, Kirkham (e) Holden and Chippendale forwards, Umpire Oldham (o), referee J.J.Bentley.
Fleming made only three more appearances for Everton, before being replaced by Edgar Chadwick who had joined them from Blackburn Rovers. Fleming then joined Gorton Villa, before returning to Everton where he became a member of the club committee. In May 1891, he tendered his resignation to concentrate on his career within the banking industry.
He was missing from the 1891 census so it must be assumed that he was lodging somewhere in Liverpool. Fleming next appeared in the record books when, on 17 July 1900, he married Margaret Crawford at the church of St John in Waterloo. His wife, who resided at the time at 40 Great Mersey Street, was the daughter of a Scottish-born iron foundry owner who employed over one hundred people.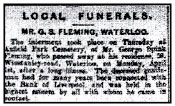 The 1901 census found the couple living at 33 Cavendish Road, Crosby, where they employed one servant, while the 1911 census revealed that they had moved to 59 Winstanley Road, Waterloo, and that by that time they had two sons – David, who was nine years old and Noel who was one.
However, the following year George passed away at his residence on 1 April 1912.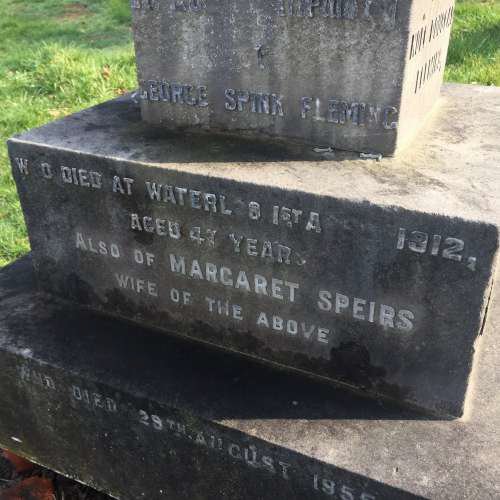 George Fleming – whose claim to fame will always be that he entered the record books by being the man who scored the first Football League goal for Everton Football Club – was later buried at Anfield cemetery in Liverpool.

In 2016 author Tony Onslow appeared in the Perth Courier and Advertiser about his research into George Fleming and his Arbroath origins. (Click to enlarge).
………………………………..
Acknowlegements
bluecorrespondent.co.uk – (Billy Smith) – match report transcriptions
The Everton Collection – match day programme
Perth Courier and Advertiser