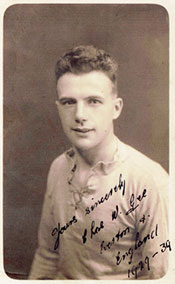 Charlie Gee's story is one of a remarkable rise from Stockport church football to Everton and  England honours.  In three consecutive seasons he played Third, Second and First Division football – culminating in a 1932 league championship medal. Charlie also holds the key to the Everton career of one of the most important men in the Toffees' illustrious history – Harry Catterick.
Charles William Gee was born on 6 April 1909 in the Reddish district of Stockport. He was one of eight children born to Edward and Jane Gee. Edward was a sweet shop owner who, as a side-line, also operated as a bookmaker from his cellar
Charlie's elder brother Ted was reputed to the best footballer in the family but broke his leg in a fall when working on a roof. Like Ted, Charlie trained to be a joiner but was a passionate about sport – adept at cricket, swimming and football. Appearances as right-back and captain of the North Reddish Council School team, and for Stockport Boys, were followed by a shift to centre-half in the Reddish Wesleyan and Sunday School League representative teams.  His displays caught the attention of Stockport County and he signed amateur forms with the Hatters  early in 1928.  Here his development was aided by Harry Catterick Senior  – the reserve team coach who had himself played for County as a centre-half in the mid-1920s. Manchester City got wind of the talent on their doorstep and Charlie made two appearances in the Citizens' A team  –  this spurred County to promptly secure his services on professional forms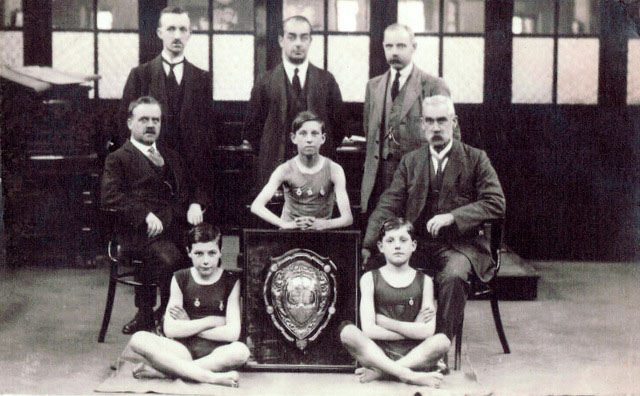 Charlie Gee the swimmer, aged 10
Despite being in the final year of his joinery apprenticeship, necessitating that he attended football training in the evening, Charlie broke through to the Stockport first team in the 1929/30 season.  Having started  the season in the A team he rapidly progressed to the reserves before making  his first team debut on 3 October at Prenton Park in a Cheshire Medal Final. He made his Third Division (Northern Section) bow three weeks later in a 6-3 victory over Halifax Town. The Stockport Express was glowing in its praise for Charlie and other young players:
It was remarkable how Gee and Cawley in the half-back line, and Seabrook and Cooper in the forwards, settled down to their respective tasks.
At 5 foot 10 and a half  and 12 stone 7 lbs Charlie was an imposing figure.  After briefly being dropped over Christmas he became a fixture in the first eleven during the final three months of the season. At season's end he was described in the Stockport Advertiser thus :
His chief value to the Stockport team was his excellence as an attacking centre-half though he also defended well. He has splendid ball control and is able to keep his forwards on the move with well- directed passes.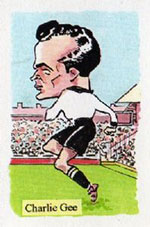 The twenty year old's impressive appearances resulted in a stream of scouts from larger clubs coming to run the rule over him.  To this end Everton had a presence at Edgeley Park on no less than half-a dozen occasions. County's parlous financial situation dictated that they had to sell their most valuable assets, so after just 27 appearances for his home-town club, Charlie was made available for transfer in the summer of 1930.  With several suitors making overtures for his services, Charlie he turned to Harry Catterick Sr. for advice.  Catterick recommended Everton to him and a £3500 deal was duly sealed in early July.

Charlie joined Everton shortly after the ignominy of their relegation to Division Two – just two years after claiming the league title. Charlie went into the reserve (Central League) team and, being a natural leader even at such a tender age, swiftly claimed the captaincy. On New Year's Day 1931 an injury to Everton's Welsh international Tom Griffiths presented Charlie with his first team debut in the Number 5 shirt.  An error by the debutant had gifted Bury a goal, but in the last minute there would be redemption as Charlie recalled in 1969:
'I was a bit depressed, as you can imagine, but Billy Coggins our goalkeeper said to me "Go up there and score one now." And that's just what I did. We won a corner this time and Ted Critchley took it. The ball hit me on the shoulder and finished up in the Bury net.'
Charlie remained in the team for the remaining 24 fixtures as Everton claimed the Second Division title and a passport straight back to the top flight. Teammate Gordon Watson recalled to David France in 2002: 'Charlie was a good all-round performer, blessed with a shrewd understanding of the game. I learned a lot from him. He made defending look easy and his composure underpinned the club's push for promotion in 1931." Indeed the twenty-one year-old centre-half made such an impression that the England selectors took note. Within two years of his Stockport debut Charlie lined up for England against Wales on 18 November 1931 at, of all places, Anfield.  Three weeks later he claimed a second cap in a friendly against Spain at Highbury.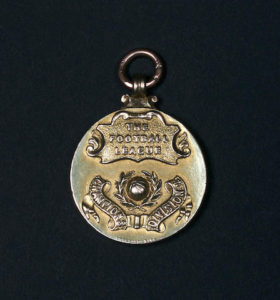 Charlie had seen off the challenge of Griffiths, who moved on the Burnley, and was a near-ever present in the triumphant 1931/32 season which saw the newly-promoted Blues claim the First Division title.  Looking back for the Everton matchday programme in 1969, Charlie praised "Dixie" Dean for helping him become a formidable barrier to opposing forwards:
'Dixie was a very astute judge and his advice made me an experienced centre-half. He used to tip me off about the strengths and weaknesses of the centre forwards I was playing against. Dixie was the greatest player who ever kicked a ball. He was the only fellow I have seen who could appear to destroy the law of gravity when he jumped to head a ball.  He used to hang up there for what seemed ages. It was his perfect timing that did it of course.'
Charlie's career came to a juddering halt with a knee injury sustained on 30 April 1931 at Bolton's Burnden Park, as Everton secured the league crown with a 1-0 victory (Dean, naturally, the scorer). Despite the injury, early in the game,  Charlie battled on before finally being withdrawn in the second half.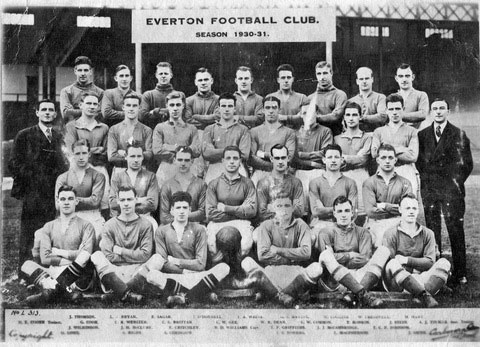 Everton's promotion-winning team from the 1930-31 season with Gee next to William Dean
Whilst his teammates celebrated the league title on 7 May, Charlie was confined to bed and subsequently missed the post-season tour of Germany.  After a summer of rest he returned to the starting line-up for the 1932/33 season's opener at The Hawthorns. Sadly the comeback was premature and ill-advised. "Bee" of the Liverpool Post and Mercury was moved to comment:
Later they (Everton) became straggling, and this was due to ineffective half-back work mainly in the middle, where Gee was good with his head, but "tender" with his last-inch tackles.
A few days after the match, "Pilot", in the Evening Express, added context to the performance:
Gee, the Everton centre-half, was again examined by a specialist today, in an effort to locate the trouble which has been affecting him since he injured a knee four months ago. Gee complained today that his knee was hurting him, and forthwith the club decided that the best advice was necessary. The player was obviously not himself, in the opening match at West Bromwich, and because of the knee injury he did not reproduce his customary confidence in his tackles. He had already been examined by specialists, who could find no trouble, but Gee feels within himself that the limb is not sound. There is no doubt that because Gee could not do himself justice in his tackles, West Bromwich found the path down the middle, which brought goals.
After further examination and x-rays Charlie went under the surgeon's knife on 9 September 1932. The Evening Express reported:.
Gee Enters Nursing Home for Operation – Knee Injury Worse Than Anticipated.
Serious news for Everton! Charlie Gee, their international centre half back, entered a Princes Park nursing home today for an operation on his injured knee. The operation will be preformed tomorrow. Until the operation has been preformed it is not possible to gauge the times that must elapse before Gee will be fit enough to resume training, but even in the best circumstances the period is likely to be at least six to eight weeks. Gee's knee was injured last season but appeared to make good progress during the summer, and Gee played for Everton in their opening game against West Bromwich Albion. Since then however, he has been under treatment by specialists. The operation was deemed to be necessary in consequence of the lack of satisfactory progress. GEE! IT'S GOOD NEWS.
In fact the knee operation was a last throw of the dice.  Harry Cook had been blinded at Gallipoli in the First World War and subsequently trained at St Dunstan's Hospice as a masseur prior to joining, near-namesake, Harry Cooke's Everton backroom team in 1923.  In a Topical Times article Cook recalled his efforts to restore Charlie to fitness:
Footballers are tough. When injured they often show amazing guts in their fight to regain fitness. The best example concerns Charlie Gee….Charlie suffered a severe knee twist. He consulted leading bone specialists. Doctors diagnosed a chronic condition of the knee and told Charlie that his days as a footballer were numbered. One specialist, however, said there was just a chance. This doctor removed two cartilages from Charlie's knee in one operation. Charlie was then handed over to my care.

It was the worst knee I have ever handled. For weeks I spent hours daily massaging the knee at my own electrically-equipped clinic. The knee refused to bend. I began to think that Charlie would never be able to bend the limb again. I persevered, so did Charlie. "I'll show 'em whether I'm finished or not!" he used to say to me as I tried to get the joint working properly.

Suddenly the knee started to respond to treatment. The recovery was now so rapid that thirteen weeks after the cartilage operation Charlie was playing in the first team again.
Amusingly the Everton Board agreed at their meeting of 4 October, than Charlie should be billed 19/11d for tea and newspapers consumed whilst in the nursing home after his operation.
As Cook noted, after a couple of reserve outings in late December Charlie was deemed fit to return to first team duties on 7 January 1933 against Birmingham. Once again the comeback was too hasty as Everton slumped to a 4-0 defeat at St Andrew's and Gee's performance was picked up on by "Stork" in the Liverpool Post and Mercury:
Gee undoubtedly did his best. He was good when in possession, but he was "tender" in everything he did. He has to regain his confidence. He must trust his limbs if he is to get back to senior status. It was natural that he should fight shy of the close tackle. That is so often the case with a player who has undergone an operation for cartilage, but it should not impair a man's speed to the extent that it did Gee's. Britton and Thomson had to work close in to Gee. They had to lend a hand in blocking up the middle of the ground, and the result was that the wingmen of Birmingham had a field day.
After being dropped he was back in the first team in March,  showing more bite – albeit lacking his former turn of speed.  "Pilot" noted:
Charlie needs just that extra yard to be that Gee of old.  There is no doubt but that Gee is coming back to his true form. He played with confidence in the tackle and used the ball exceedingly well. Now he need have no fears that his leg will not stand any strain.
With full fitness proving elusive Charlie was largely overlooked for the first team until the autumn of 1933,  in the process he joined fellow Stopfordian Ted Critchley in missing that year's FA Cup Final.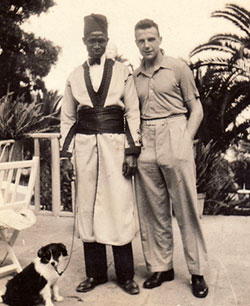 Charlie Gee on tour, possibly in Tenerife, 1934
Once fit and confident again, Charlie displaced Tommy White and resumed his duties in what was then termed the "pivot" position – breaking up opposition play and switching the ball to offence. By the beginning of the 1936 season Bee noted that "Gee was in resolute and pulsating form", this was rewarded with a third, and final,  England Cap at Stoke's Victoria Ground on 18 November 1936.  Ireland, with Everton's Billy Cook as captain, provided the opposition.
Charlie was, by now, well established as one of the squad's strongest characters. A 1937 programme article touched on this:
He considers that Friday is his lucky day (we pay the wages on Friday!). His sense of humour is highly developed, he is responsible for a great deal of the fun that goes on in the dressing room on the away journeys. As a speaker his ability is most marked…a flowing vocabulary, a confidence and the big asset of being able to "put it over", have gained him some repute and his monologues are famous wherever players of his days gather. Leader of our "choral party" too – a big-hearted, popular, fellow is our Charles
Charlie's nephew, Ken, recalls the strength of his uncle's personality:
'He was a character, there was no doubt. For a young person, like me, he as quite a fearsome character.  He was very much about "You must to this!" and "You must to that!". He lived just across a farmer's field from where we lived.  If I was doing anything wrong he'd open the window and shout to me across 300 yards.   Charlie was the family's star turn in terms on money. As my father said to me when I was a very young boy, "Do you know he's earning £10 a week as a footballer?" My father thought that was ludicrous.'
Despite starting the 1937/38 season as first-choice Number 5 – often captaining the team in Dean's absence, Charlie's place was coming under threat from the emergence of the great prospect that was Tommy "TG" Jones. After a 3-5 reverse at home to Preston on 30 November 1937 Charlie was the fall-guy, losing his place for the next game. "TG", the polished Welshman, grabbed his chance with aplomb and from thereon in Charlie was primarily restricted to Central League duties – making only three further first team outings, when  Jones was unavailable.   His First Division swansong was in the championship winning season – a 0-1 defeat at St Andrew's on 12 November  1938.
Shortly after sustaining his knee injury in 1932 Charlie had married Elizabeth (Betty) Marsh  at St. Elizabeth's church in Reddish. After a honeymoon in Torquay they moved to Wallasey as neighbours of Ted Critchley – here their only son, Stanley, was born in 1934.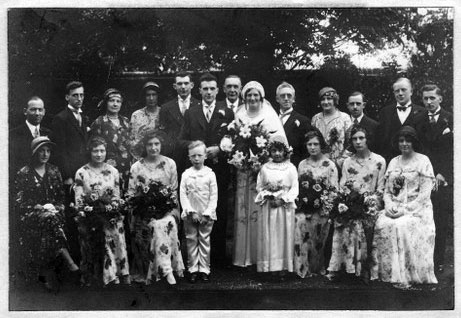 Charlie weds Betty Marsh in Reddish in June 1932
It appears that the Gees never fully settled on the Wirral as, shortly after losing his first team place to TG Jones, Charlie requested that he be allowed reside in his home town. In an almost unprecedented move, Everton's Board acceded to the request  and Charlie took up residence at 152 Broadstone Road in Reddish, his father's former home.  Earlier that year  he was able to return a favour to Harry Catterick Senior by tipping off Everton's Secretary, Theo Kelly, that Catterick's teenage son – Harry Junior – held promise as a centre-forward.  Catterick Junior duly signed on to begin a twenty-six year association with the Blues as player and manager.  Charlie would play alongside the young striker on a number of occasions in the Central League team.
The outbreak of hostilities, and abandonment of regular competitive football  effectively signalled the end of Charlie's football career, although he remained registered with Everton until 1945. Having enlisted with the ARP on building demolition work, he would turn out as a guest for Stockport County in Wartime fixtures  on three occasions  – the last being a 4-7 defeat to Manchester United on 9 December 1939. In May 1940, six months after his previous Everton outing, Charlie was asked by Theo Kelly to return to the line-up, in Jones' absence, for a cup game against Fulham. It was clear from newspaper reports that Charlie was far from match-fit as age and his suspect knee hampered is mobility:
May 23, 1940. The Evening Express – Pilot's Log.
Everton have only one doubt regarding their team to oppose Fulham in the League War Cup fourth round tie at Fulham on Saturday. It is whether Tommy Jones can get permission to make the journey. Hopes are entertained that he will be able to be there, but if not Everton are well prepared. The deputy will be international Charlie Gee, the player whom Jones succeeded in the Blues' first team. Gee is now living in Redditch. Mr. Theo Kelly, Everton's secretary, wrote asking if he would be free to step into the side if wanted. Charlie replied; "I've had a few games with Droylesden, and can get off to play. I am going into training right away in the hope of getting a game."
Sadly , what was to prove his final Everton appearance, ended in a 5-2 defeat with Charlie conceding a penalty and struggling to match the pace of the Fulham forwards.
With his football career ended a new career beckoned. With a shortage a male teachers in the country Charlie enrolled on an accelerated training scheme and was teaching at Stockport Junior Tech in the later years of the war. His subjects included Maths, Woodwork and sport.
Alan Edwards recalls:
'Charlie came in during the summer of 1944, when I was 13. It was hilarious because when Charlie came the school decided that in the winter months we'd play Rugby Union – they had just appointed an ex-England international local lad from Everton as sports master and then decided they were going to play rugby! So the team got together and we all joined junior rugby league teams – so we couldn't go to train at Heaton Moor Rugby Union ground  as we'd been tainted with Rugby League. Charlie was a very good sports master, he was funny and popular with the lads – he appreciated that we were daft and young.  Once, in cricket, we were practicing bowling at a single stump. Charlie put a sixpence on it and said "If anyone that knocks it over can keep the sixpence."  I did it two balls in a run so I came off and he said, "You're not having any more sixpence of me mate!" – that was the sort of bloke he was.'
Another student was Rupert Bradshaw:
'At the end of one term Charlie told us he was going to take us by coach to Liverpool Cathedral but what he didn't tell us was that he'd arranged for the coach to stop at Goodison Park for lunch. He took us in there, got two or three bags of those old leather "casey" balls and then said, "Right lads you have half an hour to score as many goals as you can at either end of Goodison Park.'
Colin McMahon, who attended Stockport Junior Tech from 1946 had a similar experience:
'They were completing Liverpool's Anglican Cathedral at the time and the idea was we'd go there in the morning and then the funfair at New Brighton in the afternoon. It started pouring  down. So Charlie took us to Everton FC for a tour. It was great for us 14/15 year olds – we got permission to go all round the ground, the stands, and even medical room. There was a shelf in there with bottles on it  – one had Charlie's name on the label and it had is cartilage in it!
Clearly Charlie retained close ties with Everton, illustrated further by an episode recounted by Rupert Bradshaw:
'In Stockport we had our games on the big playing field off Dialstone Lane.  Charlie always supervised football and cricket in his England shirt with a number 5 on the back.  We had a guy called Geoff Cannon – the Stockport Boys centre-forward  – and Charlie always wanted him to have a trial with Everton. But Geoff's dad wanted his son to have a trade. One day Charlie went to his house with his England shirt and said, "If you go to Everton for a trial I will give you my England shirt." But his father wouldn't let him!'
Bradshaw adds:
'Charlie was very popular with the boys and gave everyone a real chance.  When we asked him about his career he said he had 'some good games and some bad games'. The one thing he emphasised was: "You can't have good games all the time so if you have a bad game, don't worry – keep practicing and the good games will come. I have watched all of you boys and when you lose your heads go down – but always remember you must learn to lose before you learn to win." When you think about it that's good.'

'On another occasion Charlie arranged for Jack Rowley and Johnny Carey, of Manchester United,  to come and coach us on the playing field. On that particular day the heavens opened and we couldn't play. So he arranged with the headmaster for Rowley and Carey to come to Pendlebury Hall (a former stately home with ornate ornaments around the hall). The three of them did tricks with the ball like heading it to each other  – once we counted over   100 headers. Then Charlie mistimed it and knocked one of these ornate alabaster figures with the ball –  it came down with a crash. You can imagine the reaction of the lads!'
Colin McMahon recalls an unusual lesson given by Charlie to the teenage boys:
'Somebody decided we'd have a dance with a girls school. You can imagine it with 80 boys – all the boys up to 14 wore short trousers and hobnail boots. So Charlie taught us how to walk up to the girl and say, all formal,  "May I have the pleasure of this dance?" You can imagine a load of 14 year-old boys giggling at school.'
Tragedy had struck Charlie and Elizabeth in late 1943 with the death of Stanley, their nine-year-old son, from meningitis. It was something they would always struggle to come to terms with. It would be left to their remaining child, Margaret, to demonstrate that sport was in the genes and she became adept at cricket and football. As a school teacher in Abbey Hey in the early 1960s Margaret would run the school football team – almost unheard of at the time.
To fill the void left by his football retirement Charlie took up golf and became a regular at the nearby Houldsworth Golf Club – in October 1953 the local press reported that he achieved a "hole in one" on the 18th.
Charlie made headlines in 1947 as he launched a libel action against Tommy Lawton, his former Everton teammate. Charlie had taken umbrage with two anecdotes in Lawton's autobiography, Football is My Life.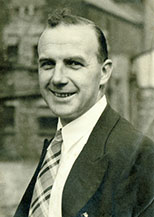 Charlie Gee the teacher, circa 1946
One recounted the Everton team walking up the gangway to the ship on route to a foreign tour. Charlie allegedly shouted:  "Don't forget lads, if the siren goes off, it's women and children first". According to the book, the siren did go off that night and when the Everton team arrived on deck who was already sat in a lifeboat but Charlie. The other anecdote concerned an alleged incident with Alex Stevenson in Denmark. The libel suit was settled in Charlie's favour at Manchester assizes in July 1948. Lawton was obliged to pulp unsold copies of the book and print a revised second edition with the offending passages removed.
The libel suit was settled in Charlie's favour at Manchester assizes in July 1948. Lawton was obliged to pulp unsold copies of the book and print a revised second edition with the offending passages removed.
A few weeks earlier Charlie, who had done a spot of scouting for Everton, was taken on as trainer-coach of the newly-formed junior team at Manchester City. The job offer had come from Jock Thomson – his former Goodison compadre. By the mid-1950s Charlie was teaching woodwork at Stanley Grove School in Longsight. He became a regular face in the crowd at Stockport Boys fixtures in the 1950s and 1960s and also went to Ireland on scouting trips. Perhaps his most notable recruit for the Maine Road outfit was Mike Doyle. A football prospect he spotted at Stanley Grove was Roy Thurnham:
'Charlie was my woodwork teacher.  I didn't even realise that he played for England – I knew very little about his career whilst I was at school. I was with Manchester Boys football team alongside Nobby Stiles. Charlie was instrumental in me playing for City – I played in their junior side and I turned pro at seventeen.    He was a great teacher – we got on really well. I have good memories of him – he was a great guy. I enjoyed woodwork classes, there is still a coffee table I made back in England which my Mum polished every week. He spent a lot of time with the kids and was involved in the playground – it came across that he liked cricket.'
Charlie's nephew Ken recalls visiting Maine Road in that era with his father and Charlie:
'We were introduced to the chief scout, Fred Tilson – a left-winger for City when Charlie was at Everton. We had a bit of a conversation and then my father told me about the time Tilson came racing down the wing at Maine Road. Charlie ran across from centre-half, charged at him, missed him and went over the wall into the crowd. It took him five minutes to get out, they were all spitting and kicking at him. It's become part of family legend.'
Bob Tebb, another student at Stanley Grove in the 1950s recalls:
"In those days woodwork and metalwork teachers were a different breed to the others. Charlie was a pretty big bloke and if you gave any lip you wouldn't last long – he didn't stand for any of that. We made stools and egg racks – everyone who went there made them. After the lesson the tools had to be back as we had found them.'

Charlie's last teaching job was at Spurley Hey in Gorton. Steve McGuiness recalls that Charlie's "old school" methods could get him into hot water: 'Charlie was a rum one. If he found you leaning on the worktop he'd hit you across the knuckles with whatever he was using at the time.  He nearly took a finger off one lad as he hit him with a block plane – he nearly got sacked for that. Apart from that he was a lovely guy. It was all boys in the woodwork class as the girls did domestic science,  about eight of us were in the football team so sometimes we'd get him reminiscing about football and he'd forget the lesson.'
Stephen Broomhead recalls a remarkable episode from the 1960s when he was 16:
'My dad, Stanley,  was a door-to-door vacuum cleaner salesman. At Charlie's house my Dad would have recognised him and they must have got talking. So Charlie put his England caps in a brown paper bag and my dad brought them home. I tried them on my head and then my dad returned them.  It was so trusting that Charlie released them to a perfect stranger.'
Betty, who had never recovered from the death of son Stanley,  passed away in 1966, aged 55. A year later Charlie married Marian (Marie) Milligan – the former wife of George Milligan, Charlie's ex-Everton teammate.  As Charlie approached retirement they relocated to Marie's home in St Asaph, North Wales and subsequently moved the short distance to Rhuddlan. Having briefly worked at the nearby Eagatube factory Charlie settled into retirement and adored playing crown green bowls.
In the late 1970s drew to a close Charlie, living on limited means, remained physically strong but was afflicted with the onset of dementia. Marie became, in effect, his carer. Following Marie's death in 1980 Charlie was moved to a nursing home at Rhos-on-Sea. His daughter Margaret had relocated to Canada for a fresh start after the death of her mother, however she returned whenever possible to assist with her father's care and was grateful to Everton for their support. Charlie passed away on 28 April 1981 and was cremated near Llandudno.  His nephew, Ken recalls it vividly:
'As we approached the crematorium there were two men stood there that I thought I recognised but I didn't know why.  I realised when we got in the church that one of them was Harry Catterick.  I did get a chance to ask them how they knew that Charlie had died and they gave me the impression that any old player would always have someone attending from Everton. I was very touched by that.  Charlie hadn't played football there since 1939 so I don't know how they got to know about it.  That gave me an admiration for Everton.'
Margaret, despite living three-thousand miles away from her home town continued to follow football – particularly Manchester City in deference to her father's scouting work for them. On her annual visits to Manchester she would try and take in a match. Ironically her last game, on 23 August 2008,  was at Anfield as Liverpool were the only club playing locally that  weekend. In Quebec she had become a pioneering advocate for equal rights in teaching and was a respected figure in union and academic circles. Diagnosed with terminal cancer early in 2010 she spent the last few months of her life in hospital surrounded by friends – she was popular with the medical staff as she insisted on having the Vancouver Winter Olympics on her bedside TV. Her dying wish, carried out by her friends, was to have her ashes brought home to Stockport in order to be reunited, in death, with her mother.
Acknowledgements:
This piece would not have been possible without the kind help of:
Derek and David Brown
Ken Orme
Carol Smith
Ian Watts (SCFC Historical Advisor)
Billy Smith (Blue Correspondent website)
Brendan Connolly
David France
Jennifer MacCallum
Rosemary Mark
Janet Milligan
Various other contributors noted in the article
Source Material:
Stockport and Liverpool newspapers
The Everton Encyclopaedia (James Corbett)
Gwladys Street's Blue Book (David France with David Prentice and Gordon Watson)
Everton – The Official Complete Record (Steve Johnson)
Photos used courtesy of the Gee family and Carol Smith