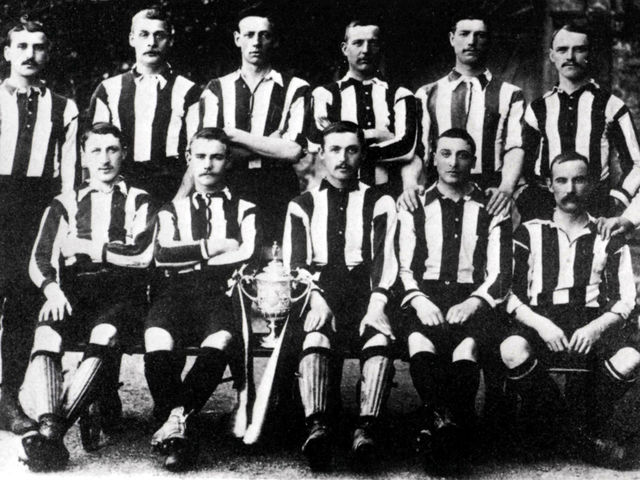 The victorious Notts County team pose with the FA Cup. Photo: PA
FA Cup Finals
On 31st March 1894 Two years after construction, Goodison Park was chosen by the Football Association to host to hold an FA Cup Final, Notts County beat Bolton Wanderers, watched by crowd of 37,000. County running out 4 goals to 1 winner
The Magpies were a Second Division club at this point, but Logan did not let this deter him, scoring 21 goals in 21 games and guiding the club to their first FA Cup Final.
To get there, Notts eliminated three clubs from the First Division, including Nottingham Forest, who they beat 4-1 in a replay, and so they lined up to face Bolton at Goodison Park.
In front of 37,000 people, Notts were done and dusted by the 70th minute as Arthur Watson opened the scoring in the 18th minute before Logan struck in the 29th, 67th and 70th minutes of the match – a feat managed by just one player before.
Another record broken was that Notts became the first team from outside the top flight to win the FA Cup and, appropriately enough, they received a hero's welcome when they returned to Nottingham.
"One would have to seek far back into the annals of demonstrations of a public nature to find a parallel to the proceedings on Saturday night," enthused the Nottingham Evening Post.
The loudest cheers were for the man of the match. "Logan was the hero of the day," wrote the Sheffield Independent, "and played in a brilliant fashion". Another writer was moved to state: "He was like a clipper in full sail all through." –
Courtesy of Notts county Website https://prideofnottingham.co.uk/home/media/notts-alumni-james-jimmy-logan-r1525/
On April 28, 1910 the Fa cup final replay between Newcastle United and Barnsley took place after a 1-1 draw at the crystal Palace ground.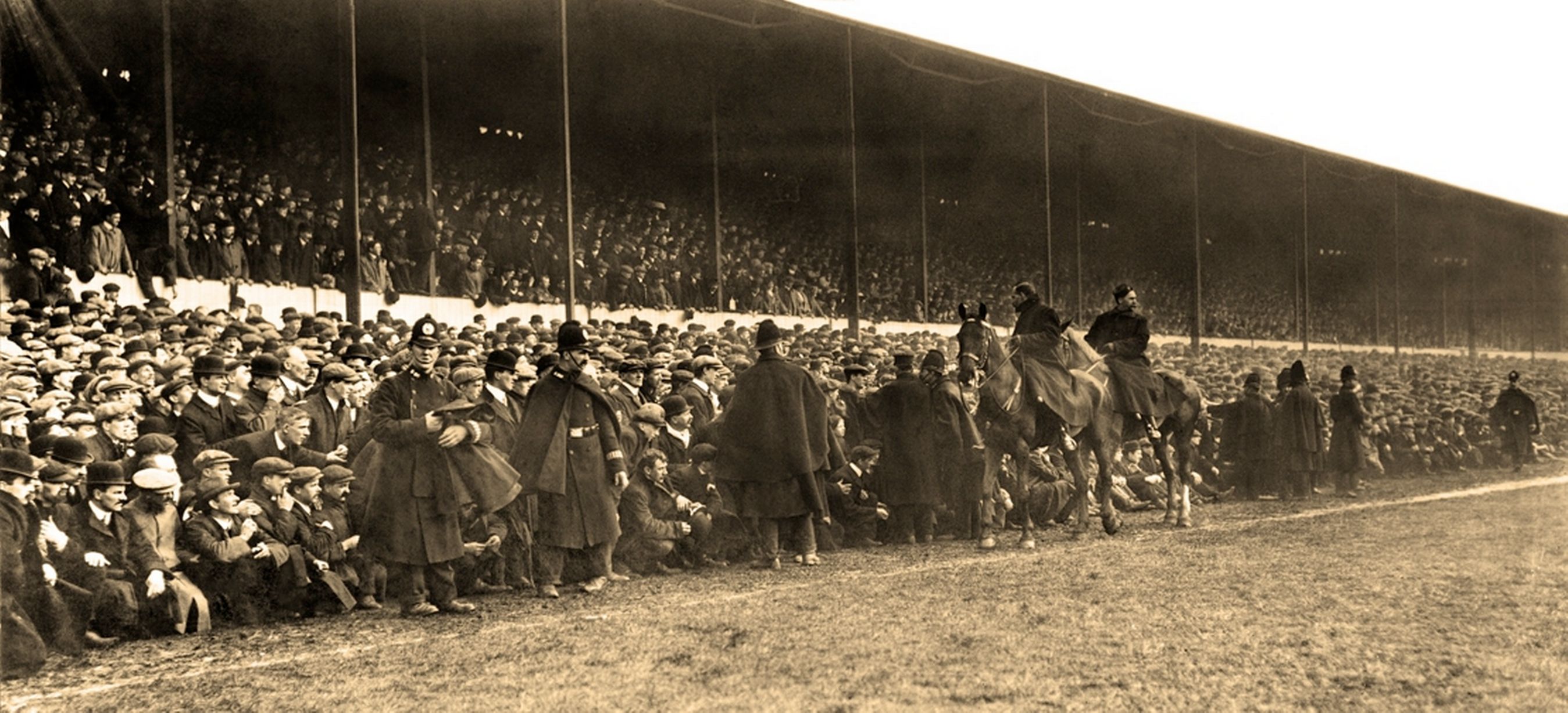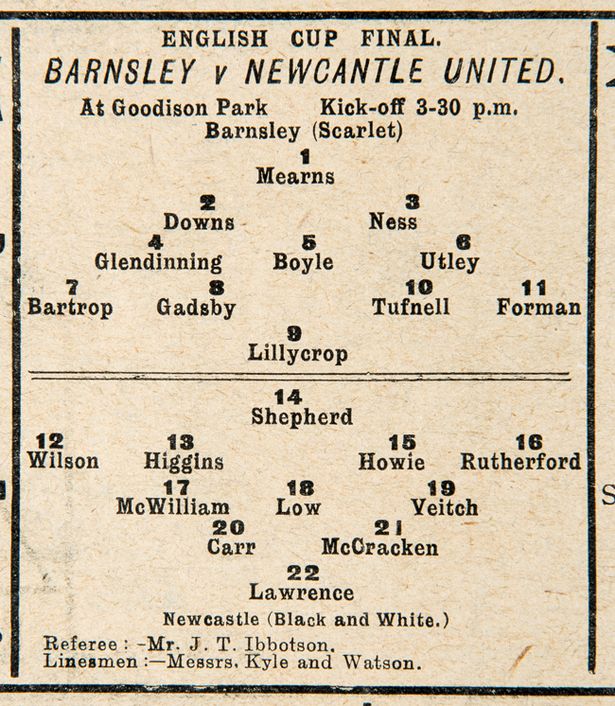 Newcastle United – Barnsley 2-0 (0-0).
Attendance: 55,364.
Referee: Mr. J.T. Ibbotson (Derby); linesmen: Messrs. T. Kyle (Aylesbury) and R. Walker (Accrington).
Newcastle United (2-3-5): Jimmy Lawrence, Bill McCracken, Jack Carr, Colin Veitch, Wilf Low, Peter McWilliam, Jock Rutherford, James Howie, Albert Shepherd, Sandy Higgins, George Wilson.
Barnsley (2-3-5): Fred Mearns, Dickie Downs, Harry Ness, Bob Glendenning, Tommy Boyle, George Utley, Wilfred Bartrop, Harry Tufnell, George Lillycrop, Ernie Gadsby, Tom Forman.
The goals: 1-0 Shepherd (52 min.), 2-0 Shepherd (penalty, 62 min.)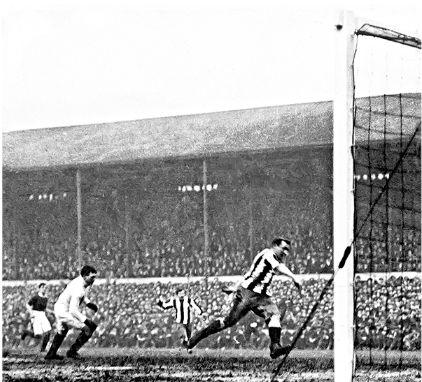 One of Albert Shepherds Two goals at Goodison
FA Cup Semi Finals
Goodison Park was also a frequent venue for FA cup semi-finals with the earliest one recorded in 1896 as The Wednesday, known to us all today as Sheffield Wednesday, competed with Bolton Wanderers.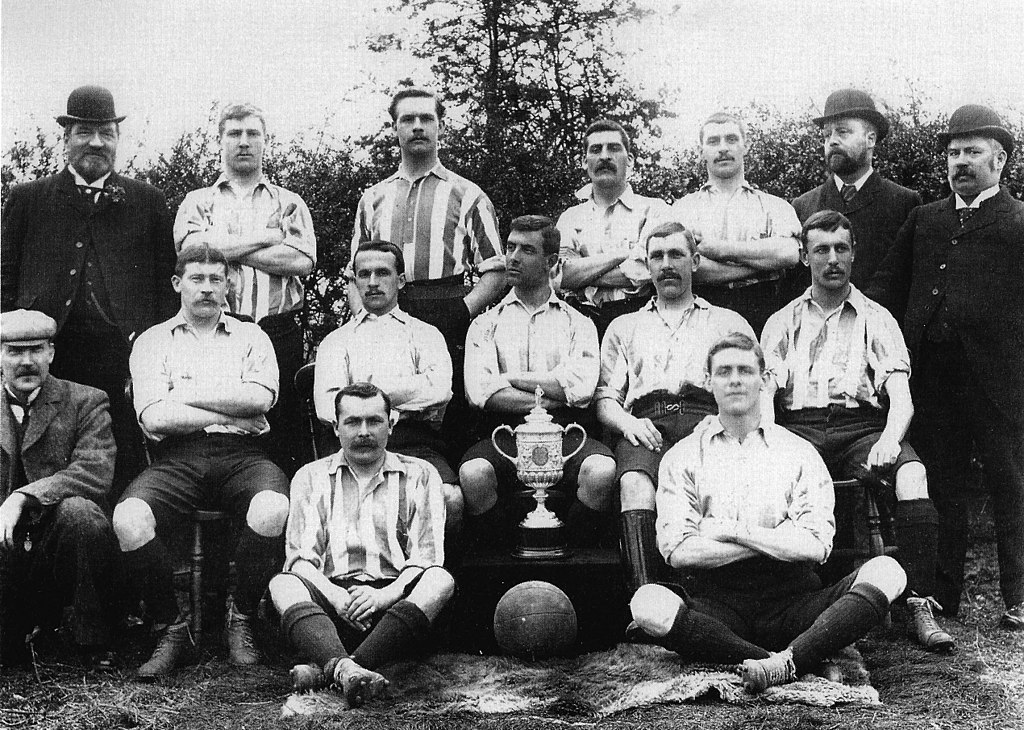 The tie at Goodison was a replay, as the first tie ended in a 1-1 draw at the Town Ground, Nottingham. The Town ground incidentally, was the first ground to use cross bars and goal nets.
Goodison was not used again for another seven years for a semi-final until 1903, when Bury (right) defeated Aston Villa handsomely on their way to a 6-0 battering of Derby county in the final
On March 19, 1904 Manchester City 3 Sheffield Wednesday 1, Goodison Park
City's first FA Cup semi-final ended in victory against a Sheffield Wednesday that had already beaten Tom Maley's side in the league as well as drawing the return fixture. City were challenging for the title and were determined to bring some silverware back to Hyde Road, so this game was pivotal in the 1903/04 season.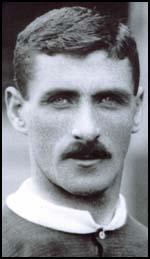 Inspired by Billy Meredith, City won 3-1 in front of a crowd 53,000 – easily the most fans they'd ever played in front of – with goals from Meredith, Billy Gillespie and Sandy Turnbull sending the Blues through to the final against Bolton. below is Meredith of Manchester City receiving the trophy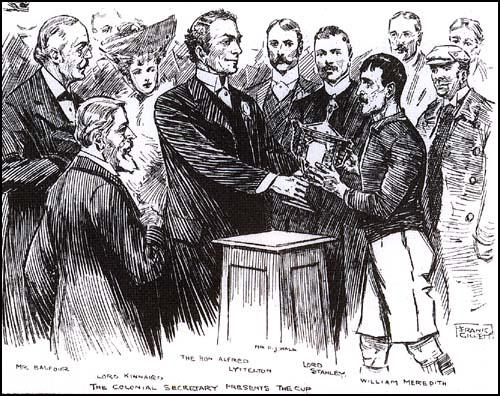 The semi-final matches were played on Saturday, 28 March 1914. The Burnley–Sheffield United match went to a replay, which Burnley won, going on to meet Liverpool in the final at Crystal Palace. Burnley won by a single goal, scored by ex-Evertonian Bert Freeman.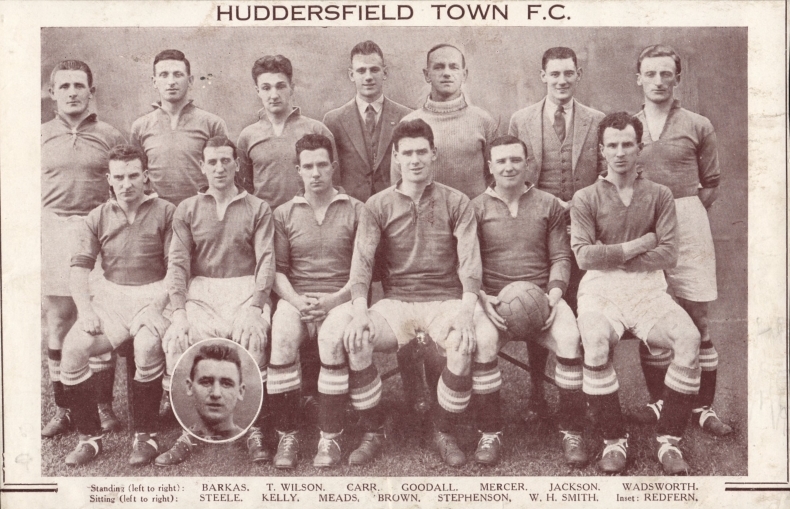 In 1928, the eventual runners up Huddersfield had to play Sheffield united three times before getting through to the final, they drew the first game 2-2 at Old Trafford with the replay at Goodison being a goalless draw eventually Huddersfield won 1-0 at Maine road only to lose to Blackburn in the final
In 1949 the famous gold shirts of Wolves took Manchester united to a replay at Goodison on their way to winning the Cup against Leicester city.
In 1951 Goodison again staged the semi-final with Blackpool v Birmingham city , Mathews and Mortenson were on show as Blackpool won by 2 goals to 1 , below Matthews is on the ball twisting his way towards goal.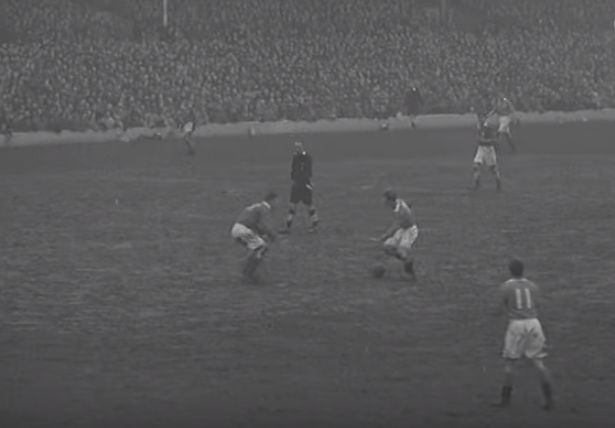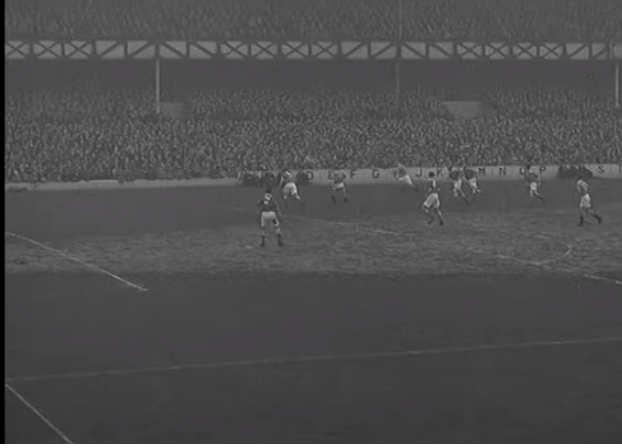 It was a further twenty-one years before the ground was the venue for a replay between Arsenal, who went to lift the silverware in the May, and Stoke City, following a 1-1 draw at Hillsborough the previous weekend.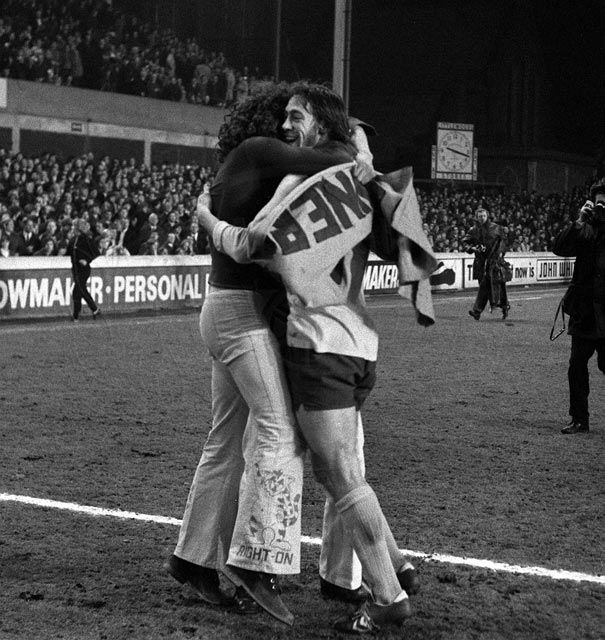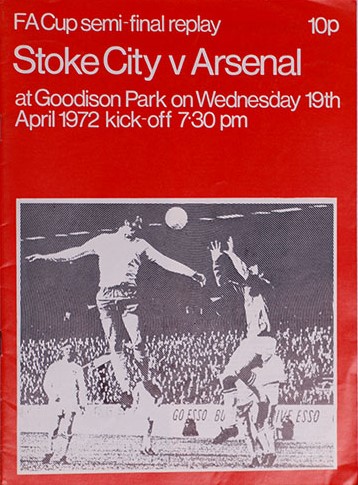 1979 saw Goodison as an FA Cup semi-final for the first time in eight years as Manchester United faced rivals Liverpool in a replay after drawing 2-2 at Maine Road, Manchester. Jimmy Greenhoff despatched a diving header from a Mickey Thomas cross to head home past 'pool keeper Ray Clemence, to send the United fans behind the Park End goal delirious, with 53,069 fans housed inside the stadium.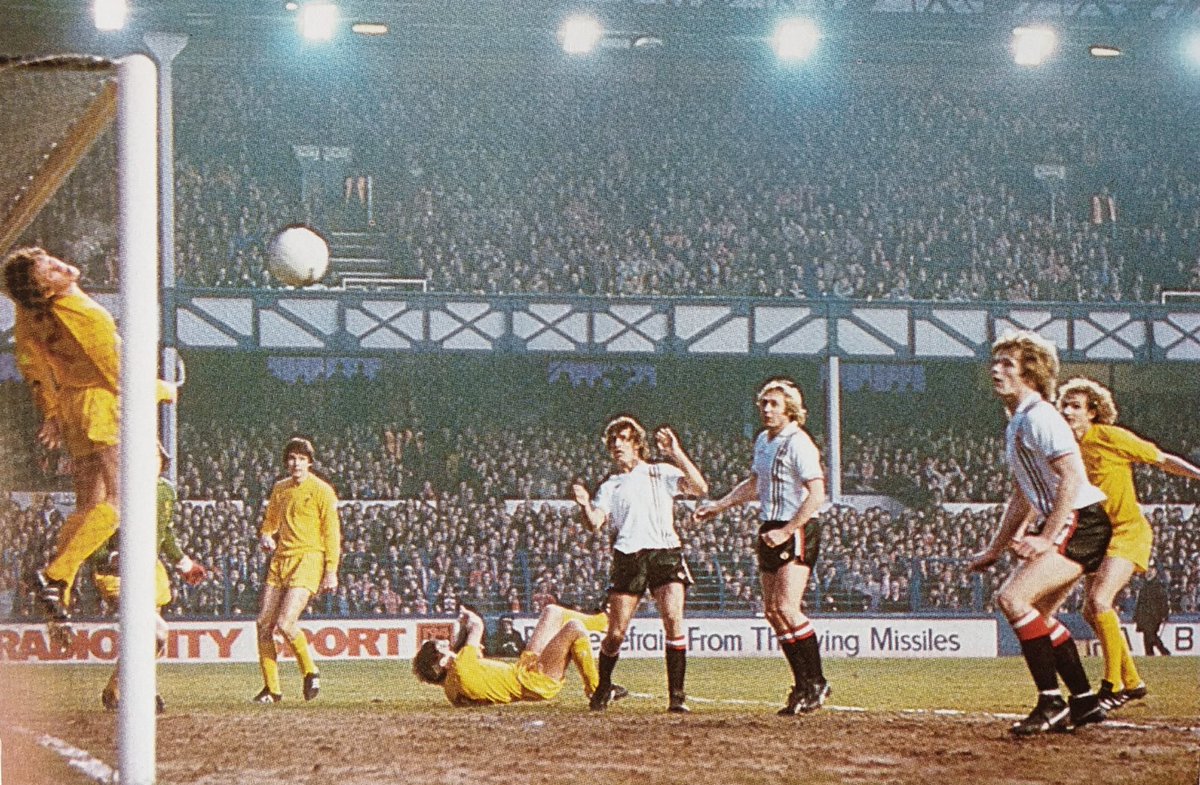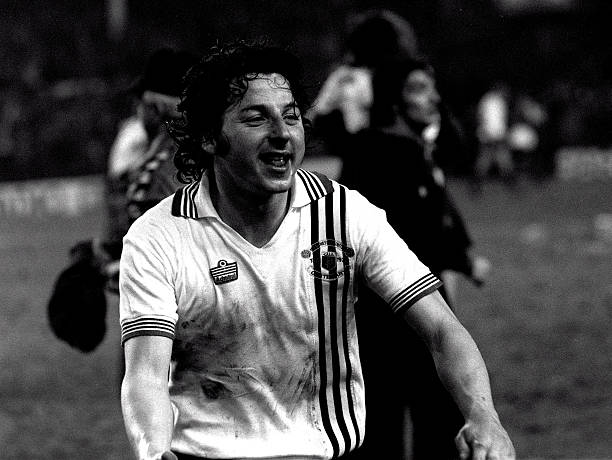 These two giants repeated their act in another semi-final at Goodison six years later. 51,690 fans packed the stadium to watch an epic 2-2 draw with the tie entering an extra time. The teams could not be separated, before facing each other once more days later in Manchester City's Maine Road stadium. The Red Devils eventually won the contest and went on to face the blue half of Merseyside, Everton in the final at Wembley the following month. This was the last time Goodison Park was used for a semi-final.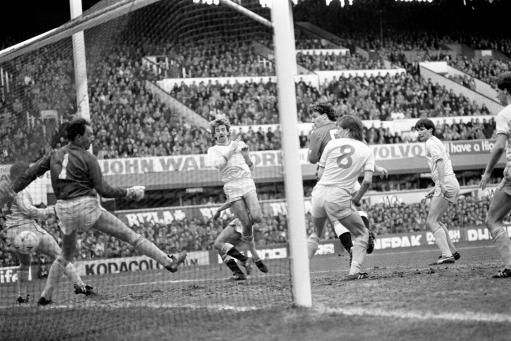 Other Rounds for other reasons
The Famous Giant killers Blyth Spartans reached the FA Cup 2nd Round and were drawn away to Tranmere Rovers. Wing half Norman Penrose scored Blyth's goal in a 1-1 draw at Prenton Park, the replay at Croft Park also ended 1-1 and went to extra time but had to be abandoned 15 minutes into it due to bad weather.
The replayed game was staged at Brunton Park, Carlisle and a 3,202 crowd saw the sides play out a draw, this time 2-2 after extra time. The 4th game, played at Goodison Park, Everton saw the league team prove too strong winning 5-1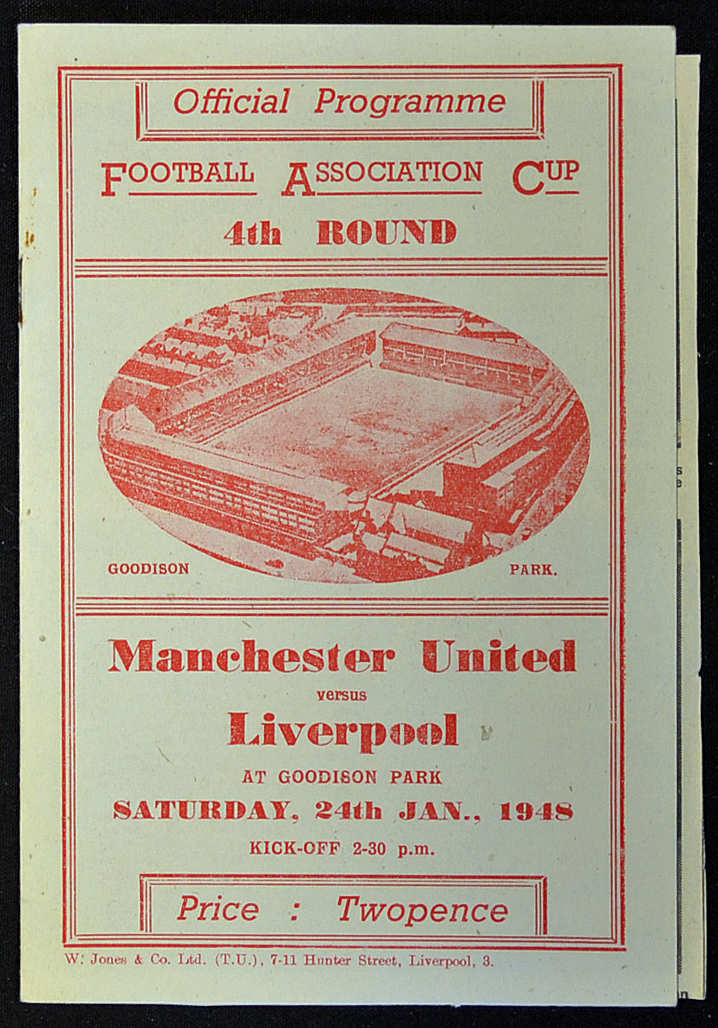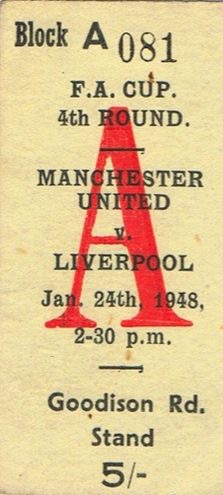 January 24th 1948 saw the first Manchester United v Liverpool Game , Manchester United winning 3 goals to nil in the Fourth round, which was held at goodison park With Old Trafford still under reconstruction after suffering extensive war damage, United, in the early years of Matt Busby's stewardship en route to a final victory over Blackpool at Wembley.
On 14th January 1957 the Famous Tom Finney graced goodison park when Preston played Sheffield Wednesday in the 2nd replay and beat them 5-1.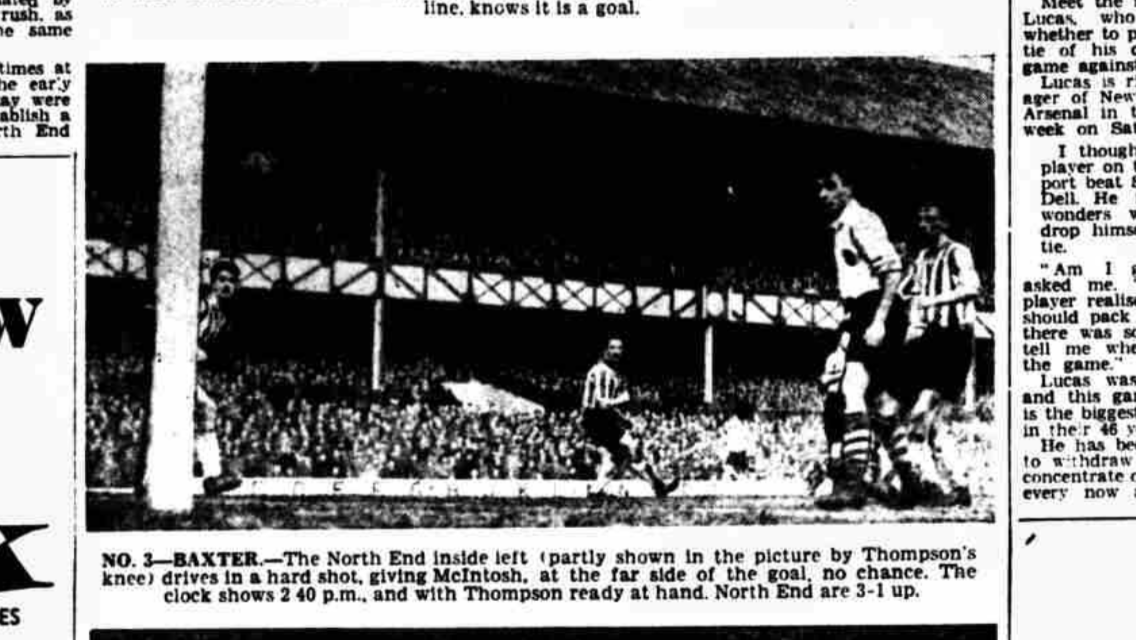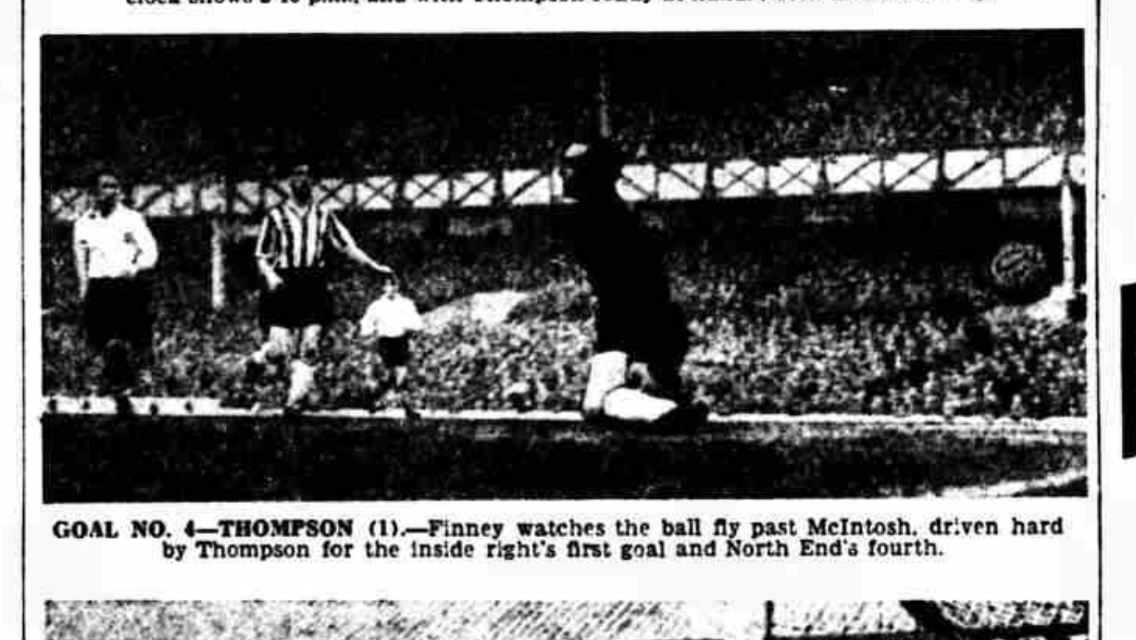 In March 1974, an FA Cup 6th round tie between Newcastle United and Nottingham Forest was played on Tyneside. The visitors were leading 3-1 when the Geordies were inconvenienced further, having a man sent off. As you can imagine, the passionate home fans were far from happy, but decided to take action by surging onto the field of play in mass numbers. This led to the referee taking both sets of players off the pitch for a period of eight minutes while the police were able to get the situation under control.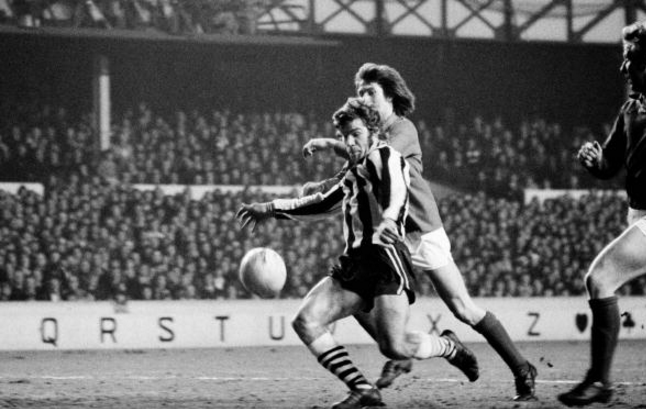 When play was finally resumed, Newcastle staged an amazing comeback scoring three goals to lead 4-3. The antics of the fans obviously affected the visiting team, so the FA decided that the match was declared void, demanding a replay at a neutral venue, with Goodison Park selected to stage what was called "The most controversial FA cup replay of all time"
On Monday the 18th March, the "replay" staged at Goodison housed 40,685 fans as the game ended in a 0-0 stalemate, requiring another replay at the same venue three days later. On this occasion, 31,373 were drawn to L4, and a goal on thirty minutes from 'Supermac' – Malcolm Macdonald, took the Magpies into the next round.
Another Mac also played at goodison who would eventually dazzle the home fans with his sublime skills and that was Duncan Mackenzie.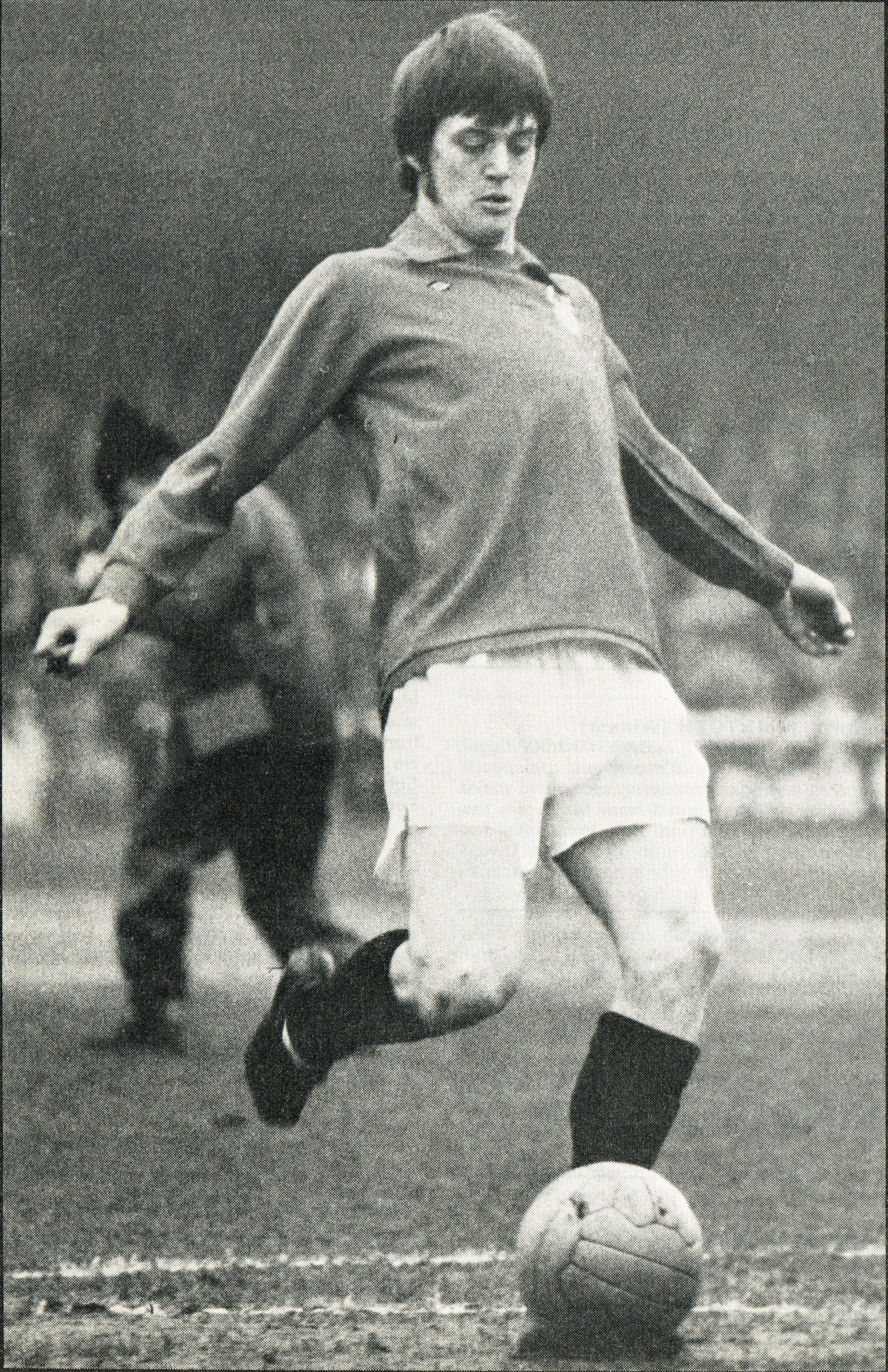 Interestingly, Goodison hosted an FA cup 1st round 2nd replay between Scunthorpe United and Tranmere Rovers on 30th November 1970. The first 2 ties were 1-1 and 0-0 respectively with The Iron eventually progressing into round 2 via a 1-0 win.
The Last game between was in 1993 when Knowsley United played Carlise united in the 1st round of the cup , the locals unfortunately lost 4 goals to 1