Glasgow-born Leitch was an architect specialising in the design of industrial buildings when he was commissioned to design a new 80,000-capacity Ibrox Stadium for Rangers, the club he supported.  The resulting stadium was spectacular but tragedy struck in 1902 when fatalities resulted from a section of wooden terracing collapsing at an international fixture. As a safety measure, Leitch's subsequent terrace designs were based on raised earthworks. In spite of the Ibrox disaster, Leitch remained very much in-demand. He was engaged south of the border in the early 1900s at the likes of Craven Cottage and Anfield Road where he then created the terracing for the Spion Kop (the stand constructed over it was not his design).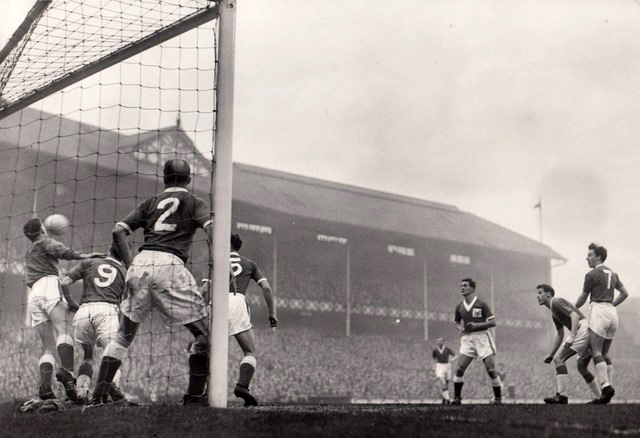 Everton vs Nottingham Forest, December 1957, with 1909 Goodison Road stand as backdrop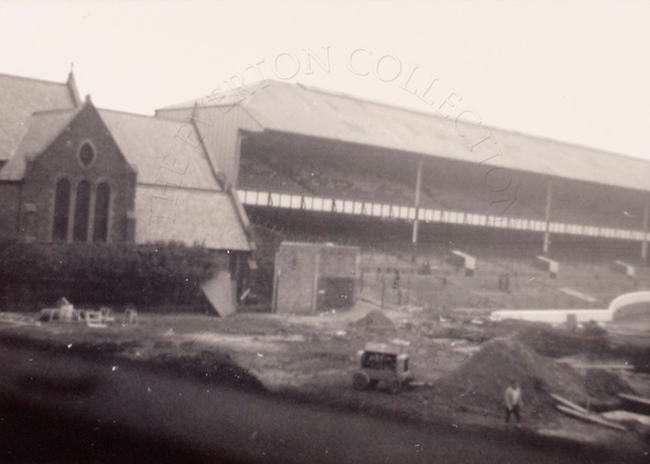 Gwladys Street Stand circa 1969 during construction of new Main Stand (copyright Everton Collection)
In 1907, Everton commissioned Leitch to create a new Goodison Road Stand. The result was a vast, steel-framed double-decker edifice dubbed the 'Mauretania' by the press in reference to the huge Cunard ocean liner of that era.  This was the first large stand to have a terrace directly underneath the seating balcony. The front of the balcony bore a criss-cross steel feature which became a hallmark seen at ten stadiums up and down the land – today, this motif is featured on Everton's 2016-17 kit. Leitch would also be engaged by, amongst others, Arsenal, Manchester United, Sunderland, The Rugby Football Union (Twickenham)… but perhaps his pièce de résistance was Villa Park's Trinity Road Stand.
Leitch felt a connection with the city of Liverpool and lived in Blundellsands for a number of years. His firm was engaged by Everton, again, in 1926 to construct a new stand on the Bullens Road side of the pitch. The £30,000 stand you see today is little-changed, bar a raised roof added in 1963. The trademark criss-cross balcony design is now, once again, visible after the removal of advertising hoardings. A row of terraced houses was demolished to create space for a larger Leitch-designed Gwladys Street Stand – it opened in 1938 at a cost of £50,000.  In this form, with floodlights added, Goodison hosted 1966 World Cup matches but, three years later, Leitch's Goodison Road Stand was demolished in phases, making way for today's triple-decker.  The Henry Hartley-designed Park End Stand was replaced in 1994 with the single-rake stand we see now.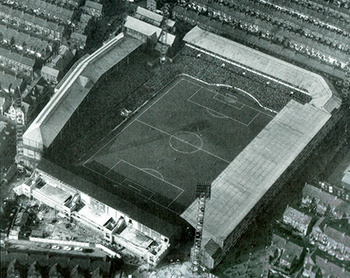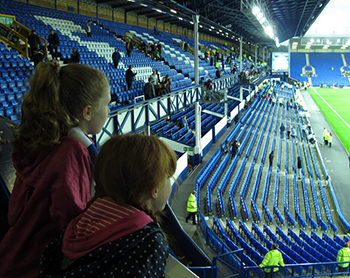 Bullens Road stand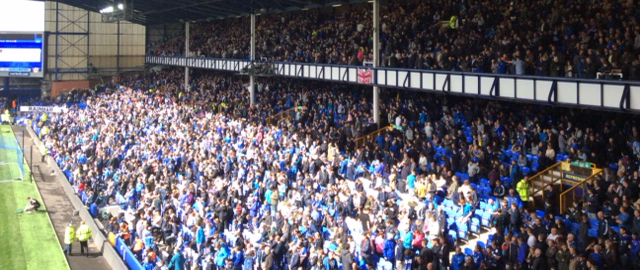 Gwladys Street with typical Leitch balustrade design
Leitch died in 1939 but many of his works far outlived him. The Taylor Report accelerated the replacement of his many stands and few now survive.  Ibrox's revamped South Stand still proudly displays the familiar criss-cross motif but Tottenham Hotspur's East Stand is living on borrowed time. It is at Goodison, however, where Leitch's work is best preserved. It is a testament to the man that, 90 and 78 years after their respective unveilings, the Bullens Road and Gwladys Street stands are virtually unchanged. The obstructed views, cramped seating and basic facilities may rankle but Leitch's venerable creations will continue accommodating the Toffees' faithful until the time comes to say farewell to Goodison Park (at least in the form we currently know it).
Further reading: Engineering Archie by Simon Inglis (English Heritage, 2005)