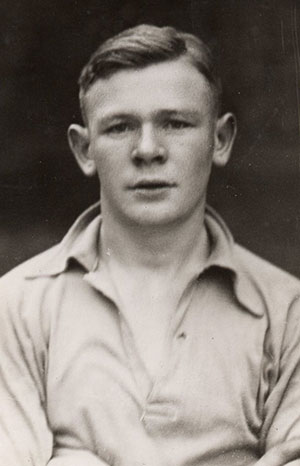 Elie Hurel holds a special place in the footballing folklore of the Channel Islands. Decades before Graeme Le Saux and Matt Le Tissier became household names; Elie was the first man from those Crown dependencies to play football in the English top flight. His journey there — from being orphaned as a child to lining up alongside the legendary Bill "Dixie" Dean at Goodison Park — is a remarkable one.
Elie, the fifth of twelve children born to Emile Andre and Marie-Francoise Hurel, took his first breath on April 10 1915. As their names suggest, Emile and Marie-Francoise were French nationals who had moved to Jersey in 1900 in search or employment. Emile would become a market gardener, specialising the growing of tomatoes. With his brothers Elie would regularly kick a ball on the beach or grass by Five Mile Road at St Ouen's Bay.
Tragically, when Elie was just seven years old, his parents died from tuberculosis within a year of each other. Elie moved into lodgings in St. Helier with his elder brother, Emile — here they were well looked after by a kindly landlady. The island's capital presented more opportunities to participate in organised football, so Emile encouraged Elie to get involved. Whilst training to be a plasterer, having left St Paul's school on New Street at 14, Elie would turn out for Magpies and St Paul's FC in the Jersey Thursday League (half-day closing being on Thursday). At only 5ft 6in in height, weighing 10st 2lb, Elie relied on his trickery, balance and passing ability in the inside-forward role. Away from football he had been a Boy Scout and, subsequently, in April 1934, he signed up as a volunteer member of the Island's Militia (a reserve/territorial army style unit). In this era Jersey had an influx of Irishmen, many of whom would end up working alongside Elie. By association he gained the nicknames "Pat" and "Paddy" – these stuck with him throughout his life.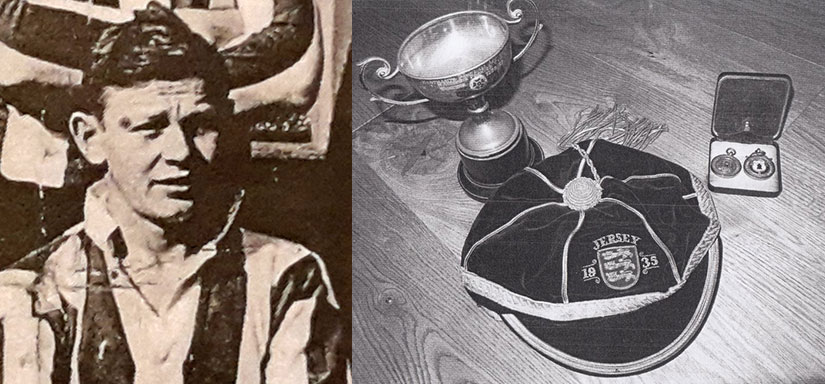 Left: Elie Hurel in Jersey kit; Right: Hurel's Jersey honours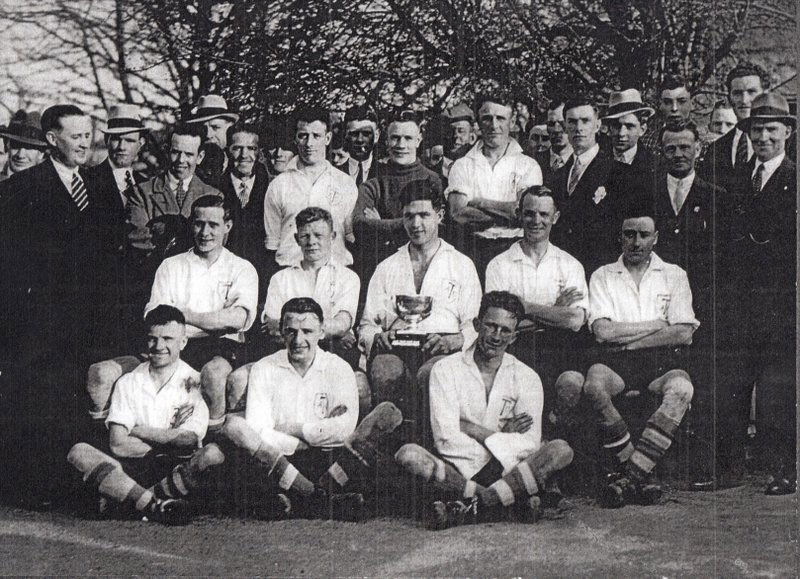 Elie Hurel in 1932 (middle row, 2nd from left)
Each year the three largest Channel Islands compete with one another for the Muratti Vase (named after a cigarette company). Almost invariably the final tie is contested between Jersey and Guernsey. Elie's elder brothers, André Jean and Emile Yves, had represented Jersey in 1927 and 1930/31 respectively. Elie, following in his brothers' footsteps, debuted for Jersey in 1935 – a 1-0 semi-final loss to Guernsey at Springfield. This was followed by a 9-0 defeat of Alderney in the 1936 semi-final. Before the cup final Elie's footballing fortunes took an unexpected turn. Looking to develop football on the Island, the Jersey FA had appointed Duggie Livingstone and, subsequently, David Murray*** (both former Everton players) as coaches. Of the latter Elie said, 'It is to him that I owe quite a lot. He pointed out what little faults I had, showed me how I could make my moves a second quicker than I had been doing, how and when to make the unexpected breakthrough and other points which polish one's game.'
Murray, a South African, was impressed by his protégé and wrote to Everton's Secretary, Theo Kelly, in order to arrange a trial on Merseyside. Elie recalled the thrill when Murray informed him: 'He asked me one day how I'd like a trial at Everton. There was only one answer to that! I knew Everton by name and also their players. I always devoured them and names such as "Dixie" Dean were fixed in my mind and thought of with awe.' Elie duly sailed for England and arrived by train on Merseyside in April 1936 to make two reserve team appearances for Everton. In the first, against Manchester City he lined up alongside the likes of Cliff Britton, T.G. Jones, 'Bunny' Bell and Jackie Coulter, It was reported: 'Hurel, Everton's latest acquisition from Jersey, revealed ability and promise and was a prominent figure in Everton's second half rally.'
The trial was a success. Elie returned to Jersey to compete in the final of the Murrati Vase (he scored in a 2-1 defeat to Guernsey) — before returning as a professional footballer to Goodison in preparation for the 1936/37 season. In a pre-season Blues v Whites trial match he was picked out for praise by the onlooking Bee of the Liverpool Echo:
'Little Hurel of Jersey, whom I had not seen before, was responsible for the best passes on his side. He has a beautiful action and his cross-field pass is worthy a veteran….a boy like this looks like a Clem Stephenson. Time must be allowed before making too much of the young lad. But at least he is a bright forward with resource of a goodliest shot – and the heart of intentions to make wise passes in a football world flood-lighted for the mistaken passes that are grits to opponents.'
Louis T. Kelly (father of Theo), writing in his Liverpool Echo "Stud Marks" column of 5 September 1936, noted: 'Like most Channel Islanders Hurel is a bilinguist and "passed with honours" when Dean put him through his first test. "Parley Tous?" said Bill. "The same to you" replied Elie.' Dean, who Elie found to be quite a character, would take the youngster under his wing and helped educate him in life at the club. Elie, in a newspaper article penned around this time, wrote: 'One or two things have opened my eyes. First, the kindness of everybody at Everton. The players have all given me hints — even the great "Dixie" Dean. The trainer, Harry Cooke, has been particularly attentive to me and I shall never forget any of them. Then, the speed of the game is surprising at first. Everybody's feet and brain seem to work twice as fast. And the terrific crowds which turn up are really amazing.'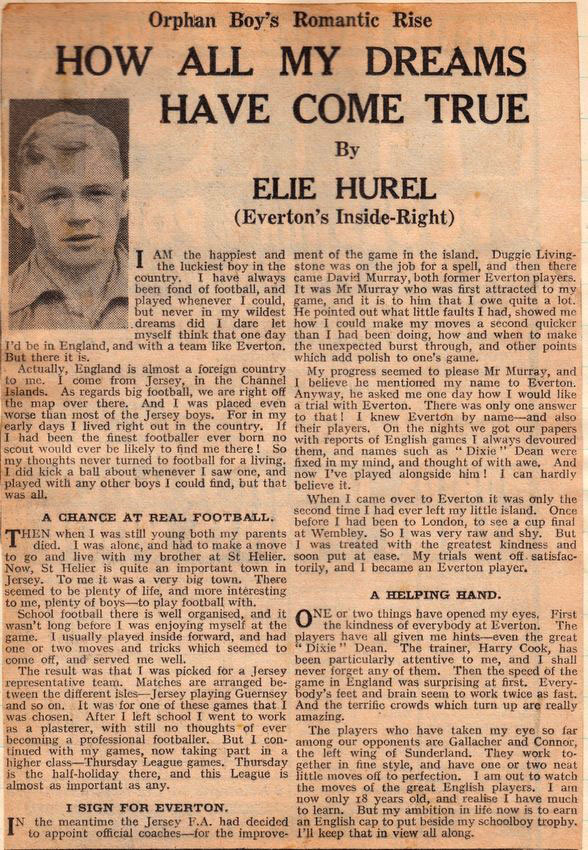 Elie got off the mark for Everton's reserve team in a fixture on 7 September, as reported in the local press: 'Hurel got the equaliser after being a scheming forward with a fine body swerve and a genuine enjoyment in shooting.' Within days Pilot, in the Liverpool Evening Express, broke the story that Elie would debut for the first team on 12 September, away to Bolton. He was fulsome in his praise for the 21 year-old (he was inaccurately reported as being 18 — perhaps on account of his boyish looks):
'He has been playing with credit in the reserve team. Everton regard him as a great discovery. He is short but well limbed, is a master ball-controller, opens out the game well, and can shoot. Much of his play is reminiscent of Jimmy Dunn at his best.'
And so it was that Elie lined up for Everton at Burnden Park alongside Ted Sagar; George Jackson, Billy Cook, Cliff Britton, Charlie Gee, Joe Mercer; Torry Gillick, Bill Dean, Alex Stevenson and Jackie Coulter. Bee praised a promising debut in which, although showing inexperience, he had a hand in Alex Stevenson's goals:
'Elie Hurel, started off like the clever young man we know him to be. He delivered his charge, let the ball run on (should I say, let the ball do the work) and linked up with Gillick in promising manner. But he was new to the surroundings, First Division football and the rush to First Division fame. He ran about trying to do too much working at times without necessity, till finally his usual splendid pass was not possible. He kicked a ball short and Bolton equalled Everton's neat goal by Stevenson. Hurel must not be blamed for this error – but it showed the boy had found the conditions trying. However, the promise is ripe, and the boy is right for "futures".'
Ellie would score on his home debut for the Blues with a smart flicked header past the Huddersfield goalkeeper, but he was also guilty of snatching at other chances. His fifth, and final, selection for the first team came in an away defeat to Middlesbrough on 31 October.
When international players of the calibre of Jimmy Cunliffe and Alex Stevenson (who was not dissimilar in stature to Elie) were fit and available, Elie was always going to be over-looked by the selectors. He dropped down to the reserve and A (3rd) team — winning consecutive Lancashire League title medals in 1936/37 and 1937/38. On visits home to Jersey, Elie would stay with an older sister as, by this time, Emile had tragically died at just 28 years old from a burst appendix suffered in a football match. Elie would entertain his adoring nieces and nephews by performing acrobatic flips and tumbles.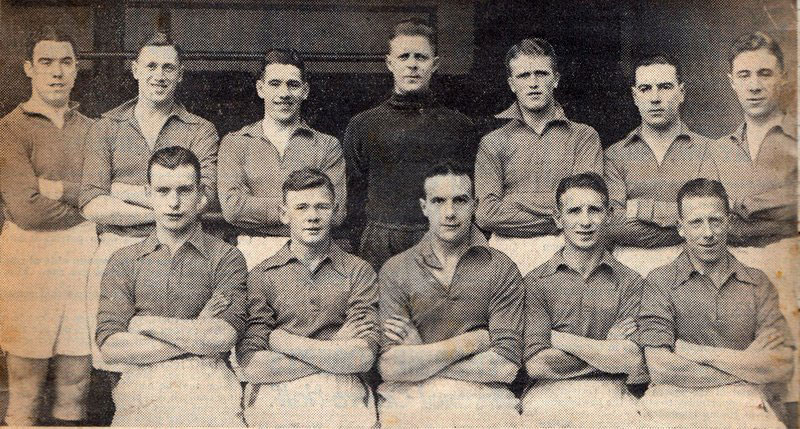 Everton 1936-37 team featuring Elie Hurel (front row, second from left)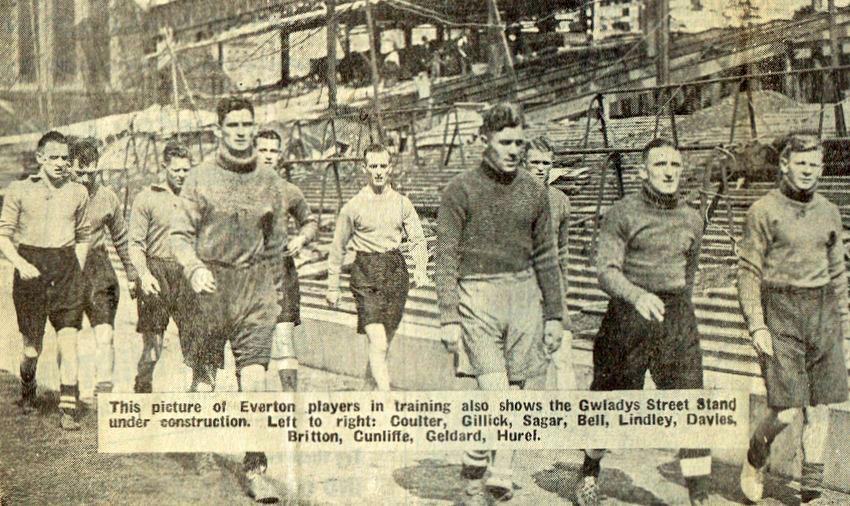 Hurel training at Goodison, 1937-38-season (far-right)
Warney Cresswell, who was departing Everton to embark on a managerial career just as Elie was arriving on trial, sought to bring the Jerseyman to Northampton Town in October 1937. The initial approach was rebuffed by Everton's board but, on 13 April 1938, a £225 deal went through. Elie would make 12 Third Division South appearances for the Cobblers, scoring two goals. Creswell persuaded his former club – the newly crowned League champions, to come down to Northampton in May 1939 for a benefit match. It gave Elie a chance to line up against former teammates and show that he could still 'cut it'. The Northants Evening Telegraph praised Elie and the wingers for 'showing capital pace and dash'.
The outbreak of hostilities with German brought Elie's professional football career to a premature end. The national register, taken upon the declaration of war, listed Elie as a plasterer, living at 49-50 High Street in Southampton. Shortly afterwards he signed up for duty in the Royal Engineers, with whom he served as a sapper. He had an eventful war. He parachuted into Crete and, later, was asleep aboard a troop ship when it was hit and sunk by torpedo in the Mediterranean (he clung to debris in the water until rescued). He landed in France on D-Day +5 (his Gallic linguistic skills proved useful) and thence worked his way through Belgium and Holland into Germany. Luck was with him again when a large slab of masonry fell from a damaged building in Belgium, narrowly missing him.
With the Channel Isles liberated in 1945, Elie returned home to be reunited with the beloved family that he had not seen for six years. He resumed his career as a plasterer and, in 1950, married Mary O'Halleran, an Irishwoman working as a cook-housekeeper on the island. They never had children of their own but adopted their nephew, Peter, when Elie's sister, died shortly after childbirth.
The war had taken its toll on Elie but he lived out his life quietly, happy to be in a loving household back where it all began. He would never boast about his football career, having to be persuaded to reminisce about it. After a life well-lived, Elie passed away at Jersey General hospital on Tuesday 8 April 1986, two days short of his 71st birthday. He was laid to rest with his siblings and parents at the family grave St Mathew's Roman Catholic Churchyard in St. Lawrence.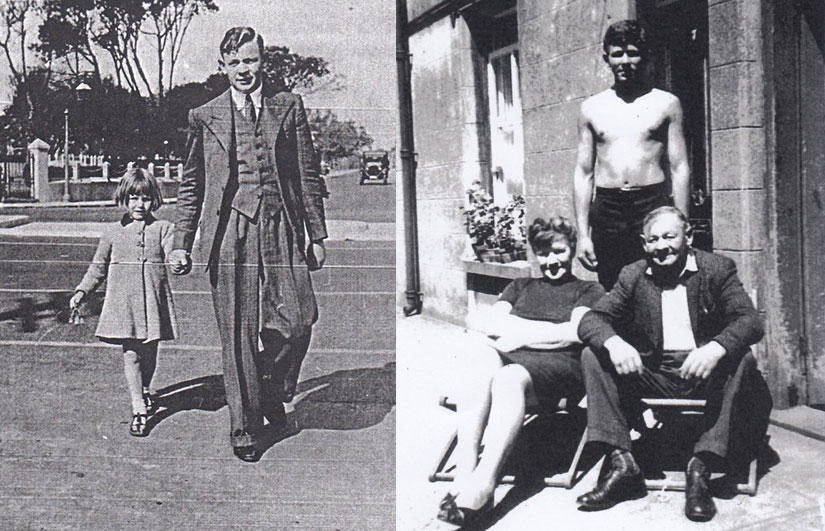 Left: Elie Hurel in Jersey with his niece, on leave from Everton c1937; Right: Mary, Peter and Elie, c1970
Footnotes:
* André Jean was a gifted left-sided forward who had extended trials with Tottenham Hotspur but failed to settle in London. After serving in the Army in Burma during World War II, he returned to Jersey before dying of wounds sustained late in the conflict.
** Emile Yves, noted for his fair play at left-back, died from a ruptured appendix sustained in a game in 1931. He won the Muratti Vase a few months prior to his death.
*** In April 1936, Bee, of the Liverpool Echo reported that David Murray had registered a patent on a new design of football:
David Murray, the former Everton and Bristol player is nowadays at Jersey with the Island and the Y.M.C.A clubs. Their officials tell me he has been an outstanding success there. And now comes news of another of his works: he has patented an improved football. The patent is an improved method and means for closing the opening of a football or other inflated casing. As is well known, the mouth of the present football case is closed by a lace, which often proves unsatisfactory, and has caused injury to players. The object of Mr. Murray's invention is to do away with the lace. There is a system of straps inside the case; the ball is "locked" automatically by the air pressure, and there is nothing protruding on the outside of the case. The invention has been tried out by Island players at training, and has proved extremely popular. As there is no padding whatsoever at the mouth of the case the flight of the ball is perfect. The ball, which was displayed at the recent British Industries Fair, will be further tested during the coming weeks and any necessary improvement carried out.
Thanks to:
Eileen Amy and family
Peter Hurel
Mike Davage
Billy Smith
Bren Connolly
Ron Felton (Jersey Evening Post)
Bren Connolly
David Wright
Roland Quintaine (Jersey Heritage)
Marina Dickinson
Source Information:
Muratti 100 by Rob Batiste and Ron Felton (Guernsey Press and Jersey Evening Post)
Bluecorrespondent.co.uk (newspaper reports/articles) curated by Billy Smith
Various press cuttings
Jersey Evening Post
Everton Collection website
Everton: The Official Complete Record (Steve Johnson)

Follow @robsawyer70