During April 2023, Rob Sawyer tweeted a long running series of posts on the Everton FC Heritage Society Twitter account covering the great goalkeepers who have donned the Everton custodian shirt from founding of the club through to c.2000. So, after delving into the football libraries of the world wide web, I have found that many of the Toffees' great keepers have also found luck at the other end of the pitch, scoring against their fellow keepers either in blue or out of the blue.
In January 2012, I was at Goodison Park to witness Tim Howard become the latest 'keeper to score at Everton, and the first ever for the Blues in normal time at Goodison Park, when he hit the back of the net after his wind-assisted clearance bounced over the head of Bolton's Adam Bogdan. Unfortunately, Bogdan had the last laugh, as his team won a windswept game two goals to one.
Tim kept his composure by not celebrating against a fellow 'keeper, an unwritten law in the goalkeepers union. Tim told Sky Sports in an after-match interview:
"It is not a nice feeling for a 'keeper. It is awful actually. For the back four and the goalkeepers at both ends, there was an awful wind swirling. You could see everybody was mistiming balls. Defenders were missing clearances that normally they would put up the field. The wind is the hardest condition to play in. Snow, rain, sun does not matter, but the wind really does play tricks on you." (1)
Howard said he also spoke with Bogdan after the game.
"I let him know that I was feeling for him, it is not a nice place to be. I have been there before, a long, long time ago, and that was why I did not celebrate." (2)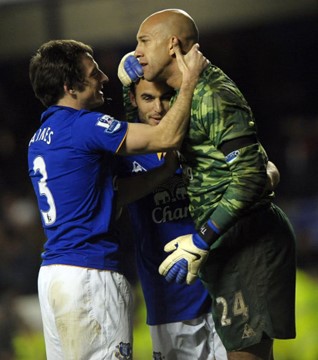 However, Everton's record-breaking 'keeper Neville Southall has the record of scoring first at Goodison Park in a competitive game when he scored Everton's fourth penalty in a penalty shootout in a Full Members Cup fourth round game against Charlton Athletic in front of 7,914 fans.
Two other outfield goals have been scored by keepers at Goodison, but unfortunately for the Blues, they both came from the opponents of the day.
More recently, 'keepers are often used in the latter stages of games as an extra body up front, with quite a few famously getting on the end of a corner or throw-in.
In that mould was the goal scored by Aston Villa's custodian Peter Schmeichel, who ran up for a corner at the Gwladys Street End to hit the back of the net. This was the first goal scored in the Premier League by a goalkeeper, another Everton first, albeit one that we are not keen to claim! Schmeichel's goal came in the 90th minute, but it was too late as Villa fell to a 3-2 defeat.   Everton had taken a three-goal lead, with goals from Steve Watson, Tomasz Radzinski and Thomas Gravesen, before a 71st-minute goal from Moroccan midfielder Mustapha Hadji gave Villa some hope.
[more here: https://www.premierleague.com/match/3749 ]
During his post-match interview, Everton manager Walter Smith said:
"I've seen goalkeepers score before on TV, but never in a game that I've been managing. I hope that I do not see it again. You watch Schmeichel to come running up for these situations, he does it a lot. And you just keep your fingers crossed because you think it's going to be sod's law." (3)
Schmeichel's Manager John Gregory added:
"Peter was carrying a thigh injury to his right leg, he was doing all his kicking with his left foot, but that still didn't stop him scoring with his right." (3)
The first goal scored by a goalkeeper against Everton at Goodison came in the days when there were no substitutes to replace injured players. In those days you either played with a man down or the injured player would bravely carry on. (Substitutes were not permitted in English football until 21 August 1965 at the start of the 1965/66 season). Indeed, the latter happened on 6 March 1935 when  Frank Moss of Arsenal dislocated his shoulder 30 minutes into the game. He left the field and was replaced in goal by Eddie Hapgood, with Arsenal leading one goal to nil. They managed to hold out until  half-time, and to the surprise of the crowd, Moss came out for the second half in a red shirt to play on the left-wing with a strapped up arm. In the 70th minute, Moss buried the ball in the Toffees' net to make it 2-0 for the league-leaders. Unfortunately, the goal-scoring Moss had to go off in pain and was taken to hospital to get his shoulder reset. (4)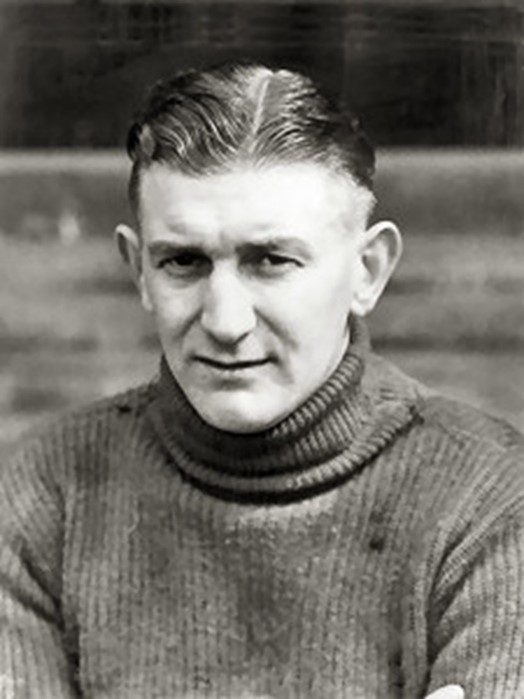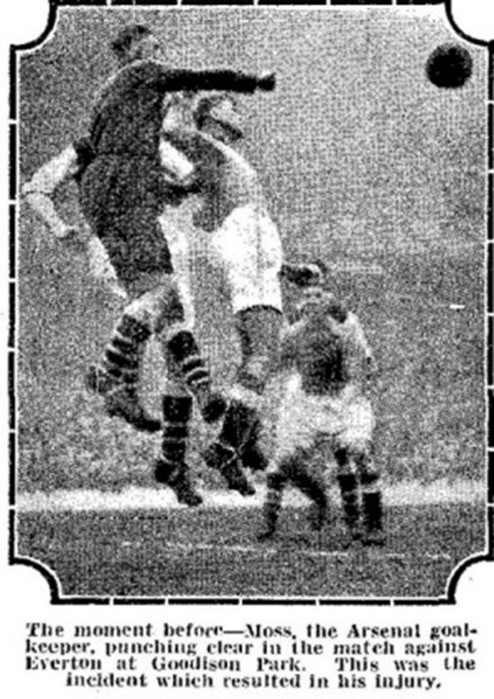 Benjamin Howard Baker, the Olympian and all-round sportsman, started out as a centre-half playing for Marlborough Old Boys of Liverpool, followed by Liverpool Balmoral, and Northern Nomads. Baker also played for the famous amateur Side Corinthians, before heading to Goodison, where he played two first-team games, before moving to Chelsea.(5)
After his transfer to Chelsea, where he played on ninety-two occasions, he scored in a home game against Bradford City. With the game still scoreless, the Blues were awarded a penalty, and Baker, on his sixth start for the club, insisted on taking it.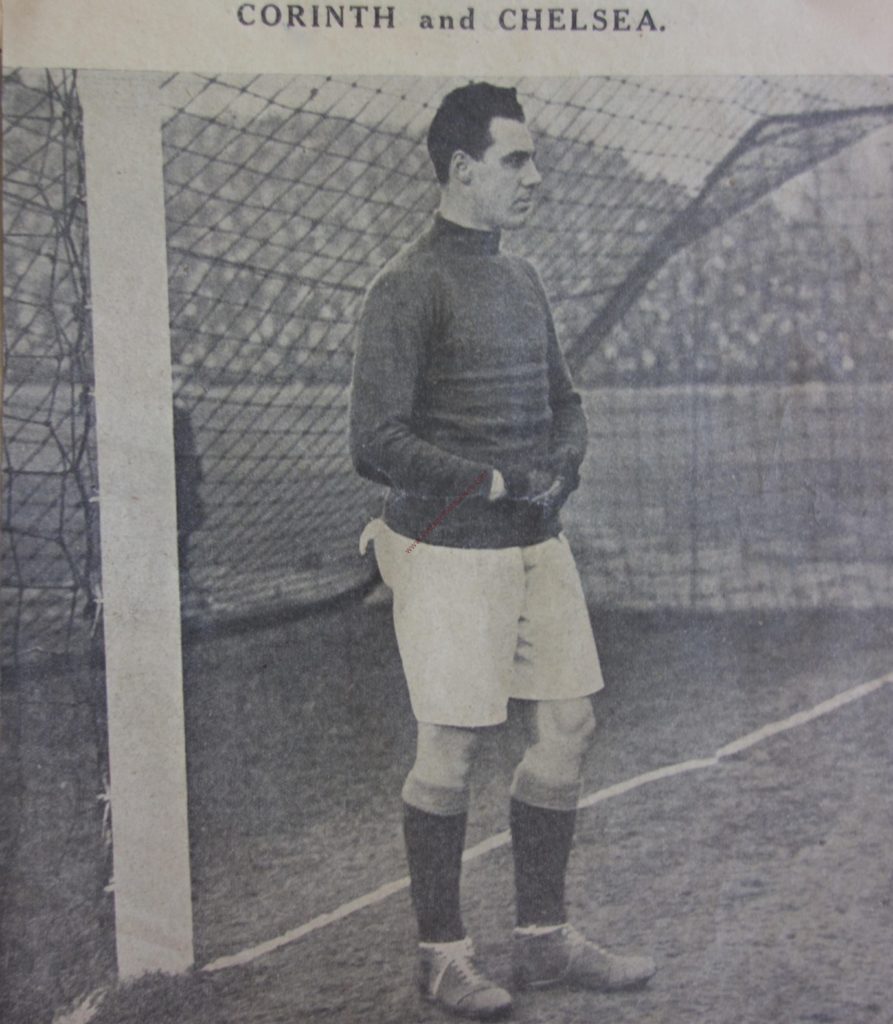 He scored what proved to be the only goal of the game. Later in the same season, the Blues were awarded a penalty against Arsenal, and he again took on the responsibility. This time he missed and was thereafter relieved of spot-kick duties.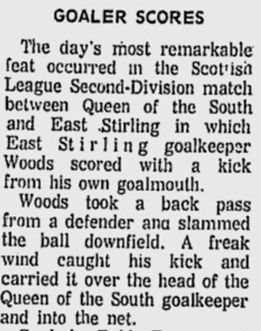 Ben eventually moved back to Goodison Park with Everton amid a goalkeeping crisis. He later made a farewell appearance at Goodison when keeping goal for Corinthians.(6)
Going back to my childhood, my goalkeeping hero George Wood was described in the Liverpool Echo as follows:
"Doing 'wonderfully' is when a goalkeeper plays as an outfield player – and scores TEN goals in three games in three days."
George who had played as an outfield player in his early East Stirling days knew how to score, but believe it or not, his only recorded goal comes from a kick out from his own goal area for East Stirling, when he returned between the sticks in January 1971 against Queen of the South. The Montreal Gazette reported the event (right). (7)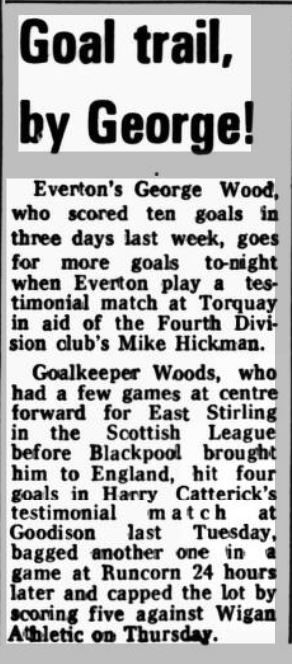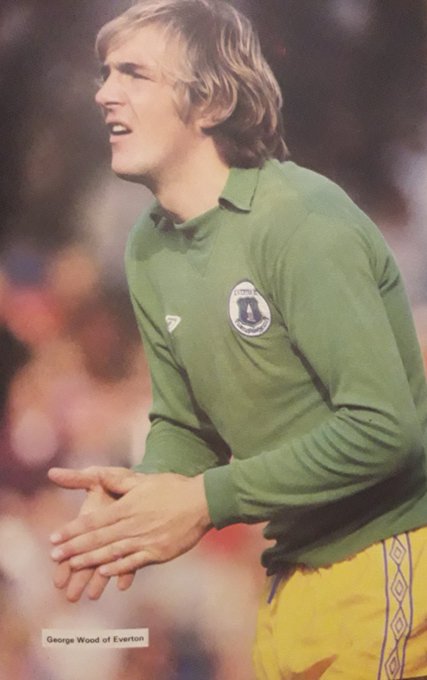 George's goalscoring prowess was revealed to his adoring Evertonian fans in Harry Catterick's testimonial match against an All-Stars XI on 2 May 1978. Everton led 1-0 at half-time on the horrendously rain-filled occasion, with Bob Latchford celebrating his 31st goal of the season. In the second half, Jim Pearson turned out in goal for Everton with George replacing the striker up front alongside Latchford. It was a stroke of genius as Wood hit FOUR goals in a 5-1 win for Everton.
Ken Rogers' report noted: "Just to prove that Latchford is not the only one with a nose for goals, Wood scored four in great style to have the fans chanting 'Georgie's going for 30!…..Wood's second goal saw him rise above big Ron Yeats to glance a header past Gordon West."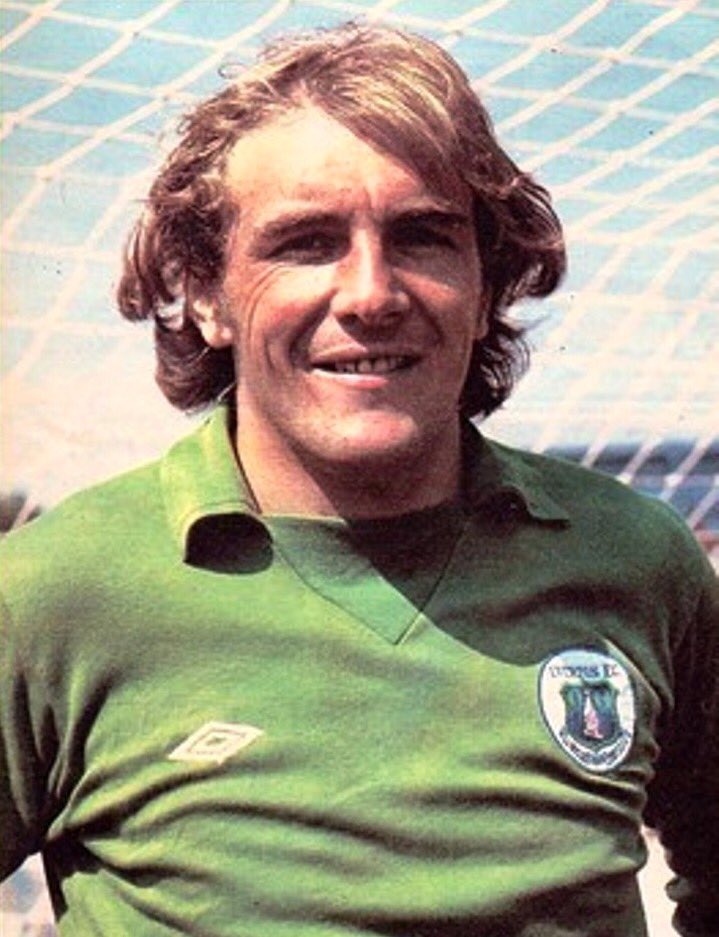 There was no stopping George, who played a few days later against Runcorn, where he hit the back of the net once again. Having hit five in two games, he then doubled his tally with another five, to make ten goals in three games, a tally that any striker would be proud of. (8)
To return to Neville Southall, after being relieved of his managerial duties at Dover Athletic, Neville decided that on top of his goal keeping coaching for Ryman League outfit Canvey Island, he would play centre forward for The Bull Fossils in the Dover & District Sunday League, earning the nickname Nev 'The Strike' Southall for his surprising prowess up front.
Mark Winter reported on the occasion in his article Sunday Service, from When Saturday Comes (edition 193, March 2003);
The score was 1-1 mid­way through the second half and the outcome of the Se­cond Division championship race could have depended on a successful conversion.
Our hardened pro stepped up to take it and showed not the remotest sign of nerves. When you have won the FA Cup at Wem­bley and the Cup-Winners' Cup in Rotterdam, the Second Division title must seem like small potatoes indeed. It was another medal for the collection, however, and our hero took his time. He stood with his back to the goal and casually wiped his right boot down the back of his sock. He opted for power and the keeper did not bother to move. A shot of quite an awesome velocity found the bottom right-hand corner. The goal proved to be a turning point in a tight game and another penalty, in injury time, secured a 3-1 win that moved the Lily­whites eight points clear at the top of the table.
There were no scenes of wild celebration at the end of the game, however. There seldom are in the Dover & District Sunday League. The Bull Fossils team celebrated victory over Norfolk Line by trooping off to the pub until chuck-out time, while our teetotal two-goal hero, Nev 'The Strike' Southall, went home.
Southall's career with the Fossils has been much more successful than his spell at Dover Athletic, however, and started in unlikely circumstances. Knowing that Nev, having passed his 40th birthday, was now qualified to represent the side, Fossils' manager Kelvin Bell made an ale-induced approach as to whether he might fancy a game. Having added a proviso that, he would not play in goal due to a long-standing shoulder injury, Southall duly signed on the dotted line. The Fossils went through 2002 unbeaten in league competition, and against much younger opposition.
The debut of the best goalkeeper these islands have produced was not without incident. Against the might of the Prince Albert Public House, Southall scored from a late penalty to earn his side a victory. (9)
In August 2017, our former 'keeper Iain Turner was playing for Preston North End against Notts County at Deepdale. Very late into the game the home side pushed for a second goal to confirm all three points. Turner kicked the ball out of his hands and the flight of it caught out the County 'keeper Stuart Nelson, whilst under pressure from the Preston striker Neil Mellor and rolled into the net from 80 yards giving Preston the win. (10)
Turning to our two current international keepers, Jordan Pickford and Asmir Begovic, during the Stoke City v Southampton game on 2 November 2013, Begovic, a Bosnia and Herzegovina international, scored with a clearance which bounced over Southampton's goalkeeper Artur Boruc. It is still the fastest goal by a goalkeeper in the Premier League at thirteen seconds. (11)
The distance covered by the ball from Begovic's boot to the net was was entered in the Guinness Book of Records at 91.9m (301ft 6in).
Asmir told Stoke City's Official Website
"I feel amazing to be honoured in this way and as a goalkeeper I did not expect this to happen, not for this type of record anyway – I will take it though and enjoy it. I really do appreciate this award, and the certificate will certainly take pride of place on the wall at home. So, thank you to everyone at Guinness World Records for presenting me with this wonderful award." (12)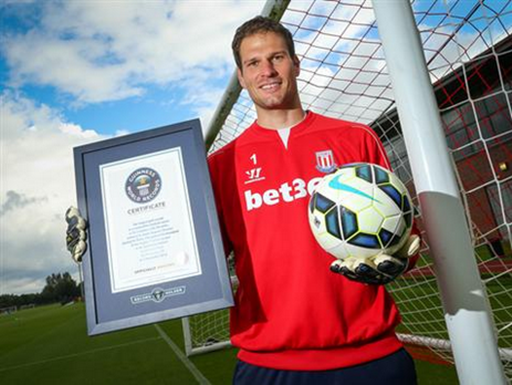 Finally, onto our current Everton and England Number One Jordan Pickford. In June 2019 during the UEFA Nations League tournament, Jordan became the first England goalkeeper to score and then save the decisive penalty in a shoot-out, as England beat Switzerland to finish third at the inaugural tournament. After the game, Jordan admitted he was surprised to be asked to take the fifth penalty, but he stepped up to fire past opposite number Yann Sommer, before saving Josip Drmic's kick to confirm England's third place finish.
"The gaffer [Gareth Southgate] in extra time went 'number five', and I went 'oh wow', I'm not a normal penalty taker, but I just relaxed and trusted my ability." Following the 6-5 win on penalties, after a low-key goalless draw, the Everton keeper added, "We practise them consistently, I always pick my spot and I haven't missed one in training, but I had never taken one in a real game." (13)
Footnotes
1. Goss, Nicholas, 'Tim Howard Goal: Everton Star's Post-Match Reaction Was One of True Class,' bleacherreport.com (5 January 2012) – https://bleacherreport.com/articles/1012274-tim-howard-goal-everton-stars-post-match-reaction-was-one-of-trueclass#:~:text=Everton%20goalie%20Tim%20Howard%20scored,score%20in%20Premier%20League%20history; (accessed 10 May 2023)
2. https://www.nytimes.com/2012/01/05/sports/soccer/in-england-howards-goal-upstages-donovans-encore.html
3. https://www.sportsmole.co.uk/football/aston-villa/on-this-day/feature/otd-schmeichel-scores-for-villa_183587.html
4. https://www.arsenal.com/historic/players/frank-moss#:~:text=The%20Preston%2Dborn%20stopper%20enjoyed,Moss%20to%20retire%20in%201937
5. https://www.theshedend.com/topic/33338-benjamin-howard-baker-%E2%80%93-last-of-the-corinthians/
6. Sawyer, Rob, 'Benjamin Howard-Baker: Goalkeeper, Olympian, Corinthian', Everton FC Heritage Society website (2020) http://efcheritagesociety.com/benjamin-howard-baker-goalkeeper-olympian-corinthian-rob-sawyer/ (accessed May 2023)
7. The Montreal Gazette, 11 Jan 1971, page 17 (Accessed May 2023)
8. Liverpool Echo, 3 May 1978
9. https://www.wsc.co.uk/book-reviews/sunday-service/
10. https://metro.co.uk/2011/08/29/keeper-iain-turner-scores-80-yard-wonder-goal-for-preston-north-end-131850/#:~:text=Iain%20Turner%20was%20the%20unlikely,0%20win%20over%20Notts%20County.&text=The%20former%20Everton%20shot%2Dstopper,number%20Stuart%20Nelson%20off%20guard.
11. https://sports.yahoo.com/blogs/soccer-dirty-tackle/stoke-asmir-begovic-scores-fastest-goal-ever-goalkeeper-153235477–sow.html
12. https://www.bbc.co.uk/sport/football/29061851