Baseball may be a minority sport in the UK but 80 years ago Merseyside was a hotbed of this popular American pastime. Had it not been for the outbreak of War in 1939 perhaps it would have gained a proper foothold in our sporting life.
Folklore has it that William Ralph 'Dixie' Dean was once introduced to the legendary Babe Ruth (of Boston Red Sox and New York Yankees fame) at a football match. Dean recalled to journalist John Roberts his encounter with Babe. The American introduced himself in typical style by booming: "You're that Dixie Dean guy! Jeez, you'll get some cash today." When Dean explained that his wages – capped at £8/wk – were not linked to the number of spectators through the turnstiles, Ruth reportedly exclaimed: "Jesus Christ! I'd demand two-thirds of this gate!" Dean, himself, would dabble in the American sport when he turned out for Blundellsands and Liverpool Caledonians in the 1930s but Everton's connections to Baseball go far beyond this. In fact, a baseball team existed in Everton as early as the first decade of the 20th century. The club, not linked to its footballing namesake, was defunct by the end of the First World War.
Thanks to Liverpool's maritime links to the USA, Everton hosted exhibition matches at Goodison Park in the 1920s. Most notable was the Chicago White Soxs' victory over New York Giants before a crowd of 2,500 on 23 October 1924. Perhaps inspired by this, John Moores, the Littlewoods entrepreneur and future Everton chairman, launched a crusade (costing £1 million at today's prices) to embed baseball as a spectator sport on these shores. In 1933, he created the National Baseball Association and convinced 18 local teams from the Liverpool area to create a league. Other leagues were also set up in other regions, in London and Yorkshire, amongst other locations.
In 1936, The British NBA was restructured with Moores installed as President and Everton director, Ernest Green, appointed as Vice Chairman. J.C. Rouse of Liverpool FC was Honorary Treasurer whilst Everton's Secretary, Theo Kelly, was also on the Committee. The Everton Chairman during the Second World War, Bill Giddins, was also keen on baseball. He allowed Goodison Park to play host a Baseball league in which locals took on American servicemen stationed in the area. The home plate was in the corner between the Gwladys Street and Bullens Road stands.
In 1943, Theo Kelly helped raise £1,000 for the British Red Cross and St John's Fund in a charity game. He also helped to develop the sport on Merseyside by setting up youth team matches between Everton Cubs and the likes of Caledonian Cubs, Formby Cubs, Tranmere Cubs and Fazackerley Cubs. On 18 May 1944, the Everton FC Baseball Club – coached by Kelly – played its inaugural game against Rootes in Speke. Gordon Watson and Jackie Grant, both members of the football team, made their Baseball debuts. Throughout the season, the Everton players were hitting the top of the league statistics charts. George Jones topped the batting averages whilst Gordon Watson topped the fielding with zero errors for 1,000.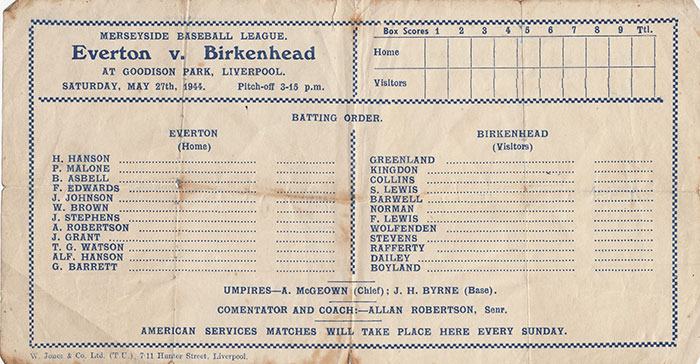 The following year, Kelly formed the Lancashire County Baseball Association; he also helped to establish a team called Halton Trojans. The last game of Baseball staged at Goodison Park came in the 1948 in the Lancashire Cup Final contested by the Trojans and Formby Cardinals. Subsequently, the Trojans would play their fixtures at Bellefield before disbanding in 1958. The reformed club, now known as Liverpool Trojans, plays today at Bootle Stadium as the Liverpool Trojans.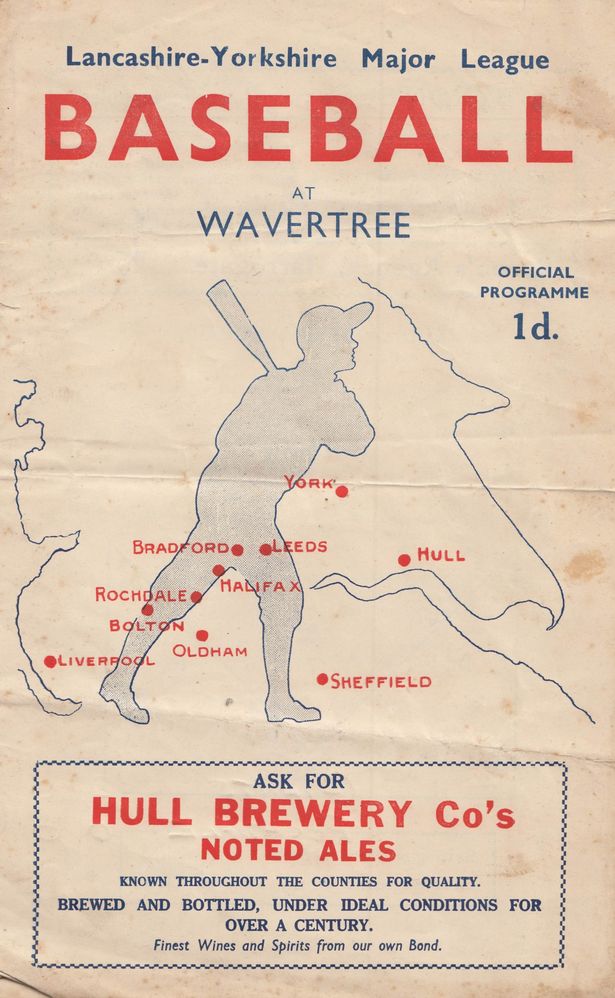 Recently Ted Bulmer shared some keepsakes with EFC Heritage Society that his great uncle George Barrett had from playing for Everton Baseball Club as well as Formby Cardinals and Patricroft. Sadly George spoke little of his time playing the sport before he passed away. Also, Joe Stephens got in touch about his namesake grandfather, who played Baseball either side of the war, including for Everton. A docker by trade, he was nicknamed Socks (or Sox) Stephens – perhaps as a nod to his Baseball prowess. The Heritage Society is appealing to ToffeeWeb readers for further information about Baseball on Merseyside in the 1930s and 1940s and, in particular, Everton's team. Perhaps you had a grandparent who took up the sport?
Anybody with information is asked to contact us via rwgsiteman@icloud.com .