Rob Sawyer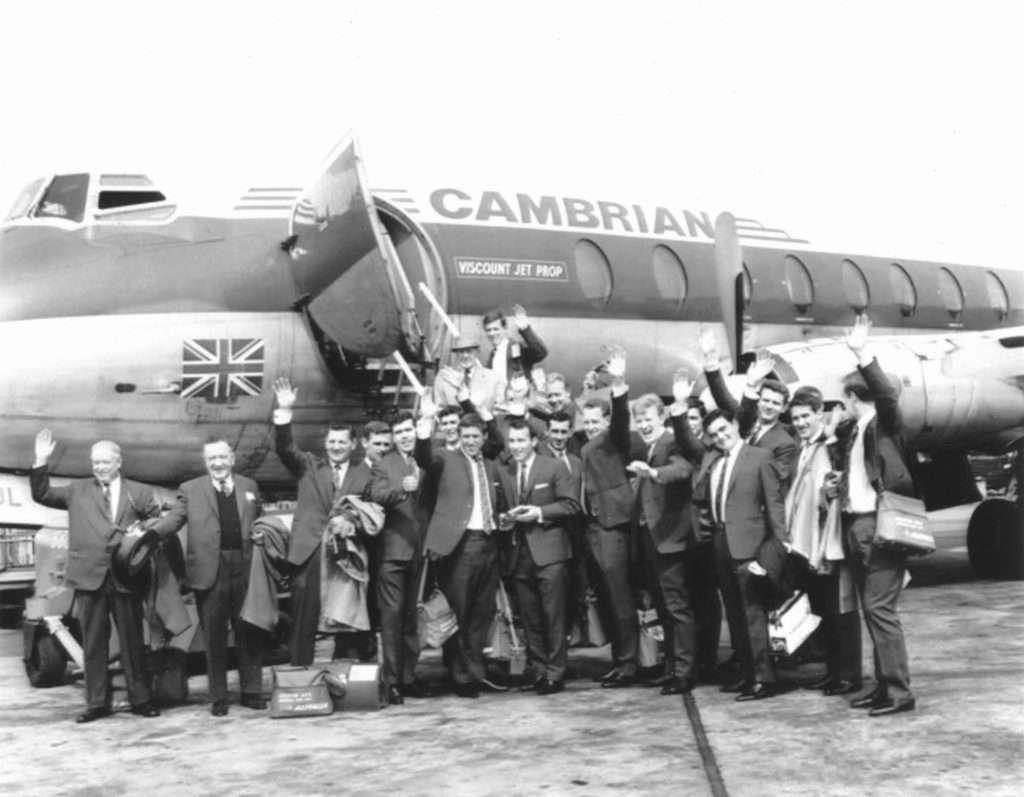 In November, taking advantage of the 2022 World Cup-enforced break, Everton head to Australia on missionary work to spread the gospel of St Domingo. It will be the fourth occasion on which the Toffees have visited this great nation, but the trip pales into insignificance, duration-wise, when compared to the first tour, fifty-eight years ago. Immediately after the disappointing denouement of the 1963/64 season, in which Everton missed out on back-to-back league title wins, a slightly depleted squad jetted off to begin the most ambitious tour since the ground-breaking trip to South America, back in 1909.
The previous autumn. The reigning Football League champions' chairman, E. Holland Hughes, was approached with a proposal for a three-week tour – with four matches to be played in Australia and two in Hong Kong. The promoters promised 'First Class Hotel accommodation & tourist flights.' Enticed by a boost to the club coffers to the tune of £11,250, the Blues' directorate accepted the offer.
The plans became public knowledge in early December when Mr. Ian Bruasco, assistant secretary of the Australian Soccer Federation, announced that eight matches would be staged in the country, beginning with a fixture in Sydney or Melbourne. The plan to stage matches in Hong Kong had been quietly dropped (further negotiations about a Hong King match took place in February but came to nought). The tour was the first by a major team from Europe in the wake of FIFA readmitting the Australia to the world's 'football family'. The country had spent seven years in the football wilderness – the result of sanctions for 'poaching' players from overseas. How was a relative soccer back-water funding the Mersey Millionaires travelling thousands of miles for a close-season spent in the Southern Hemisphere? In a word: tobacco – courtesy of sponsorship W.D. and H.O. Wills, manufacturers of Craven Filter Cigarettes.
When news of the upcoming tour broke, Alex Young expressed his personal enthusiasm in his Liverpool Football Echo and Evening Express column:
'All the Everton players are looking forward to the trip, and none more than me, because I have been to Australia before-with Hearts in 1959. It was a most enjoyable tour. The indications are that Everton will play eight matches about half as many as Hearts who as far as I can remember played 15 games. We won them all, and I am looking forward in seeing Everton also maintain a 100 per cent record, despite the improvement in standard out there. Hearts tour lasted eight weeks, Everton's will be much shorter.'
Mr D. Davies, a Toffees-supporting Prenton resident – who had also lived in Australia – wrote to the Liverpool Echo in support of the developments: 'I was thrilled to hear Everton were to make the trip. Australian soccer is terrible. The national game is Australian Rules Football, which makes any real soccer follower smile. I hope Everton convince the Aussies that the city is famed for other reason than being home of The Beatles. When I return to Australia, I intend to pack my blue rosette and my Z-Cars recording.' One person keen to become reacquainted with the Toffees on their arrival Down Under was Cyril Maher, who had two seasons as an Everton forward before the war (he also had spells at South Liverpool and Tranmere Rovers). Having emigrated to Australia, he had become manager of the Australian Lawn Tennis Social and Sports Club, in Melbourne. He assured the Echo that the Everton footballers would get a 'tremendous welcome' in a country boasting thousands of residents with Merseyside roots.
There was pre-tour controversy with sensationalist articles in some Australian (and South African) news outlets about the behaviour of Everton fans. The journalists had confused the crowd barriers of tubular steel at Goodison with steel crowd-control cages favoured in some European and South American grounds. Some ex-pats alerted the club and Merseyside press to this hyperbolic reporting – prompting the Toffees to take legal soundings about libel, before the furore died down.
By mid-March the itinerary had been confirmed and publicised. The Toffees committed to take 18 players, departing the day after the League programme concluded with a match against West Ham United. The party would arrive in Sydney on Tuesday 28 April and commence the return journey on May 30 – a total trip time of five weeks. With dedicated soccer pitches in short supply, most of their games would be played on cricket grounds and one on a pitch usually reserved for Australian Rugby football. The eight matches scheduled were as follows:
2 May v. New South Wales at Sydney cricket ground
4 May v. Queensland at Brisbane cricket ground
10 May v. Australia at St. Kilda, Melbourne (See match photos at the end of the article)
13 May v. South Australia at Norwood Oval, Adelaide
16 May v. Australia at Sydney Showground
20 May v. Western Australia at Perth cricket ground,
24 May v. Victoria at St. Kilda, Melbourne
27 May v. Northern New South Wales at Newcastle, NSW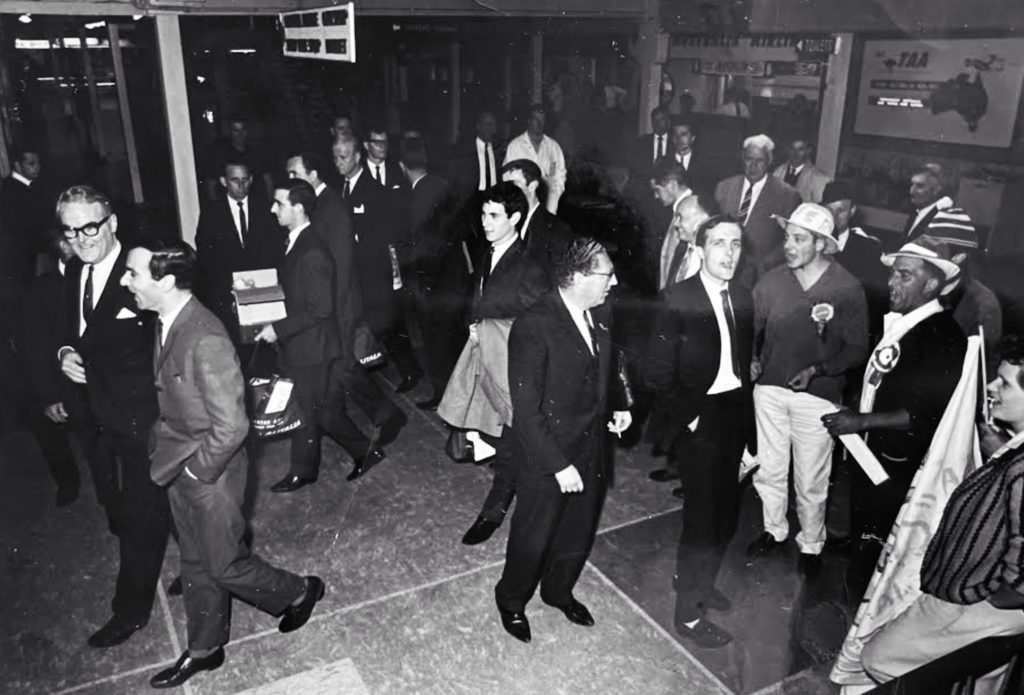 Mr. B. H. Pringle – a Merseyside 'exile' living in Dandenong, Victoria told the Echo: 'I don't think they will have any difficulty in winning all their matches here, but I believe they will be surprised to find how many supporters they have wherever they play. This country must have thousands of ex-Scousers, and I reckon we shall all make a point of seeing at least one of the tour games.' Mr B. Roberts, who lived in Maghull when he followed Everton at Goodison Park, wrote to the Echo to advise that 40 Evertonians living in Parramatta, near Sydney, were busy making rosettes and rattles to give Everton the best welcome they have had since they came home from Wembley with the FA Cup in 1933.
In mid-April, Roy Vernon used his Liverpool Daily Post column to voice his enthusiasm for the tour – and was perhaps over-generous in his description of the playing standard they'd be up against: 'We are all getting excited at the prospect of our trip to Australia, but we know quite well it is not going to be one long holiday, for we have quite a strenuous programme. While we are led to believe that the quality of Australia football hardly compares with Division One in this country, these will be gala days for the Aussies and because it will be a feather in their cap if they manage to knock us down, we must be on our best form to go through the tour unbeaten.' In anticipation of the Blues' arrival, the Australian soccer authorities had a 20-man squad preparing well in advance, for the three Australia-Everton 'test matches.' The man taking charge of the Australian preparations was the former Blackpool wing-half and captain, Jim Kelly.
The party boarding the plane at Speke Airport, seen off by wives and girlfriends, had been subject to some late changes. Remaining behind was the manager, Harry Catterick, with director Mr E. Holland Hughes commenting: He can be better used at home. There's a lot of work to be done in the close season. With John Moores' blessing, Catterick's priority was making preparations for the following season; he had a full in-tray with the fallout from allegations made against Tony Kay regarding betting on the outcome of a Sheffield Wednesday match. So, the party was led by Mr E. Holland Hughes, assisted by fellow directors Mr Fred Micklesfield and Mr Cyril Balmforth. Tom Eggleston would oversee the playing matters, aided by Ron Lewin.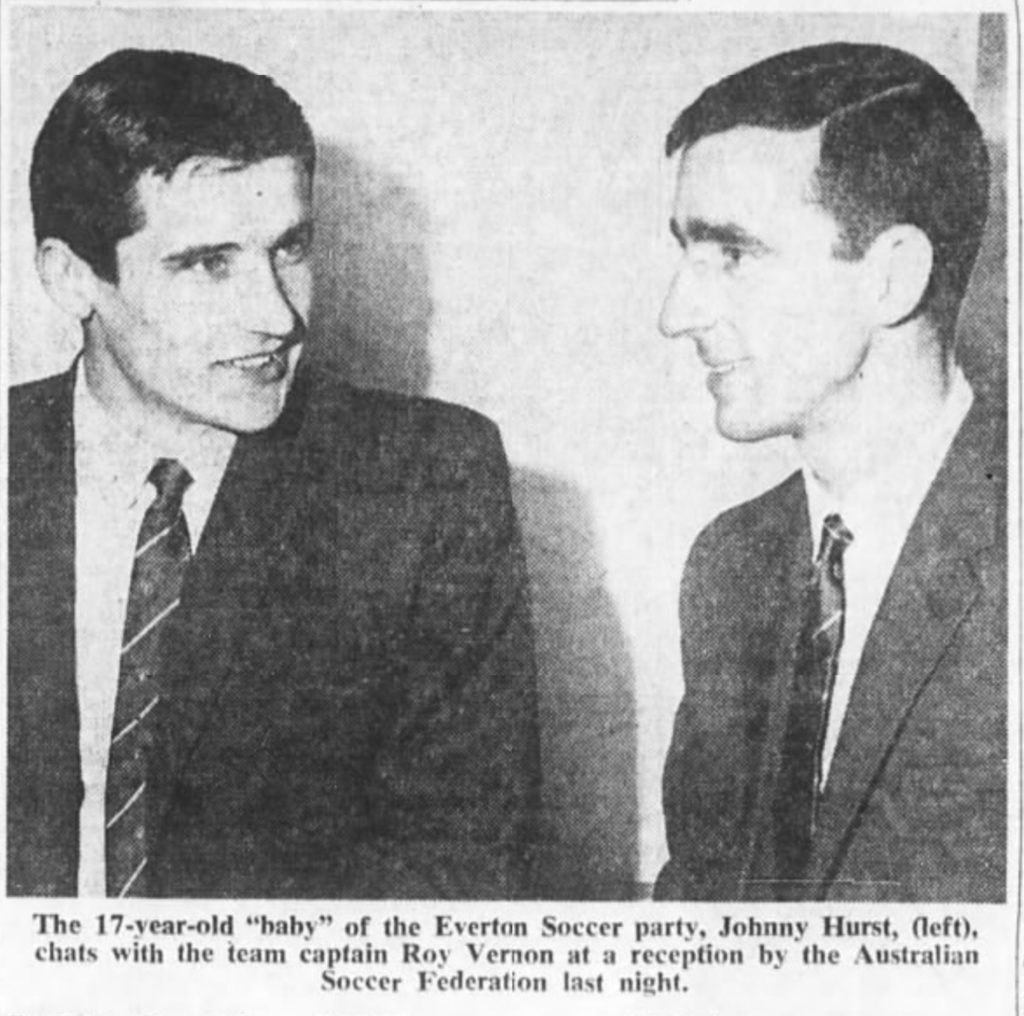 Tony Kay would not travel – neither would Alex Young whose Goodison future had been thrown into uncertainty by the signing of Fred Pickering. Pickering, himself, was otherwise engaged on England tour duty while Scottish international full-back Alex Parker was continuing his recuperation from cartilage issues. Thus, opportunity knocked for a number of fringe and junior players. John Hurst and Gerry Humphreys joined Colin Harvey, Barry Rees and Andy Rankin in the party. For Hurst and Humphreys, the first inkling came a few days before the departure date when Harry Catterick advised them to go for a fitting for club suits. The former, who had to make a dash to London to have a passport and visa issued, told me: 'I think I had just signed pro in February. I had played in a few reserve games, but it was a heck of a surprise to be picked. The nearest I had been to abroad was to the Channel Islands – not many people did go on holiday abroad in those days.'
Wives, girlfriends and children waved to the travelling party as they boarded the Cambrian Airways Vickers Viscount at Speke Airport for the first part of a multi-legged journey to Sydney. It was an arduous trip with up multiple stopping points including Rome, Tehran, Delhi and Jakarta. 'Horrendous', was Gerry Humphrey's description – while Derek Temple recalls his feet swelling so much that he couldn't get his shoes back on for a brief stop-over and had to purchase some loose-fitting slip-ons in an airport shop. On arrival in Sydney, Temple would room with his friend, Dennis Stevens. The former Bolton inside-forward had brought an 8mm cine camera with him and recorded parts of the trip for posterity. With the kind help of Dennis's wife and son, I have had this footage digested and had it posted on the Everton FC Heritage Society YouTube page.
Hours after touching down the party attended a cocktail and buffet reception thrown by the Australian Soccer Federation at The Australia Hotel, on Castlereagh Street, Sydney. On 2 May, the Toffees – dubbed the Liverpool Mersey Millionaires on some posters – kicked off their tour in front of 52,000 spectators at Sydney Cricket Ground (a record for a soccer match, there). Dennis Yaager, an Australian who would join Everton a few months later and win the FA Youth Cup in 1965, recalls the crowd being duped and sent 'berserk' by a bunch of students running onto the pitch wearing blue tops as a prank. The imposters were swiftly approached by the police. A melee ensued in which a plain-clothes policeman brought down one student with a flying tackle. Another policeman skidded along the turf as he attempted a similar manoeuvre. With order restored, the real Everton team entered the field. The side selected was: Rankin, Brown, Meagan, Gabriel, Labone, Harris, Scott, Stevens, Temple, Vernon, Morrissey. Maybe still jet-lagged, the Toffees conceded an early goal but as soon as Scott equalised on 17 minutes with a firm low drive, the result was in little doubt. Former Everton and Blackburn centre-half Matt Woods (at this point the player-manager at the Halioah club) was in the NSW line-up. He had half-jokingly told Derek Temple that he'd put iodine on his studs in anticipation of raking them down the forward's shins. Temple could afford himself a wry smile when Woods headed past his own keeper to put his former club in front. Scott and Morrissey added to the tally to make the final score 4-1 to the tourists.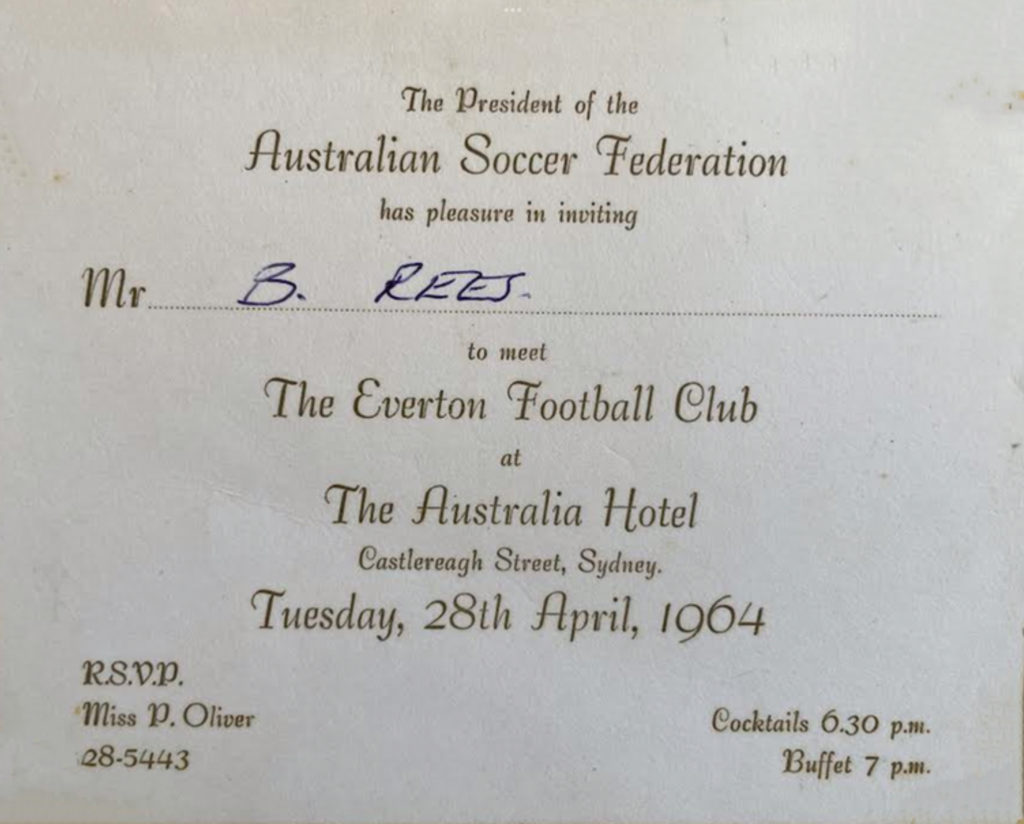 After the match, Colin Harvey, was invited to watch the 1964 FA Cup final on a small black and white TV in a football-mad household – seeing his future teammate become the youngest player to appear in the showpiece occasion: 'I had played against Howard for the Everton A and B sides and all of a sudden he was playing for Preston against West Ham in a cup final.' Harvey credits Mick Meagan, one of the club's senior pros, with looking out for the younger members of the group: 'John Hurst roomed with me, and Mick really looked after us – he had our backs and made sure we got back to the hotel alight. He was a really nice man and a really good footballer.' Mick, himself, recalls: 'They were all lovely lads that you could have a nice time with. It's a funny thing that if any of the young lads were in trouble, they'd come to me, and I would try to sort it out for them. There was a beauty contest and Dennis [Stevens] and I had a photo taken with Miss Wales who was visiting there. It wasn't all fun and glamour for Colin Harvey, however: 'I had an horrendous insect bite on my leg, and I ended up with a big carbuncle on it which required injections for a week. That's a main memory of the trip!'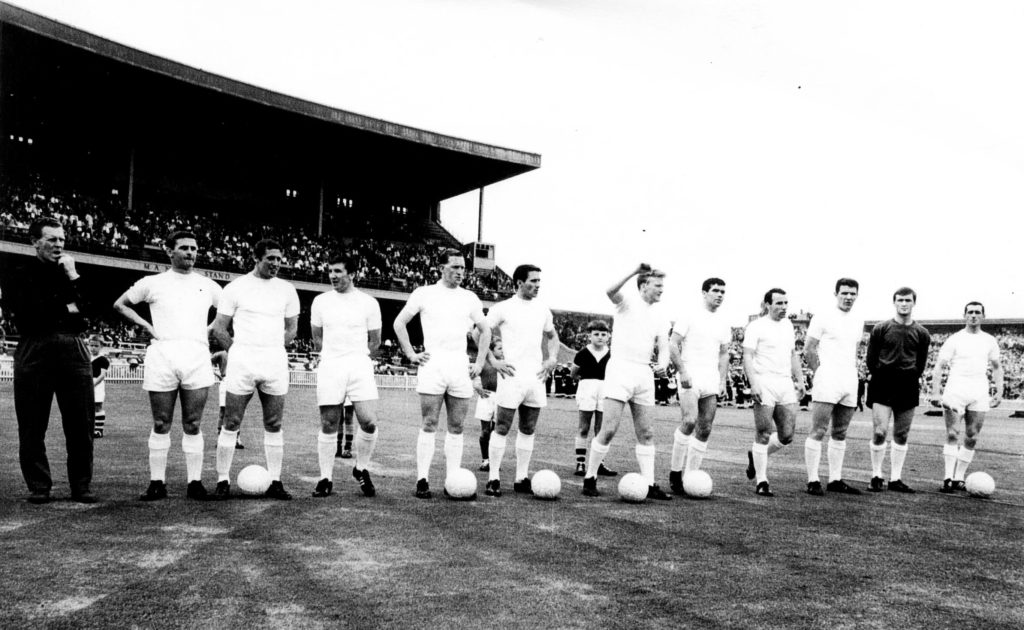 Acclimatising to playing in the wide expanse of a cricket ground, after being used to the tight football stadia in England, took some doing, as Roy Vernon explained to the press: 'It is all very well playing on cricket pitches. They may be level and the surfaces good but, in my opinion, and it is shared by many of the boys, there is an unreal atmosphere about the games. Instead of having quite a good guide from the boundary walls and knowing to an inch where the touchlines are, from midfield it is more a question of estimating and hoping for the best! You might get some idea of what I mean by considering the set-up at Sheffield United's Bramall Lane ground. Instead of having only one side open, however, here there are two and it can be very confusing.'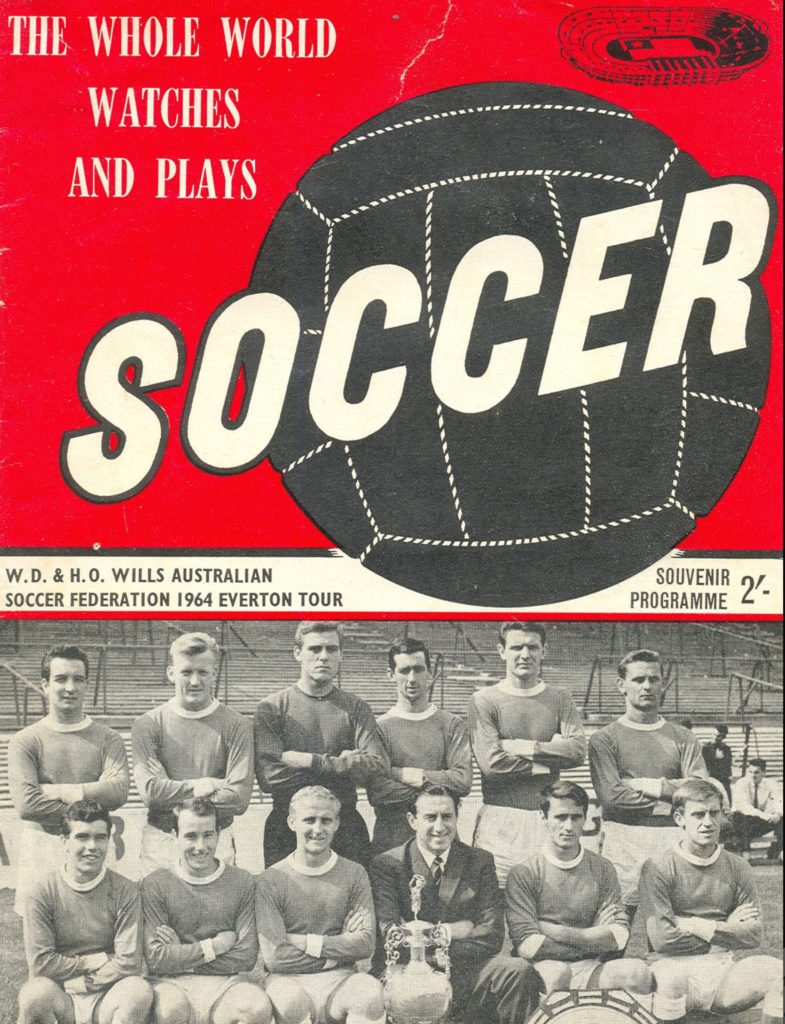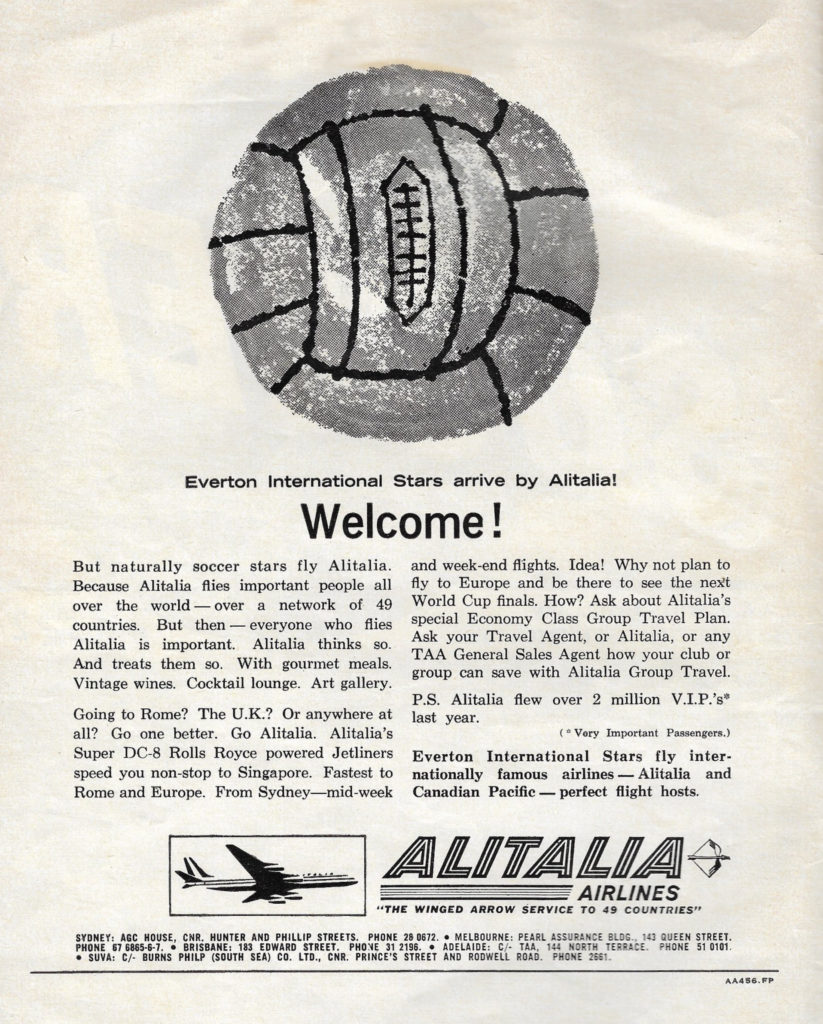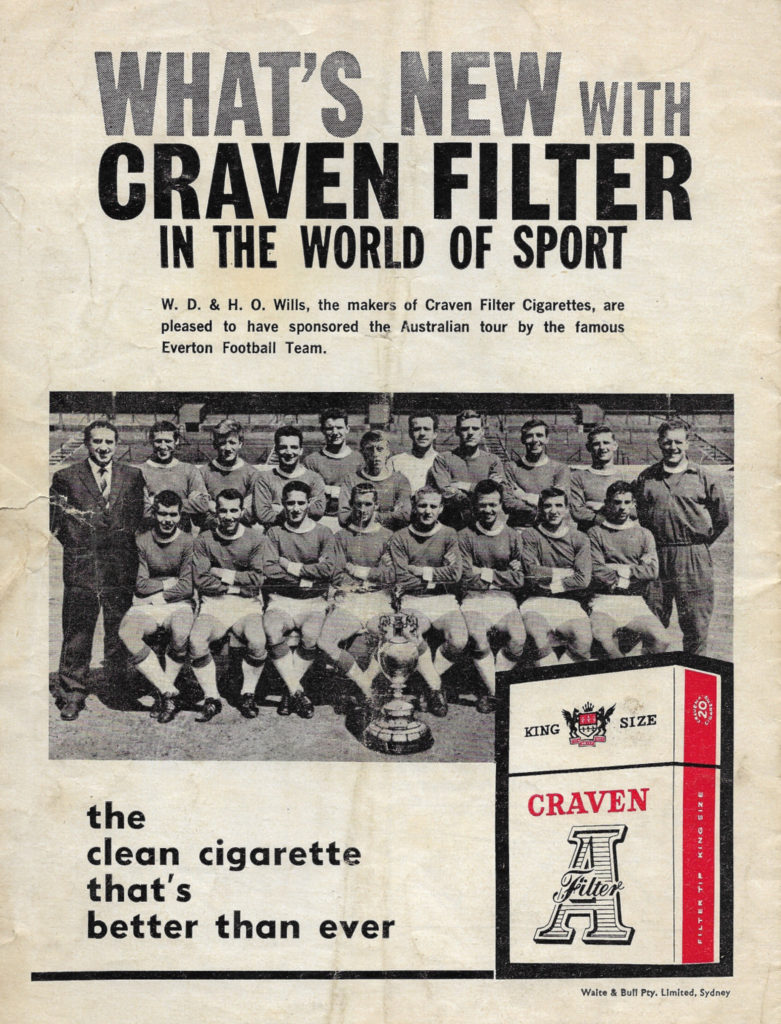 Two days after the opening match of the series, the touring party was in Brisbane as they racked up the miles – Mick Meagan recalls that where possible, flying was done was a night. The extensive travelling could be taxing – Barry Rees wrote to his parents, opining: 'I will be glad when I get home, it's all travelling out here – the food isn't very good, either.' A polished performance on a slippery pitch ended in a 5-0 defeat of a Queensland XI. George Heslop replaced Brian Labone who had sustained a head injury, with Colin Harvey coming in at inside-forward, and Dennis Stevens moving back to take Jimmy Gabriel's position. Versatile Welsh youngster Barry Rees – who had debuted for the first team in the previous season – grabbed a hat-trick with Roy Vernon and Brian Harris also getting on the scoresheet. Although the win was straightforward, the conditions were alien to Derek Temple: 'Such was the humidity that after five minutes you felt like you'd been in a shower.'
The biggest challenge of the tour was expected to be the match against an all-Australia select eleven in Melbourne. Brian Harris was quoted saying: 'Playing against Australia and beating them is what we all hoped to do and now we have the chance. We are determined to get going and impress the public.' There was a six-day gap between matches, offering some downtime for the players. Some players accepted an invitation to watch an Aussie Rules game at St Kilda's ground in Melbourne, whilst others decided to attend a race meeting at Flemington, Australia's most famous racecourse. Harris had become something of a star turn when appearing on a TV variety show compered by Graham Kennedy. The Birkenhead man came on set wearing a stove-pipe hat and chewing a cigarette broken in six places. The Echo reported: 'Speaking in a broad Liverpool accent, he sky-larked with Kennedy for three minutes. Then Kennedy threw up his hand and walked off the set, leaving Harris joking with a large audience. Station staff ordered Harris off the set. Kennedy cancelled another section of the programme on which Everton players were also to have appeared. Everton director Mr. F. Micklesfield said; 'They told the lads they could do anything they liked, so no one should say anything about it.' Harris – who would later be sounded out over a move to Australia – also boasted, tongue firmly in cheek, that he was a personal friend of The Beatles: 'I knew them when they were nothing. They are a great bunch of lads.'
Back down to business: Australia found themselves overwhelmed by the visitors in front of over 32,000 people. Some observers had accused the Blues of pulling punches in their first two tour matches, but the gloves were certainly off against opponents comprising two home-grown players plus ex-pats from England, Scotland, Wales, Poland, Germany, Yugoslavia and Austria. Captain Roy Vernon and Gabriel each claimed a hat-trick and Derek Temple weighed in with a brace. The Australians could only muster two in reply.
For their fixture against South Australia the Blues flew into to Adelaide Airport, where a big crowd, containing a good number of exiled Liverpudlians, formed a noisy reception committee. The Norwood Oval reached capacity before kick-off, with hundreds being turned away by the police. South Australia started with an all-out attack on the Everton goal, but on the 33rd minute, Mick Meagan hit a terrific drive from 25 yards for a rare goal. Superior fitness and experience told as Temple and Humphreys goals eased the Toffees to a 3-0 win. Gabriel, Humphreys, Morrissey and Harris were rated as 'outstanding' for Everton by the Daily Post.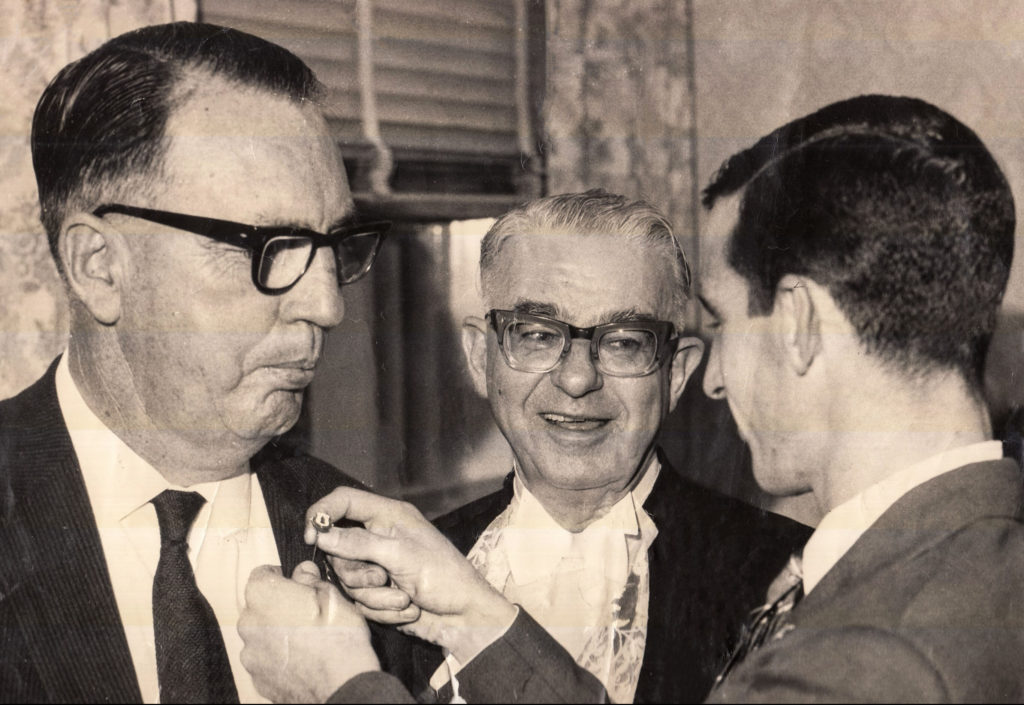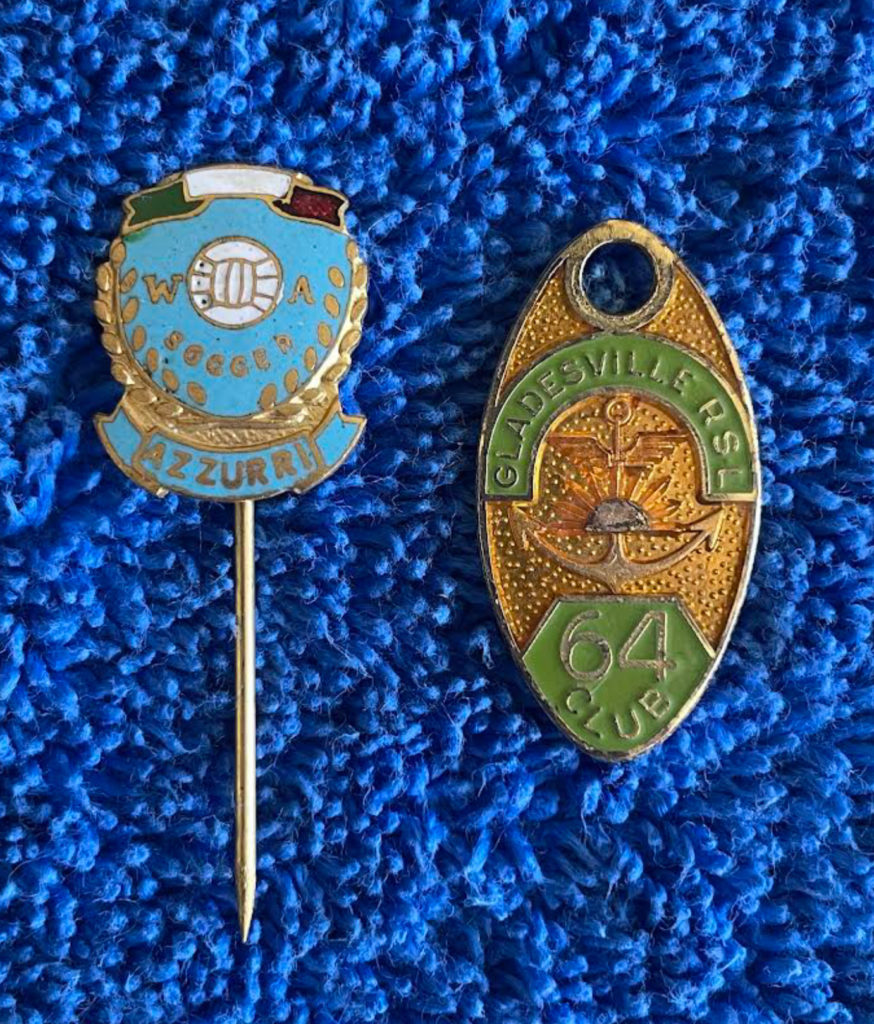 Saturday 16 May saw the second test match staged at Sydney Showground. It looked like being a closer affair than the 8-2 scoreline a week previously, with Gabriel's first half strike cancelled out by the hosts before the break. However, according to Liverpool Echo & Evening Express: 'The Merseysiders released the brakes and surged into the attack to hammer the home defence. Australia allowed Roy Vernon too much room to move and it was his inspiring leadership which helped to rally his team-mates to a better second half. ' They were helped by a suspiciously off-side Colin Harvey goal being allowed, but a Morrisey brace and one from Scott were enough to secure a 5-1 victory.
In their downtime, the team carried out some official duties, meeting civic dignitaries, visiting a school for the blind, meeting new immigrants from the UK staying at a holding facility, and having a tour of the Emu Winery (with lunch included). 'I had a photo taken sampling a glass with a fella working on the vineyard who was from Fazakerley,' recalls Colin Harvey. Exiled Scousers were always keen to have the players visit them.' According to Roy Vernon: 'The telephones at our hotels hardly stopped ringing – former Merseyside people going out of their way to invite the boys out to their homes for meals.' Invites were also extended to numerous ex-servicemen's clubs. Derek Temple's memory of these is vivid: 'Each one was full of slot machines. It was amazing, it's where they got their revenue from. I came back with a load of lapel pins from the clubs that we had visited.' A trip to the famous Bondi beach was made. Sadly, a splash in the surf for Andy Rankin turned sour when a big wave sent him flying, dislodging his freshly-acquired dentures. Frantic attempts by teammates to find the errant gnashers on the seabed came to nought. 'He was living on eggs while we had steak until an emergency replacement set was fitted' recalls John Hurst.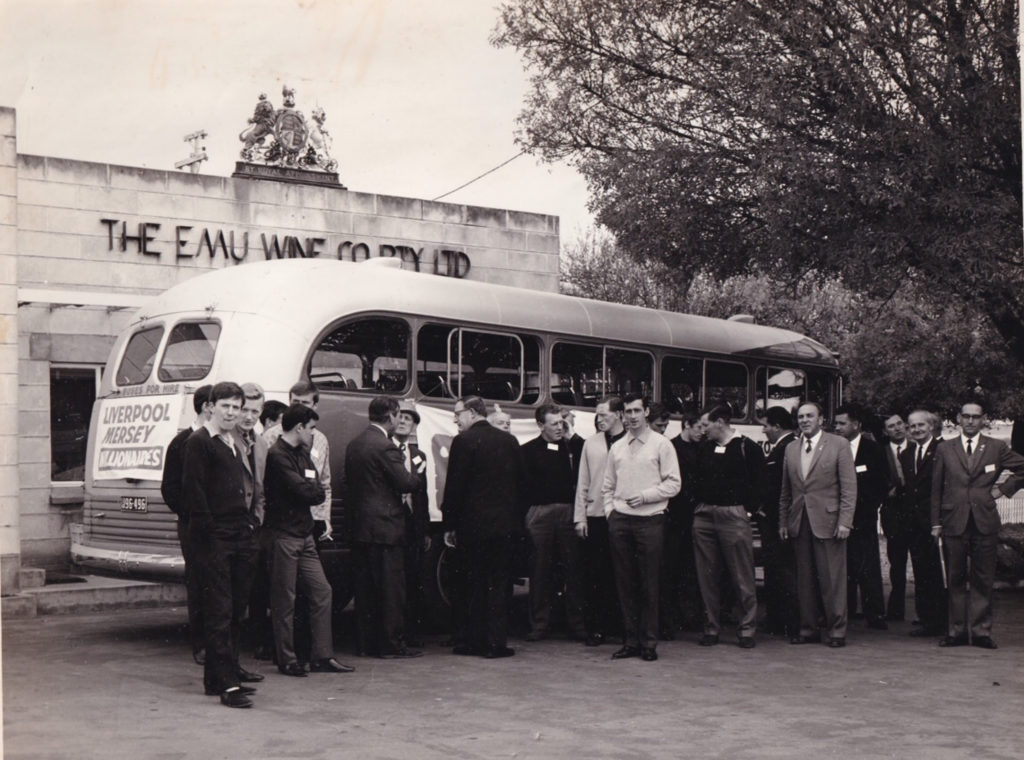 One person not going the distance was the tour's executive director, Mr E. Holland Hughes. A diabetic, he was hospitalised in Sydney and flown back to England several days later. Fred Micklesfield took on overall responsibility, starting with the 2,400-mile trip to Perth in advance of a match against Western Australia. He faced complaints from players about the standard of accommodation in Perth, telling the press the players would move out of the hotel booked by Australia's Soccer Federation. 'We are used to the best in England, and we demand the best here,' he was quoted saying. When the players and officials were put in different rooms in the same hotel, however, they decided to stay.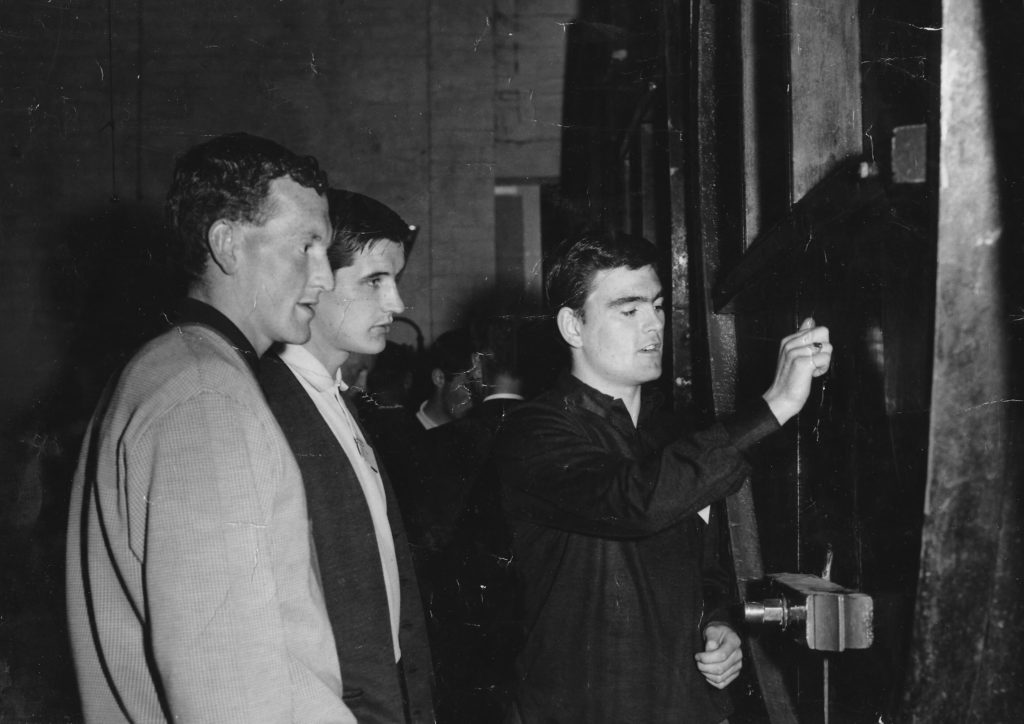 John Montagu, Perth side's centre-half was a Merseysider who had been on Liverpool's books as a part-timer before emigrating to Australia. John was an avowed Red, although his dad was a rabid Blue. The father would be the one cheering the 14-1 scoreline, with hat-tricks for Jimmy Hill, Roy Vernon and Alex Scott – plus five for Derek Temple. Tom Eggleston said that his players might have been spurred on by cutting comments from commercial radio station presenter Wyburn Taylor. The DJ sarcastically said that he hoped that the squad members were: 'enjoying themselves among us beastly colonials.' He added: 'Actually, I think they're a scruffy-looking bunch anyway – l can't tell the difference between the Merseyside Millionaires and the Rolling Stones.'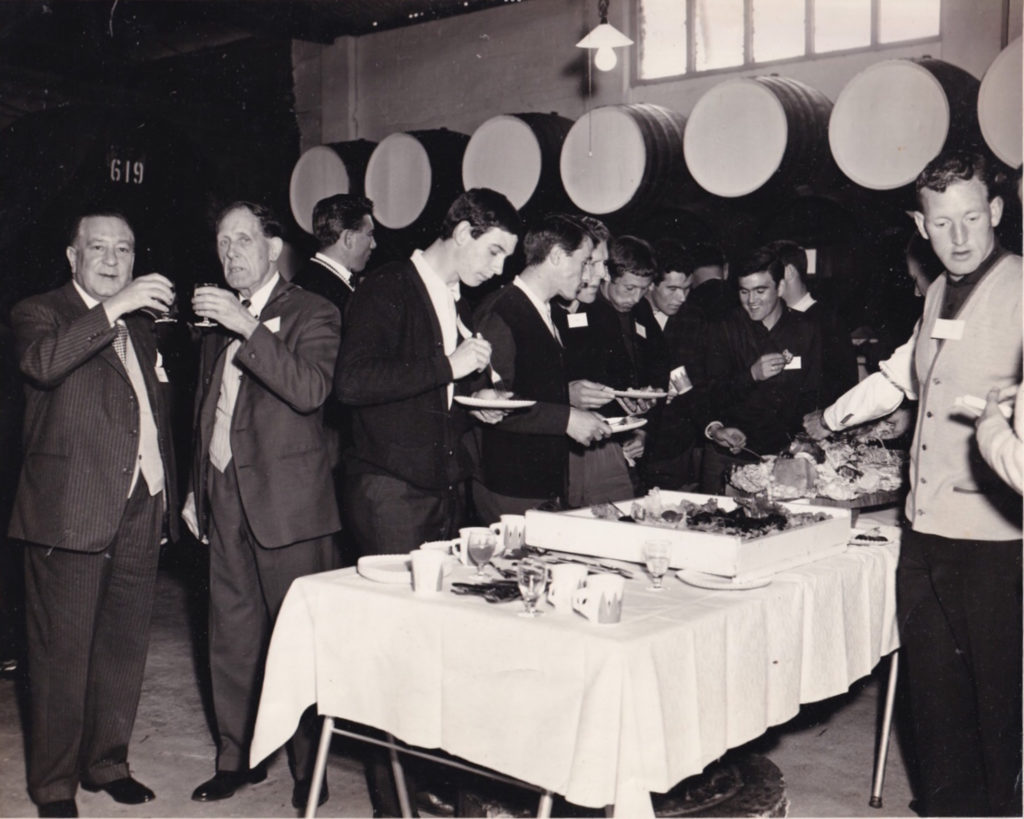 In the penultimate fixture Victoria made Everton fight hard for their victory in Melbourne, but goals from Temple and Vernon, twice – the first of which was a 30-yard piledriver which crashed in off the crossbar, were enough to secure a 3-1 victory. With a proposed additional game against Australia Under 23s on 23 May canned, the Toffees rounded off their successful tour with an 8-1 win over Northern New South Wales, at Newcastle, watched by 13,000. It was only 1-0 at half-time but the superior skill and fitness of Everton's players saw them camp in the home side's half in the second period, with Jimmy Gabriel helping himself to four goals. It would be Mick Meagan's final appearance for the club he had served so well for over a decade. On his return to the UK, he would learn that there was substance to the rumours linking Everton with Huddersfield's left-back Ray Wilson. Lining up with him that day were —West, Brown, Gabriel, Labone, Harris, Temple, Stevens, Rees. Harvey and Morrissey. While in the city, the players paid a visit to the Hamilton suburb, having their photograph taken on the corner of Everton Street and Gordon Avenue.
Weary after eight matches and countless miles commuted, the party embarked their aircraft at Sydney airport – but not before bidding a fond farewell to the supporters who had come to wave them off. Fred Micklesfield broke down in the middle of an emotional speech, thanking Australia for its hospitality. Brian Harris, with his hair combed forwards, Fab Four-style, patted his wallet and said, 'It's been a grand tour…Except for Melbourne and Perth. In Melbourne, when the pubs closed at six I felt like Little Orphan Annie. Ah, but Sydney – now here didn't we have a time and a half?'
The Liverpool Echo and Evening Express described the scene:
The Everton team linked arms in a giant circle and sang 'Waltzing Matilda' on the tarmac before boarding their aircraft. Players and officials, some still clutching glasses of Australian beer and toy Koala bears, surrounded their team's 'comedian' Brian Harris and an accordionist. Harris, who became a controversial television comic in Sydney, sang 'Matilda' louder than all his team-mates. He supported a battered top hat with a cigarette hanging from his bottom lip. Then the team broke into 'Auld Lang Syne' and 'Now is the Hour' as airline officials tried to usher them aboard their aircraft. 'We don't want to go, mate' one player shouted. 'Let's go back for one more match,' another called. Australian soccer officials congratulated the Everton team and voted it 'the best soccer tour of them all.'
After the plane departed – only three minutes late – an Australian soccer official said, 'Those boys enjoyed themselves so much in Australia it's a wonder the plane left at all.' The destination for the aircraft was Honolulu, in Hawaii, where the squad would have a couple of days respite before continuing the journey to Liverpool. The squad stayed in the Hilton hotel where Elvis had filmed Blue Hawaii and some enjoyed having a good at surfing – with mixed results ('a bit of alcohol might have been involved,' explains John Hurst). Others contended themselves with sunbathing – to excess in the case of Barry Rees, who suffered sunstroke so severe that there was a likelihood that he would not be fit enough to catch the flight home. In the end he was virtually carried onto the aircraft by teammates. Leaving this American Pacific outpost behind, the Toffees completed their circumnavigation of the globe with fuel stops at Vancouver and Prestwick, in Scotland, before making the short final hop to Speke, touching down late in the evening of 1 June. Gifts of koala bears and boomerangs were handed out to the reception committee.
The tour was hailed a huge success. Australian soccer officials hailed Everton as the greatest sporting ambassadors ever to visit their country. For the squad it was enjoyable if over-long – perhaps the authoritarian manager's absence made things more relaxed. Roy Vernon reflected: 'We gave them some great displays but there was never any danger of us being beaten. We have left them with a much more favourable impression of British football.' Colin Harvey told me: 'The football wasn't the best – but as an experience for me at 19 it was great. Australia was a fantastic country.'
The Blues would return in 1987, for a match in Melbourne, and for three in 2010. In terms of the legacy of 1964, the tour raised the profile of a minority team sport on the continent and helped to inspire more Australians to participate. Perhaps, in a very small way, it helped pave the way for Tim Cahill to make a huge impression at Goodison Park forty years later.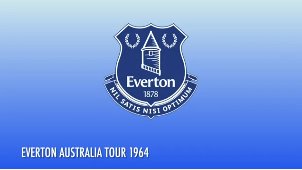 Acknowledgments:
Thanks to the following for making this article possible:
Colin Harvey
Gerry Humphreys
John Hurst
Mick Meagan
April Rathbone
Billy Smith
Andy Weir
Dennis Yaager
The Stevens family
Members of Everton FC Heritage Society
Steve Zocek (Everton FC Heritage Society)
Sources include:
Liverpool Echo and Evening Express
Liverpool Daily Post
Sydney Morning Herald
Everton FC Board minutes on The Everton Collection website
Images are from family collections of the touring party and Andy Weir's Flickr Account
---
Everton v Melbourne, Olympic Park Stadium, 10 May 1964
A few photographs of the game
(photographed by Keith Byron, from the collection of the National Archives of Australia)