By Rob Sawyer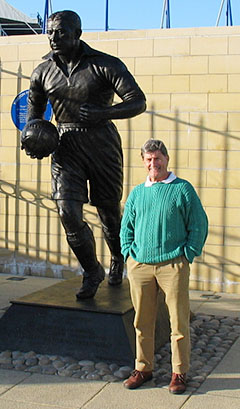 Ian Hillsdon with the Dixie Dean statue in 2003
(courtesy Hillsdon family)
For every local lad who makes the grade at Everton, scores fall by the wayside. Some teenagers fail to develop as expected, some lack the drive and mental toughness to succeed whilst others are just plain unlucky. Of those rejected some quietly slip out of the game, whilst others have a second chance at a lower league club. An intrepid few go further afield to fulfil their footballing dreams. A prime example of the latter category is Ian Hillsdon. Born in 1937, the left-back from West Derby had starred for Lancashire and Liverpool Schoolboys. He joined Everton as an apprentice in 1952 whereupon he played for the junior teams and helped the Goodison ground staff.
His progress in the junior ranks led to him successfully taking part in trials for the England Youth team. After debuting for his country against Ireland, he would go on to make several more appearances at this level (the equivalent of a present-day under-18 squad) in the FIFA Youth Tournament held in West Germany in April 1954. Ian's calibre is confirmed by the names in the squad that he captained in November of that year when England Youth played their Dutch counterparts at Arnhem. The roll-call included Tony Kay and Peter Swan (Sheffield Wednesday), Bobby Laverick (Chelsea and, subsequently, Everton) and Tony Barton (later to become the manager of the Aston Villa team which lifted the European Cup in 1982). Last, but not least, was Duncan Edwards of Manchester United. Despite the quality of the England squad the Dutch hosts won 3-2.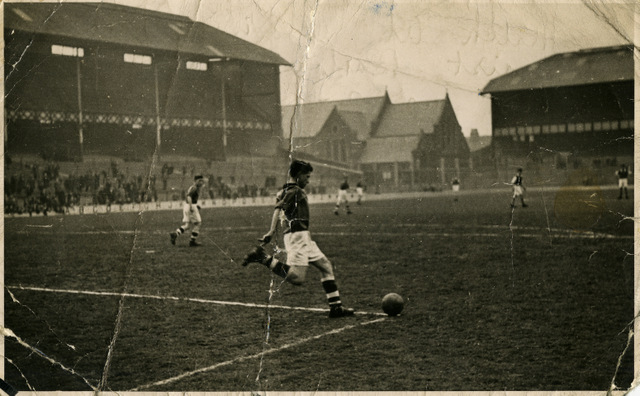 Roscoe vs Barlows Lane School at Goodison Park in 1951 – Ian Hillsdon takes a goal kick (courtesy Hillsdon family)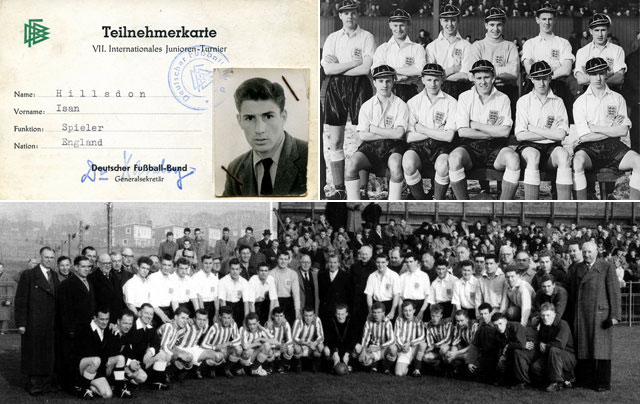 Top left: ID card for FIFA youth tournament in Germany 1954
Top right: England youth team (Hillsdon back row far right)
Bottom: England Youth vs Netherlands Youth in Arnhem, 21 Nov, 1954. Hillsdon was captain
(courtesy Hillsdon family)
In May 1954, Ian was signed up on professional terms alongside John 'Jackie' Keeley, another local England Youth player. The Liverpool Evening Express heralded the number 3 as "brilliant" and "immaculate" when announcing the signings. A month later the Everton youth squad, featuring Ian, ventured to Holland by train and ferry to play a series of exhibition matches against teams from Amsterdam, Rotterdam, Haarlem and Ghent. This was a fallow-period for the Blues as they struggled to get out of the Second Division – but Cliff Britton's policy of developing young talent appeared to stand Ian, and his contemporaries, in good stead.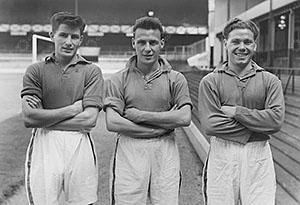 Ian Hillsdon, John Clayton and Jackie Keeley at Everton, May 1954
(Courtesy of Colorsport & Provincial Press)
Derek Temple, a couple of years younger than Ian, recalls that the young full-back was a cultured player who always looked to use the ball constructively rather than just put his laces through it. Temple also recounts that Ian always seemed to be remarkably tanned in contrast to his pasty-skinned teammates!
A promising sporting career did not excuse Ian from performing National Service. He enlisted in the Army and was posted to Monchengladbach. He was able to play representative games for the army, most notably captaining his side to success against a RAF XI.   In one such game in April 1957, calamity struck when he broke his leg. Everton's board minutes reveal that the club was prepared to meet the repatriation costs provided that they did not exceed £50. After initial recuperation on home turf in Woolwich Military Hospital, Ian was transferred to Liverpool's Broadgreen Hospital. He was allowed home in late May after a check-up by Mr Heron – the consultant engaged by Everton.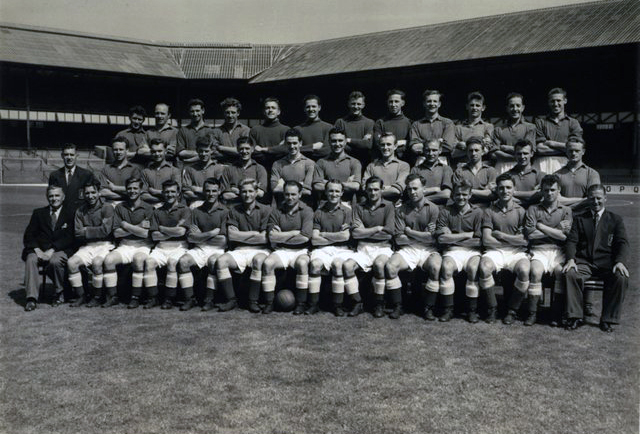 Everton squad 1955-56
(courtesy George Orr)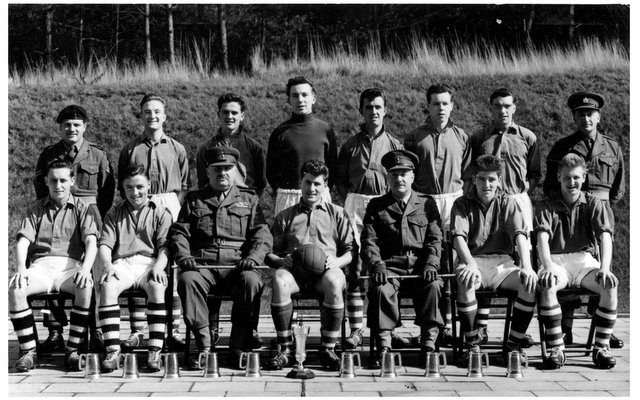 Ian Hillsdon captaining Army team, c1956
(courtesy Hillsdon family)
Ian was demobbed shortly afterwards and upon reporting back to Goodison his wage was increased from the peppercorn £1 per week to £4.10s, rising to £6 a year later. In September 1957 it was noted in the board minutes that Ian would be able to resume training in "six weeks time" but the two year military interregnum and the leg injury had put paid to his chances of advancing to the first team, as Jimmy Tansey was comfortably ensconced in the left-back berth. Ian would make 16 appearances for the reserve team the following season, but in April 1959, when the board and Johnny Carey (successor to Cliff Britton and Ian Buchan in the Goodison hot-seat) sat down to consider who should be made available for transfer; Ian's name was put on the list with an asking price of £500. Also deemed surplus to requirements was Jackie Keeley. Unlike Ian, the forward had made a few first team appearances but he moved to Accrington Stanley.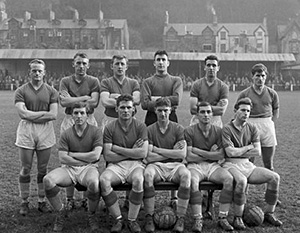 Bangor team, November 1960 vs Southport in the FA Cup. (Hillsdon; back row far right)
(courtesy Hillsdon family)
Upon his release by Everton, Ian followed the well-trodden the path across the Welsh border. An attraction was that his new club, Bangor City, were managed by Tommy 'TG' Jones – the legendary Everton centre-half of the 1930s and 1940s. Bangor competed in the Cheshire League, but it was in the cups where they excelled. Having taken Southport to a replay in the 2nd Round of the FA Cup (losing at Haig Avenue) they advanced to the final of the Welsh Cup, held in Cardiff.   Sadly, despite Bangor taking the lead, it was the Swans who prevailed 3-1.
In light of this successful season, it is surprising that for the 1961/62 season Ian moved thirty miles down the coast to Rhyl. Perhaps the hardship of the Cheshire League, in contrast to life at Goodison, convinced Ian that a more drastic change was next needed. When Ian and his wife Wendy, now resident in Waterloo, spotted a newspaper advert promoting '£10 Poms' they decided to take the plunge, and emigrated to Australia. Rhyl were sad to lose Ian services, but willingly gave him a glowing reference which helped him gain employment with Corinthians FC of Sydney.
Although they were due to travel by boat, Corinthians paid their airfare; such was their desire to have Ian available for selection. Having arrived on Thursday 21 June 1962, he played on the Saturday – no doubt still jetlagged. Having helped Corinthians to promotion from the New South Wales Second Division, he found himself in a contract dispute. After a lengthy stand–off,  Hakoah, an outfit which had its roots in Sydney's Jewish community, secured Ian's services for 400 Australian dollars. Other former Evertonians such as Dave Gorrie, Geoff Harcombe and Matt Woods would also ply their trade in Australia during the 1960s. Joining Ian at Hakoah in the late 1960s was another ex-Toffee. Dennis Yaager was an Australian who had spent two years on Merseyside, collecting a FA Youth Cup winner's medal in 1965. Dennis recalls, "Ian was a champion – a lovely guy and a good footballer. I used to play in front of him at left-half for Hakoah; he was very skilful and cultured. He was a really good talker on the park and helped everybody."

Left: Hillsdon on the ball for Hakoah, mid 1960s
Right: Hakoah team, mind-1960s
(courtesy Hillsdon family)
A highlight for Ian came on 7 June 1967, when he was selected to represent the Sydney area in a match against Manchester United, the newly-crowned English league champions. United were on an exhausting 42 day tour of the USA, Australia and New Zealand – it seems remarkable that they had the energy to win the European Cup the following season. The Australian leg of the tour was sponsored by tobacco company, W.D. and H.O. Mills, just as Everton's antipodean adventure had been three years earlier. Ian came up against George Best in the 3-0 victory for the Mancunians – a prized possession was the United pin given to him by the mercurial Irishman.
Whilst earning an income in the printing trade Ian would continue playing football into his early thirties. Having been an ever-present in Hakoah's successful assault on the 1971 league title, he was released in 1972. Press reports would credit Ian with being 'Mr Consistency' over his long career. Ian wound down his playing days by turning out for Sylvania Heights until he was approaching forty. In later life, his involvement with football would be restricted to coaching his son's team and watching the occasional match on TV. Away from day-to-day involvement. he appeared to fall out of love with the game. Craving an outdoor-based job where he could meet people, he switched from the printing trade to working in a household delivery business until his retirement in 1994.
Ian made a return visit to Merseyside with his family in 2003 – only his second since emigrating over forty years previously. Sadly, by this time he was beginning to be afflicted by Alzheimer's – perhaps a legacy of heading those heavy balls in the 1950s and 1960s. He was able to meet his younger brothers again and make a poignant pilgrimage to Goodison Park where he paid homage at Dixie Dean's statue. Ian passed away in 2009 but is lovingly remembered by his family and friends.
Acknowledgements:
The Hillsdon family
Dennis Yaager
Derek Temple
George Orr
Dafydd Islwyn (Bangor City Historian)
Blue Correspondent website (Billy Smith)
The Everton Collection website
Colorsport