When Elizabeth Bradley moved to work in Liverpool from Chirk, she caught the eye of William Grundy, then working as a groom. They were married in 1870, at the Welsh Chapel dedicated to St David on Brownlow Hill. The couple settled at 4 Moorside in Neston where the head of the household worked as a Coachman. It was here, on 15 March 1883, that their sixth child Thomas Henry was born. He became known affectionately as Harry.
The 1891 census found the family living at 25 Parkgate Road where William had become the clerk at the local parish church of St Mary. He was still working at this occupation when Harry, having completed his education, began work as a bricklayer and played football for West Cheshire League club, Heswall.
During the months of summer, he would earn as much as £80, competing in various athletic events and received accolades for the skill he displayed at the game of quoits. Harry Grundy later signed for Chirk and represented them in the 1905-6 FA Cup tournament. He was approached by members of the Everton executive, after a replayed tie against Tranmere Rovers, and accepted a wage of 25 shillings (£1.25) per week. He immediately went in to the club's Lancashire Combination side and made his debut against Stockport County. Grundy had to wait until 30 December 1905 to make his Football League debut, when he replaced Harold Hardman in a 0-0 draw with Middlesbrough at Ayresome Park. The reporter from Athletic News commented that 'Grundy repeatedly spoiled his comrades' efforts by infringements to the offside law'.
Harry made his second, and final appearance, in a patched up Everton side that was beaten 4-2 at the home of Newcastle United. He was then placed on the transfer list for an asking price of £25. Grundy spent the next season with Western League side Reading, before returning to the Football League with Lincoln City.
He made his debut on 7 April 1907 in a 1-0 win at Derby County and appeared twice more before the season came to an end. The Imps however, finished bottom of the table and found themselves playing in the Midland League. Grundy signed on again and played a major role as they regained their Football League status at the first attempt. He had played 44 games for the Sincil Bank club, scoring six goals in process, when he returned to the family home in Neston.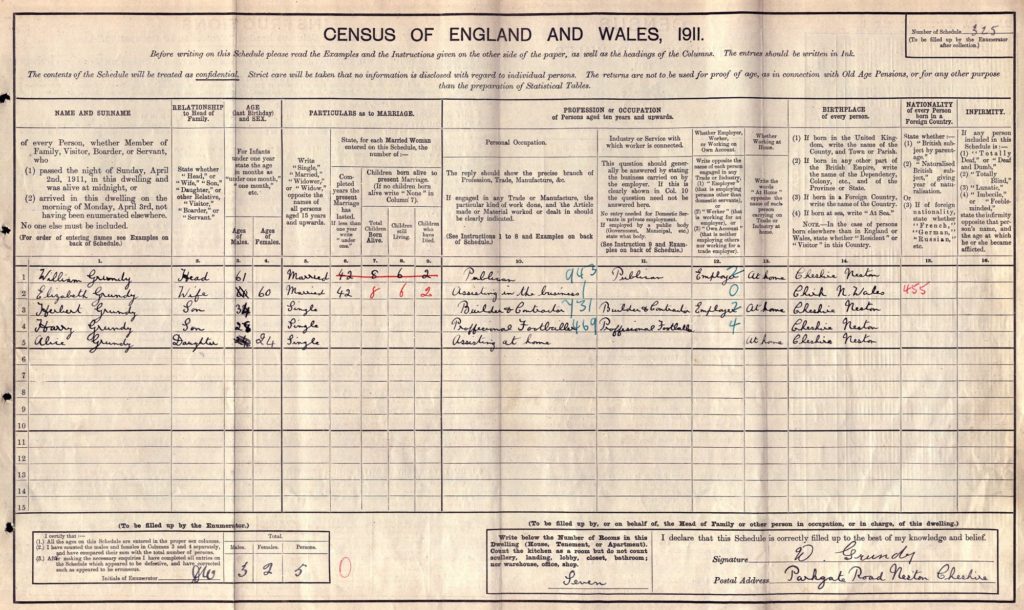 The 1911 census revealed that Harry was living at the Greenland Fisheries Tavern (where his father was landlord) and his occupation listed as a professional footballer. He later returned to his trade as a bricklayer and ended his football career with West Cheshire League side Neston Institute, before enlisting in the armed forces.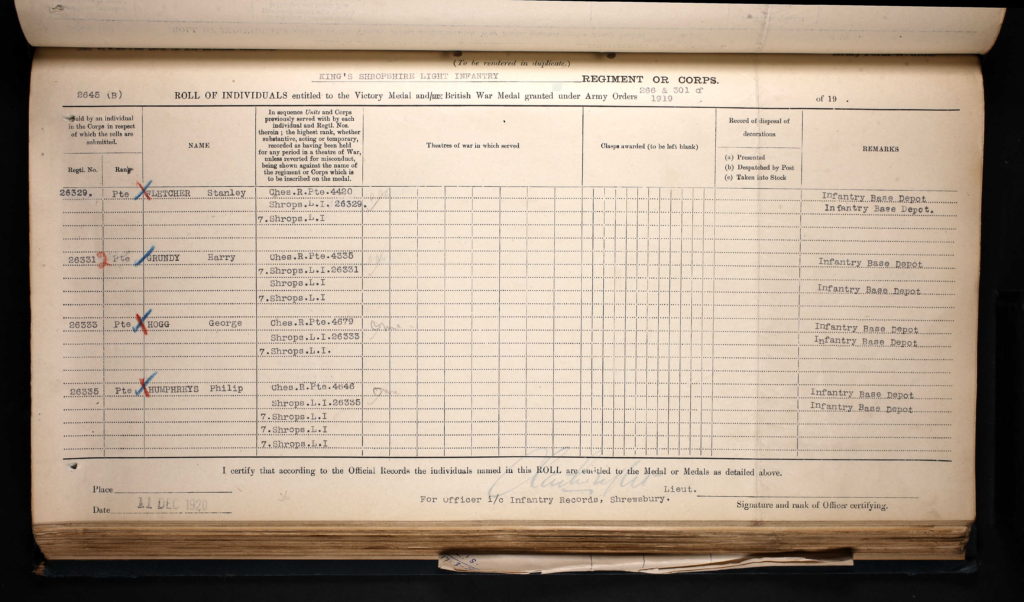 Some time around June 1916, Private 4335 Harry Grundy of the 4th Territorial Battalion of the Cheshire Regiment landed in France. Upon arriving he was transferred to the 7th Battalion, Kings Own Shropshire Light Infantry and given the number 26331. On 1 May 1917, they went up the line and relieved the 1st Battalion, Royal Scots Fusiliers , near Tilloy, to the east of Arras. On 6 May, Harry Grundy was severely wounded and taken to the 18th Base Hospital, near Camiers, from where he was shipped back to Colchester for treatment for wounds to his mouth, nose and eye. He later returned home to Neston to recuperate. He was awarded the First World War service medals – the British War Medal and the Victory Medal.
On 4 April 1929, Harold Grundy married Lillian Heaps at Birkenhead Registry Office, and the couple set up home on Parkbridge Road. They later moved to Prenton Park Road, where Harold passed awayin March 1948 and was interred in Landican Cemetery.