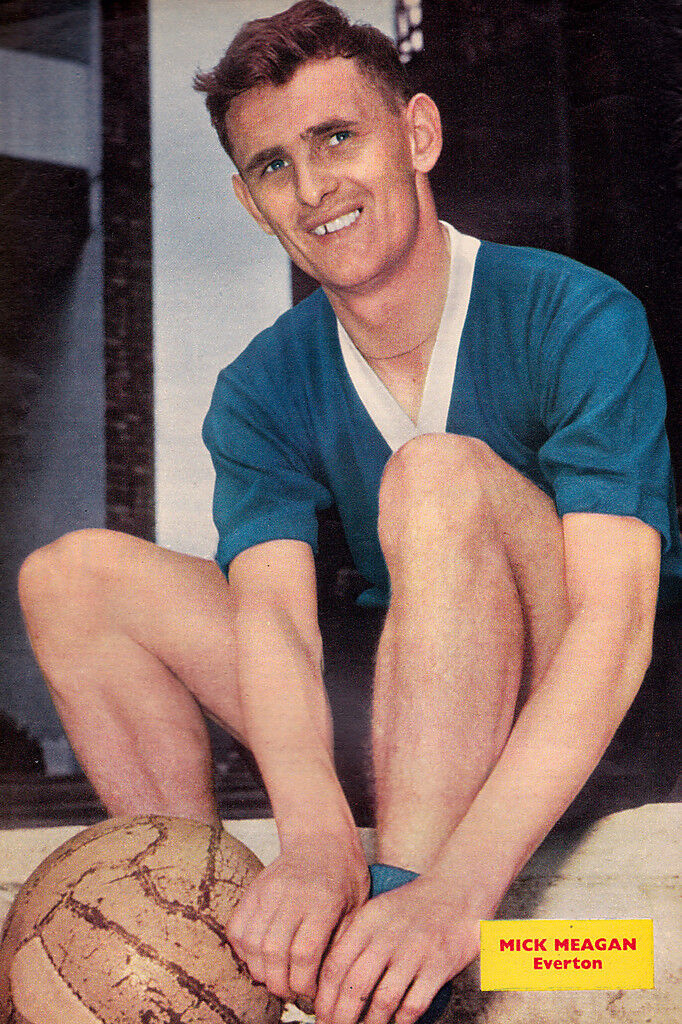 Everton FC Heritage Society are saddened to learn of the passing of Mick Meagan at the age of eighty-eight. Rob Sawyer pays tribute;
Mick Meagan, who passed away on 27 November 2022 was one of Everton's great club men, giving twelve years of unstinting service. His reward was a League Championship medal in 1963.
Born Michael Kevin Meagan on 29 May 1934, and raised in the Churchtown suburb south of Dublin, Mick was dubbed 'Chick' on account of his mother keeping hens in the back garden of the family home. He started off his soccer career with junior club Rathfarnham FC followed by Johnville FC. Somehow, he found himself accidentally on the books of two clubs – but a League of Ireland Committee straightened things out.
Playing at inside-forward in an Irish Youth team against a Liverpool County side, he was spotted by an Everton youth scout and invited over by Harold Pickering for a trial. After finishing the 1951-52 season with Johnville, 'Chick' signed amateur forms for the Toffees, turning professional three months later.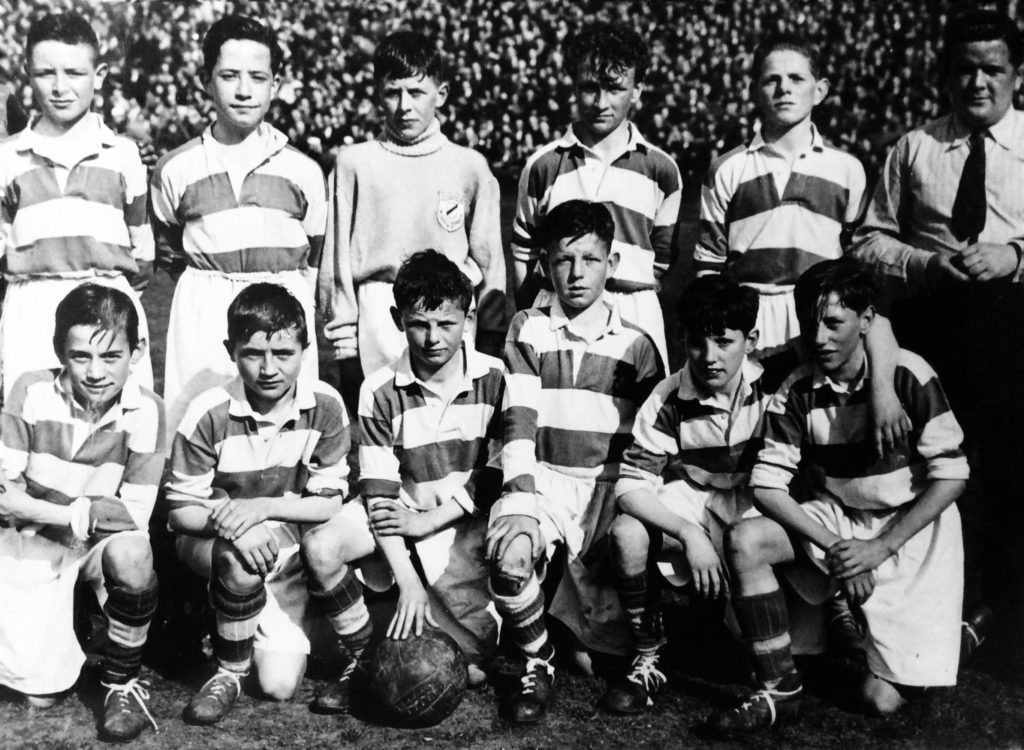 He joined a club flush with Irishmen – notably Peter Farrell and Tommy Eglington – which eased his assimilation: 'It was a great help when I first arrived having all the Irish lads there, but the Liverpool people were great too. From Dublin to Liverpool was like from home to home. The people made me feel so welcome. I had digs with Mr and Mrs Jackson; he was a mad Evertonian and crazy about Dixie Dean – so I called him "Dixie"! There were three lads on the ground staff; Jack Keeley, John Clayton and Keith Williams – who made me feel welcome and became great friends to me.'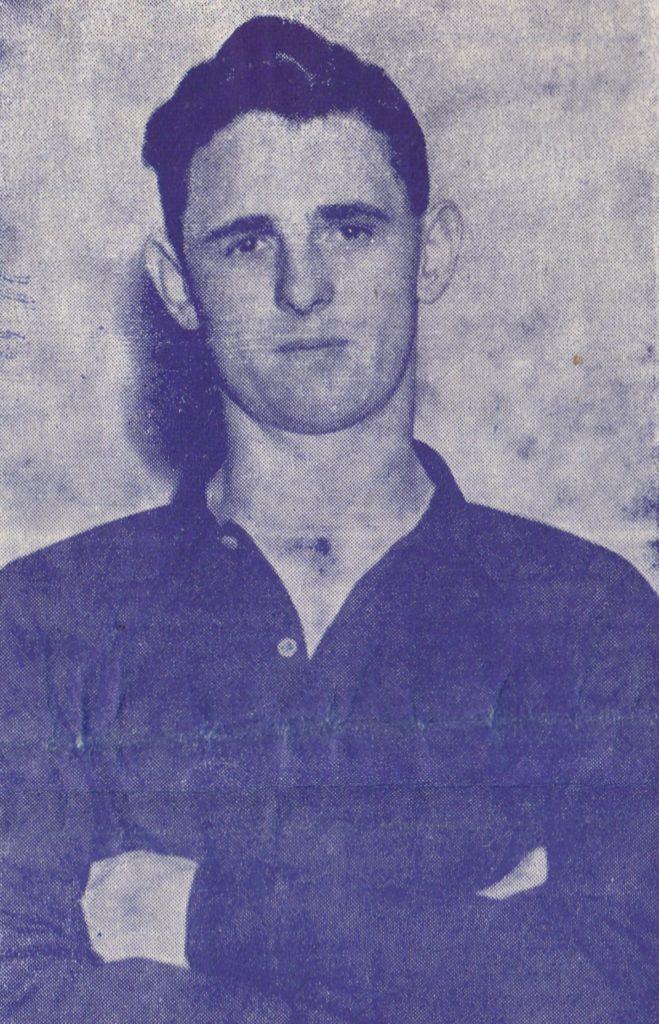 With the Irish players came Everton supporters from the Emerald Isle, much to Mick's satisfaction: 'Everton had great support in those days. Peter and Tommy had been playing for Shamrock Rovers, so there was great interest over here when they came over to Everton. The boat from Dublin was packed every Friday night going over, and on the Saturday night coming back. People still say to me: "We had great fun on the boat, singing songs there and back."'
He had to be super-patient to get his chance. It would be September 1954 when he broke into the Central League side and a further three years before he was blooded in the first team under coach Ian Buchan: 'My debut was against Wolves at Goodison in the first match of the 1957-58 season. Billy Wright was playing for them, and they were a great, powerful team.'
When Mick did come into the side in Aug 1957, he had the tall order of filling the boots – at left-half – of the recently departed Peter Farrell. 
Admired by clubmates for his sure touch and technical ability (Bobby Collins rated Mick as one of the finest exponents of the one-two passes), Mick lacked pace, so it was little surprise to see him moved back to wing-half.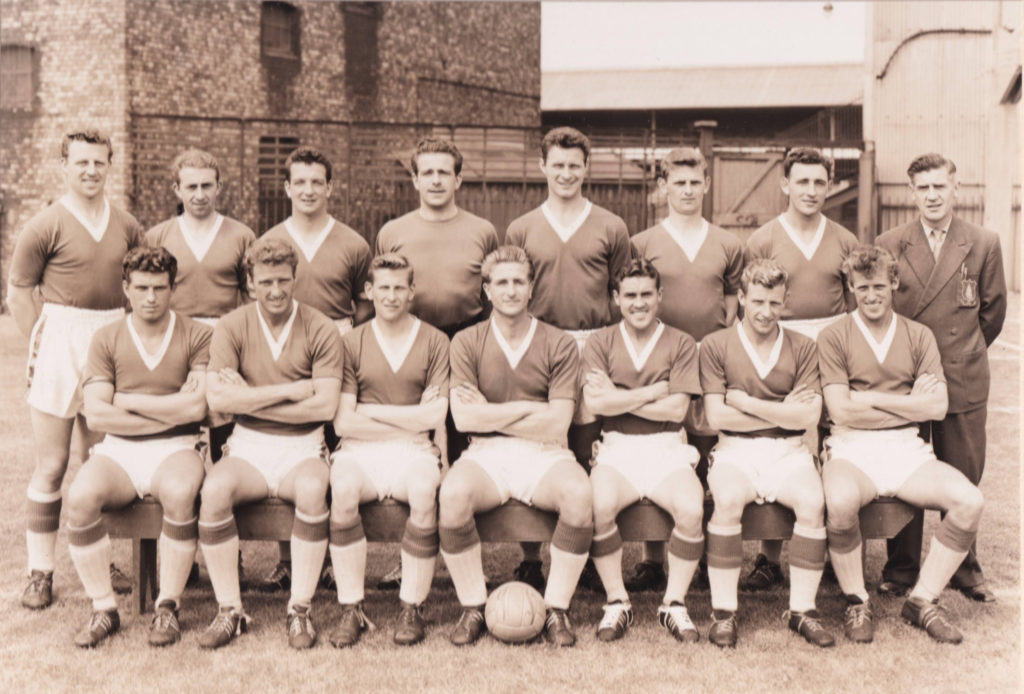 With his Dublin burr, he found himself on the end of some gentle ribbing from fellow players and trainer Harry Cooke: 'The team spirit and atmosphere were great at training. We knew we were going to work hard, but there was also that fun factor – it was like a school playground. I remember that I got a knock on the thigh… so I went to Mr Cooke, the physio, and with my Irish accent said: "I've got a knock on the tie". So, Harry said: "Lads, listen – Mick has had a knock. Where is it again, Mick?!" and he'd make me say it again and again!'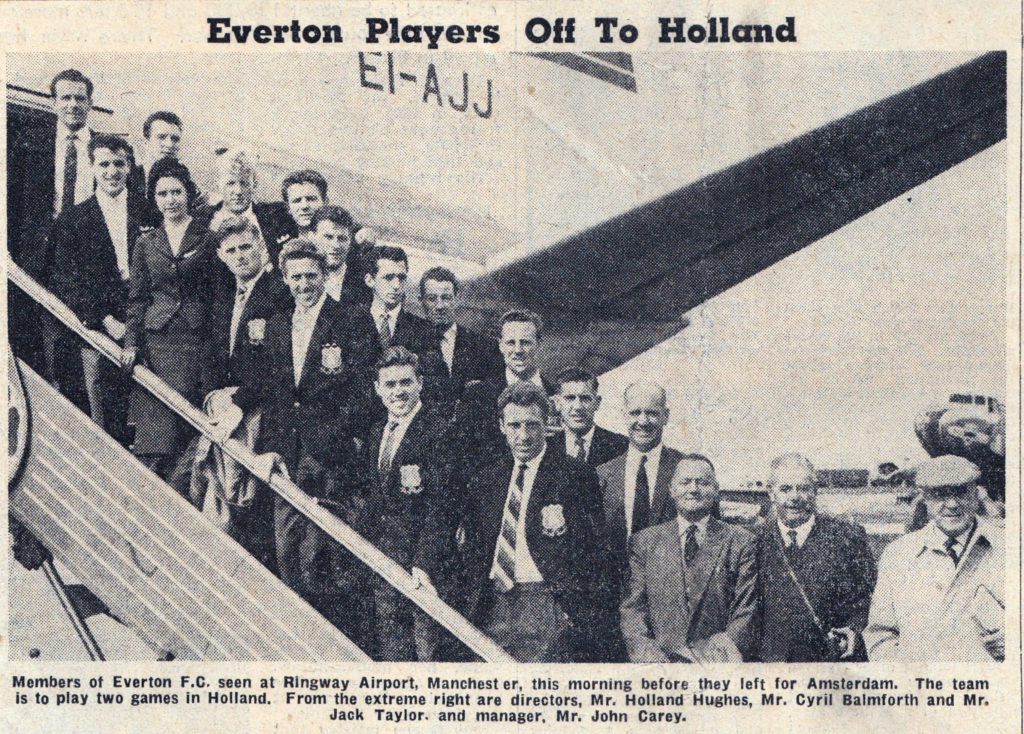 Mick fell out of favour when the club started investing heavily in players at the beginning of the 1960s. But Johnny Carey's replacement as manager, Harry Catterick, trialled Mick as a full-back at the tail-end of the 1961/62 season. He never looked back: 'When Harry Catterick came in, he moved me back to left-back. I was right-footed but growing up you were always told that you'd never make it if you couldn't kick with both feet. Harry appreciated that what I lacked in pace, I made up by using my brain a bit.' Derek Temple, who, along with Dennis Stevens, became a firm friend of the Dubliner, confirms that Mick was an intelligent footballer: 'He knew the game. Some players don't think about it, but he did.'
Sure enough, Mick was often preferred to the specialist left-back George Thomson in the 1962/63 title run-in, playing through the pain barrier of Achilles tendon issues, with Catterick's encouragement. He reminisced: 'My greatest thrill in all the years I have been with the club came on the final day of that season. We knew that if we beat Fulham, the title was ours – no matter what Spurs did. And we made no mistake. THAT was the day, all right.'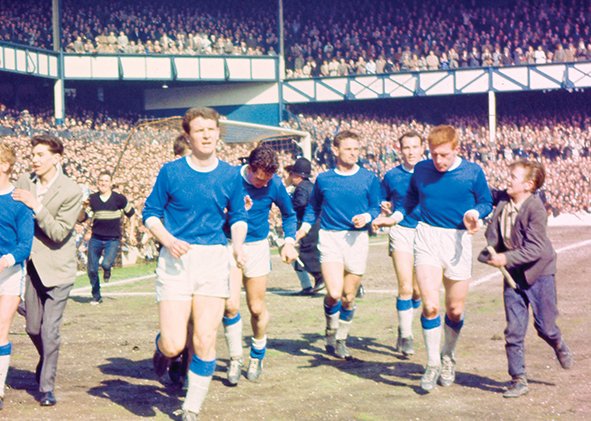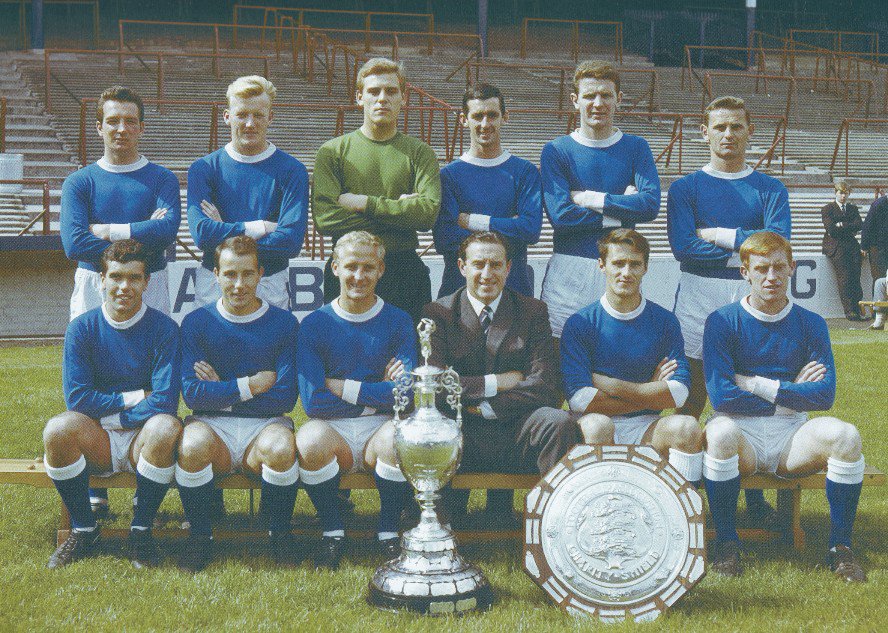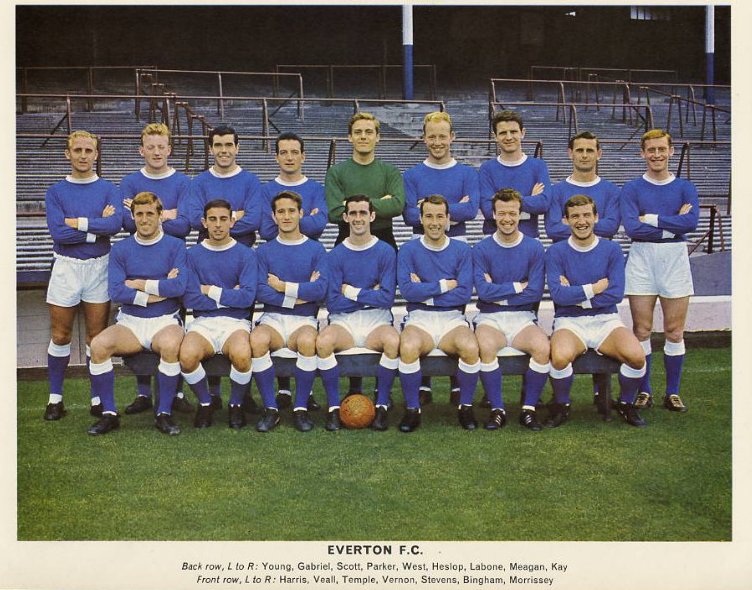 He had hugely admired Bobby Collins, rueing the Scot's departure for Leeds in 1962: 'Bobby Collins was a great player – he and Johnny Giles were two of the best I ever played with. Bobby was a brilliant signing by Revie as he was tough little customer and I think he was brought in to give Leeds some "needle". I had once played against Leeds reserves with the likes of Bremner, Hunter and Madeley and they were lovely lads, a pleasure to play against. Then a few years later we played them in the FA Cup and they had changed completely and become Rottweilers. I think that was down to Bobby, a bit!'
By now, an elder statesman of the squad, Mick was looked up to by youngsters including Colin Harvey, John Hurst and Ray Veall. He would look out for them on club tours – notably to Australia in 1964. On his return from that tour, he found that Harry Catterick had brought in Ray Wilson, with Mick heading in the opposite direction, having made 177 appearances as a Toffeeman. On his departure, Horace Yates of the Daily Post paid tribute: 'Meagan is a model of everything the ideal player should be – uncomplaining, efficient in a quiet way, never a ha'porth of trouble on or off the field.'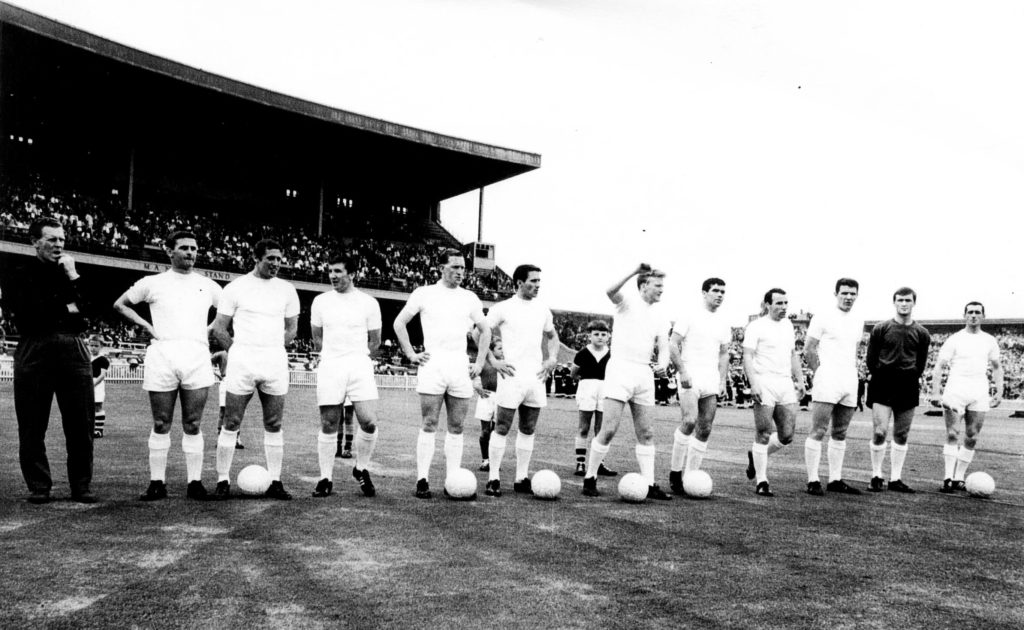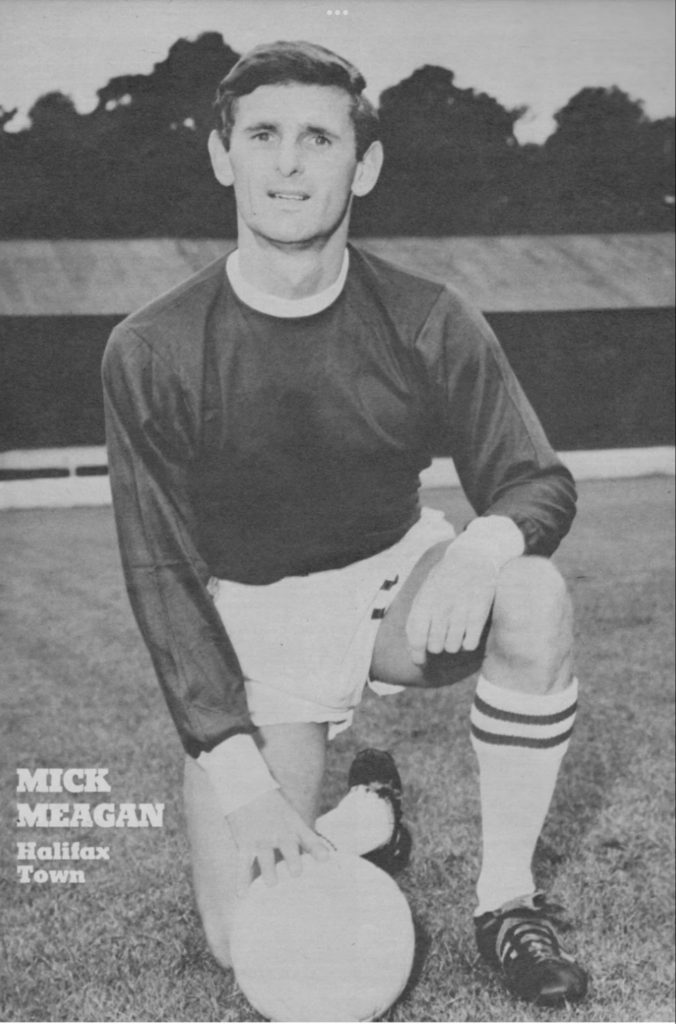 He thoroughly enjoyed his three years at Huddersfield, making many new friends on and off the pitch. He stayed in Yorkshire, playing at the Shay for Halifax before returning to his home country: 'Training as you went down [the divisions] was harder and more physical, as the injuries began to hit me. Alan Ball Senior was manager at Halifax, and he said: "Mick, now is the time for you to go home and coach".
He was capped seventeen times by the FAI, and in 1969 was appointed as the national side's first manager (as the selection committee system was phased out) – combining it with playing for Drogheda United. It was tough going, with a winless record in his twelve matches in charge. Mick later admitted that he had not been suited to being the gaffer: 'To be honest, I never really enjoyed being a manager, even with the Irish team. I always liked to be with the players, and I wasn't cut out to be a manager.'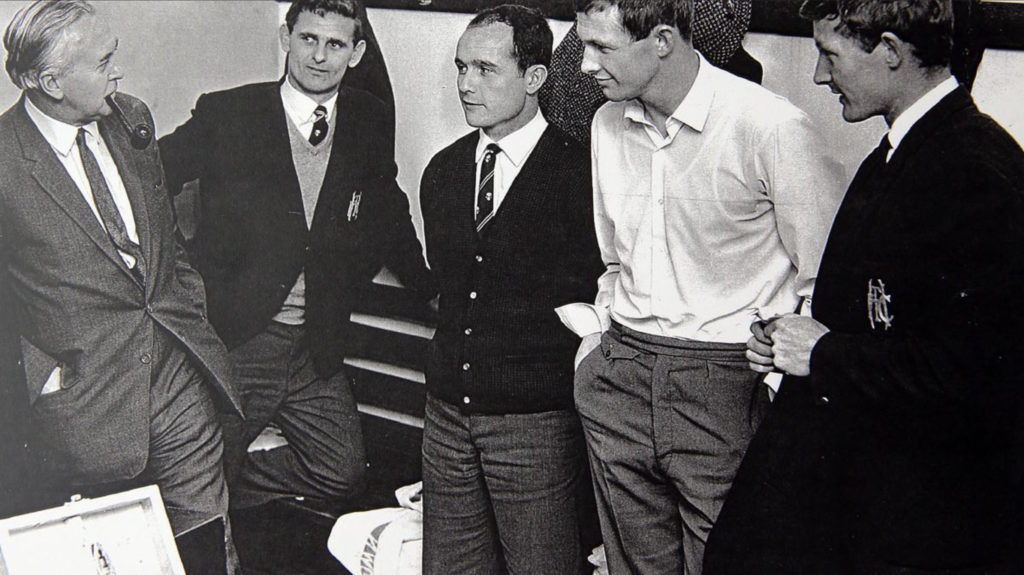 After spells with Bray Wanderers and Shamrock Rovers, he hung up the boots, at forty, in 1976. He left the sport, becoming a recreation officer in an institution for people with mental health issues – a job he got a great deal out of. In 1991 he explained: 'A lot of our young patients are very keen on soccer, so this season we decided to get them involved and join a league. We were accepted into the fourth division and after nine games had won six and lost only two. There are a few members of the staff who played pro football and we have quite a good blend. "We train during the lunch and tea intervals – and I must say I enjoy it. It's like stepping back in time for me. We don't have sweepers and midfield men. Instead, we use the old terminology. I am the centre-half and my teammates are inside-forwards and wing-halves.'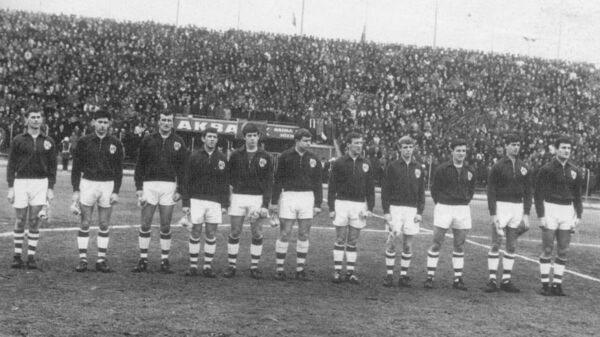 In retirement, Mick kept very active – playing head-tennis with friends into his eighties: 'It's great fun, we play down on a walkway by the river and it's amazing how many people come down to watch us old fellas trying to play. People have a laugh and say: "What are you trying to prove?"' He also enjoyed golf and, until the pandemic, had a regular swim in the sea with friends at the Forty Foot, a fifteen minute drive from home.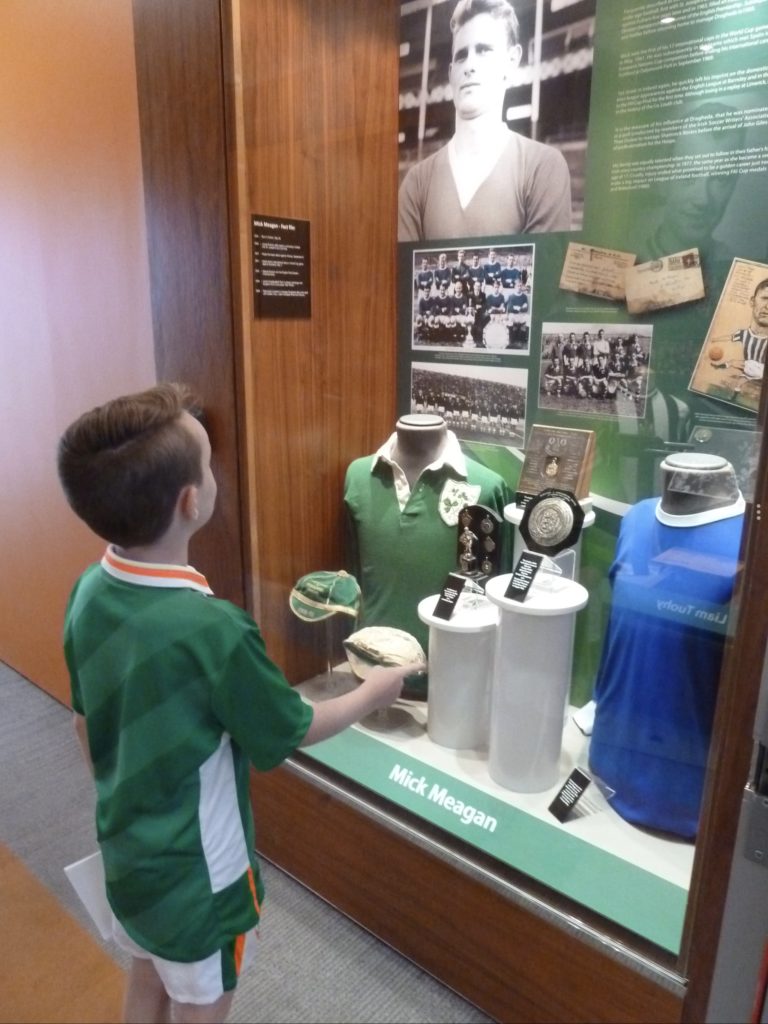 A tribute gallery in his honour was unveiled at the FAI headquarters in 2010 – with Mick the guest of honour. Three years later he took to the Goodison Park pitch one last time (with Alex Young, Tony Kay, Derek Temple and Billy Bingham) to receive adulation of Evertonians as the club marked fifty years since the Toffees won the League Championship.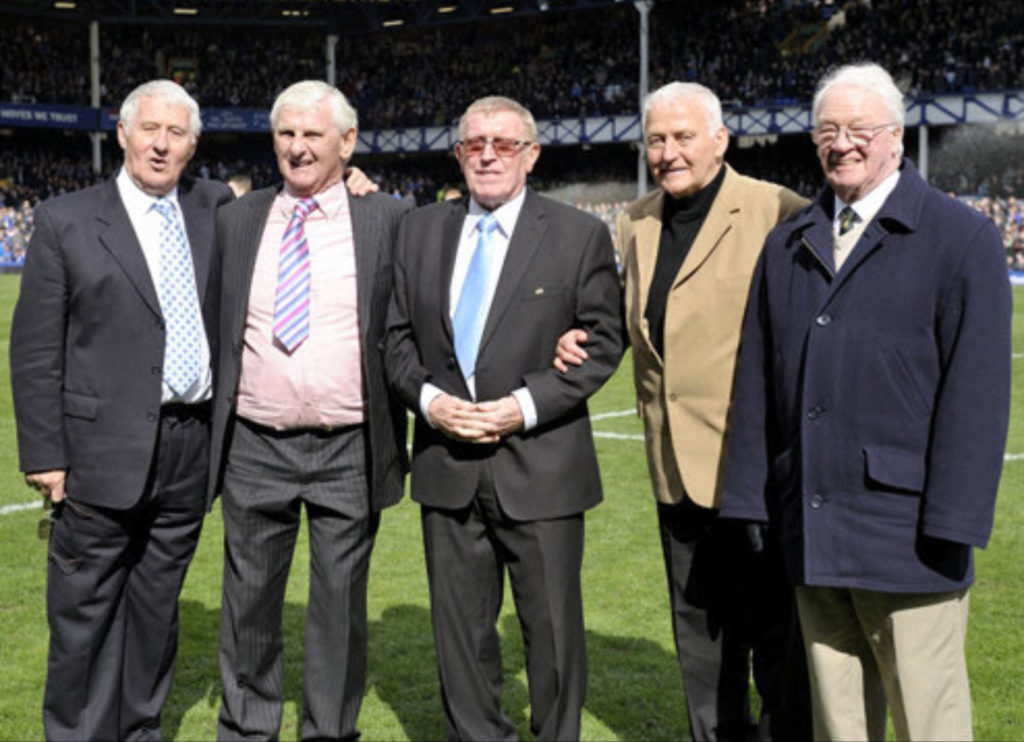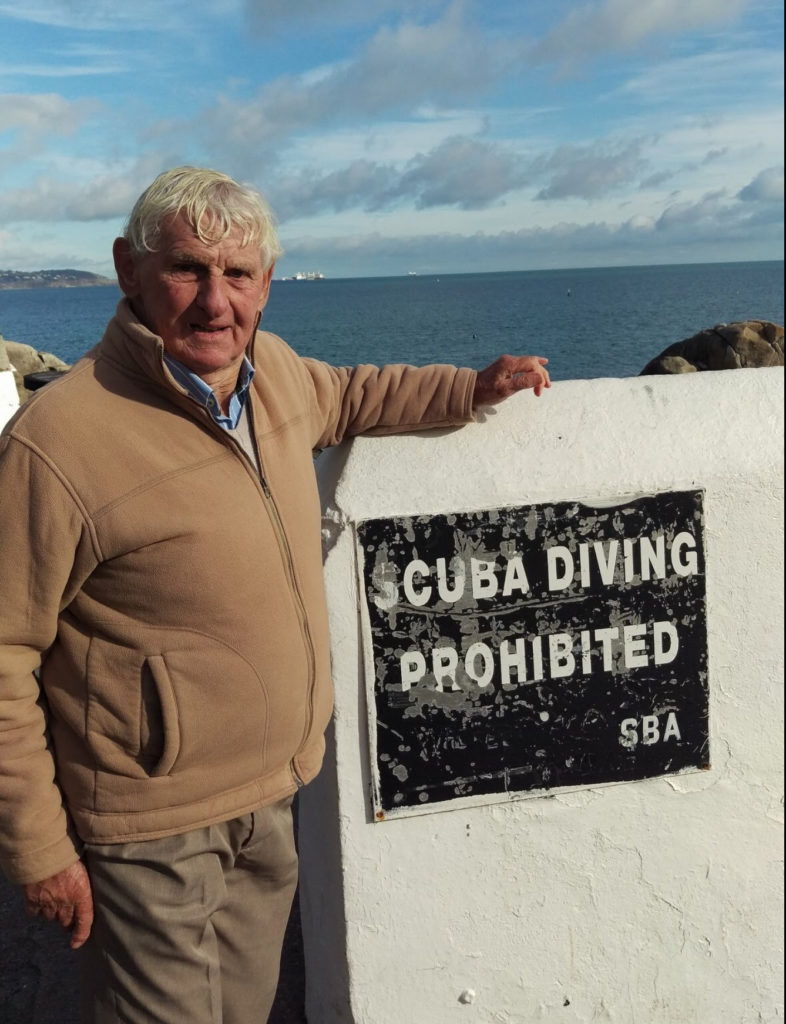 With his sharp memory and plethora of warm anecdotes, Mick was a gift to football historians – he had time for them all. He felt blessed to play for Everton – even if the early years saw the club in the doldrums. Invariably he would refer to the 'lovely bunch of fellas' that he trained, laughed and battled alongside. In 1992 he said: 'I was so fortunate with Everton. It's a family club with friendly staff and a proud soccer tradition – and Liverpool is such a marvellous city, a real soccer capital.'
Mick's health deteriorated in the past 12 months – he received great care from his partner, Derville, and medical staff. He is also survived by his son, Mark (who also played football in the League of Ireland) and a daughter, Carol.
A warm, kind and funny man – Mick will be missed by many on both sides of the Irish Sea.
Read Rob Sawyer's full conversation with Mick Meagan;