Coming from dissimilar parts of the United Kingdom and completely different backgrounds, the paths of these aforementioned individuals crossed while they were playing football in Liverpool.
Robert Stevenson was one of several young Scotsmen tempted to try his luck by an agent who covered the area around the Ayrshire coalfield. He was born on 24 May 1861 at 34 Ardeer Square in the coastal town of Stevenson where, along with his siblings, he spent his childhood. His father, George, was a coalminer while his mother, Margaret, had the maiden name of Strain.
The 1881 census indicated that the family had by now moved to Kilmarnock where the head of the household was running a tavern at 52 Low Glencairn Street, and that Robert was working as a grocer's assistant. He had also started playing football at full-back with Kilmarnock Athletic, where he was partnered by his friend and neighbour, Sandy Dick.
The club had previously won the Ayrshire knockout but were now in a precarious position owing to the exodus of their best players to Lancashire. Their fixture list was still impressive with such clubs as Glasgow Rangers and Partick Thistle booked to visit them on their ground at Holm Quarry. However, following several heavy defeats, the home gates quickly dropped and Kilmarnock Athletic were forced to fold at the end of the season. Rob Stevenson and Sandy Dick then accepted the offer to join Stanley in Liverpool.
The Stanley footballers were an offshoot of the club's well-established cricket section and several of them came from Scotland. Their headquarters were at the Spellow Hall Hotel and their home enclosure was at nearby Walton Stiles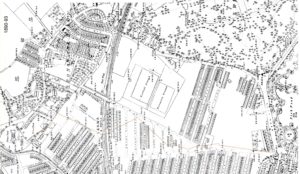 At first Rob Stevenson found it difficult to maintain a place in the Anfield set-up where he was switched to the half-back line. He made his Everton debut in October 1885, against Bury at Anfield and scored in 4-1 win. On 13 November he was back at Walton Stiles to face a Stanley side which included their new signing from Kilmarnock, Archie Goodall. It was rumoured that his famous brother John who played for Preston North End was to accompany him, but it was team mate Jimmy Ross who appeared instead. Stevenson made regular appearances for Everton which included drawn games with three-time FA Cup winners Blackburn Rovers and the holders at the time, Aston Villa. He remained with the club for another season and represented the Liverpool FA, 24 April 1887, against Cheshire in a 4-2 defeat at Walton Stiles. The Scot had now decided to make his home on Merseyside where he acquired employment with the Liverpool Constabulary.
Stevenson began playing amateur football with Liverpool Police Athletic who had an enclosed ground off Kensington, on Balmoral Road. He nevertheless maintained a connection with Everton and played for them against an Ulster touring side during the festive season. On 25 January 1889, following an injury to John Weir, Robert Stevenson made his only Football League appearance for Everton against Wolverhampton Wanderers, on the Molineux Grounds, where they were beaten 5-0. He then concentrated his sporting activities with the Police team where he was joined by former Everton team mate, William Herbert George.
The son of John and Lydia, George was born in April 1863, at Foleshill near Coventry where the head of the household was employed as a silk weaver. He later became an agent with the Prudential Insurance Company and moved his family to the Kirkdale area of Liverpool. The 1881 census found them living at 79 Tetlow Street where William had joined his father as an insurance agent and had started playing football for his parish church of St Mary. They played their matches on Stanley Park and were captained by their curate, Charles Anthony Carter.
William George was first seen to good effect when he represented his parish in a charity game that was played on Stanley Park  during Whitsuntide 1882, for the benefit of Stanley Hospital. Stanley Park was again the venue when a similar event was held in 1885, but this time he represented St Marys against Everton, in a team that had been selected by the committee of the Liverpool & District FA.
On  9 September 1885, William George married Margaret Burns at his parish church. Reverend Carter conducted the ceremony. He continued playing with his church until March and then started to appear in the Everton line up. William George made several First XI appearances before joining the Liverpool Police Athletic where he lined up alongside Robert Stevenson.
On 14 April 1888, both players were in the side when they took on Stanley at Walton Stiles. They were trailing 2-1 when a foul on their goalkeeper, the former Everton player Charles Lindley, caused an altercation in the dying minutes of play. In the melee that followed, William George was struck several times by the Stanley umpire, Robert McCallum, who had entered the field of play.
The visitors promptly left the enclosure and, following a report by the referee, the Stanley official was summoned to appear before a Liverpool magistrate where, after showing remorse, he was fined the sum of twenty shillings with costs. The 'man from the Pru' accepted his apology and ended his football career with the Liverpool Police. The George family later lived in Macclesfield and Newcastle-under-Lyme before returning to Merseyside where they settled at 7 Mather Road in Birkenhead. They were living at this address when William died on 13th of October 1927.
Robert Stevenson continued as a member of the Liverpool City Police and rose through the ranks. The 1901 census recorded that he was unmarried and lodging with the Liddell family at 37 Roxburgh Street, Walton. He had by now acquired the rank of detective sergeant. His death and last resting place have yet to be discovered.