When Allan Maxwell decided to leave his native Scotland to play professional football, he had no idea that eventually he would be involved in one of the most peculiar transfers that ever happened in Victorian England.
He was born on 2 April 1869 in the Lanarkshire town of Dalziel, now part of Motherwell, where his father worked as a coal miner. The 1871 census found the family had moved to 30 Sunnyside Rows in Cambuslang where young Allan was recorded as being two years old. By 1881 the Maxwell family had moved to 5 Windsor Street in the town of Hamilton where Allen attended school. Leaving school in his mid-teens, he joined his father working at the mine. It was around this time that he started playing football for Cambuslang at their home of Whitefield Park and was at the club when they became founder members of the Scottish League in 1890. They finished in fourth place but, at the end of the season, Maxwell decided his interests would be best served by moving to Scottish League outfit, Third Lanark in Glasgow. He had not long been with his new club when Everton came in with a tempting offer to move south and play his football in Liverpool which he accepted. However, when the news reached the ears of a Scottish journalist who wrote under the name of Puffer, he promptly aired his displeasure and penned the following article. It seems to imply that the Merseyside club had made Maxwell a previous offer while he was at Cambuslang.
No sooner had Third Lanark got under way, than the pirate makes in-roads into their territory and destroys what they had taken such pains to build up.  Allan Maxwell of Cambuslang, who has only been with them something like a couple of months, has been bought by Everton. He left, I believe, for Liverpool on Wednesday by the 2pm express. His companions are supposed to be Foyer (St Bernard's) and Pinnell (Blantyre Victoria). I have seen the latter play in an important junior match – Scotland v Ireland – and was rather favourable impressed by his style. Mr Molyneux should now feel well satisfied. A year ago, I figured a £100 Bank of England note which Allan Maxwell handed to the Cambuslang club to refund Everton – price of his blood – but I should like to know which landed the prize one year later.

Scottish Sport, 24 October 1891
The journalist was correct in his assumptions that Maxwell and Pinnell had left Glasgow for Liverpool, but Foyer, as it later transpired, did not travel with them. It is likely that Everton wanted Maxwell to replace Alec Brady who had recently left their club and returned to Scotland. The executive had made a special arrangement for an Accrington XI to make a midweek visit to Anfield, and both the new signings were reported to have played well as the visitors were beaten by two goals to one. The club then announced that both men would appear the following Saturday in the Combination side at Anfield but, at the eleventh hour, Maxwell was thrust straight in the Everton First XI for the visit to Deepdale, where Everton were beaten four goals to nil by Preston North End. He was then placed in the Second XI for a couple of games, but returned for the visit to Wolverhampton Wanderers where Everton were again beaten by five goals to one. Nevertheless, he retained his place in the side for the next home game where he scored his first goal for the club in 5-1 win over Aston Villa.
Maxwell went on to make sixteen appearances, scoring four goals in the process, as Everton finished the season in fifth place behind league champions, Sunderland. The now famous internal dispute occurred which saw Everton leave their former home at Anfield and move to their present-day home at Goodison Park. Maxwell remained with Everton and took part in their inaugural match, against Nottingham Forest, and became a permanent fixture in the club's forward line. His team could not match the Sunderland 'team of all talents' who were about to regain the league title, but a prolonged and arduous FA Cup run had seen them reach the final, where a game with Wolverhampton Wanderers now awaited them.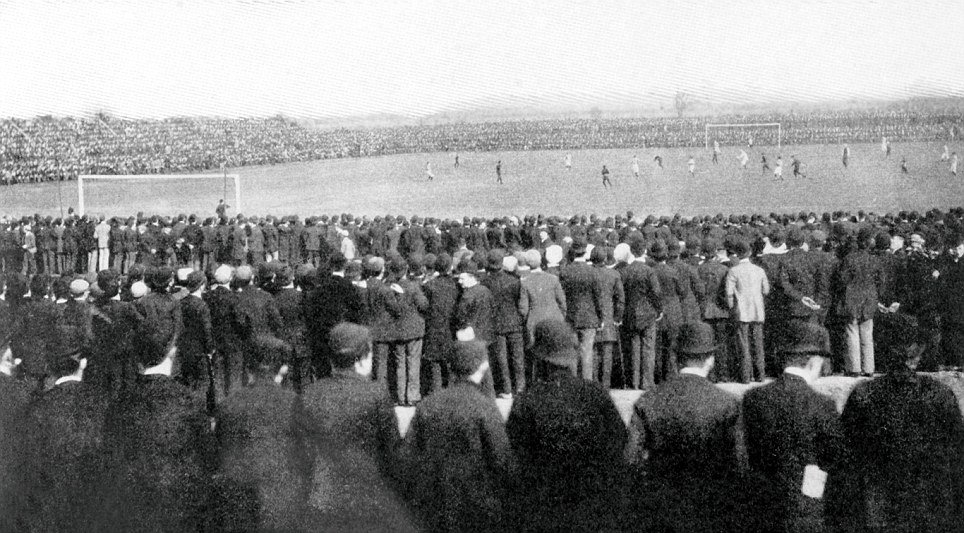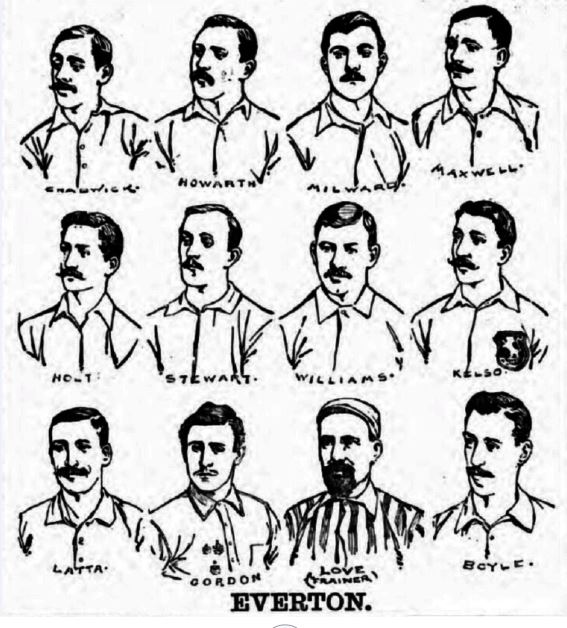 The Scot was part of the Everton team who took to the field at the home of Manchester Athletic Club at Fallowfield where the number of spectators completely overwhelmed the enclosure and frequently interrupted the play. The Anfield club, who were favourites to win, put in a poor performance and were beaten by the only goal of the game.
The club executive put the extra money from the match to good use by bringing in the much sought after Scottish International forward Jack Bell from Dumbarton, who played in the three remaining Football League fixtures before the season came to an end.
By the time Maxwell returned for the new season, he was married with an infant son, Thomas, born in Scotland on 18 August 1893.  His employers, meanwhile, had been busy in the transfer market and competition for places in the Everton forward line had intensified after securing the signature of Jack Southworth, a prolific goal scorer, from Blackburn Rovers. Maxwell lost his regular place in the side and made his final appearance on 4 November1893 against Sheffield Wednesday, before accepting an offer to join a Darwen side who were struggling at the bottom of the table. In all he had played fifty times for Everton and scored sixteen goals.
Maxwell instantly made his debut against a West Bromwich Albion side who drew a crowd of 5,000 to their home on Barley Bank Meadow. He played at centre-forward but failed to score as Darwen won by two goals to one. During the rest of the season the Scotsman managed to score only three goals as his side finished next to bottom of the table. They then lost a test match against Small Heath and were relegated to the Second Division of the Football League. Maxwell spent another two and a half seasons with the East Lancashire club in which they failed to gain promotion, before accepting an offer in early January 1896 to re-join the top tier of English Football with Stoke. The Darwen directorate did not request a fee, but asked the Potteries-based club to foot the bill for a new set of wrought iron gates that were needed at the entrance to their Barley Bank enclosure. They agreed to this and the transaction went ahead.
Allan Maxwell now teamed up with fellow Scot Willie Maxwell and made his debut in an FA Cup tie against Tottenham Hotspur at the Victoria Ground, where he scored twice as Stoke routed the Londoners by five goals to nil. They went on to eliminate Burnley before losing to Wolverhampton Wanderers in the Third Round. Nonetheless, they had moved up to finish the season at sixth place in the table, their best performance to date. Allan Maxwell remained with the Staffordshire side for two seasons before returning to his native land where he joined the St Bernard Club in Edinburgh. The move did not go unnoticed by the Scottish press,
At centre Allan Maxwell is be-tired. This player has done good service for Stoke, but has wandered about too much to justify one believing he is as good as was thought to be when he first came from Cambuslang.

Edinburgh Evening News, 30 August 1897
Allan Maxwell ended his football career in Edinburgh before returning to the area where he was born and a return to working in the local coal mine.  On the 1901 census he is recorded living with wife Agnes at 257 Glasgow Road, Hamilton, together with his his wife's father and brother.  Their son Thomas was living with his grandmother and her four daughters, at Brook Street in Darwen. However, the family were soon re-united, travelling together on the SS Ethiopia sailing from Glasgow bound for New York.
Allan Maxwell, who represented Everton in the 1893 FA Cup Final, spent the rest of his days in America and died there in 1956 aged eighty-six.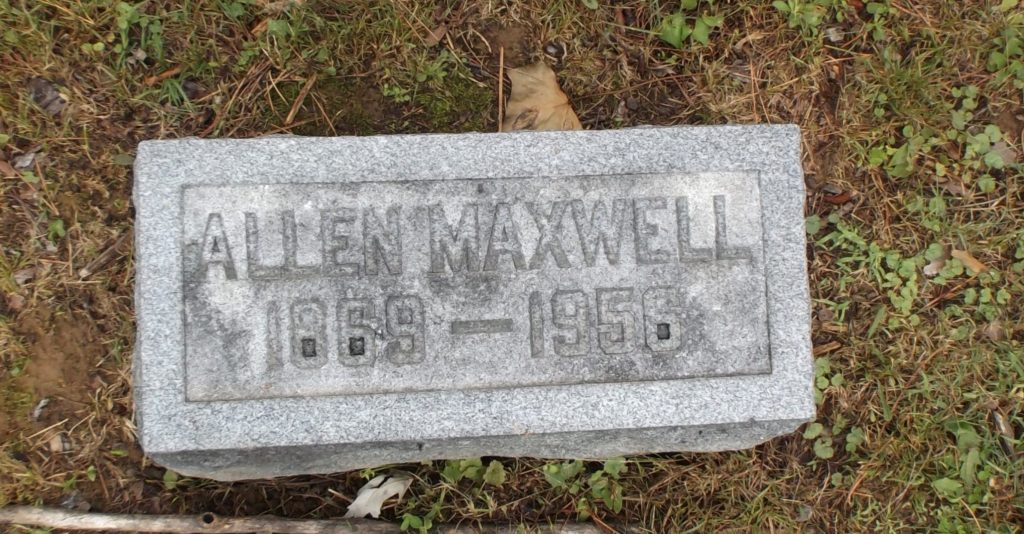 The grave marker of Allan Maxwell in Lexington, Ohio
(NB. regarding the spelling of his name, in the UK, sources such as baptism, census, newsreports, etc, consistently use the spelling Allan. In the USA his grave marker is Allen, while on the death certification of his wife Agnes below he signs his own name Allen.)