…Who played together in that historic first game at Anfield on 27 September 1884
Like many of the young teenagers of Victorian Liverpool, William Gibson, Walter Richards and Thomas Whittle would have been drawn towards the new game, association football, that was beginning to sweep the land and would have spent their early teens watching such teams as Everton on Stanley Park. They also would have observed that this particular club had, by 1882, attracted the largest number spectators to their unguarded playing area. The following year, when they moved to an enclosure, William Gibson appeared in their line-up.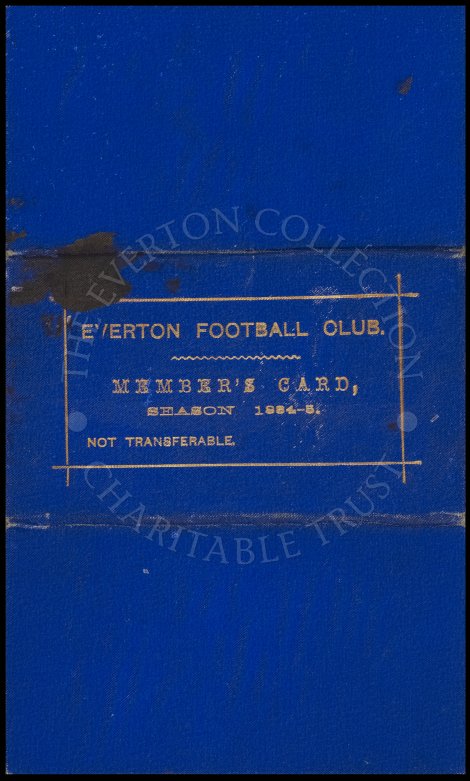 Born 1862, he is recorded on the 1871 census to be living in Everton at 34 Hodder Street with his Liverpool-born parents William, a boilermaker, and Anne. The family later moved to 53 Melbourne Street and William was working as a commercial clerk when he made his debut for Everton in December 1883 in the local knockout against Liverpool Ramblers. He scored one of the goals in a 4-1 win. Gibson then helped Everton to reach the final of this competition and was in the side that lifted the trophy with a 1-0 win over Earlestown. The next season he was joined at the club by Richards and Whittle.
Walter Richards was born in1865, the third child of Robert, an Exeter-born seaman and Anora whose place of birth was Liverpool. The family emigrated to North America where archives confirm they arrived at Ellis Island on 10 July 1868. However, by 1881 they had returned to Liverpool and were living at 65 Stansfield Road where Walter had begun work in the grocery trade.
Thomas Robson Whittle was baptised 30 July 1865 at the parish church of St Peter where his parents, Thomas and Rebecca, were recorded as living at 8 Garibaldi Street. At the time of the 1871 census, the family had moved to Elmore Street but by 1881 they lived at 78 Stansfield Road. Thomas gave his occupation as a railway booking clerk.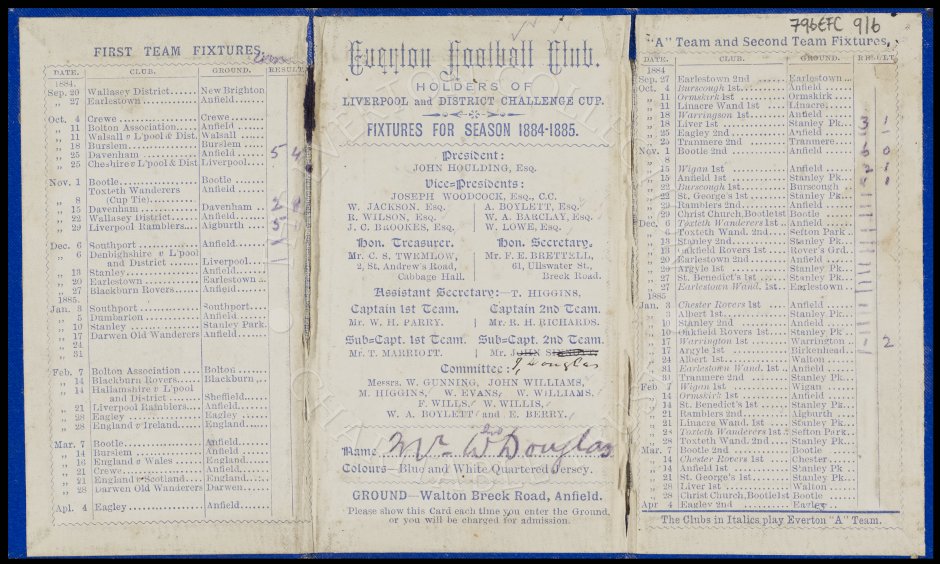 Quite possibly, these two teenagers, members of the parish of St Benedict, would have been taught to play football by their curate William Jackson before joining Gibson at Everton. (William Briscoe would later take this route into the team.) The three men were first reported to be playing together in the forward line against Burslam Port Vale in September 1884. The Staffordshire club had invited Everton in order to introduce the public to their new sports ground on Moorland Road where around 3,000 people saw them beat the visitors 7-0.
The following week, it was the turn of Everton to open their new enclosure on Anfield Road with a game against Earlestown. The three young players again lined up together. The two goals scored by Whittle, along with one from Richards, helped the home side to win the game 5-0. All three next appeared in the Liverpool Cup tie against Bootle, which Everton won 2-1, and joined forces when they again faced Earlestown in the final. They lost the game 1-0. The last game of any note that Gibson, Richards and Whittle played together was a 2-1 defeat against FA Cup holders Blackburn Rovers at Anfield because, the next season, there were wholesale changes at the club.
Thanks to a surplus of gate money, the Everton executive now decided to import experienced players with a promise of paying them for their services. George Dobson first arrived from Bolton while George Farmer and Job Wilding joined him from North Wales. Gibson and Richards assisted the club in the local knockout but it was only Gibson who appeared in the final as Everton beat Bootle 1-0. As a consequence of the increase in imported players, these three local men now made only the occasional appearances in the Everton ranks before returning to everyday life.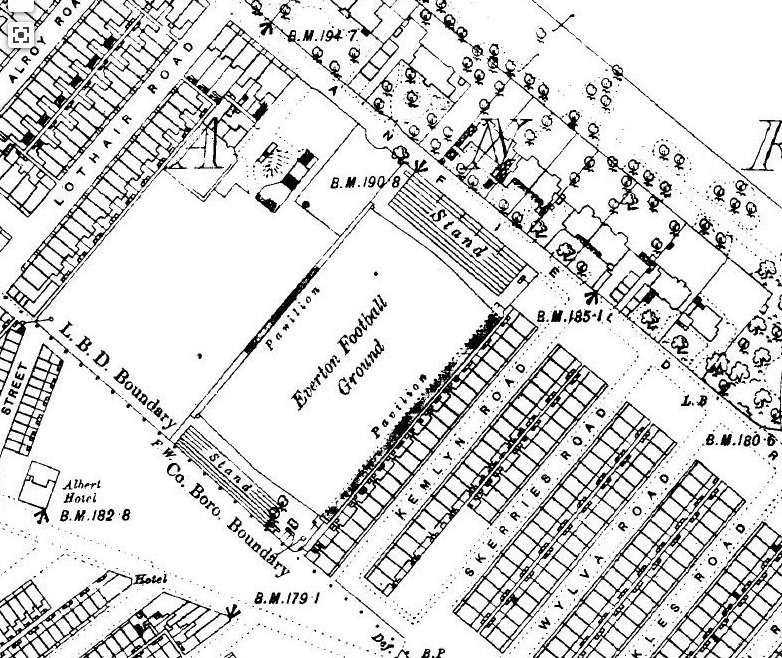 John Robson Whittle was living at 30 Dacy Road when, on the 29 September 1890, he married fellow parishioner Catherine Gatcliffe at the church of St Saviour on Breckfield Road North. The couple set up home at 102 Belmont Road where their two children, Thomas and Rebecca, were born. John Whittle was residing at this address at the time of his premature death on 19 January 1895.
Walter Richards was living at 74 Rockfield Road in Everton when, on 3 July 1901, he married Elizabeth Reen at the church of St James in West Derby Village. The 1911 census found the couple living at 26 Monastery Road, Clubmoor. The census entry stated that the head of household was working as a commercial clerk. Walter Richards died in December 1927.
At the time of the 1891 census, William John Gibson was living with his parents and their other four children at Barlow Lane in Walton but by 1901, as the head of household, resided at 50 Garnell Avenue in Kirkdale. According to the 1911 census he was employed as a merchant's clerk, still unmarried and, by then, living at Curzon Road in Waterloo. William Gibson, the last remaining member of the three young blues, died in 1929.
The Membership Card's were part of David France's private collection, but now available to view as The Everton Collection. Click image for more details and how to access