Having begun his career on Stanley Park, Liverpool-born William Briscoe first appeared in the Everton line up during their inaugural season in the Football League 1888-89.  Born 24 May 1866, he was the second of three children of parents William senior and his wife, Ann. The 1871 census recorded Ann and the three children boarding with the Kelly family at 15 Brisbane Street in Kirkdale, where she declared herself to be a ship steward's wife. The family later found a home of their own at 75 Windermere Street, where William junior, after finding work as a railway clerk, began playing football for the church of St Benedict, Everton. The team had been formed by the resident curate, William Edward Jackson.
Born 27 June 1852 at Blackheath Park in Kent, Jackson studied at the local proprietary college from where he matriculated to Cambridge University at Michaelmas Term, 1874, and was admitted to Corpus Christi College. William Jackson later chose a living within the Church of England and, following his ordination at Chester, he was awarded with a Bachelor of Arts in 1877. One year later he was appointed curate at the church of St Benedict in Walton Village..
Reverend Jackson had honed his goalkeeping skills while at university and several times he assisted the Everton Second XI in this position. He remained at St Benedict's until November 1884, and was then transferred to the church of St Andrew at Bethnal Green in London. Following Rev. Jackson's departure, William Briscoe spent one more season with St Benedict's, then accepted an offer to join Everton.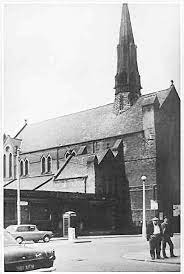 [Not to be confused with St Benedict's Church on Heyworth Street (pictured), which wasn't built until 1886 ( and demolished in 1976). It succeeded an older iron building which stood near Walton old village.]

Briscoe quickly endeared himself to the Everton supporters when he took part in the  Liverpool Cup First Round tie against their arch-rivals, Bootle at Hawthorne Road. The game produced the largest crowd yet seen on Merseyside, estimated at around 10,000 people, who watched him score the first goal in a 2-0 win. With their main rivals out of the contest, the Anfield club cruised into the final which took place at Bootle. Briscoe, who was carried off after five minutes, collected his first medal as the ten men of Everton beat Oakfield Rovers 5-0. The following season, despite several new signings, he managed to stay in contention and took part in one of the four ill-fated FA Cup ties – against Bolton Wanderers – which saw Everton banned for a period of one month on a charge of 'professionalism'.  Briscoe, however, had his punishment doubled when he was reported to the Liverpool FA for playing football on Stanley Park. It was mid-February before he returned to Everton who now were in the process of strengthening their squad in preparation for life in the Football League. Briscoe was obliged to begin the season with the Second XI before making his debut – on 13 October 1888 – against Notts County at Trent Bridge.
The visitors, who began the game badly, where trailing 3-0 when skipper Nick Ross reorganised his team by moving himself into the forward line and promptly scored to reduce the arrears. In the latter stages of the match, the play became rough as the home side held out for a 3-1 win. Following the final whistle, the Everton players were surrounded by an angry crowd and had to be rescued by members of the local constabulary. William Briscoe then returned to the Second XI and was next called up for first team duty 20 December when Everton faced runaway league leaders Preston North End at Deepdale. They were beaten by three goals to nil.
William Briscoe played his third and final Football League game for Everton when they travelled to meet Accrington on the Thornyholme Ground. George Farmer failed to arrive at the location so Harry Parkinson, a local player with Bell's Temperance, took his place in the half-back line. Everton, after taking an early lead, faded and were beaten 3-1. Briscoe then returned to the Second XI and was not retained by the club at the end of the season.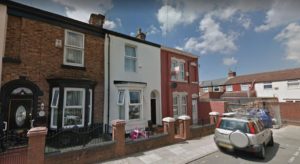 According to the 1891 census, William, along with his younger brother, was still living at 75 Windermere Street (pictured, white house in the centre) where his mother was by now head of the household. On 18 September 1895, he married Anne Eyles at the church of St Mary, Walton-on-the-Hill and settled at 58 Roxburgh Street were both his children, William and Mary, were born. William Briscoe continued his employment as a railway clerk and was residing at 35 Margaret Road, Kirkdale, when he retired. He had outlived both his wife and son when he died 20 April 1941, and was buried in Kirkdale Cemetery.