Rob Sawyer in conversation with Tony Cottee
The 1987-88 season had seen Everton, the reigning League Champions, give up their crown to their Mersey neighbours. Liverpool had countered the departure of Ian Rush by investing heavily in the acquisition of John Barnes, John Aldridge, Peter Beardsley and Ray Houghton. Conversely, Everton's new manager, Colin Harvey, had kept faith in the tried and tested squad assembled by his predecessor, Howard Kendall. Come the following summer, Harvey, belatedly, decided that it was time to freshen up the squad. Neil McDonald replaced the Rangers-bound Gary Stevens, Pat Nevin came from Chelsea for a record-breaking tribunal-set fee, and Stuart McCall was drafted in to supplement the ageing Peter Reid and injury-plagued Paul Bracewell.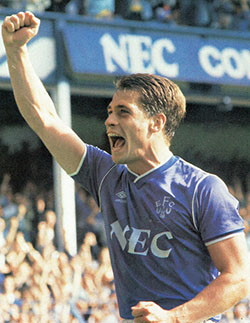 With Adrian Heath and Wayne Clarke notching 13 and 12 goals respectively in the previous season, the need for a new "Gary Lineker" to play off Graeme Sharp was uppermost in Harvey's thoughts. Speculation linked Ian Rush, who had failed to settle in Turin, with a switch to his boyhood club. However, with the Welshman electing to return to Anfield, Harvey focussed his attentions on West Ham's Tony Cottee. The diminutive striker had scored 167 goals since breaking through as a 17-year-old in January 1983. His fruitful partnership with Frank McAvennie had taken West Ham to within a whisker of the 1985-86 Division One title.
A record fee was required to secure Tony's services and, after a dazzling start to his Everton career, he would taste highs and lows over a six-year period without ever getting his hands on the silverware that he and Colin Harvey craved.  His time on Merseyside has come to be defined by two matches: his debut hat-trick against Newcastle and his vital cameo in the 4-4 classic cup-tie against Liverpool. Some point out that nearly half of Tony's 99 Everton goals would come in cup competitions – not only the FA Cup and League Cup but lesser competitions such as the Simod Cup and ZDS Cup. Nonetheless, he would score against all the top rivals and maintain a decent strike-rate in a period of slow, inexorable, decline for the club. Tony would finish his career with spells back at the Boleyn ground, in Malaysia, Leicester and at several of the London area's smaller clubs. Now a media pundit, Tony was happy to reflect on his Everton career with me:
---
I was with West Ham from the age of 12 and joined them as an apprentice on leaving school at 15. My family history was all West Ham so I was there as a fan and a player. I made my debut as a 17-year-old against Spurs on New Year's Day in 1983 – I had made rapid progress and was grateful to John Lyall for giving me the opportunity. I scored after 25 minutes and we won 3-0 so it was a dream debut – although perhaps not as good as my Everton debut!
Frank McAvennie and I were very different characters off the field but we gelled on it. It did take a little while to click – maybe 7 or 8 matches to get cracking that season. John Lyall had all the training sessions created so as to give us the chances to score goals – it was wonderful what John did and we ended up with 54 goals between us in the one season. In terms of partnerships I've played in, and I've played with some fantastic players, that was the best one. Our partnership was not dissimilar to what you get nowadays. I, obviously, wasn't a traditional centre-forward like Graeme Sharp or Bob Latchford – I was a very mobile player and Frank was as well.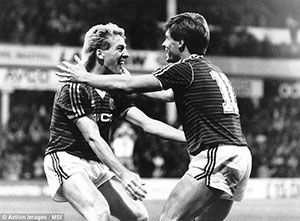 Cottee and McAvennie formed a lethal partnership at West Ham
I'd like to think that I was an old-fashioned goalscorer and finisher with a good football brain in terms of movement and awareness. From a very early age, with my lack of height, I had to find other ways to get into positions and score goals. My philosophy was to be quicker-thinking in the box than defenders. I was never going to win in a physical battle so I made up for it with my pace to be in the right place at the right time. I am not putting myself in the category of Lineker, Allen, Owen, Fowler and Greaves, but they and I all had that awareness to score goals.
At West Ham, we wanted to get the ball down and play football – it was based around movement, the speed of the players, and the creative ability of Devonshire, Dickens and Mark Ward. I had the pleasure of playing with Wardy at West Ham and Everton; he was a brilliant player. His recent personal troubles are a great shame as he is a fantastic lad. As a footballer, he was a dream to play with. He was a very physical player despite making me look tall. He was only 5'-5" but what he lacked in height he made up for in the physical parts of his game. He loved the battle – against someone like Stuart Pearce, who I didn't want to go near, Wardy would say, "Let me at him". He was technically a very good player and created chances.
The "West Ham Way" goes back to Ted Fenton in the late 1950s and then Ron Greenwood before he passed the baton to John Lyall. I always describe Everton and West Ham as very similar, working-class background clubs with passionate supporters who know and understand their football. From Everton's point of view, historically they always thought they could win honours. I don't think West Ham ever thought they were going to win the league; they might win the odd cup, so there was an emphasis on good football. That football aspect was fundamental at West Ham in the 1980s. Everton, being that slightly bigger club had a different philosophy and the expectation to win honours was there.
We ended up coming third in the 1985-86 season, Everton were second and, unfortunately, Liverpool won it. The great "play-off" game between Everton and West Ham which would have been on the Monday night didn't happen, unfortunately, as the Reds had won it on the Saturday. Looking back, it was a great season to be involved in at West Ham but, sadly, it was a one-off and the club didn't build on it. This was probably the reason for me leaving.
I got into the England squad after the 1986 World Cup and I met players from Everton, Liverpool, and Manchester United who were talking about winning trophies. It was becoming a plod at West Ham and that talk was whetting my appetite. Also, having come through the ranks at West Ham I didn't think as being fairly rewarded financially. I didn't want to leave West Ham but I knew I had to, from a professional point of view, in order to win trophies and get justly rewarded.
Fiorentina, Glasgow Rangers and quite a few clubs had been linked with me but regularly it was Everton and Arsenal. I had to put in a transfer request and then had a call from John Lyall to tell me that it had been accepted but they wanted to get more than Gazza had gone for from Newcastle to Spurs. I thought "Jesus Christ!" A lot of figures have been quoted for what I was transferred for but it was £2,050,000 – that 50 grand made me worth more than Gazza, which is incredible. Half an hour later, the phone rang and it was Colin Harvey saying that he wanted to meet me – it was great to feel so wanted. Everton had not replaced Gary Lineker's goals and were looking to do that. George Graham rang a couple of hours later. To be honest, there was initially a slight favouritism towards Arsenal as I was a London lad.
I knew that Everton were a great club but Arsenal had players that I had played with in the England Under-21 level like David Rocastle, Michael Thomas, Paul Merson and Tony Adams. I went to Goodison to see Colin, who made it clear how much Everton wanted me, and then I came down to meet Arsenal. George Graham was very laid back about everything and his financial offer was nowhere near what Everton had offered me. Also he was saying, "I know that you'd love to play for Arsenal and wear the club blazer" and I was thinking, "No, I'm a West Ham fan, I'm not interested in the club blazer. I want to go to play my football where I feel wanted."
When I had a sleep on it I was now leaning towards Everton but, the next morning, I went back to Highbury with my agent and had a chat with George Graham. We said, "What's your best offer?" and even that was nowhere near what Everton's was, so I pretty much knew where I was going. Then Colin drove down the motorway to meet me at South Mimms Services. I sat with him and looked him in the eye and said, "Why do you want to sign me?" He replied, "All I want is someone who can score 25 goals a year for me and I believe that you could be that man."
In the end, I thought that Everton wanted me more than Arsenal wanted me in every aspect, so it was a very simple decision. It was a big risk from a personal perspective, as I didn't know Merseyside at all, but from a professional point of view it was the right decision. My girlfriend moved up with me (we got married later). The people there were fantastic and made us very welcome. Sometimes when you've visited your family you miss home and life in Essex but my professional life was on Merseyside and we got on with it. Looking back, we had six fantastic years there which I wouldn't change for the world – my daughter was born in Southport in 1992 so I always tell her that she is a Sandgrounder!
Nowadays, I have a bit of banter with Gooners supporters and they ask if I regret not signing for Arsenal. I know they won trophies after I went to Everton but I could have gone there and broken my leg in training and never played again. I always say to them that if I had signed for Arsenal they wouldn't have got Ian Wright, so that shuts them up! You can't look back and say it was the wrong decision.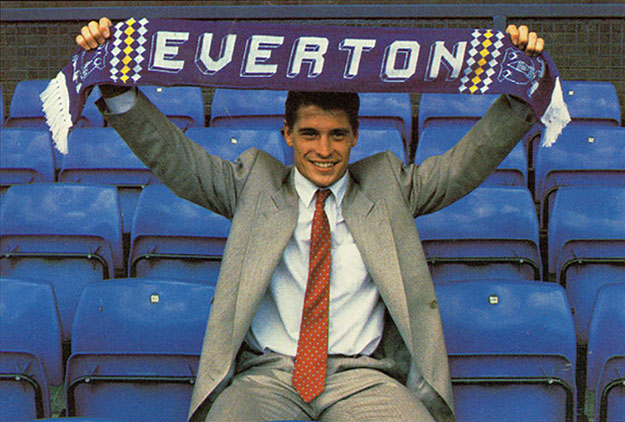 Cottee joined Everton in August 1988 for what was, briefly, a record fee paid between English clubs
One of the main reasons I wanted to play at Everton was Peter Reid. Reidy was a fantastic player; I'd watched him playing in the 1986 World Cup and played against him many times. When I'd spoken to him, he told me what a great club Everton was so I wanted to play with him. But he left six months after I joined… so I just missed his glory years. I had found Kevin Ratcliffe a hard opponent to play against so I was looking forward to having him on my side, whilst Neville Southall was a fantastic goalkeeper. I signed just after Stuart McCall, Neil McDonald and Pat Nevin so we all became good friends. I had the pleasure of rooming for four years with Paddy – he was far too intelligent to be a footballer! We had very different views about things off the field but we got on really well.
There was a bit of a split between the new and established players. It was a natural thing really as the players that were there had won the league in 1985 and 1987 and got to all those cup finals. They had really done fantastically well for the club whilst we were the new arrivals. Back then, before TalkSport, Sky Sports and social media, your main source of information was the newspapers and they were trying to predict how much I was on at Everton – what they were reporting was three times as much as I was earning. The other players would have read that I was earning this amount so they would have been thinking, "We've done all the hard work and this bloke's coming in earning loads of money". There was a little bit of resentment there I think – maybe rightly so – but some of them got pay rises off the back of new lads coming in so they shouldn't moan about it too much!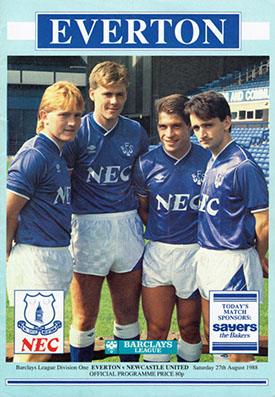 Cottee arrived with Stuart McCall, Neil McDonald and Pat Nevin in the summer of 1988
My partnership with Graeme Sharp did okay but I don't think that we ever really gelled. There were isolated games where we clicked like against Southampton when Graeme was laying them into me. I did not really think about Everton's style of play too much when I was at West Ham – I just saw Everton being successful and winning things. When I arrived, everything was geared to getting the ball into Sharpy as soon as possible whereas my partnership with Frank McAvennie was all about getting the ball into space or to feet. The ball was going out to Sheeds on the left and I was going to show for the ball into feet, or to spin into the channels, but the ball was going straight to Sharpy every single time and I was nowhere near him.
Sheeds and I had a chat about it over a few drinks and he said that he'd been playing with Sharpy for so many years that it was natural to get the ball and look for him. By the time I'd got my head around the change in style, I'd lost my place in the team. During the close season, Colin brought Mike Newell and then, in the next season, it was a case of three into two with me, Mike and Graeme. It was a difficult second season for me.
Colin Harvey was a very nice man but I am not sure how much he enjoyed being a manager. I think that he was more cut out to be a coach but had been promoted after Howard Kendall left. He really wanted me to play for him and desperately wanted me to score the goals for him. That debut against Newcastle was an incredible day and one that I will never forget. In a way it was the best thing I ever did and in a way it was the worst. There was so much pressure on me so after scoring that hat-trick – I thought I was going to score one every game and so did the fans. As the season progressed, it became very difficult for me – I had a couple of barren spells when Colin stuck by me. Then I scored a couple of goals in the Simod Cup Final against Forest which I thought was a nice warm up for the FA Cup Final but then we lost it to Liverpool and I had a really poor game.
I was disappointed when Colin left. I felt that I had let him down as he had paid a lot of money for me, and put faith in me, but I had not delivered for him consistently. I don't think we were far off as a team but it was a case of trying gel the good talented young players that Colin had brought in with the established, experienced ones already there. We never quite got to the stage where we had a settled team that went on one of those glory runs that Everton had done in the past. When he did get sacked, it was not overly unexpected and, like any player, once the manager leaves a club, you worry about who is going to come in and replace him. Jimmy Gabriel took over as caretaker – I got the hump because he basically said that players had let Colin down – then he picked the team for the next match and I was the only one left out. It made it look like he was disappointed with me which, I thought, was a bit unfair and frustrating – although I hadn't "done it" consistently, there were plenty of others that had under-performed at that time.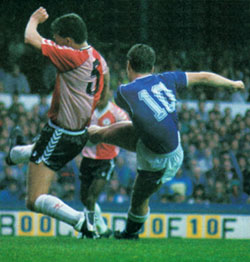 Tony Cottee in action for Everton against Southampton
Then Howard Kendall got the job and things went downhill from there. It was difficult for me, and all the other players who had arrived under Colin, as Howard knew all the older players like Rats, Sharpy and Neville but not the younger players. I just felt that, to start with, he didn't really give the ones that had arrived a fair crack of the whip. Howard and I didn't see eye to eye at first and he famously dumped me in the reserves against Morecambe and I ended up playing against my window cleaner, which was the low point of my Everton career!
Nowadays I travel all around the world and I bump into Everton fans. One of the first questions they ask me is, "What was the best game you played in – it must be the 4-4 draw with Liverpool?" I come back with the fact that I didn't play in the game – I was a sub, sat on the bench watching a fantastic game of football. It went 0-1, 1-1, 1-2, 2-2, 2-3 at which point Howard said "Go and get warmed up". I was looking at the big scoreboard which said 84 minutes gone as Howard called me over and said, "Go on and score us a goal." I thought, "What do you fucking think I'm going to do in six minutes?!" I stayed down the middle because, if I was going to get a chance to score, it would be in the penalty area. When the ball did come into the area, Mike Newell was in front of me – because I was fresher and had the goal-scoring instinct, I got in front of Newelly and slotted it with my left foot past Grobbelaar. It was one of my best feelings in an Everton shirt as it was a really important equaliser and it took it to extra time. Then, Barnesy scored a great goal to make it 4-3 and I got the fourth equaliser which was another great feeling. It was a great, great, game to be a part of. There was a good 3-3 draw at Goodison last season but I don't think it was as quite good as the 4-4.
Howard and I eventually worked things out. We were all grown-up men in the dressing room and Howard used to say to me, "I'm not worried about your goal-scoring. I want you to work for the rest of the team." My attitude as a goal-scorer was, "I don't want to work for the rest of the team – I'm the one who will score you the goals." So there was a bit of a clash from that point of view. Scoring goals was the easy part for me – the hard part was everything else that went with it. You look at Ian Rush, who was a fantastic goal-scorer, but he also closed everyone down. I wanted to do what Rushie was doing but didn't feel capable of doing it – I just wanted to score goals. I had to take it on board and, looking back, I thank Howard for what he did as it made me a better all-round player who could contribute to the team. But I had to jump through all the hoops and hurdles that he put in the way and prove to him that I was worthy of my place.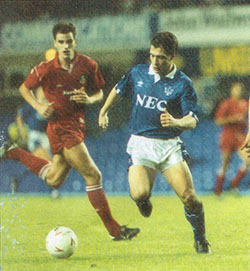 Tony Cottee in action for Everton in 1990
Peter Beardsley was a fantastic player to play with. He was very unselfish and created loads of goals – always happy to lay goals on a plate for you to tap-in. Mo-Jo never really recaptured his Rangers and Celtic form; he was a big-money signing and, as hard as he tried, it never really worked out for him. Alongside Wardy and Preki, we had a talented forward line. In some ways it was 20 years ahead of its time as we didn't have a big forward up front and we were very fluid with movement and creating space – we were all trying to move around and create goals for each other. I think that I eventually won Howard over in our second season – I became a regular at № 9 and was starting to score goals. Later, Howard brought Paul Rideout and I really enjoyed playing with him. He was an underrated player and I was pleased for him when he scored the Cup Final winner in 1995.
In December 1993, Howard resigned and I thought – "Oh for God's sake". When Howard left, I wanted Joe Royle to get the job as he had done a tremendous job at Oldham Athletic. Maybe they couldn't get Joe out of there but Mike Walker was a poor choice. I thought that he wasn't a particularly good manager – I didn't find his managerial style to be inspirational. He brought a coach in called Dave Williams who was putting on practices that I'd done as a 12-year-old at West Ham, so I didn't find training enjoyable. As the season went on, we got worse and worse. We only won two out of the last eleven games – a horrendous run of form. My goal at West Ham gave us a massive three points and that gave us a real chance of staying up. I ran to celebrate with the Everton fans – I enjoyed scoring against my former clubs as I liked to prove that I was still capable of scoring. I scored two goals for West Ham against Everton when I went back there, and I did it against West Ham when I ended up at Leicester.
I remember going into that last game against Wimbledon knowing that we had to win and rely on other results. The week before, we had lost 0-3 at Leeds and it had been awful – we never looked like scoring. I was thinking, "Wow, we could be in trouble here" – it was a really pressurised situation. I never thought that we wouldn't win that final game but, when we went two down, I had reservations! I never enjoyed taking penalties – I didn't get the same buzz from scoring from a dead ball. Also, I had missed one in the FA Cup at Chelsea in 1992. I was waiting for someone to take a penalty but everyone turned away so I took it, missed it and then it seen as was all my fault that we got knocked out. So, for the Wimbledon game, as far as I can remember, Graham Stuart was always going to be the one to take one.
There's only so many times you can be knocked down and keep fighting your way back. I wasn't particularly enjoying things under Mike Walker and he had made it pretty clear that he was looking to change things. So I just said to him, "Just let me go, and if I can get back to London then 'happy days'." I never thought that I would end up back at West Ham but David Burrows wanted to come back north and I wanted to head south. Three months after I left, Joe Royle and Big Duncan were in at Everton – if I had worked with them I could have seen myself being there for 10 years and scoring a lot more goals. You can sum up my Everton career as: Everton won the league in 1987, I joined in 1988, we won nothing for six years, I left in 1994 and they won the FA Cup in 1995! I was at the right club at the wrong time but you can't turn the clock back.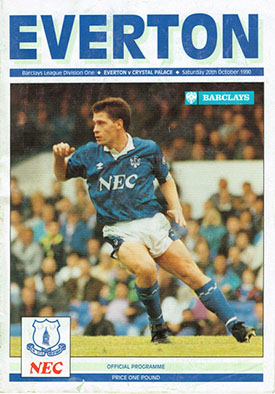 Tony Cottee in action for Everton against Southampton
I tried my best in every game for Everton but I didn't always play well – it didn't help that I was in and out of the team. When I had 10 or 12 games on the trot, my record shows that I was scoring goals. I understand why people say that I didn't score in important games but I scored against Arsenal, Liverpool and Manchester United. In my six years at the club, there was so much going on with the upheaval of moving, getting used to a new style of play, having three managers, the turnover of players, the breakdown of a fantastic team, and the introduction of a new team. When I did have a regular place, I scored the goals – I was top scorer in five out of six seasons that I was there – I got 99 goals which averages at around 16 goals per season.
Now I do Sky Sports media work. I'm still a West Ham fan, but I follow Everton as much as I can. The club are brilliant and I love coming up to Goodison. I was up for the FA Cup game at Goodison recently. I met Bill Kenwright beforehand and he gave me a hug. The fans are so good there – there was such a good reception and feeling of warmth from everyone. You don't always get the chance to play for a great club like Everton so I feel privileged to have played for a fantastic club. I wish I'd have won a trophy there, scored a 100th goal and played in Europe – but it was fate really.
I have no regrets about playing for Everton in any shape or form. West Ham was my team as a boy and it is now, but Everton is my second team and it will always be in my heart.