Don Donovan arrived in England from Cork, the second largest city in Ireland located in the south west of the country, an area which also produced Roy Keane. Don played junior football for Maymount Rovers then Dalymount Rovers, where he was spotted by an Everton representative whilst the club was on a pre-season tour.
Don was invited to cross the Irish Sea in 1949, just after the war, leaving his close family and moving to new surroundings in Liverpool, only to be welcomed by a fellow countryman, Tommy Eglinton. Tommy later became the godfather of Don's son, Terry. Other members from Ireland, Tommy Clinton and Peter Farrell, helped settle Don into the club.
Terry told me, 'My dad loved Everton. He went on the tour to America and Canada on the QE2, where they played Aberdeen in the Clarke Stadium in Edmonton, Alberta on 13 June 1956'.
'Later on, I went over to Ellis Island, New York, where they had a facility which allowed me to submit my father's name and they could reveal which ship they arrived on and who the passengers were. It was amazing'.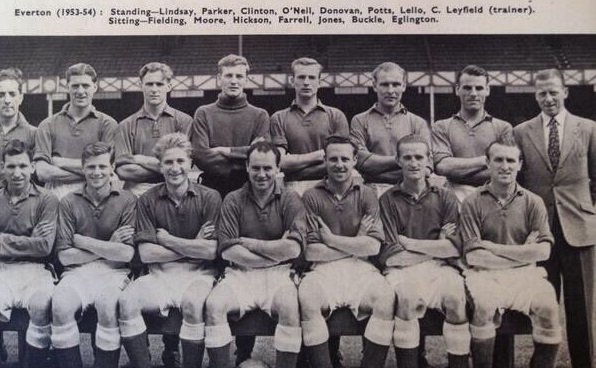 Everton were in the top tier of English football when Donovan arrived, but he didn't make his debut until August 1951, by which time the club was in the Second Division hosting Sheffield Wednesday in a 2-2 draw.
Don was a member of the team that gained promotion in 1953/54 season, defeating Oldham Athletic 4-0 to return to the top flight, where they have remained ever since. Don was ever present that season, playing in all 42 league games. Sadly, he was the last member of that team that passed away.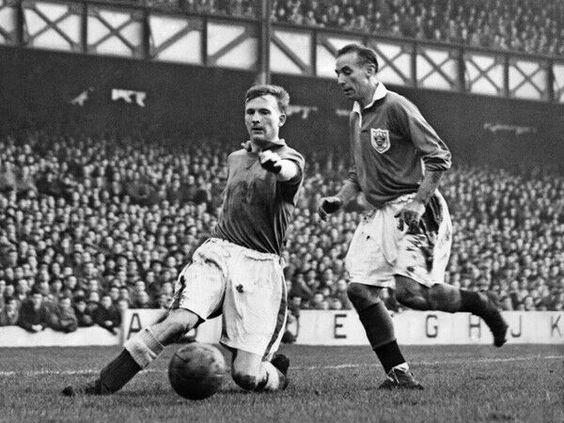 Don became settled in Liverpool, where he met his sweetheart Millie, who became his wife when they married in 1955. They stayed on Merseyside until 1958, when Don suffered a very bad groin injury, culminating in both parties agreeing a move away from Everton. Don joined Grimsby Town playing a further 250 games in Division Two.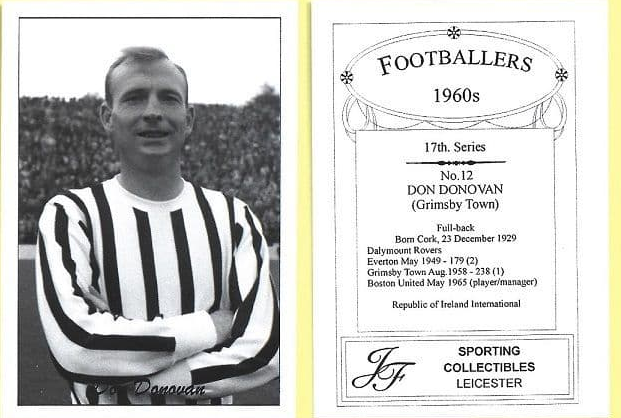 Derek Temple who knew Don from his time at Everton said, 'He was a good footballer, a good defender. He was very versatile and could have played anywhere. He was very good in the air. I once saw him mark John Charles out of the game. Aside from the football, he was a very nice man too'.
His last season with the Mariners was 1963/64 before taking on the role of player manager at non-league Boston United, turning out a further 250 times for 'The Pilgrims'.
They achieved success in 1965 winning the United Counties League, and were also crowned West Midlands League champions in 1967/68, progressing to the Northern Premier League the following season.

The local enthusiasts were starting to take an added interest in their team as crowds were increasing and in January 1968, over 7,000 fans crammed into their home to witness an FA Cup second round tie with Leyton Orient. The game ended 1-1 with Leyton Orient stuttering to a 2-1 win in the replay.
When he finally decided to hang up his boots, Don became a haulage driver and later worked at a firm called Smythe's Shipping at Immingham. The company was owned by a gentleman who was a big football fan and all of the employees of Mr. Smythe were ex footballers. Don stayed with Smythe's Shipping from the age of forty until he retired.
Away from the football field, Don was a keen golfer who improved his handicap to three or four, but his enjoyment was cut short due to health issues. He suffered a stroke at the age of 75 and sadly, three or four years later, dementia took its toll, increasing rapidly until he passed away aged 83 in 2013.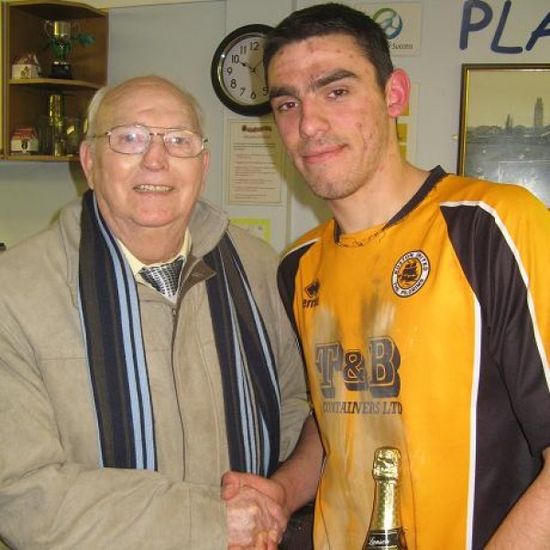 (Left) Don Donovan on his return to the Jakemans Stadium in March 2011 as the club's United Legend guest against Alfreton Town. (pic www.bostonunited.co.uk)

Terry went on to say; 'As a child, my father was manager of Boston United where they would train on Tuesday and Thursday nights. I used to go down to watch them train and started to inherit the bug of wanting to be involved, but I couldn't as I was only seven or eight, but was in awe of these men. I would go to watch all of the Boston United games'.
'Years later, I actually went on trial at Everton for about six weeks when Eric Harrison was the youth team coach and Billy Bingham was first team manager'. 'I played against Manchester United 'C' team at Bellefield. I was on trial for three or four weeks and was asked to come back, only to be told that I didn't meet the requirements. I went back home and signed for Grimsby Town who were managed by Tommy Casey, another ex-Everton connection. I played for Grimsby Town from 1976-1979. I had been out injured for most of the last season I was at Blundell Park and was about to sign another contract with the club. However I was called into the manager's office to be told that Ron Saunders wanted to sign me for Aston Villa and I signed the same week as Tony Morley'.
'I had four years at Villa Park but mostly in the reserves, only playing 25 games for the first team. I was at the club when they secured the League Championship and the European Cup'.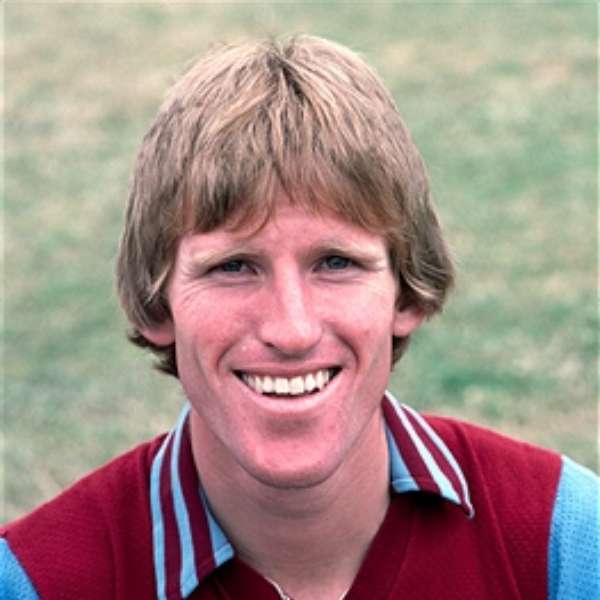 Terry took part in the European Cup game as Villa took on Icelandic champions Valur Reykjavik scoring a brace in a 5-0 demolition. He was on the bench in later rounds against Dynamo Kiev and Dynamo Berlin, which assured him of a medal as they were crowned champions.
'Although I didn't play many games, it was a privilege to have been there at that time. A loan out to Portland Timbers after Villa was a great experience too, playing all over the USA and Canada in the North American Soccer League'.
'I signed for Frank Casper at Burnley after leaving Villa, playing in the last 18 games of the season in Division Two and scoring six goals, but unfortunately, we were relegated on the very last day of the season against Crystal Palace'.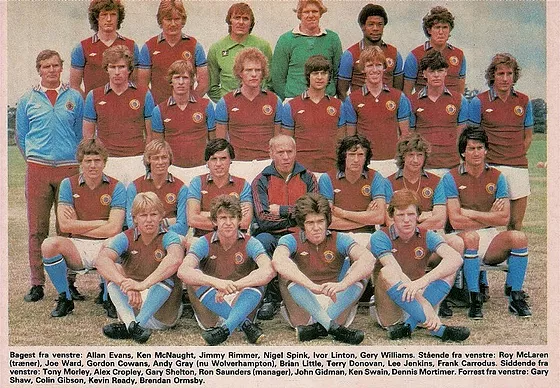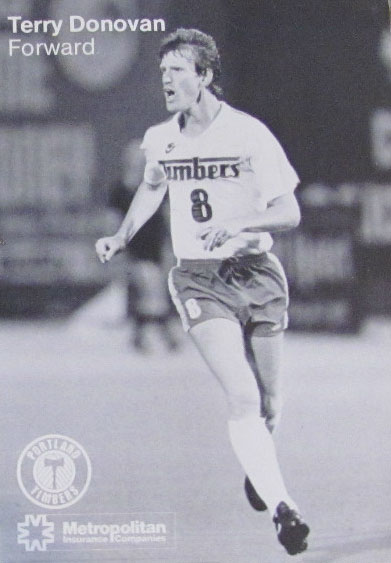 'Frank Casper was sacked and replaced by John Bond. The new manager wasted no time on his arrival at Turf Moor transferring myself, Lee Dixon and Brian Laws. Trevor Steven moved to Everton in a big money move'.
'Rotherham was my next club, and within six weeks of me being there, I ruptured my cruciate knee ligaments. I was only 25 years of age, and never played again. I tried on three or four occasions to make a comeback, but I couldn't even run'.
'I then had to find a job and one of my interests was always finance. I went to work with another guy as a mortgage broker and I am still involved 35 years later'.
'Former Everton star Duncan McKenzie grew up in Grimsby, and he would have watched the team that my dad played in, who were promoted from Division Three as runners up to champions Portsmouth in 1961/62 season'.
'Duncan's mother had a baby clothes shop called "Betty McKenzie's". It was famous in Cleethorpes. Everybody who had children went to Betty McKenzie's. Years after the shop was sold, it was always known as Betty McKenzie's'.