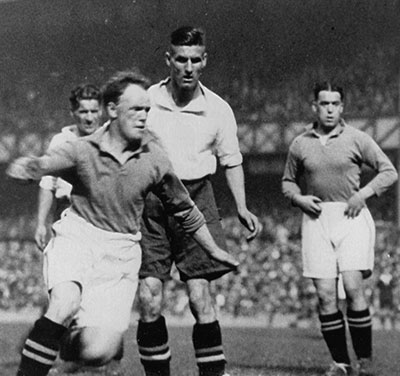 John Dunn in conversation with Rob Sawyer
Stein, Dean and Dunn – that trio of names is immortalised in Goodison folklore as the Everton scorers in the 1933 FA Cup Final victory over Manchester City. William Ralph Dean needs no introduction but today's Blues supporters may be less familiar with the two scoring Scots: Jimmy Stein and his compatriot, Jimmy Dunn. Stein, the Coatbridge-raised forward who arrived at Everton via Dunfermline Athletic, marauded down the left flank for eight years. But it is the diminutive Dunn – 5ft 5in in height and wearing size 2 boots – whom I will focus on here.
James Dunn – better known as Jimmy – was born on 25th November 1900 in the Calton district of Glasgow, the son of John and Sarah. The inside-forward was known unimaginatively, as 'Ginger', on account of his red curls. Developed by St Anthony's – a club renowned for nurturing talent in Glasgow – he signed for Hibernian and enjoyed eight years in the shadow of King Arthur's seat. He also won five of his six Scottish caps with the Hibbies. Most famously, in March 1928 he dazzled on England's home turf as the 'Wembley Wizards' humbled the hosts – numbering the great 'Dixie' Dean in the ranks – 5-1. Remarkably the tallest forward in the five-man Scottish forward line was hat-trick hero Alex Jackson at just 5ft 7in. Within weeks of the Wembley upset, Jimmy was Goodison-bound to join the Football League champions.
Upon his arrival on Merseyside in April 1928, the Liverpool Post and Mercury drew an accurate pen picture of the inside-right forward:
'Dunn is a proverbial bag of tricks. One of the most dangerous and skilful forwards in the game, and a ready goal scorer into the bargain. Although small, he displays great feats in reaching a high ball. He will not be eligible to play in Everton's remaining league games, but he may assist the reserves team, before the end of the season.'
The arrival of the Stein and Dunn – within a day of one-another – would herald the start of a rollercoaster ride in which Everton tasted relegation, promotion, a League Championship crown and FA Cup glory over four consecutive seasons. Jimmy's most iconic moment was the scoring Toffees' third goal in the 1933 Cup Final. He leapt to nod home Cliff Britton's looping right-wing cross, almost knocking himself out with the heavy ball in the act of scoring.
After 155 appearances for the Toffees, Jimmy would leave Goodison in 1935, relinquishing the inside-right berth to Jimmy Cunliffe. He'd have a spell on the south coast with Exeter before moving into management at Runcorn. Settled on Merseyside, the Scot worked in a shipyard making rivets before losing a battle with stomach cancer in 1963 – just months after his beloved Blues lifted the League title for the sixth time.
Jimmy and his wife Sarah had 6 children. Sadly Helen died in infancy but Jimmy Jr., Esther, John, Tommy, David and Theresa flourished. Jimmy Jr. enjoyed a successful playing career with Wolves and Derby County in the late 1940s and 1950s – emulating his father by lifting the FA Cup in 1949. Tommy, meanwhile, had spells at Wolves, Bournemouth and Chelmsford. John, played alongside Tommy for Everton Colts in 1945 but was subsequently called up – serving with the RAF Catering Corps in the Middle East.
Now a sprightly 92 year-old, John is the sole surviving child of Jimmy Senior. Here he reflects on the footballing Dunn family:
Hibs and the Move to Merseyside
Dad served his time in the Clydebank ship-yards before he played football. The one fella he liked when he was starting out in the game was Patsy Gallagher – the star man for Celtic. When he first played against Gallagher, Patsy flicked the ball over Dad's head. But when he played against Celtic the next time Dad did the same thing back to him. He gave Patsy a bit of his own medicine! Gallagher then turned round and said, 'You're going to go places, son.'
Dad played for Scotland against England and won 5-1. They were all little fellas – The Wembley Wizards, they called them. That's how Dad ended up coming here to Merseyside. Dixie Dean had played in the game for England and when Everton asked him who they might sign, he said: 'I liked the little fellow with the ginger hair'. Celtic were upset because they wanted to sign him, but he decided to come down to Everton. Harry Ritchie, a winger, came down to Everton with Dad but football in Scotland was slower than England. Dad could adapt to the faster game but Ritchie went back to Scotland. He said: 'It's not for me'. Dad was on £8 basic, £10 for a win and £9 for a draw. The average wage for a tradesman was £2.50. But Mum and Dad had five children to keep then.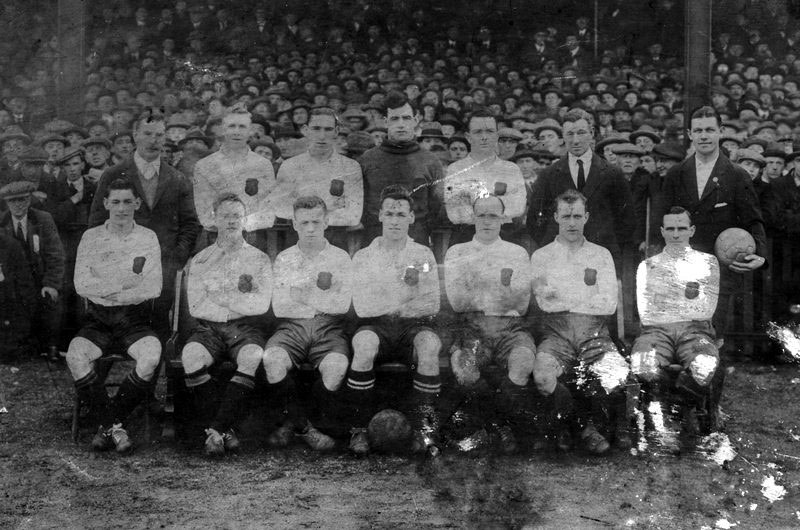 Jimmy Dunn (front row, far left) with the Scotland team, possibly youth level
We lived on Goodison Avenue in one of the terraced club houses – good houses they were. All the players were in there together. There was Jimmy Stein, Tommy White, Jock Thomson…We lived next door to Dixie; he was a gentleman – a wonderful man. He was Dad's best mate. 'Billy Dean' it was – if anyone called him Dixie he never liked it. Dixie got Dad into a lot of trouble – he'd take him off drinking and then leave him on the doorstep afterwards because Mum would go mad. She didn't call him Dixie or anything like that – she called him 'The Big Fella'. 'Have you been with The Big Fella again?' she used to say. Dad was very quiet – he wouldn't push himself to get on photographs. So Billy had to push him. 'Come on Jimmy, get in here.' he'd say and Dad would give in. They were great pals.
Before Everton played a home match, Dad would walk from City Road to Blessed Sacrament Catholic Church Church to say and little prayer and then he'd go and play. There was a little farm nearby so when it was a home game mum used to get a fresh chicken and make a soup – something light – for him. Dad said that Harry Cooke was a wonderful trainer. Billy Dean had an ankle injury and had a bone taken out of his foot so Cookie kept the bone in a jar of methylated spirits! They played hard and they were a good side. Cliff Britton, a great player, used to lob the ball in – keeping it in the air – Dixie loved that.

Left: Jimmy Dunn and Everton teammates donning false moustaches, beards and sideburns circa 1931; Right: 'Tosh' Johnson, Jimmy-Dunn and Charlie Gee watch Billy Dean at the billiard table
When I was a kid, Jimmy Stein's wife used to give me sixpence. One day she asked me to go on an errand and buy some sausages – those big fat ones. But she wasn't at home when I came back so I pushed them through the letterbox! She didn't say anything about it – she just said to Mum: 'I enjoyed the sausages'.
When we were a bit older, Mum used to tell us about Dad's football career. She'd get us around the fire with the big grate and we'd all sit there listening and she'd go through the lot – she knew it all. She knew her football too, but when she first came down here to Liverpool she had not been to a football match. She went in the Goodison stand and put her umbrella up. There was murder – people were yelling at her to put it down! They were great days.
Up for the Cup – 1933
Before the FA Cup Final the lads did their special training in Buxton. They said that Dad wouldn't be fit for the Final – he was strapped up. The headline was: 'Jimmy Dunn a doubt for the Final' – but he had other ideas. In the Final, the City winger – Eric Brook got round Billy Cook and hit the bar. It was too close for comfort so Dad got hold of Cookie – a smashing fella and one of his mates – and told him off: 'Why didn't you hit him? Why did you let him go?' Not long after, Brook was lying on the deck and never went near Cookie again! Then Dad scored with a great header (for the third goal) and he spun right round. A lot happens in life, it's all mapped out for you.
I didn't go to Wembley – I was too young (I did go to Jim's FA Cup Final for Wolves). So many people came out to see them bring back the Cup to Goodison. Mrs Murphy, the housekeeper who helped Mum and Dad with all of us kids, was looking after us that day. As they were coming along City Road on a horse and cart, she opened the windows and put a big blanket around us so that we could see them coming past – Dad waved to us.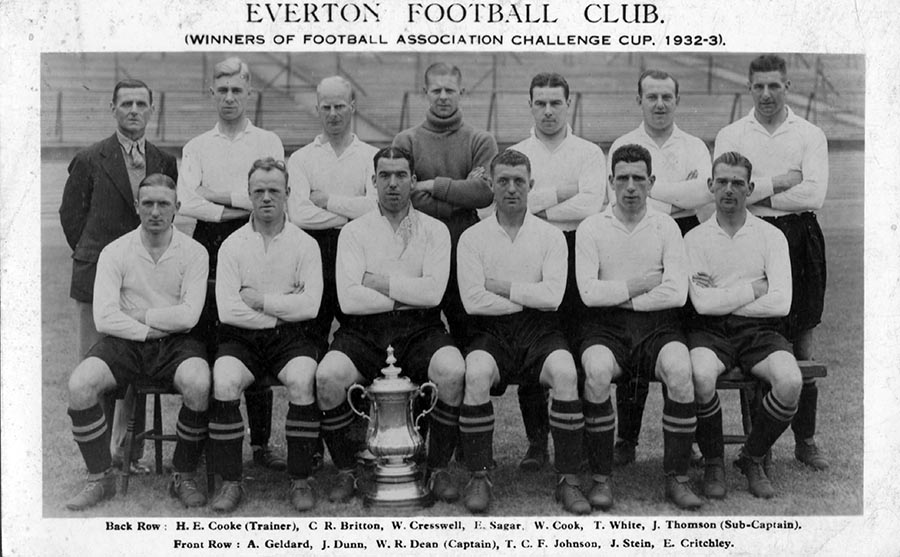 Life After Everton
We went with Dad to Exeter and were there for a couple of years. They gave him a player's house with a lovely big garden – we were happy there. I remember seeing my Dad play there as I was a bit older by then. Me and my brothers used to stand by the little wooden gate as he was coming out onto the pitch. We'd pat him on the back and shout 'Go on, Dad!' It was only a small club and they had nobody to do the laundry, so Mum had to wash all his gear for him.
When Dad was still at Everton he had opened a Grocery shop on Worcester Road. While he was playing he could not give much time to the shop so he had a bloke running it for him. But he was a rum 'un – he took money from the till for himself. This fella got married and had the best wedding ever using that money! So Dad had to keep coming back up to Liverpool by train to deal with things.
After Exeter, Dad was scouting for Wolverhampton Wanderers and then Runcorn FC wanted a player-manager so he took that job. In 1939 they met Preston North End in the FA Cup – it was filmed. The Preston team had ten Scotsmen – it was a wonderful side. Runcorn were winning two-nothing but Preston came back and scored four goals to win 4-2. Then Runcorn went bankrupt and that was it for Dad. He lived in Walton on Emery Street – a nice little two-up, two-down. People recognised Dad in the street – he was well known in Liverpool. He was happy here – he liked the city and never wanted to leave – so he never went back to live in Scotland. When he retired from playing he was given a season ticket by Everton to go to the matches if he wanted. He didn't really need it because all the managers knew him. Once when Wolves were playing Liverpool at Anfield, Bill Shankly came to the dressing room door, saw Dad and said, 'Are you going to watch the match, Jimmy?" 'Oh, I'm alright, Bill. I've got a couple of complementaries and I am just waiting to collect them.'
After Runcorn Dad went back to his trade – working at Grayson Rollos shipyard in Birkenhead. He stayed there until he retired.
Dad was only in his 62 when he died of cancer (Tommy was 62, too, when he died).
When Dad was poorly Dixie Dean came down with one of the Everton directors to see him in the hospital. Dixie hadn't seen us lads for years but he could point out which one was which – and we were grown up by then. A gentleman, he was.
The Footballing Dunn Boys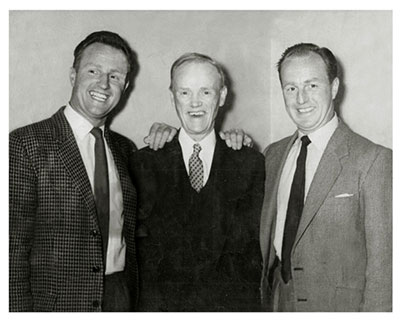 Jimmy Dunn with sons Jimmy Jr and Tommy, circa 1961
If anyone was playing with a ball near our house me and Tommy were there. Mum would have the tea in the oven but it was dark by the time we got in. Dad didn't have to show us anything because the talent was just there – we took it for granted and enjoyed it. We'd be playing near the house with a little ball, kicking it to one another, and Dad would be coming home from work at the docks and he'd get a hold of it and start juggling with it. He didn't interfere but used to come and watch us play for teams on the sly, he'd never tell us. We'd be arguing with each other, Tommy and I, and Dad would be watching on the touchline, laughing to himself.
All of us brothers had different styles. Jim was a good player. As a kid he'd had an accident playing in Stanley Park – the ball went over the railings and he climbed over to get it and fell on the spike – so he ended up in the hospital. They said that he would never play again – but he got his FA Cup medal! He was playing for St Theresa's – they were getting beaten most weeks as the Liverpool A and Everton A teams were in the same league. Liverpool came in for him first – they had a manager called George Kay at the time. Jim went for the trial. 'Jimmy Dunn?' the man said. Then he got a hold of Jim's arm and said, 'Come back when you have a bit more meat on you.' Then one of the Wolves scouts spotted him – this ginger haired lad playing well. When Jim went for a trial there Stan Cullis said to him: 'Jimmy Dunn's lad. Well, if you're as good your dad it will do me.' So he signed for them. Wolves back then was a very fast team using the long ball – Jim played with Billy Wright and other good players. Billy and he were good mates.
Jim finished playing at Runcorn, like Dad had. Then he had a job as a physio and then he went as coach to West Brom. He was with them when Jeff Astle scored the goal against Everton in the 1968 Cup Final.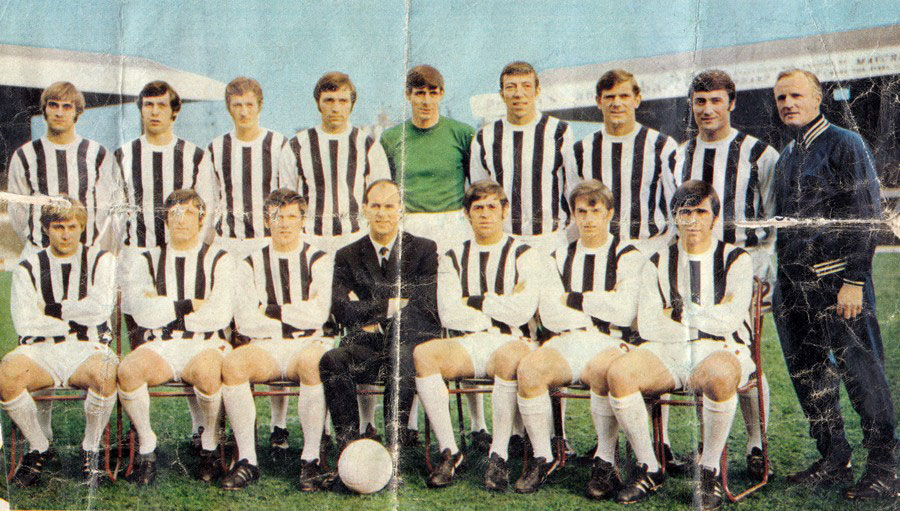 Jimmy Dunn Jr as WBA coach (far right)
David was a big lad – he played centre-forward. He wasn't a bad player but he had a trade – he was training as a painter and decorator. Tommy was a great player. Tommy and I were the only two Catholics playing for the Boys Brigade – we didn't care as long as we were playing football. We also played for Everton Colts. Their coach, Bill Borthwick, was a smashing fella. He said to me, 'I can't understand you John.' 'What do you mean Bill?' I asked, to which he replied: 'You come out here and you are like a world-beater – nothing can touch you. But on some days you come on and won't even throw a leg.' It was true. If I didn't feel like playing, I wouldn't play. I was very lazy. For fitness training Tom would do three laps of Everton's ground but after two I'd say 'I've done enough Tom.'! After a game against Liverpool A, a Liverpool scout came in and asked if I would you like to for a trial. We had a cup tie on so didn't want to let my team down – so I never went for the trial.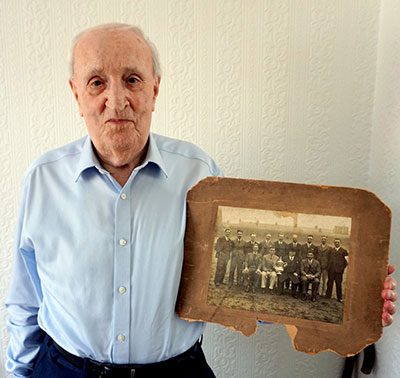 John Dunn and photo of Everton
During the war we used to play on Sundays against the Italian Prisoners of War. You should have seen the crowds they used to get. We were a scratch team. I was at outside-left, Jimmy was centre-forward and Tommy was at inside-forward. As soon as we got a corner Tommy said: 'John, get the corner over to me' as he knew I could put it right to his head. Then Jim and Tommy would leap up and it was always a case of 'get in!'.
Tom and Jim worked on the railways as engine stokers but when I went for an eye test I was found to be colour-blind so I couldn't do it. So I got a letter calling me up. I had the option to either go down the mines as a Bevan Boy or get a job as a cook in the forces – I took that as at least I'd get something to eat. I joined the RAF and was posted to Aden working in the mess. That's how I went on to become a professional chef.
I used to go to Goodison sometimes but I was more into horse racing. But I always follow Everton.
Jimmy Dunn (Senior) Fact File:
Born: 25 November 1900 in Glasgow
Scottish Caps – 8 (5 at Hibernian and 1 at Everton)
Clubs:
St. Anthony's (Govan)
Hibernian FC (1920-1928): 304 appearances (103 goals)
Everton FC (1928-1935): 155 appearances (49 goals)
Exeter City FC (1935-36): 23 appearances (4 goals)
Runcorn FC (from 1936) as player-manager
Acknowledgements
Sincere thanks to John Dunn and the rest of the Dunn family
David Instone (wolvesheroes.com)
Billy Smith (bluecorrespondent.co.uk)
Steve Johnson (evertonresults.com)
James Corbett (The Everton Encyclopedia)
Most photographs are used courtesy of the Dunn family